Every week in 2015, OnMilwaukee.com and local design company Too Much Metal will join forces to introduce the latest member of the Milwaukee All-Stars – a team of unfamiliar winners living in the city who consistently and diligently make it shine. Each week, a new member will join the team – based on your recommendations – and at the end of the year all will come together in a Rally of the Raddest Milwaukeeans. We're not sure what that means quite yet, so for now, meet …
Davyd Gonzalez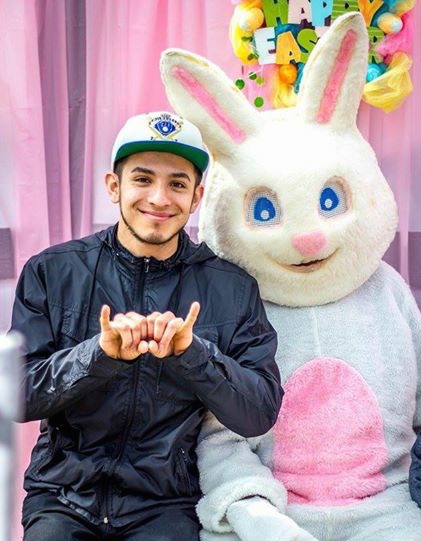 One of the missions of the All-Star initiative is to identify young, up-and-coming Milwaukeeans who have just embarked on "the path," but are already in trailblazing mode.
Hence, Davyd Gonzalez.
Gonzalez works as a food purveyor at Braise Restaurant during the day and as a bar back at Rogues Gallery by night.
"I've been a member of both teams for three years. Both great examples of what this city has to offer," says Gonzalez.
Although born to parents from Mexico, Gonzalez is not fluent in Spanish and so he decided to return to school to build his Spanish speaking skills so that one day he might help immigrants in Milwaukee navigate the health care system.
"Through communication comes connection. Through connection, I am able to satisfy my hunger to help others," says Gonzalez.
OnMilwaukee.com / Too Much Metal: What's you favorite or least favorite smell in Milwaukee?
Davyd Gonzalez: Walking down Cesar Chavez Drive, you get a mix of great and not so great scents. The mix of Hispanic foods, fumes, sprinkled with some litter, takes me back to my parents' hometown of Guadalajara, Mexico.
OMC / TMM: What's your favorite time of year in Milwaukee?
DG: I've always been a fan of fair weather. Although it's easy to vote summer as my favorite time of the year, not much compares to the smell of spring right after the snow melts away. My "summer" activities begin early March.
OMC / TMM: What would you like to see change in Milwaukee?
DG: I would like us to put to rest one of the issues that this city is infamous for: integration. Some view integration throughout the whole city as an unattainable reality. But I believe that through relentless effort, we can expose the true beauty of all walks of life that call this place home and welcome everyone.
OMC / TMM: When and why did you fall in love with Milwaukee?
DG: I moved to Walker's Point in the summer of 2012. That's when I knew it was love. Seeing what has become of Walker's Point and Bay View gave me a different view on this city. Then I found myself with an inspiration to leave my own mark in the city where I was born and raised.
OMC / TMM: What are your goals for your future?
DG: I am currently studying to be a medical interpreter. I want to help patients with limited English proficiency in health care settings. Having been brought up in Milwaukee, it was easy to stray away from the Spanish that was spoken at home. I'm guilty of having "broken" Spanish, so I decided to take it to the other extreme. I not only wanted to better my own Spanish, but I wanted to become proficient enough to communicate with anyone from any of the 21 Spanish-speaking countries. Through communication comes connection. Through connection, I am able to satisfy my hunger to help others.
OMC / TMM: What is your guilty pleasure?
DG: My proud-yet-guilty pleasure would have to be making beer brats at 3 in the morning after a night of "drinktivities."
OMC/ TMM: If you could high five one Milwaukeean, living or dead, who would it be?
OMC: Władziu Valentino Liberace!
Do you know a Milwaukee All-Star? OnMilwaukee.com and Too Much Metal are looking for true-hearted folks living in the city of Milwaukee who love what they do – and do it with zest and style. Email fred@toomuchmetal.com or molly@onmilwaukee.com with recommendations.