Every week in 2015, OnMilwaukee.com and local design company Too Much Metal join forces to introduce the latest member of the Milwaukee All-Stars – a team of unfamiliar winners living in the city who consistently and diligently make it shine. Each week, a new member will join the team – based on your recommendations – and at the end of the year all will come together in a Rally of the Raddest Milwaukeeans. We're not sure what that means quite yet, so for now, meet …
Amanda Shallow DesJardins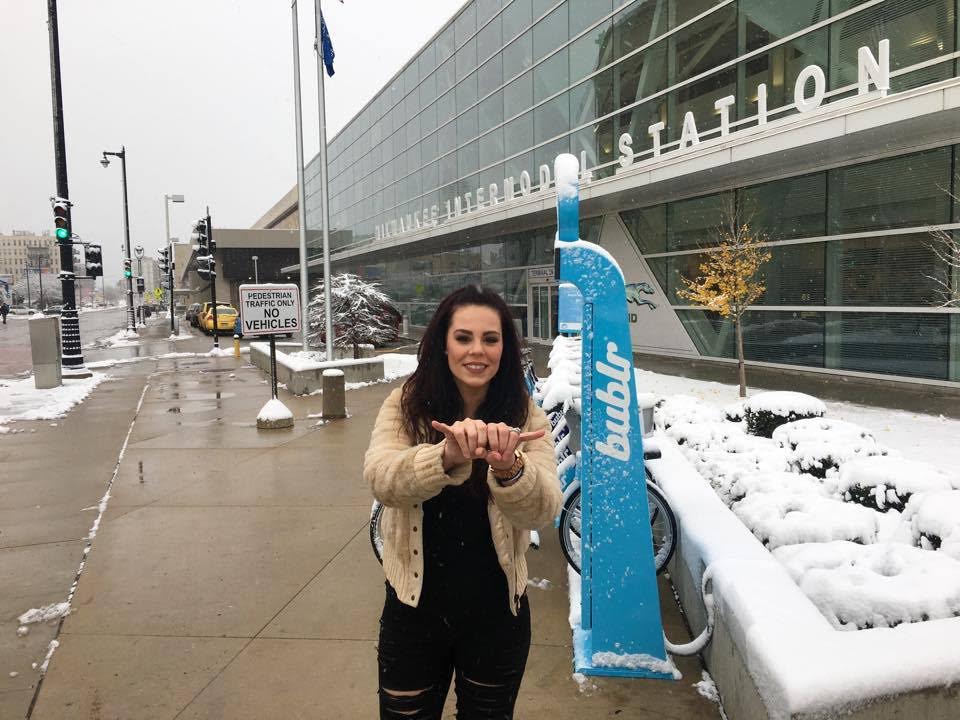 OnMilwaukee / Too Much Metal: Where do you currently work?
Amanda Shallow DesJardins: I currently own Naturally You Beauty Company. We offer hair / makeup services, organic and vegan airbrush tanning and specialize in makeup education and lessons.
OnMilwaukee / Too Much Metal: Why do you do what you do?
DesJardins: Doing what I love has not only made me a happier person but it's given me the ability to work with and meet some pretty awesome people. I love working with Wisconsin athletes; they are all so nice and down to earth. My favorites were the Nike Campaign with Giannis Antetokounmpo of the Milwaukee Bucks or recently working with Jordy Nelson, Randall Cobb and Davante Adams of The Green Bay Packers. Also doing makeup has lead me into a partnership with Flashes of Hope at Children's Hospital of Wisconsin. I go into the hospital once a month and do makeup for children with cancer and other life threatening illnesses. Those kids are true rock stars.
OnMilwaukee / Too Much Metal: What time of year is your favorite in Milwaukee?
DesJardins: Definitely summer time. The vibes, the people and the activities make Milwaukee summers one of a kind. You can't be bored during the summer; every day or night you can find something fun to do. Sober or not, ha.
OnMilwaukee / Too Much Metal: What's your favorite or least favorite smell in Milwaukee?
DesJardins: My favorite smell in Milwaukee is when you walk past Sciortino's and they are baking bread and cookies, then you walk another block into Glorioso's and it's a whole new delicious smell. My least favorite smell in Milwaukee is the water treatment plant when you cross the Hoan on your way into Bay View.
OnMilwaukee / Too Much Metal: What neighborhood do you live in?
DesJardins: Downtown Milwaukee.
OnMilwaukee / Too Much Metal: What's your hope for Milwaukee?
DesJardins: My hope for Milwaukee is unity. People need to support and uplift one another instead of tearing them down. We need to live in a place of encouragement and understand that when people come together there is no stopping the outcome.
OnMilwaukee / Too Much Metal: When / how did you fall in love with Milwaukee?
DesJardins: I fell in love with Milwaukee very young, I think it was the first time my parents took us Downtown. Driving into the city I thought it was the coolest thing in the world. We used to drive around and look at all the huge buildings, the lake and all the amazing houses on Lake Drive. I was always in awe. Well and disgust when we would breath in the smell of the yeast on the drive in.
OnMilwaukee / Too Much Metal: What's your one guilty pleasure?
DesJardins: Sunday Funday. I don't get to partake as much as I would like but there's nothing better than patio drinking on a Sunday with no agenda.
OnMilwaukee / Too Much Metal: Name a Milwaukeean you would like to high five.
DesJardins: Jon McGlocklin the co-founder and president of The MACC fund in Milwaukee. Cancer is scary, even more for children who don't understand. The MACC Fund does so many amazing things for kids with cancer. He deserves more than one high five.
Do you know a Milwaukee All-Star? OnMilwaukee.com and Too Much Metal are looking for true-hearted folks living in the city of Milwaukee who love what they do – and do it with zest and style. Email fred@toomuchmetal.com or molly@onmilwaukee.com with recommendations.