Every week in 2015, OnMilwaukee.com and local design company Too Much Metal will join forces to introduce the latest member of the Milwaukee All-Stars – a team of unfamiliar winners living in the city who consistently and diligently make it shine. Each week, a new member will join the team – based on your recommendations – and at the end of the year all will come together in a Rally of the Raddest Milwaukeeans. We're not sure what that means quite yet, so for now, meet …
Josh Adams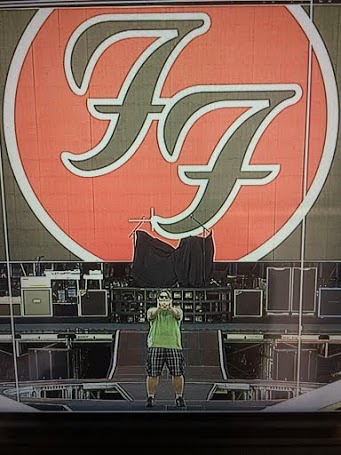 Josh Adams lives in the Brady Street neighborhood half of the year and the other half he is on tour with the Foo Fighters as their video director.
He and his wife, Sandi, run a video direction and production business called Mindpool Live that creates concert videos, music videos, event footage, concert screen footage and more for a slew of clients.
In the past, Adams worked with Michael Jackson, Elton John, Beastie Boys, Tina Turner, Yanni, Barenaked Ladies, Drake, AWOL Nation, Dropkick Murphys and more.
On St. Patrick's Day, Adams will be in Dublin, Ireland, with the Dropkick Murphys, shooting a concert video.
"I was in Dublin for St. Patrick's day last year, with Drake, and it was pretty crazy," says Adams. "It's like our 4th of July – only the weather is colder and people drink more."
He has also worked for Lollapalooza, Coachella, Austin City Limits Festival and Summerfest.
Through his work, Adams has been all over the world. This year alone he has traveled to South America, Australia and New Zealand. Sometimes Sandi is able to travel with him or meet him on location and they can spend time exploring after the concerts.
"I love traveling," says Adams.
Adams moved away from Milwaukee for a period of time and sometimes wonders if living in California or New York would be better for business.
"People in my business have told me it's probably best for me to live in Milwaukee because I don't get caught up in the razzle-dazzle of Hollywood and New York," says Adams. "But I did leave Milwaukee once and absence really did make the heart grow fonder."
OnMilwaukee.com / Too Much Metal: How long have you worked at this thing / job?
Josh Adams: I've been working in video and television production in some sort of capacity since 1994. The first concert I ever produced a video or live broadcast for was Widespread Panic at UW-Oshkosh in 1993. I convinced the faculty into letting me haul a switcher and a bunch of cameras out to their concert at the other end of campus and found a way to send the audio and video feedback to our campus station's master control. I'm sure at least five or six people in the Fox River Valley tuned in.
OMC / TMM: What time of year / season is your favorite in Milwaukee and why?
JA: Oh man, I'd say anytime between June and September. I have had friends and work associates come to town and they can't believe what a gem Milwaukee is. Bradford Beach is always a really huge surprise for the West Coasters. I also love that it's festival season. I've been a life-long fan of Summerfest and consider it a huge honor to work with them every year. I've been to festivals around the world and I don't think we realize how good we've got it here in Milwaukee.
OMC / TMM: What's your favorite / or least favorite smell in Milwaukee?
JA: My favorite is Sciortino's Bakery because we live across the street. My least favorite is Sciortino's Bakery because we live across the street.
OMC / TMM: So you are on tour half the year with Foo Fighters. How's Dave Grohl?
JA: He's awesome. I am so impressed by his energy. Working with him is one of the reasons I consider myself pretty lucky to have this job.
OMC / TMM: What's your hope for Milwaukee?
JA: For all Milwaukeeans to realize that our diversity is a huge asset. Milwaukee was built by smart, industrious and creative people. Hopefully we can use that same type of energy and foresight to bring our entire city closer together. There's a lot to be proud of here in Milwaukee and we all need to be in this together.
Side note: I also secretly hope the Femmes play a huge free concert on Brady Street someday.
OMC / TMM: When and how did you fall in love with Milwaukee?
JA: I grew up in South Milwaukee. When I started working for bands I would leave Milwaukee for up to a year at a time. I found myself staying in places like New York City and London for extended periods after the shows would wrap since I had all my belongings in a storage garage.
Around 2000, I came back and realized so many of the little things I appreciate about Milwaukee are hard to find anywhere else. Many of them are the intangibles. Creativity, the energy the city generates when it gets behind an idea. Milwaukee is a very DIY place and I'm a very DIY guy. The more I recognized that, the more I fell in love with the city as a place where I can kinda go back to and do my thing.
OMC / TMM: Why do you do what you do?
JA: Because it's what I love to do. You should always go after that thing that you love to do.
OMC / TMM: One guilty pleasure?
JA: One?! In Milwaukee?! Really?! You mean I have to choose between Leon's, Red Light Ramen and grilling out brats? And then if I choose brats there's the question of what kind of brats. Forget it, I refuse to answer this question.
OMC / TMM: Name a Milwaukeean you would like to high five.
JA: Mayor Barrett. I think he is a very determined leader who likes to get things done in an effort to make Milwaukee one of the most livable places anywhere. He has a good vision for the future and a great respect for our heritage. Hi five, Mr. Mayor, nice job!
Do you know a Milwaukee All-Star? OnMilwaukee.com and Too Much Metal are looking for true-hearted folks living in the city of Milwaukee who love what they do – and do it with zest and style. Email fred@toomuchmetal.com or molly@onmilwaukee.com with recommendations.