Every week in 2015, OnMilwaukee.com and local design company Too Much Metal join forces to introduce the latest member of the Milwaukee All-Stars – a team of unfamiliar winners living in the city who consistently and diligently make it shine. Each week, a new member will join the team – based on your recommendations – and at the end of the year all will come together in a Rally of the Raddest Milwaukeeans. We're not sure what that means quite yet, so for now, meet …
Ken Kornacki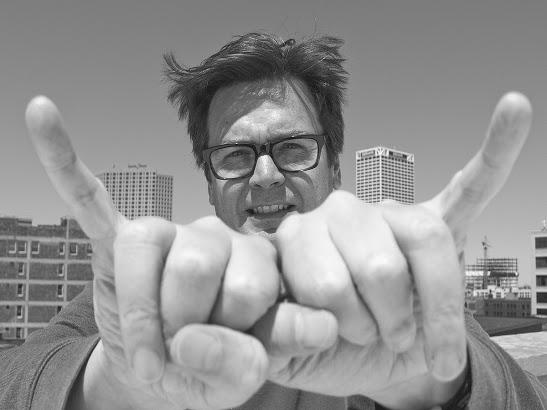 Ken Kornacki was born and raised in Milwaukee. He graduated from South Milwaukee High School and the University of Wisconsin-Milwaukee with a degree in film and animation. Kornacki then moved to Chicago, but returned to Milwaukee in 2004.
At first, he wasn't thrilled to be back; however, in an attempt to reconnect with Milwaukee he started to take a photo each day of some aspect of the city. He is in his fourth year of this project – he still takes a Brew City photo almost every day – and posts them to his blog.
In his professional life, Kornacki owns Kenko, a design and animation company for film and television. Notably, the company created the 2014 Summerfest commercials and has done work for Trek and The Oprah Winfrey Show.
"It took awhile, but I am much more comfortable in Milwaukee now," says Kornacki. "I used to miss the Chicago rat race but these days it's nice not racing around like a rat."
OnMilwaukee.com / Too Much Metal: How long have you been doing what you do?
Ken Kornacki: 2015 is year 26 in the film and television business for me. Technically, I started before that, shooting weddings in college.
OMC / TMM: What time of year / season is your favorite in Milwaukee and why?
KK: I love fall, especially the beginning and middle part when it's cool enough to wear a jacket. I like to walk and find hidden places in the city at different times of the day. In fall, the weather varies from brilliant skies to dour overcast and rain. I love the range.
OMC / TMM: What's your favorite / or least favorite smell in Milwaukee?
KK: I remember the moldy rag smell of the brewery just off the Marquette Interchange and wondered how anyone could drink beer if it smelled like that. But my favorite smell is inside Lincoln Panaderia on 10th & Lincoln.
OMC / TMM: What's your hope for Milwaukee?
KK: I hope Downtown becomes revitalized. I worked in The Grand Avenue Mall in college and it felt so alive and vibrant. I want the Grand Theater to be where the Milwaukee Film Festival is located, with bars and restaurants up and down Wisconsin Avenue. I want a big company to put its headquarters downtown with plenty of jobs and public transportation options for the workers.
OMC / TMM: When / how did you fall in love with Milwaukee?
KK: I fell out of love with Milwaukee when I moved to Chicago in the early 90s. When I moved back in 2004 it took awhile for me to get reacquainted with it. I started my daily photo blog a few years ago to force myself to look around. I explored a lot of neighborhoods and places that I ordinarily wouldn't go and I appreciate the place much more now.
OMC / TMM: Why do you do what you do?
KK: My film and TV work is demanding and the creativity is often shared between many people. In my personal photography I get to do whatever I want. My professional work and my personal work is the perfect balance between being creative for money and being creative for myself.
OMC / TMM: One guilty pleasure?
KK: Stadium Sauce.
OMC / TMM: Name a Milwaukeean you would like to high five.
KK: I would have liked to high five Ernest Borgnine in full clown regalia during The Great Circus Parade. I did get to shake hands with former mayor John Norquist whose fingers are as large as bananas. Today, I'd high five just about anyone.

Do you know a Milwaukee All-Star? OnMilwaukee.com and Too Much Metal are looking for true-hearted folks living in the city of Milwaukee who love what they do – and do it with zest and style. Email fred@toomuchmetal.com or molly@onmilwaukee.com with recommendations.