It's good to be a Badgers fan this easy Sunday, as Wisconsin absolutely destroyed Central Michigan, 61-0, in their home opener at Camp Randall Stadium.
With impressive performances on both sides of the ball – although not against the toughest opponent – the Badgers did everything and then some to build confidence before opening up their Big 10 schedule against Michigan later in the month.
Here are our five takeaways from the Badgers' 61-0 in over Central Michigan:
1. Jonathan Taylor is launching his Heisman campaign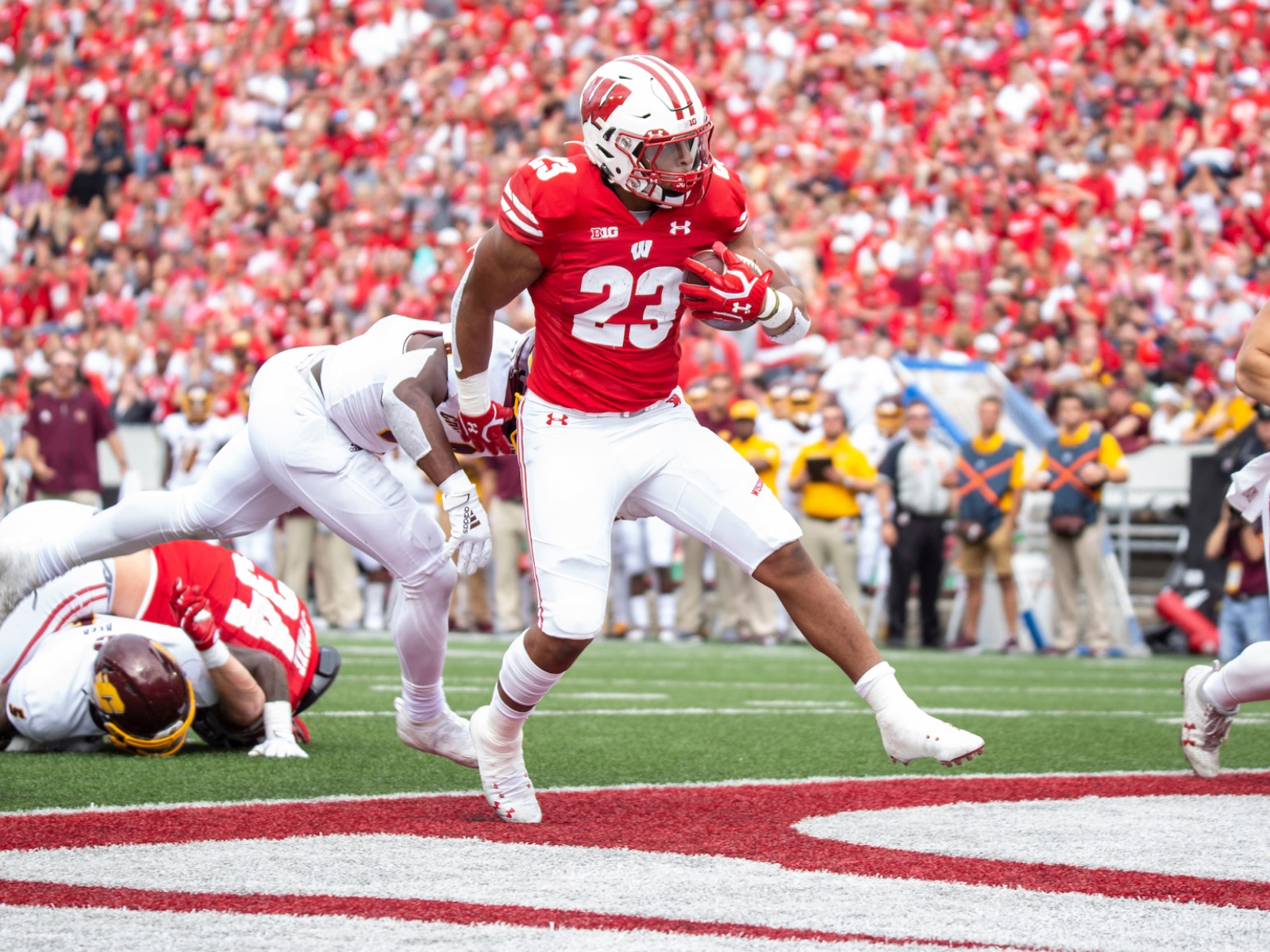 While Jonathan Taylor's name was in the Heisman discussion last year after an impressive sophomore season, the nation's top running back is already launching quite the Heisman campaign for himself in 2019. The junior rushed for over 100 yards on Saturday, the 24th time he has done so in his 29 games as a Badger.
Taylor found the endzone four times against Central Michigan, with three rushing touchdowns as well as a touchdown reception. In Wisconsin's first two games of the season, Taylor already has three receiving touchdowns, three more than his freshman and sophomore seasons. Just when you think he couldn't get any better, Taylor has added to his game going into his junior year.
2. Jack Coan is a solid starting QB
Since the Badgers' lone season led by Russell Wilson, the program has struggled to find a quarterback that isn't severely overshadowed by the team's rushing game. And while he is no Taylor, Jack Coan may be the solid starting quarterback that the team has longed for.
Coan played five games last season, led the Badgers to a 35-3 victory against Miami in the Pinstripe Bowl and entered this season at the top of the depth chart. He's looking to continue that success in 2019 and so far he's been great. The junior threw for a career-high 363 yards on Saturday and added three touchdowns in the team's blowout win. Maybe it's the experience or maybe it's the fact that freshman QB Graham Mertz would love his shot at the starting role, but either way, Coan is excelling to start off the season.
3. Quintez Cephus is focused on football
Junior WR Quintez Cephus has his mind set on football, and that was evident against Central Michigan. After missing the 2018 season due to expulsion from sexual assault charges, Cephus was eventually readmitted after a jury found him not guilty, and with that now in his rearview, his focus is on helping his team win.
Cephus had a career game on Saturday with his first two touchdowns of the year and six receptions totaling for 130 yards. Expect Cephus to be a big threat for opposing defenses if he and Coan continue to click.
4. The Badgers are confident going into their bye week
All things considered (mainly the degree of difficulty of their non-conference schedule), the Badgers are very confident going into their bye week after two impressive blowout victories. Wisconsin has outscored their opponents 110 to nothing this season, and both the offense and defense brought their A-game on Saturday.
The Badgers were just a yard shy of 600 yards of total offense against Central Michigan, while the defense held the Chippewas to just three first downs and 58 yards. The defense, Jonathan Taylor, Jack Coan, the massive lines and every cog in the Bucky wheel is working together to steamroll opponents. While the Badgers were heavy favorites on Saturday, not many would have expected a 61-point shutout.
5. The next game won't be so easy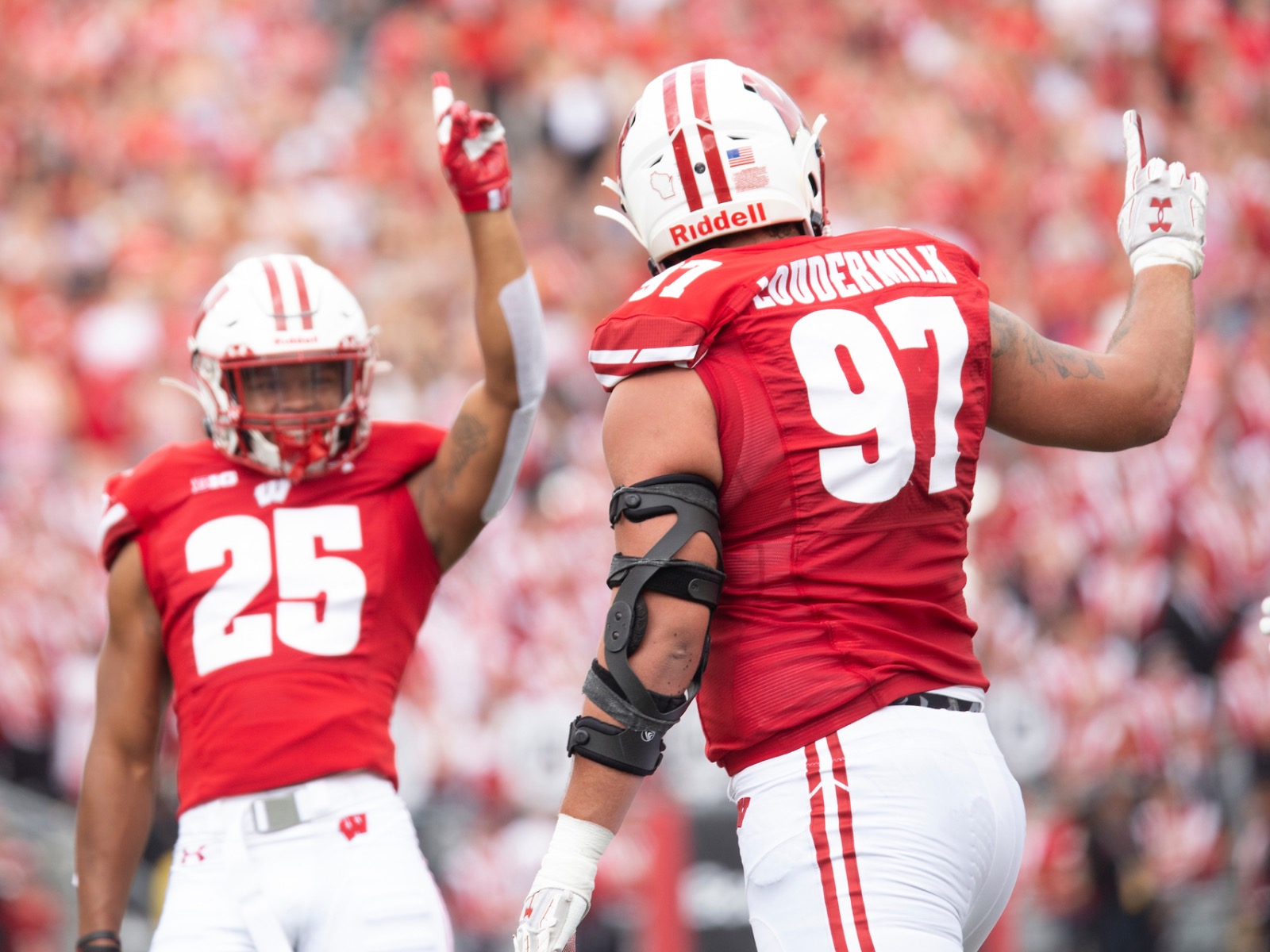 The Badgers next opponent will be a bit tougher than South Florida and Central Michigan, as their conference schedule begins as they host Michigan at Camp Randall in just a couple weeks. The Wolverines struggled to defeat an unranked Army on Saturday, with a 24-21 double-overtime win, but Michigan is still one of the best teams in the country.
Will yesterday's scare serve as a wake up call for Michigan, or will Wisconsin have the upper hand going into the game with a couple blowouts to kick off their year? The home field advantage will be huge for Wisconsin, but the Badgers will need to excel on both sides of the ball (like they have thus far) to pull off the upset.
No. 17 Wisconsin will host No. 7 Michigan on Sept. 21.