After opening their season with two impressive wins, Badgers fans had their celebrations curbed by the echoes of haters who asked, "Yeah, but who have they played?" Those doubters were silenced on Saturday when the Badgers defeated the 11th ranked Michigan Wolverines for Wisconsin's Big 10 opener, 35-14, and it wasn't even that close.
Here is our breakdown of the Badgers' 35-14 win over the Michigan Wolverines by the numbers:
35:
Unanswered points from Bucky
Through the majority of the game, yesterday's contest was all Badgers. Wisconsin opened the rivalry game against Michigan with 35 unanswered points, essentially securing the victory before Michigan could even put points on the board.
Bucky got his workout for the day as he did 105 push-ups for the student section on Saturday (doing a push up for the number of Wisconsin points scored, after each touchdown). And while Michigan went on to score twice in the second half, the game was essentially over as Wisconsin focused on burning out the clock to finish the game. Many expected Wisconsin to win, but not many expected such a dominating performance.
143:
Jonathan Taylor's rushing yards in the first quarter
Heisman hopeful Jonathan Taylor rushed for 101 yards against Michigan last year as the Badgers fell to the Wolverines, 38-13. JT topped that total in just one quarter on Saturday, as he rushed for 143 yards and two touchdowns in the first quarter alone, a stat line that most running backs would like for an entire game.
Taylor tacked on over 200 yards for the day, despite sitting out the second quarter due to cramps. Michigan could not find an answer for Jonathan Taylor all day ... if there even is one.
14:
Points allowed this season
It took three games, but finally someone was able to score against the Badgers' defense. With Saturday's win, the Badgers' D has only given up 14 points for the entire season, after shutting out South Florida and Central Michigan to kick off their year.
Especially considering the fact that the 14 points given up were virtually meaningless, these first few games have shown the country that the Badgers have arguably the best defense in college football. Whether it be in terms of scoring, rushing yards or passing yards, the Badgers statistically dominate on the defense end of the football, even when facing the 11th ranked team in the nation.
2:
Rushing touchdowns from QB Jack Coan
Some more cynical fans wondered if the Badgers could defeat Michigan with their impressive pass defense. In which case Wisconsin responded with a simple, "Who said anything about passing?"
Even with no passing touchdowns, QB Jack Coan proved that he is the best quarterback the Badgers have had since Russell Wilson. Coan had two huge rushing touchdowns on Saturday – one on fourth down – to give the Badgers a 21-0 lead and a big 25-yard rushing TD to end the first half by a score of 28-0. Jonathan Taylor was the best player on the field yesterday, but this is Jack Coan's team and he was the perfect leader against Michigan.
His passing wasn't too shabby either. Despite no touchdowns through the air, Coan had an 81% completion percentage and a solid QBR of 87.7.
80,245:
Attendance at Camp Randall
Even though you could certainly find some blue and yellow throughout the stadium, Badger fans came out in large numbers to cheer on their team yesterday. A total of 80,245 fans passed through the turnstiles on Saturday, a number which likely declined dramatically in the second half as Michigan fans decided to try and beat traffic back to Ann Arbor.
Camp Randall is one of the toughest college stadiums for visiting teams to play in, and Badgers fans can pat themselves on the back for playing a big role in the team's home field advantage.
40:
Rushing yards
Michigan only had 40 yards on 19 carries on Saturday, a total that Jonathan Taylor nearly doubled on one run alone. Credit Wisconsin's dominating run defense or credit Michigan's lack of identity on offense, but Bucky definitely did everything to stop runners in their tracks yesterday.
If Wisconsin can hold other Big 10 opponents to such low rushing totals, it could be smooth sailing to the Conference Championship.
131:
Point differential this season
The Badgers have now outscored their first three opponents of the year, 145-14, equating to an especially impressive 131 point differential. Although two of those games were against relatively unmatched non-conference opponents, Wisconsin now has a ranked conference opponent on their resume after defeating Michigan, which puts some weight behind their impressive numbers thus far.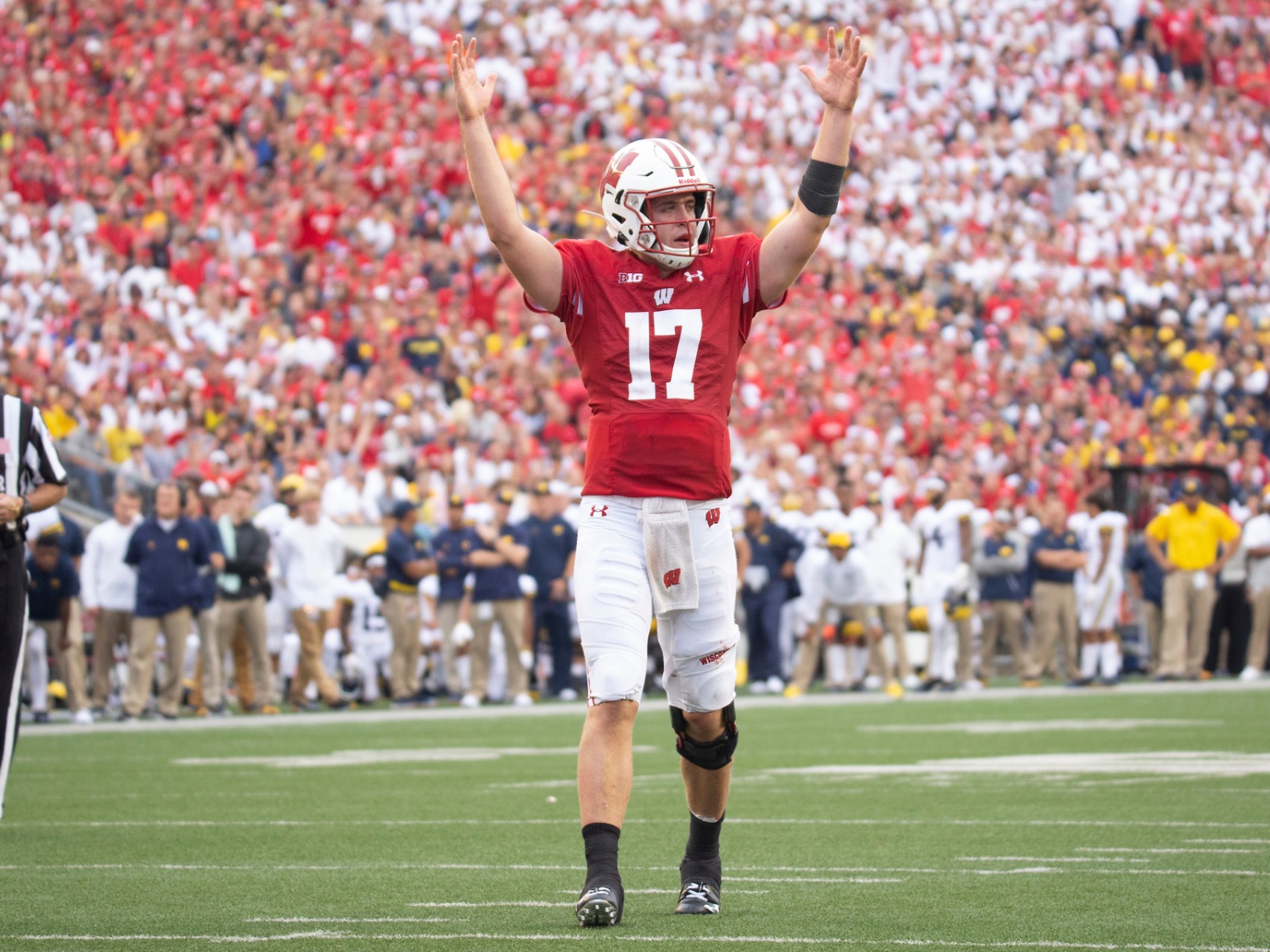 4:
Games left until Ohio State
Although they won't take their next few opponents lightly, Wisconsin surely has Oct. 26 marked on their calendars as they'll face Ohio State in Columbus. Ohio State is currently the sixth ranked team in the country, and if both teams win out over their next few games, the Wisconsin-Ohio State matchup will be one of the biggest games in the country.
Winning in Columbus will be no easy feat, but Wisconsin fans are a little more confident looking ahead to Ohio State after seeing what Jonathan Taylor and company did to Jim Harbaugh's Wolverines.