Season's eatings! The weather may be getting colder, but Dining Month on OnMilwaukee is just cooking up, dishing out your winning picks in this year's Best of Dining poll. Dining Month is brought to you by Fein Brothers, your premier food service equipment and supply dealer in Wisconsin since 1929. Congratulations to all of the winners, and happy eating for all those who voted! See all the winners for the month so far here.
This story originally ran in 2015.
Benihana Japanese Steakhouse has existed for five decades and over time became a fixture in pop culture – from a hilarious scene in "The Wolf Of Wall Street" to Tracy Morgan installing a Benihana hibachi grill in his home to Tori Spelling's law suit against the vaguely-Japanese chain.
The last time I went to Benihana was before the homecoming dance during my sophomore year of high school, and yet, when my 13-year-old son asked me if we could go to "one of those places where the guy cuts up your meat and cooks it in front of you," only one four-syllabled Japanese word came to mind.
I've driven by the Benihana Japanese Steakhouse in Downtown Milwaukee, 850 N. Plankinton Ave., many times, but I never hear of anyone going there or notice anyone checking in on Facebook. Prior to my visit, I was filled with questions. Who does go to Benihana? Is it expensive? Is it any good? How many Beni-tinis is an appropriate number to consume while dining with your child?
All of my Benihana questions were answered last weekend, when my son and I headed out on a Friday night in search of theatrical chefs, impressive slicing and dicing, volcano onions, massive portions of meat and probably just one Beni-tini for me.
A quick Google search prior to our dēto no yoru (that's "date night" in Japanese, also obtained from The Google), I discovered that Benihana restaurants have been around for more than 50 years. The first one was opened in 1964 in New York City by Hiroaki "Rocky" Aoki, a wrestler who almost attended the 1960 Summer Olympics, but decided to scrape together some cash and open a restaurant – named after his parents' cafe in Tokyo – instead.
Before our hibachi dinner at Benihana, I experienced one of the best customer service experiences I've had in eons. My son and I were late for our reservation (if you are eating at a hibachi table on the weekend, definitely call ahead) and pulled into Benihana's driveway next to the building, prepared to pay $5 for valet parking. However, I realized I did not have any cash, but the valet attendant kindly said I could pay later.
I went into the restaurant and asked the host where I could find the closest ATM, but he said, "Don't worry, I got it" and proceeded to take his wallet out of his pocket, walk outside and pay the valet. (After dinner, my son and I went to an ATM and paid him back – with a hefty "thank you for the awesome" bonus.)
Upon arrival, hibachi diners are asked to sit at the bar until the entire table of diners show up. Hibachi tables seat eight on three sides of a rectangular table, and the chef occupies the fourth side of the table. There is a large grill in the middle where the food is prepared.
In our group, there was, interestingly, a woman who also appeared to be on a "date" with her teenaged son, and a group of three other men. Through eavesdropping, I learned that the teenaged son had celebrated a birthday eight days earlier, and he and his mom discussed whether they could rightfully claim to the staff it was his birthday. After some debate, they decided eight days was indeed close enough to his actual date of birth, and so later, we sang "Happy Birthday" to him. He got a free dessert.
I don't have any hard statistics on this, but it seems like at least half of the parties in the hibachi section of Benihana are celebrating something – or pretending to celebrate something. There is a lot of singing, clapping and general merriment. When calling to make a reservation the person answering the phone asks, "Is this a special occasion?"
The hibachi section is on the second floor of Milwaukee's Benihana, which has a better vibe than the ground floor, mostly because there are more diners. Once our group was taken upstairs, about 15 minutes later than our scheduled reservation time, we were seated, greeted and given menus.
The hibachi items range in price from $23 for the salmon to $40 for two lobster tails. All of the hibachi dinners are five courses, starting with onion and mushroom soup, followed by a salad, then a shrimp appetizer and / or grilled veggies with dipping sauces, the main course meat and hot green tea. (I'm not sure I would count tea as a "course" but I was stuffed midway through the meal so I certainly didn't feel cheated in the food-course department.)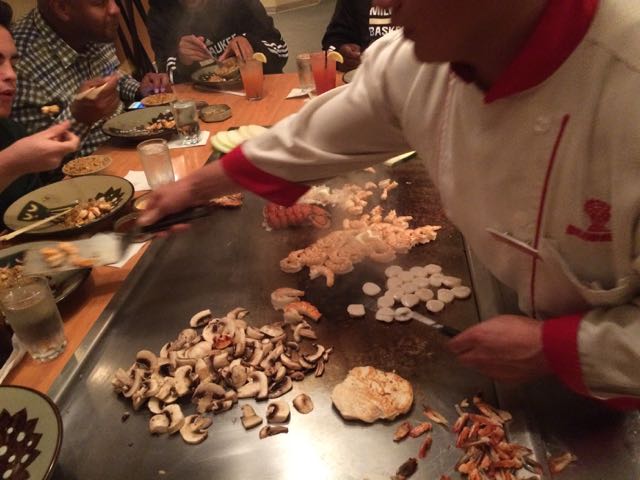 White rice comes with the meat selection or diners can upgrade to fried rice for an extra $3.50. My son ordered the teriyaki steak and I got the hibachi shrimp. In retrospect, I should have ordered a different meat or seafood dish because everyone got a grilled shrimp appetizer.
The entertaining chefs are, undoubtedly, the best part of the experience. They are crazy skilled at twirling knives and chopping veggies and they have a sense of humor – which includes using an oil carafe shaped like a little boy peeing – as well as telling jokes like "Look! A butterfly!" while tossing a bowl of butter in the air. Beni-haha.
Oddly, we did not interact with the other guests at our table. The aforementioned actor and comedian Tracy Morgan noted the lack of stranger-to-stranger interaction at Benihana in a comedy routine once, but said that the lack of commentary by fellow hibachi diners made it an ideal setting to try out new jokes.
I probably enjoyed my salad the most – it was crunchy and fresh, topped with a delicious, chunky ginger dressing. The soup could have been warmer and a little saltier and have a few more mushrooms. I appreciated that even though we didn't order the fried rice, the chef offered some. He also shared extra veggies and chunks of steak to try when I expressed that my son's looked tasty.
In general, all of the hibachi items, including my shrimp, were grilled to absolute perfection, but could have had more flavor. I found myself putting more salt and pepper on my food than I normally do. My son found his steak delicious and was impressed that he actually received it medium rare. Other times when he's ordered it pink the server or chef decided a kid couldn't possibly want anything other than an overcooked piece of meat and brought him that instead.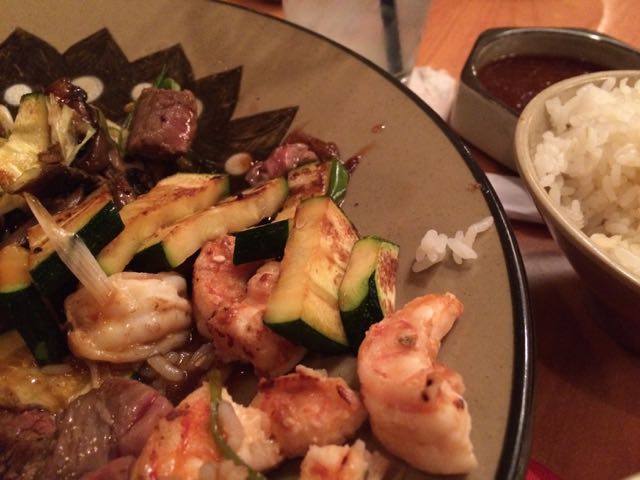 By the end of our meal my son, who is usually a bottomless pit when it comes to food, was full enough that he didn't want ice cream. Although somewhat shocking, this reinforced that, for under $25, Benihana diners get a decent five (ish) course meal and, more importantly, a memorable, entertaining time.
Maybe this is, in part, why there are so many semi-famous rappers (and a few famous ones, too) who have song references to Benihana. There are dozens of rappers, from the Beastie Boys to 50 Cent, who have immortalized the chain in their lyrics.
"Eating, but I ain't talking vegan / We at Benihana, like twice on every weekend." - Dom Kennedy.
"I'm the Benihana Chef on the SP12 / Chopping the f-ck out of the beats left on the shelf." - Beastie Boys.
"Up in Benny Han Han / Eating all the wonton." - Big Sean.
"I don't want the drama / I just want a quiet night at Benihana." - Childish Gambino.
Rappers probably tribute Benihana for the same reason many of us find ourselves there, even after a decade or more hiatus. Although it's a chain, and really not very lavish nor particularly delectable, it's branded in our brains as a special occasion spot where we go to celebrate and indulge.
For many people – including this diner as well as a portion of the rap community – Benihana is both an illusion of decadence and yet very attainable at the same time. It sounds fancier in our heads than in reality. For not very much money, we can get a lot of food, a few laughs and feel like we're treating ourselves – whether we really are or not.

Molly Snyder started writing and publishing her work at the age 10, when her community newspaper printed her poem, "The Unicorn." Since then, she's expanded beyond the subject of mythical creatures and written in many different mediums but, nearest and dearest to her heart, thousands of articles for OnMilwaukee.

Molly is a regular contributor to FOX6 News and numerous radio stations as well as the co-host of "Dandelions: A Podcast For Women." She's received five Milwaukee Press Club Awards, served as the Pfister Narrator and is the Wisconsin State Fair's Celebrity Cream Puff Eating Champion of 2019.