Black Is Beautiful is a series of interviews with interesting, intelligent and immersed-in-their-passion local African American women.
Isabella Busby is 15 years old and not afraid to speak her truth. Last year, she stood up to an adult who tried to stop a peaceful protest after the murder of George Floyd and she continues to work daily to hold staff and peers accountable at Shorewood High School, where she will be a sophomore this fall.
Busby is focused, driven and smart. Although annoyed by her role sometimes, she recognizes her responsibility to be the "cool Black girl" who makes White community members – as well as media reporters – feel comfortable and therefore able to approach her for insight and direction.
But she wants better – for herself and her community.
Although Busby is wise beyond her years, she is also still a fun teenager, one who adores Nirvana and wants nothing more than to save enough money for a pair of replica Kurt Cobain sunglasses.
OnMilwaukee: Tell me a little about school and your favorite subject and activities.
Isabella Busby: Right now, I like history and English and biology. I played soccer and volleyball, but kept it kind of low-key my freshman year because of Covid.
That must have been strange and challenging spending most of your first year of high school learning virtually?
Eh, it wasn't that bad. I figured it out.
Do you have thoughts about college plans – or is it too soon for that?
I have a LOT of thoughts on that! I want to get a doctorate in psychology and work for the FBI as a forensic psychologist or behavioral analyst. I've always been interested in psychology and then I started binge watching "Criminal Minds" and thought, "This is dope. I would like to do that."
So what do you like about high school, other than certain subjects?
I like that our class choices get wider as we get into higher grades. There are lots of options. I also like that our school is set up like a college campus with different buildings and that we're lucky enough to have an open campus during lunch.
What don't you particularly love about your school?
As a Black kid, there's not a lot of diversity. I do get a lot of support, but it's allyship and not real minority-minority support which kind of sucks. Allyship is so important, but it only goes so far.
How do you experience allyship at school?
Most of my teachers are really supportive and most of our classes have in-depth conversations about race and the administration tries to make sure minorities are comfortable in class. But I don't always see it or feel it as a student. I still find some staff uncomfortable to be around.
Do you think you will choose a college with more Black students?
My mom wants me to go to a historically black college, but I'm not sure. To me, it doesn't really matter because I can handle White people. I've been doing it my whole life. I'll be fine. Wherever I go to college will be more of a financial thing.
How have you participated in activism in the past couple of years?
Last summer there was a lot of activism across the world with BLM protests and I was very active in that. I marched and spoke at rallies and did whatever I could to make my voice heard. Covid did slow down my activism, but I am now working hard to hold teachers and students accountable.
What does that look like?
I have to speak up when something isn't right. It's easier to do with teachers than students. It's hard to do with kids because I know I will have to deal with them for the rest of high school. But I've also learned how to surround myself with people who I like – and people who like me and I'm comfortable to be who I am around them.
Last summer we spoke after you received recognition for confronting a White adult during a peaceful protest. Can you refresh our minds about this?
It was during a "Kneel for 9" protest. We kneeled in the street for nine minutes (to demonstrate the amount of time the police officer kept his knee on George Floyd.) Originally we were told not to go into the street, but I was like "nah" and a bunch of people kneeled in the street "blocking" traffic for nine minutes. And while we were doing that, this guy drove past us and then turned around and got out and yelled at us for blocking traffic and said we should go do this somewhere else. I was annoyed and upset so I went up to him and started yelling at him and saying what I thought. Sometimes I say that I wish I would have handled it differently, but I really don't. He got what he had coming to him.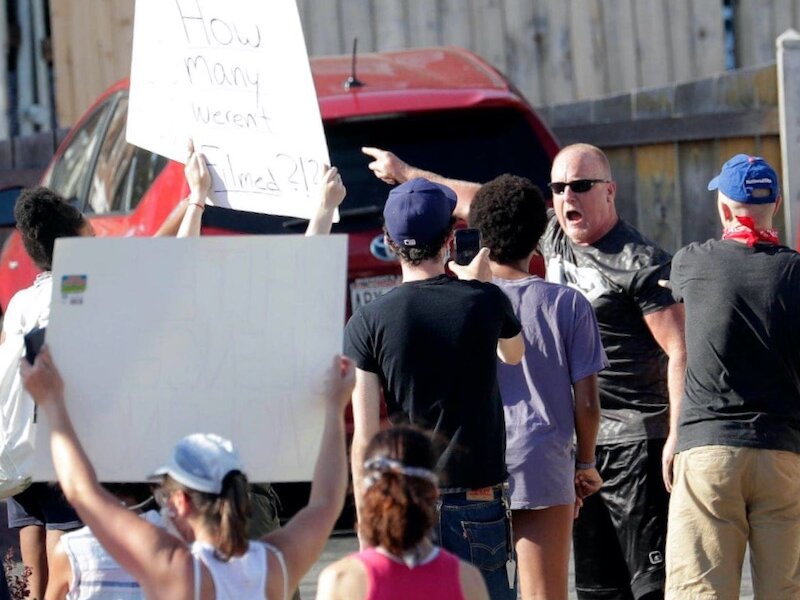 Were you comfortable getting so much media attention for your actions?
It was weird because I wondered why I was getting so much attention. There were other Black and Brown kids (at Shorewood High School) who were doing just as much as me, but I was the one people kept talking to. Most of the other kids don't live in Shorewood – like I do – so I felt like they were choosing me to interview because they were less scared of me. I'm that "cool Black girl that white people can talk to."
Have people actually said things like that to you?
I get a lot of "you don't sound Black" or "you don't seem Black."
What do you say?
I used to try to just write it off to stupidity and ignore it. Now I'm being more direct and saying "just don't even talk to me" or if I'm really feeling it, "that's really racist and you need to check yourself and your micro-aggressions."
So I hear you like Nirvana ...
I'm a huge music fan and a CLASSIC Nirvana fan. But I also like a lot of new, different artists that I found through Nirvana.
What was your first concert?
I saw Lizzo at Summerfest. It was my first big concert. To this day she's my hype music, I listen to her in the shower. I love her.
If you could change something about Milwaukee, what would it be?
Milwaukee is so segregated. I want to see more connected communities. I know kids in Shorewood who can't go to the bridge because it's connected to Riverwest. That's just not right to me.
What are you enjoying the most in your post-pandemic life?
I'm happy I can finally go inside my friends' houses. Covid wasn't as bad in summer, we could sit outside, but during the winter it was terrible. It really cut down my social time and now it feels great to be able to hang out with friends again.

Molly Snyder started writing and publishing her work at the age 10, when her community newspaper printed her poem, "The Unicorn." Since then, she's expanded beyond the subject of mythical creatures and written in many different mediums but, nearest and dearest to her heart, thousands of articles for OnMilwaukee.

Molly is a regular contributor to FOX6 News and numerous radio stations as well as the co-host of "Dandelions: A Podcast For Women." She's received five Milwaukee Press Club Awards, served as the Pfister Narrator and is the Wisconsin State Fair's Celebrity Cream Puff Eating Champion of 2019.