March is "Bar Month" on OnMilwaukee. Get ready to soak up more bar articles, imbibable stories and cocktailing content all month long. For more of our Bar Month stories click here!
The Bloody Mary – especially when it comes with a chaser – is as signature to Wisconsin as beer or cheese. (And sometimes, delightfully, you will find both of these things in your Bloody Mary!)
And although it's totally acceptable to order a Bloody on any day of the week and at any time of day, Bloodies for Sunday brunch are arguably the best time for the savory and often-decadent (but not always) cocktail.
There are definitely two camps of Bloody Mary aficionados: those who like a simpler, "stick to the basics" Bloody and those who want every last food group tossed atop their cocktail.
Thus, we've compiled an alphabetized list featuring both, ranging from classics to newcomers, all of which deserve a spot on your bloody-loving bucket list – if they aren't there already. Happy brunching, Milwaukee!
1. Louie's Coop, inside G. Groppi's Market
1441 E. Russel Ave., (414) 747-9012
groppis.com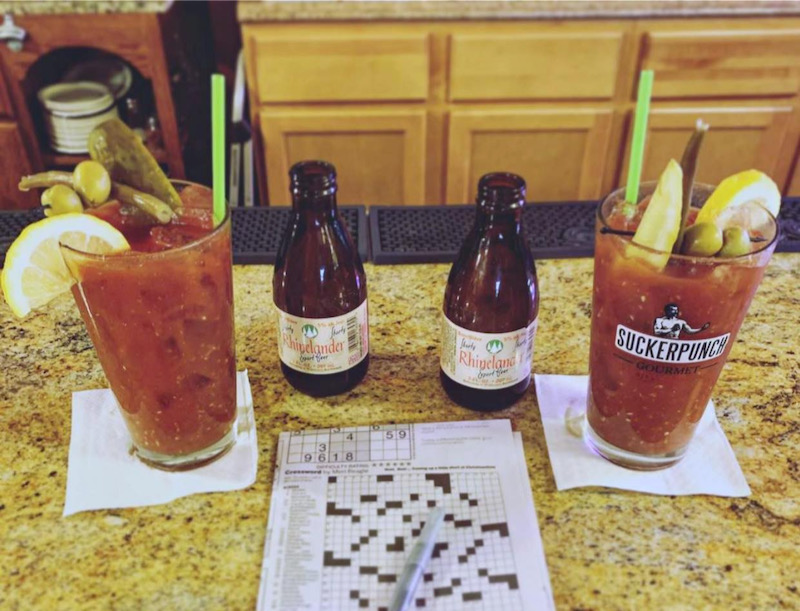 Groppi's Food Market is charming on its own, and the little bar in the back – named for the original owner Louie Groppi – makes the Bay View spot even more irresistible. And bonus: they have a great Bloody to boot (not in a boot, mind you), featuring scratch-made Bloody mix, a reasonable number of garnishes – pickle, pickled green bean, olives, lemon – and a short bottle of Rhinelander for the chaser.
2. Randy's Neighbor's Inn
6922 W. Beecher St., West Allis, (414) 545-8738
randysneighborsinn.com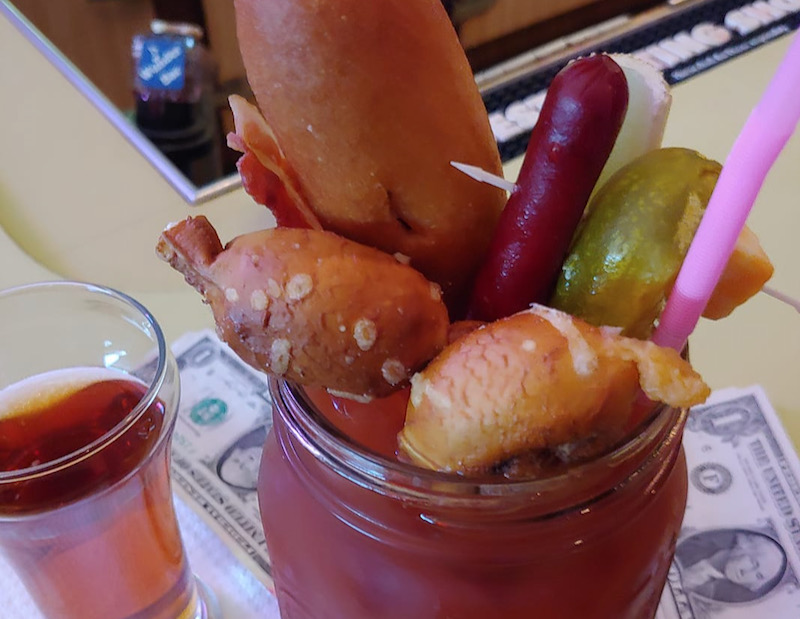 Randy's serves up a solid, fun Bloody Mary at any time, but offers a massive Bloody Bar every Saturday from 10 a.m. to 3 p.m. Garnishes include corn dogs, cheese-filled pretzels, mushrooms, shrimp, Brussels sprouts, pepperoncini, asparagus, garlic-or-blue-cheese stuffed olives, pickles, beans, cheese sticks, beef sticks, bacon and celery.
3. Sobelman's
Various locations
sobelmanspubandgrill.com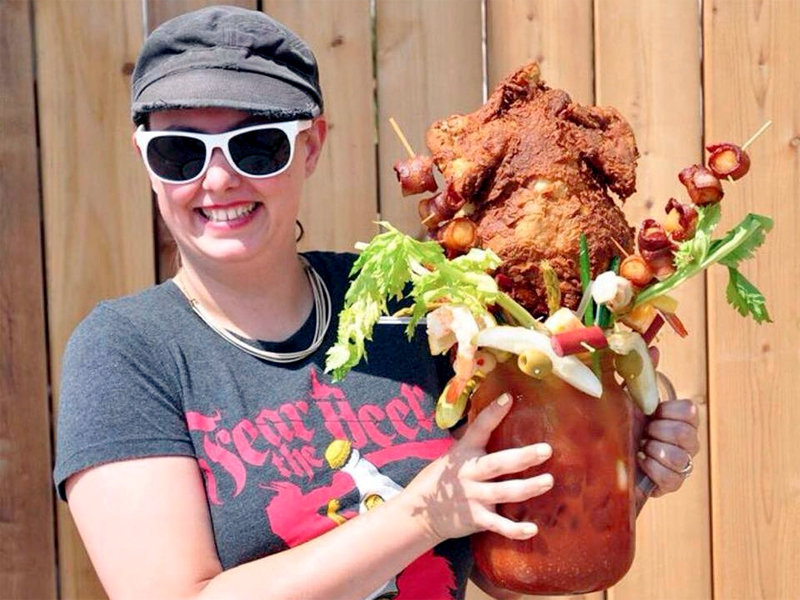 Sobelman's has won many awards for its tasty – and garnish loco – Bloody Marys. Sobelman's offers eight different Bloodys, including The Classic, The Baconado and The Masterpiece, which comes topped with every garnish in the house and a cheeseburger slider. There's also a $60 version on the menu called "The Bloody Beast" that comes with an entire fried chicken. Go big or go home!
4. Steny's
800 S. 2nd St., (414) 672-7319
stenystavern.com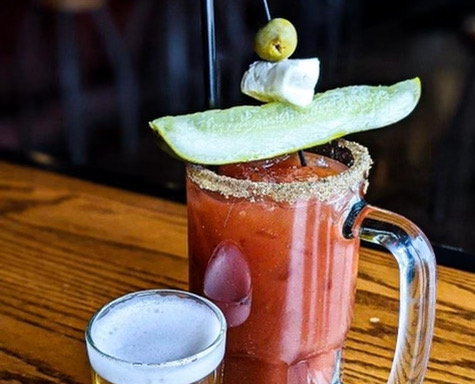 The Steny's Bloody Marys pretty much tops the list of Classic Milwaukee Bloody Marys. Since 1985, it's been made from the exact same recipe invented by the original owner, Jerry Steny. (The bar and grill are now run by his son, Ryan Steny.) It's a simple Bloody; one that's more about the quality of the mix rather than the garnishes. Recently, Steny made a major decision and added a cheese curd to the garnishes – prior it was served with only an olive and a pickle. Steny says he decided to add the curd because they are about to sell their Bloody Mary mix in stores and the new label has a cheese curd on top of it. So he matched the real-life version to the new label.
5. Uncle Wolfie's Breakfast Tavern
234 E. Vine St., (414) 763-3061
unclewolfies.com
Uncle Wolfie's House Bloody (in main photo) is made with signature mix, along with pickle, beef stick and cheese curd garnishes. Sleek and simple, this Bloody is available by the glass or to go by the kit. The kits comes with or without vodka an are priced accordingly.
6. Wicked Hop
345 N. Broadway, (414) 223-0345
thewickedhop.com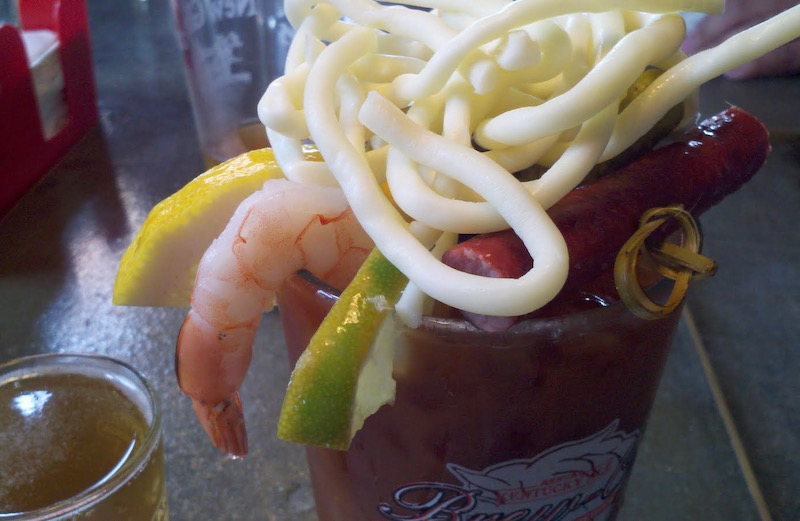 The Wicked Hop's Bloody has won the top spot in OnMilwaukee's Best Bloody Mary Contest many times. And for good reason. The mix itself is rich with a little kick and the garnishes include peeled shrimp, Wisconsin beef stick, Milwaukee midget dill pickle, Portobello mushroom, mozzarella "whips" and a Spanish green olive. It's also served with locally brewed Riverwest Stein.

Molly Snyder started writing and publishing her work at the age 10, when her community newspaper printed her poem, "The Unicorn." Since then, she's expanded beyond the subject of mythical creatures and written in many different mediums but, nearest and dearest to her heart, thousands of articles for OnMilwaukee.

Molly is a regular contributor to FOX6 News and numerous radio stations as well as the co-host of "Dandelions: A Podcast For Women." She's received five Milwaukee Press Club Awards, served as the Pfister Narrator and is the Wisconsin State Fair's Celebrity Cream Puff Eating Champion of 2019.