There's a wall between you and what you want and you got to leap it.
ELEVEN DAYS
Eleven days.
That's all that Bob Babisch wants.
Eleven days of music. All kinds of stages are in the mix, but the biggies show up for 11 straight days in the Marcus Amphitheater.
Those are the headliners and Babisch, who has been booking the music for Summerfest for 38 of the festival's 48 years, knows that the judgment on how successful the festival is depends in large measure on those 11 nights.
That's where his judgment comes in. The festival has to use his experience, connections and taste to choose those 11 acts and it's not an easy process. A healthy dose of luck also helps.
"Every act is different," Babisch said. "But no act gets booked in a vacuum. You always have to balance one act against what's going on the rest of the festival.
"There is just so much inventory out there. It's not an unlimited supply. You want to be out there when they're talking about all their stuff, about what they are going to be doing. And you need to find an act that can do the business."
"Do the business."
That's what Babisch and Summerfest need. An act that can do the business. That's not as simple as it sounds.
"First of all you need an act that is touring," Babisch says." If someone has decided to stay home, they are staying home. Then you need someone that will be within your budget."
The way the finances work at Summerfest, and at most music venues, is a complicated proposition for amateurs to understand. It's not nearly as simple as paying an artist or a band a certain amount of money and that's it. There are base figure guarantees, percentages of ticket revenue, percentages of ancillary revenues, artist expenses and venue expenses.
Babisch is coy about the cost of major acts, but admits the total amount of guarantees during an 11-day run is in the millions of dollars. Ed Sheeran will walk away from his gig with more than $250,000. Paul McCartney made $2.5 million to play Miller Park last year, and two sources said the The Rolling Stones will exceed that by a lot.
Tickets are a very sensitive area. The Marcus Amphitheater has a capacity of 23,000, and Summerfest uses that number as the base for determining ticket prices. Maybe Babisch expects a group to sell out, so that helps set one ticket price. Or there may be an expectation that one act will only draw 15,000, and ticket prices have to be adjusted to meet the artist's guarantee.
"You've got to find acts that are big enough to sell those kind of tickets, and make sure the price is right for those acts," he said.
"You'll find country music always early. They always book first. Typically because there's so many festivals and so much other stuff for them. They're always out there early and with things like Country Thunder there are lots of opportunities. That's why you see us announce country acts first."
This year, there are two acts that are prime examples of the process Babisch goes through pretty much year-round. One is perhaps the greatest rock band in history, The Rolling Stones. The other is Ed Sheeran, the young English singer-songwriter who is a huge act around the world and is in the process of tearing it up in America.
Sheeran boarded the Summerfest train first.
It is a miserable state of mind to have few things to desire and many things to fear.
FRANCIS BACON
Ed Sheeran
Bob Babisch has known Louis Messina, who books tours for Sheeran, for a long time.
"I met Bob back in the '80s." Messina said. "I was running an MTV tour with Paula Abdul, Milli Vanilli and Tone Loc. We took the tour through Summerfest and that's when I met Bob. And we've worked together since then."
Messina Group is connected to AEG, which — along with Live Nation — is one of the two biggest concert promoters in the country.
"He books Taylor Swift and Kenny Chesney," Babisch said. "Louis specializes in country most of the time. We keep keep in touch."
It was shortly before Summerfest 2013 that Messina told Babisch about Sheeran.
Sheeran had opened for Swift during her "The Red Tour" that ran from March to September that year.
"Ed was a big star everywhere," Messina said. "The only frontier left was the United States. What you want when you have an artist is for certain people to keep track of your artist. Bob is one of those people. He keeps close track.
"You want people watching him, keeping track of how he's doing, the crowds, the records. That's how you get an artist out there. He was a hit in the United Kingdom, but relatively unknown in the United States."
That gradually began to change once Messina called Babisch in 2013.
"Louis called before the festival that year and told me he was going to be sending Sheeran out (on tour) and told me to keep an eye on him," Babisch said. "We watched him and saw him getting bigger and bigger."
The entire Summerfest entertainment department pays close attention to record sales, the size of crowds at tour stops, even for an opening act. They track the level of media attention and, maybe most importantly, buzz. Like every business, there is an informal network of people who pay attention to each other.
"I'm always having conversations with AEG and Live Nation, talking about what they're going to be working on in the future," Babisch said. "I was talking to Louis when he said 'I'm going to take Ed Sheeran out, so watch him.' This was before Summerfest 2013.
"He's going to be big, so I started watching him. He got bigger and bigger and then last year, before the festival, I was having a conversation with Louis and he said, 'I'm going to be touring him in 2015. You want to get in on that, we should talk.' That's where the conversation really got started."
Much of the work of booking acts for the Marcus is about relationships that Babisch has built over the decades he's been doing this.
"Bob is such an honorable guy," Messina said. "This whole business is built on trust. When he gives you his word he stands by it. And Summerfest was a perfect place for Ed.
"It's such a cool vibe down there. It's not like playing a fair somewhere where the pigs and cows are next to you. It's all about the music. I'm amazed at what he does down there."
It didn't take long for Summerfest to decide that Sheeran — who debuted in Brew City at The Pabst in 2012 and returned to play The Rave the following year — would be right for Milwaukee.
"There's this relationship Louis and I have," Babisch said. "It's trust. I trust what he's doing and he trusts what we do."
But the work was just beginning.
"I had to find out if he was going to work through our time," Babisch said. "We started talking about dates and we started talking about money.
"But we were on hold, probably, until this September. We were holding July 3 for him. He was doing a long tour, starting in February and he was booked for three shows at Wembley Stadium on July 10." That gig will be before a crowd of 80,000.
Babisch said that holding dates is not a science, but something he uses his experience and history to decide. "Right now we are probably holding four or five dates for 2016," he said.
"Let me give you an example. We wanted to book Bruno Mars in for the festival in 2013. About a year before that his agent said he couldn't make it work because Mars had to be in Canada at that time. He said that Mars was just going to get bigger and bigger and that he was going to work the summer of 2014. Then he called us up the week before Summerfest of '13 and said 'Let's hold a date for Bruno for '14.'
"Summerfest hadn't even happened and we had an offer out for Bruno for the next year. Some of those guys work that far ahead now because when you do big shows like that, there are only so many dates available."
Summerfest is unique among the major music festivals like Coachella, Bonnaroo or Lollapalooza.
"One of the biggest differences is that because Summerfest is 11 days, you got to find 11 major acts to fill an amphitheater," Babisch said. "That's a real different animal because whoever is working you can't always find a way to put them in a spot that makes sense. Amphitheaters are big ticket shows and you've got to find people who want to work in your time period and it's not that easy.
"With Ed, Louis told us that we were going to be the last day of the tour before he played Wembley. He said let's hold July 4, so we did. We held it and held it and then he came back toward the end of last year and said it's going to be July 3. And so that was it.
"We put in an offer and put an amount of money that he'd get on the table. Lou said it seemed fair to him and it was at a ticket price I wanted. He said, 'OK, let's do it.' I didn't have anything written or anything. It was like, Louis said we were going to do it, so it's going to happen."
Babisch wouldn't talk about how much Summerfest pays for acts even if you waterboarded him or pulled out his fingernails. He's been loyal to all of the Summerfest secrets for 38 years and he isn't going to start giving up proprietary information now.
But pretty close guesses can be made, especially if you talk to people who have some experience in this business.
"Ed Sheeran is probably one of the hottest acts out there," said Gary Bongiovanni, the editor of Pollstar Magazine, which is to the music industry what The New York Times is to newspapers. "He's probably in the half a million range now. It's complicated, but I'd think that would be accurate."
Two other sources, one a booking agent and the other a ticket broker agreed with that estimate, but Bongiovanni and the other booking agent pointed out that having booked Sheeran so early he was probably a $250,000 act. But everyone agrees that with percentage shares of revenues he will walk away with significantly more than that.
Summerfest knows that the Marcus can't be all Ed Sheeran. You've got to be multi-genre. You need some variety. You have to be able to sell the tickets.
And suddenly, along comes the biggest band of all time.
You can't always get what you want!
The Rolling Stones
"I've wanted this band for damn near as long as I've worked here," Bob Babisch said after the formal announcement was finally made. "It was always whenever they were touring it was usually some kind of national company doing it. So I figured we were always going to be out.
"Then some time in December I got a call from a guy I know at AEG that I've worked with a lot. He said, 'it looks like we'll be doing a tour with the Rolling Stones. Are (you) interested in being involved?' I said, 'Are you kidding me?'
"It turns out they were going to do a run of stadiums and they wanted to do something just a little different, just to have a little fun."
Babisch said that the people at AEG remembered the amphitheater and how cool it was. Even though there are 23,000 seats it's a very intimate 23,000 seats because the seating is very vertical. When you put 23,000 people all on one level going back from the stage, that sense intimacy is gone.
"Ours goes up pretty quick, because among other things we've got the beauty of Lake Michigan in the background," he said. "When you are standing on stage it feels really intimate to the musicians.
"In January we went out to L.A. to sit with those guys for a while and we hammered out a deal that was acceptable to all parties," Babisch said. "Then they had the tour rerouted a few more times and I was in that reroute thankfully. The next thing you know we get a date. We were happy as can be.
"We walked away from that meeting (in January) thinking we had a really, really good chance. They told me, they said in total transparency, they might route away from us. They didn't know for sure. We don't know at this moment but it was at a point where the people I was talking to said let's do this, this will be fun. The band will like it."
The routing of a band is a critical element and one that is especially so with a band like the Stones. The band has to be in certain cities on certain dates, but if the stadium has something else going on, like a baseball game, it can change the route of the tour. The organizers have to see if they can make it work to route it so that the dates fit for every place they are going to be.
"Because we are 11 days with 11 acts, we had to put the Stones at the front because they have a three-day setup," Babisch said. "Plus the band only works every four days so if we had tried to do two dates it would have thrown off the entire schedule. "
Again, Babisch is a guy who keeps a blanket on any talk about money, but he did allow that the Stones were the most expensive act Summerfest has ever had.
"This is a band that is only playing 18 dates or so," Bongiovanni said. "Plus they are playing all huge stadiums. They must really have wanted to play Summerfest.
"I don't know exactly what it costs, but you can bet they (the band) will walk away from that gig with everything. This isn't a money maker for Summerfest. This is a feather in their cap and a gift to the people in that city. It underscores Summerfest as a major music festival."
The guarantee figure for the Stones from Summerfest is $4 million, a figure that has been confirmed by several people with knowledge of the deal. The figure did not surprise Bongiovanni.
"They don't get any bigger than this," he said. "Nobody does their kind of business."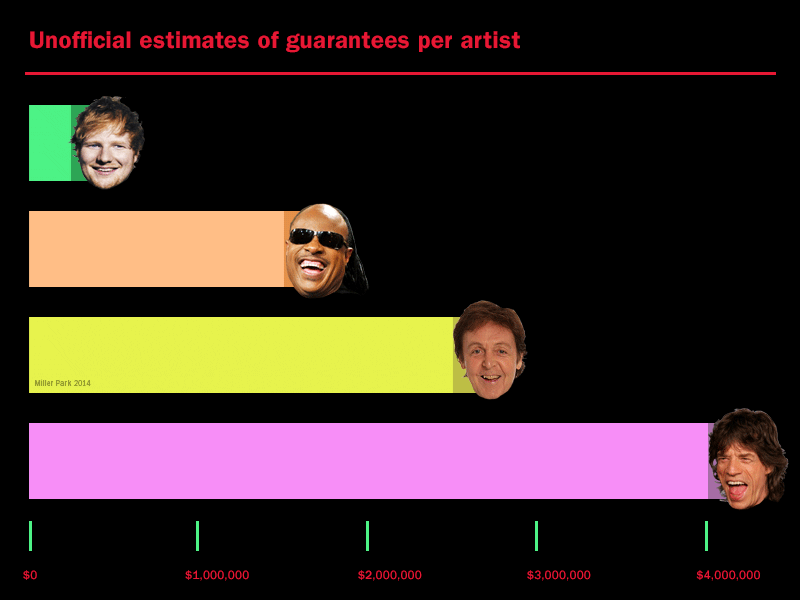 With the Stones, and every act, Babisch said Summerfest is just like every place that books music acts – like the Riverside, Turner Hall, The Pabst and the BMO Harris Bradley Center – when it comes to the financial end of things.
"The act says 'this is what it's going to cost and what we want' and then we go back and say 'well, we think it should be this guarantee' and then we go back and forth," he said.
"We can lose a band because they'll say 'no, this is the number we have to have' and then we have to look at it. We have to say do we think that that's too expensive and too rich and we can't sell enough tickets in the market? That's the decision process that we have to make. If we think we can sell out every ticket and there's a number that they want and we could get to it fairly easily without spending a fortune on advertising then certainly we are looking at that.
"One thing that is very important to us is that we try to keep ticket prices as low as we can. People expect that of Summerfest and we try to do that with every act we book.
"All of the advertising for the Stones was done about a month before the announcement. Our marketing department came up with the Summerfest logo on the end of the tongue. The one that was on all the billboards. We sent it into them and they loved it, so we were ready."
Babisch has dealt with some pretty big acts in his days and he's done lots of negotiating, but this one seems special to him.
"This is the biggest act we've ever had. Once we had the agreement with AEG, they took it to the band and said, let's play Summerfest. And they said, what's Summerfest? It's kind of cool to think of Mick and Keith sitting around in somebody's office talking about Summerfest and if they want to play it.
"It's really kind of cool."
With a history in Milwaukee stretching back decades, Dave tries to bring a unique perspective to his writing, whether it's sports, politics, theater or any other issue.
He's seen Milwaukee grow, suffer pangs of growth, strive for success and has been involved in many efforts to both shape and re-shape the city. He's a happy man, now that he's quit playing golf, and enjoys music, his children and grandchildren and the myriad of sports in this state. He loves great food and hates bullies and people who think they are smarter than everyone else.
This whole Internet thing continues to baffle him, but he's willing to play the game as long as OnMilwaukee.com keeps lending him a helping hand. He is constantly amazed that just a few dedicated people can provide so much news and information to a hungry public.
Despite some opinions to the contrary, Dave likes most stuff. But he is a skeptic who constantly wonders about the world around him. So many questions, so few answers.