Bo Ryan retired late Tuesday night as head coach of the Wisconsin men's basketball team, ending a decade-and-a-half tenure during which he elevated the Badgers' program and established it as one of the most consistently successful in the country.
Ryan, who started at the school in 2001, made the announcement during a heartfelt press conference after his team defeated Texas A&M-Corpus Christi 64-49 in Madison, ending a two-game home losing streak that could be considered the early nadir of a 7-5 season.
The retirement, which is effective immediately and induced an outpouring of support and some surprise on social media, comes after several months of uncertainty over Ryan's future. Back in June, he made a statement that the 2015-16 season would be his last; in August, he said he could coach another four or five years.
Longtime assistant Greg Gard now becomes the Badgers' interim coach. Many believe it was a strategic move by Ryan to give Gard, whom he believes to be eminently prepared for the job, the chance to prove he deserves it over the remainder of the year. During the televised press conference following Ryan's pronouncement, Wisconsin athletic director Barry Alvarez said he'd evaluate how the team interacts with and performs under Gard and make a decision about the full-time position after the season.
Ryan, who turns 68 next week, will be remembered as the winningest coach in school history, one of the best the Big Ten has ever had and a sincere, hard-working (if at times red-faced and screaming) leader who truly cared about his players. The numbers show it; the words tell it.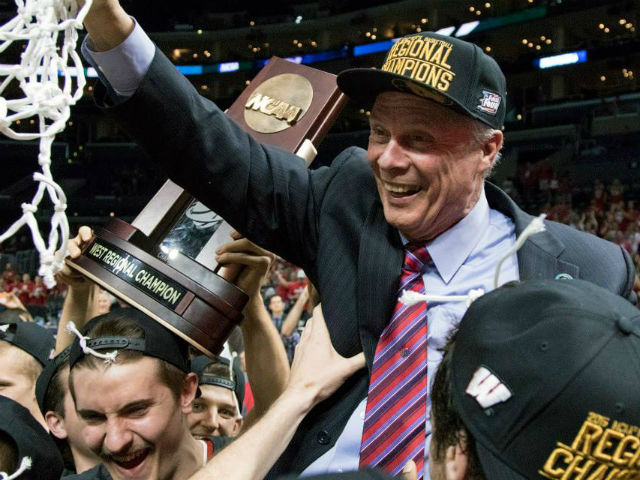 PHOTO: Wisconsin Men's Basketball Facebook
Bo by the numbers
747 career wins, which currently ranks 27th on the NCAA's all-time victories list (with 233 total losses, for a .762 winning percentage), spanning Wisconsin-Platteville, Wisconsin-Milwaukee and the Badgers
364 total wins at Wisconsin, the most in school history (with 130 losses, for a .737 winning percentage)
172 Big Ten wins, the most in school history (with 68 losses, for a .717 winning percentage)
.717 Big Ten winning percentage, the best in conference history
36 wins in 2014-15, a school record for a season and one shy of the single-season conference record
11 winningest seasons in school history, including all four of Wisconsin's 30-win seasons
7 Big Ten titles, the most in school history
14 consecutive NCAA tournament appearances, the most in school history and one for every season Ryan coached the Badgers, compared to seven in total prior to his arrival
7 Sweet 16s, the most in school history
3 Elite Eights, the most in school history
2 Final Fours, back-to-back in 2013-14 and 2014-15 and the most in school history
1 national championship game, a loss to Duke in 2014-15, the school's first appearance since 1941
4 Big Ten Coach of the Year awards, the most in the conference over the past 15 years
48 Academic All-Big Ten-honored players under Ryan, behind only Purdue and Northwestern in the conference over that span
10 players that made NBA rosters during Ryan's tenure, including four first-round draft picks
6 AP All-American players, including first-teamers Alando Tucker (2007) and Frank Kaminsky (2015)
5 children, Megan, Will, Matt, Brenna and Mairin
3 books written, "Bo Ryan: Another Hill to Climb," "The Swing Offense" and "Passing and Catching: the Lost Art"
Bo by the words
Press conference
BREAKING: Bo Ryan makes it official, announces retirement as @BadgerMBB head coach. Here is the entire announcement. https://t.co/iHSbotWgHY — Big Ten Network (@BigTenNetwork) December 16, 2015
Ryan: "I had written stuff down, but I can't do that. I've got to tell you how I feel."
"It's so emotional right now. And I'm trying to hold this together."
"I don't know what it'll be like not being able to be – I told Coach Gard I'd be a voluntary assistant and help out, and he said 'nah, Coach you would just get in the way.' He really didn't say that, but … Our staff, what a staff. Unbelievable. Our fans, our students, our boosters, I've said it thousands of times – we've got the best."
"Please understand that this is going to take a little bit of time. And I just ask you to understand that, because when you've been doing something for 47 years. … But I knew it would come. We just can't always do it the way we would like. But Greg's ready, the staff is ready. All the way through – top-flight people, and I feel really good about that. His record as an assistant coach – I told the team that there are people who have received head coaching jobs who were assistants in places without anywhere near the record that (Gard) has. Not even close. There's nobody more prepared than him."
"I just know that … (the players will) respond. We've got good people."
"I thought that was better than reading something. ... I'm sure I'll have more to say later, but it's extremely difficult. ... I'll see you down the road."
Alvarez: "He has put our basketball program on the map. He has done it in a class way. There comes a time when you have to step down. I've been there myself … I appreciate how he handled it."
"His record speaks for itself. He is a legend. He is a Hall of Famer. He has won his way at every level … he leaves our basketball program in great shape."
"These are never easy days but they're exciting days. It's sad when a coach the magnitude of Bo steps down. It's really a day to celebrate his accomplishments. But it's also a day to celebrate an opportunity for an outstanding young coach to take the bull by the horns. The baton has been passed. Let him run with it. I'm excited for him."
"I feel good about Greg taking the job on an interim basis."
"I shared with (the players) the same thing I've shared with two football teams the last three years. Don't be afraid of change. You'll have change the rest of your life. Embrace change. You'll grow from change. Take what you learned from Coach Ryan and embrace Coach Gard and take what he gives you and run with it."
Gard (when asked about the interim label): "I've always had a one-year contract."
"I would have never dreamed we would have had the ride we've had. And then coming to your own home-state institution, the flagship school in your own state, and to be able to continue to build this program to where it is and the tradition and the pride that is involved with this program, for the opportunities (Ryan) has given me, I'll forever be grateful for that."
"I know what it was like when there weren't NCAA appearances, nor NIT appearances (at Wisconsin). This place has come a long way in a lot of facets. Basketball has been able to rise to a level where our alumni, our fans, our students, former players, current players – there is a lot of pride. I take that responsibility that comes with all that extremely seriously."
"I think you always prepare yourself and you trust your preparation as you go through your career. You never know when opportunity is going to knock. But you have to be ready for it. I have been well-prepared from a standpoint of strategic philosophy, the foundations I believe in and what is important to me and what makes up high quality basketball. You have to be able to communicate. You have to be a good teacher. That is what I've always prided myself on. There's been steps along the way. This hasn't happened overnight."
"(Ryan) won't vanish off planet Earth, and I'll make sure I still have his phone number."
Twitter reaction
So many great memories. #Badgers #ThanksBo https://t.co/5n0h6NSp6e — Wisconsin Badgers (@UWBadgers) December 16, 2015
This is tough to watch..Thank you Coach Ryan for molding me into a young man. Wish I could argue with you one more time. All love to Pops!! — Sam Dekker (@dekker) December 16, 2015
Exceptional coach but even a better man. Thanks for everything over the years Coach Ryan. Enjoy retirement you deserve it. — Devin Harris (@Dev34Harris) December 16, 2015
It was an honor coach #ThanksBo — Ben Brust (@BenBrust) December 16, 2015
It's been amazing being able to be coached by Coach Ryan even though short, I have learned so much. All I can say is thank you. — Brevin Pritzl (@LilB_Pritz1) December 16, 2015
It's been an honor. Thanks Coach, for everything. — Zak Showalter (@ZShowbball333) December 16, 2015
Hayes: "From the players' standpoint, we wish him well with his retirement and all the things old people do" #ThanksBo — Wisconsin Basketball (@BadgerMBB) December 16, 2015
Most Successful Big 10 Coach =Knight Most Successful Recent Coach =Izzo Best Job Ever done at a School = Ryan If u know B10 History u get it — Dan Dakich (@dandakich) December 16, 2015
Congrats to Bo Ryan on a soon-to-be Hall of Fame career. Same guy as big time coach as he was as an assistant 30+ years ago. Class. — Fran Fraschilla (@franfraschilla) December 16, 2015
Bo Ryan was simply the GOAT to ever coach @ WISCONSIN! Thanks 4 all the special moments in Badger country. — Dick Vitale (@DickieV) December 16, 2015
Just saw the news of Coach Ryan retiring...Sad day for B1G and all of College Basketball! One of the Greats! Congrats on an Amazing Career!! — Chris Collins (@coach_collins) December 16, 2015
Coach thanks for all that you have done for me and @UWMadison. @BadgerMBB is in good hands. Coach Gard will do great things. — Brian Butch (@Brian_Butch) December 16, 2015
Saw the news of @BadgerMBB's Bo Ryan retiring. The #Purdue hoops family wishes Coach Ryan the best in retirement. — Purdue Basketball (@BoilerBall) December 16, 2015
We wish Wisconsin coach Bo Ryan nothing but the best as he steps away from the game he has loved for so long. Good luck and best wishes! — Michigan Basketball (@umichbball) December 16, 2015
Congratulations to Coach Ryan on a hall of fame coaching career. A loss for college basketball. Honor to compete against him. — Steve Wojciechowski (@steve_wojo) December 16, 2015
Coach Ryan THANK YOU for so many great @BadgerMBB memories over the past 14 years. #BoRyan 🏀 pic.twitter.com/p4zPkTLyZq — Wisconsin Alumni (@WisAlumni) December 16, 2015
Bo Ryan announces retirement. Thanks for all the memories coach! It was a great ride! @uwp_pioneers @BadgerMBB pic.twitter.com/LbX2tvulxS — UW-Platteville (@uwplatteville) December 16, 2015
Congratulations to my friend and soon to be induction partner Bo Ryan on his retirement. #GreatCareer #Legend #Icon pic.twitter.com/0dfXtSJOJQ — Donald Driver (@Donald_Driver80) December 16, 2015
Wisconsin. Basketball. Two different statements, but you redefined both. For everything, #ThanksBo. #Badgers pic.twitter.com/SWZ93OtJPa — UW-Madison (@UWMadison) December 16, 2015
#ThanksBo #ThanksBo #ThanksBo #ThanksBo #ThanksBo #ThanksBo #ThanksBo #ThanksBo #ThanksBo #ThanksBo #ThanksBo #ThanksBo #ThanksBo #ThanksBo — Wisconsin Basketball (@BadgerMBB) December 16, 2015
"I'll see you down the road." #ThanksBo pic.twitter.com/4UV1y8RcM4 — Wisconsin Basketball (@BadgerMBB) December 16, 2015
Born in Milwaukee but a product of Shorewood High School (go 'Hounds!) and Northwestern University (go 'Cats!), Jimmy never knew the schoolboy bliss of cheering for a winning football, basketball or baseball team. So he ditched being a fan in order to cover sports professionally - occasionally objectively, always passionately. He's lived in Chicago, New York and Dallas, but now resides again in his beloved Brew City and is an ardent attacker of the notorious Milwaukee Inferiority Complex.
After interning at print publications like Birds and Blooms (official motto: "America's #1 backyard birding and gardening magazine!"), Sports Illustrated (unofficial motto: "Subscribe and save up to 90% off the cover price!") and The Dallas Morning News (a newspaper!), Jimmy worked for web outlets like CBSSports.com, where he was a Packers beat reporter, and FOX Sports Wisconsin, where he managed digital content. He's a proponent and frequent user of em dashes, parenthetical asides, descriptive appositives and, really, anything that makes his sentences longer and more needlessly complex.
Jimmy appreciates references to late '90s Brewers and Bucks players and is the curator of the unofficial John Jaha Hall of Fame. He also enjoys running, biking and soccer, but isn't too annoying about them. He writes about sports - both mainstream and unconventional - and non-sports, including history, music, food, art and even golf (just kidding!), and welcomes reader suggestions for off-the-beaten-path story ideas.