South Second Street in Walker's Point has a string of great restaurants, with other neighborhood byways hosting others. At more than a decade old, Braise, 1101 S. 2nd St., is now one of the area's most long-lived eateries.
But it's also more than that. The restaurant – which occupies a cream city brick corner tap building erected by Miller Brewing Company as a tied house saloon in 1907 – is part of a broader project that aims to connect farmers and chefs to the benefit of both.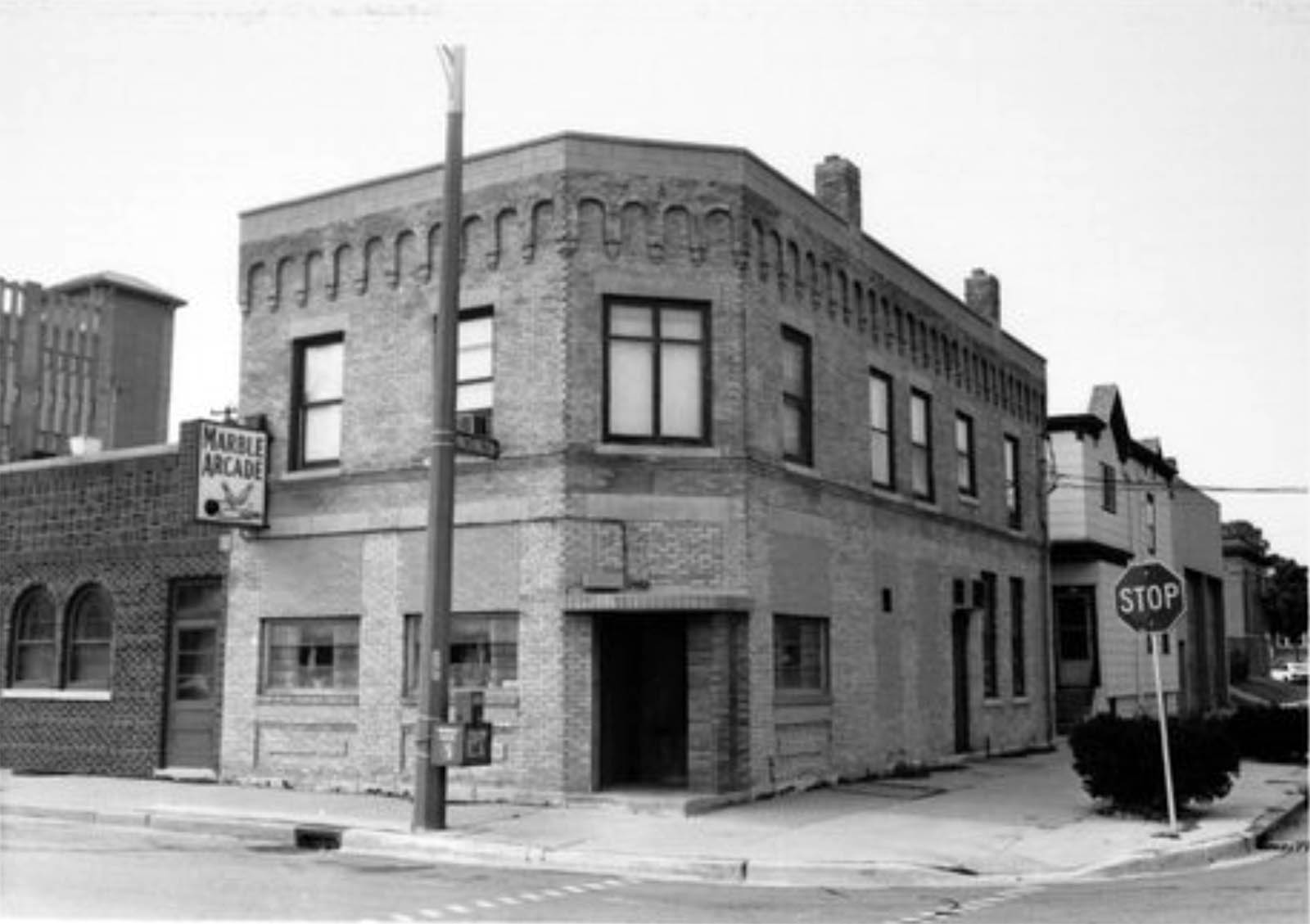 Braise is part of an RSA, or restaurant supported agriculture project, founded by owner David Swanson, who had arrived in Milwaukee from northern Illinois to work at the renowned Sanford restaurant in 1998.
Swanson started in the restaurant business at age 15, working at Carlos' in Highland Park, Illinois, and Le Francais in nearby Wheeling. He also worked at Commander's Palace in New Orleans before arriving in Milwaukee.
"I was running Sanford when (owner) Sandy (D'Amato) was going to open up Cafe Coquette," Swanson recalls. "I was looking at places. That's always what I wanted to do, but I wasn't really hard searching for something then. But I ultimately just wanted to want to do my own space. It was just one of those natural progressions that a cook wants to go to.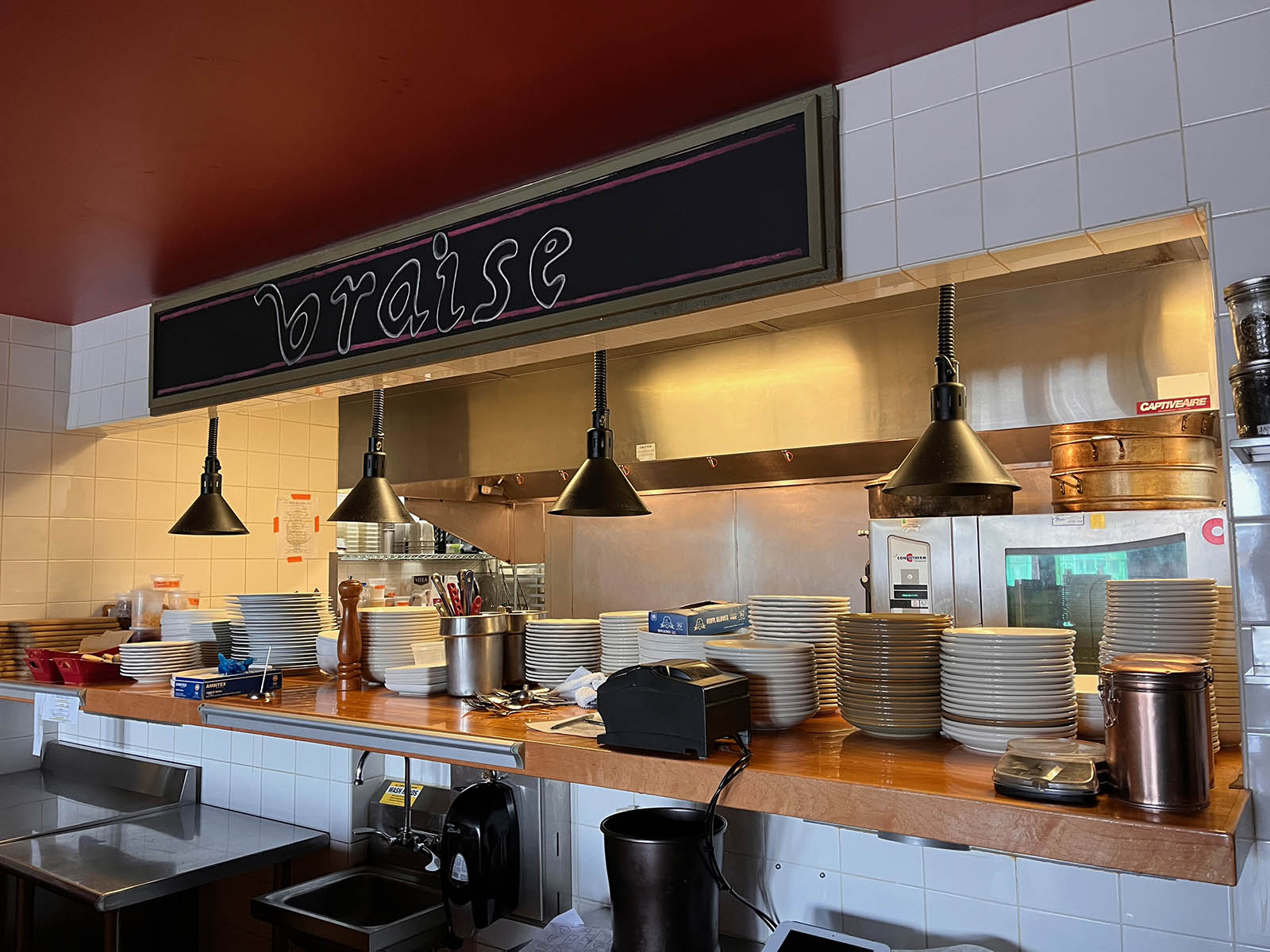 "When I ultimately left Sanford in 2004, the real estate market was really kind of crazy. Things were just way out there ... Manhattan prices for Milwaukee. Kind of ridiculous."
So, in the meantime, Swanson pivoted. He wrote a multi-step business plan and applied for a grant from the Wisconsin Department of Agriculture, Trade and Consumer Protection.
Securing that grant, he shifted his priorities around a bit and started with the RSA.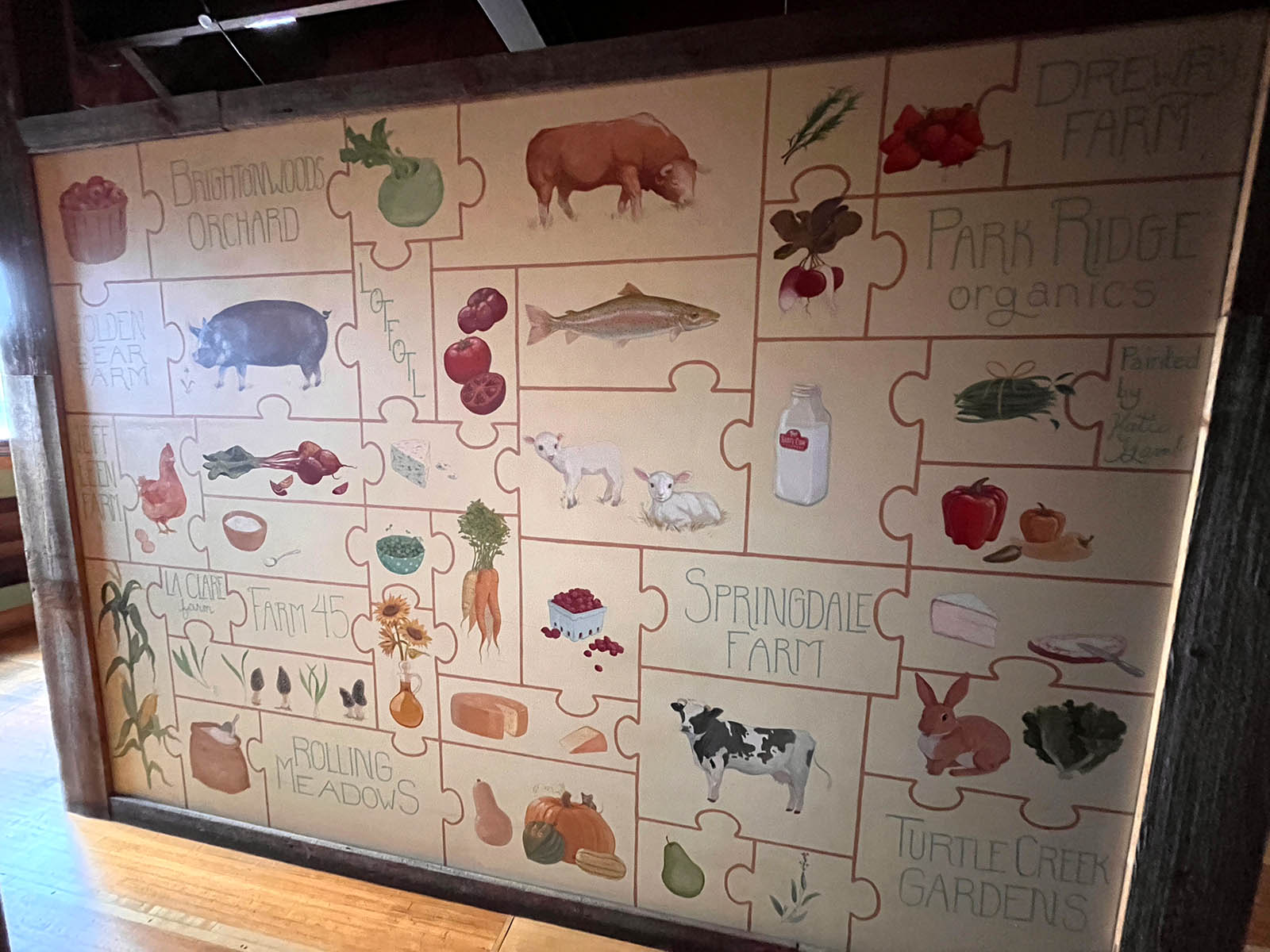 While he wasn't cooking in a restaurant, Swanson was operating the RSA, doing farm dinners with some of the agricultural partners and running cooking classes, too. But he wanted to get back into the restaurant business.
"The restaurant was part of the business plan," Swanson recalls. "Of the four steps that I wrote in the business plan, I just put step three, the RSA, in front of the restaurant. And then I found this place in 2010."
"This place" is a two-story cream city brick tavern building that has a single-story block building attached and had a duplex out back. All three were part of the same property when Swanson bought it, though not always.
Like most taverns built by Miller Brewing Co., this one – which looks more or less like most of the brewery's other Milwaukee tied houses (with very few exceptions) – was designed by the architectural firm of Wolff & Ewens, whose offices were even located in a Miller tied house building that they'd designed.
The building, which replaced an earlier one-and-a-half-story frame building on the site, went up at a cost of $5,000 and included an apartment above the saloon.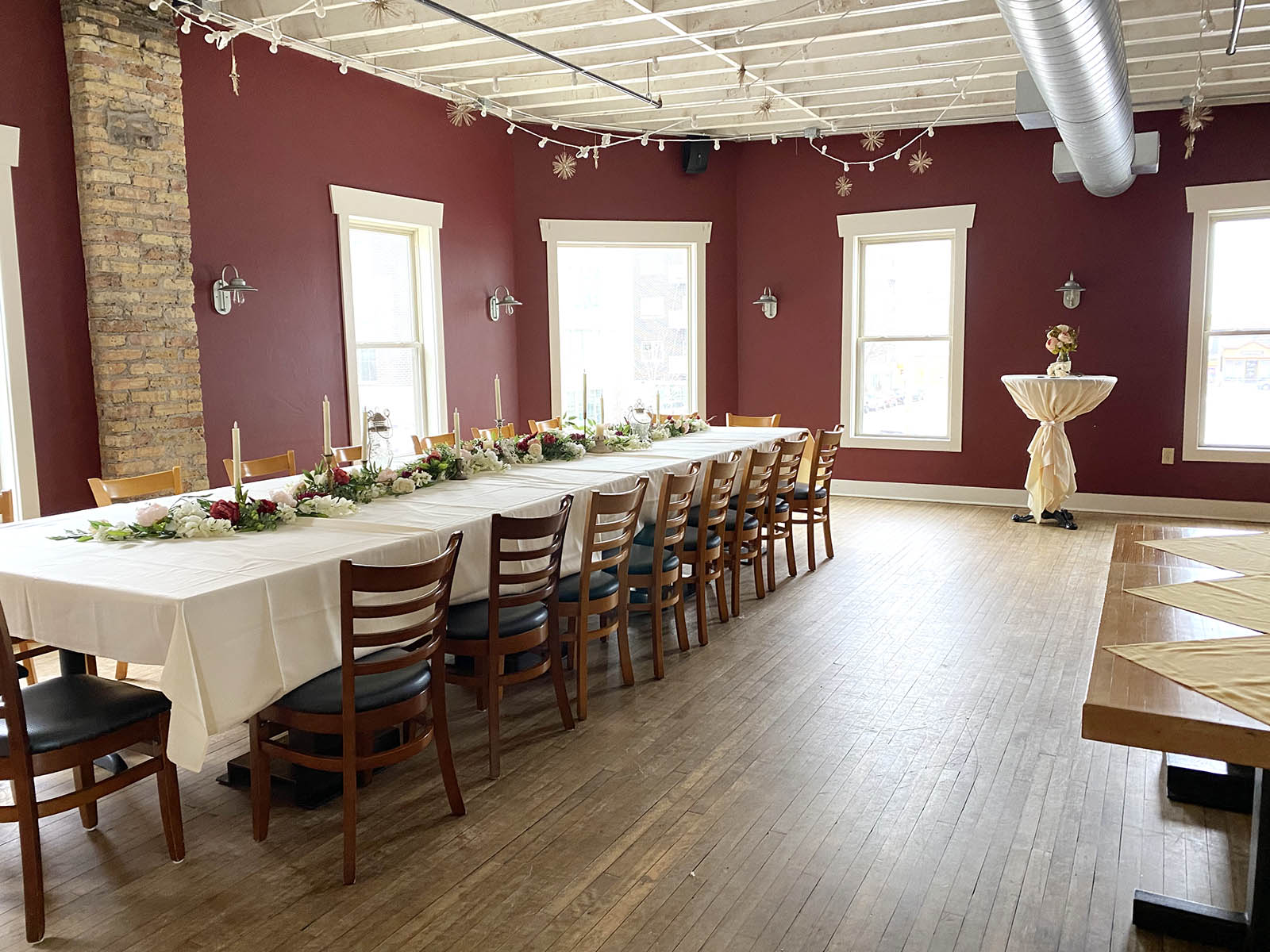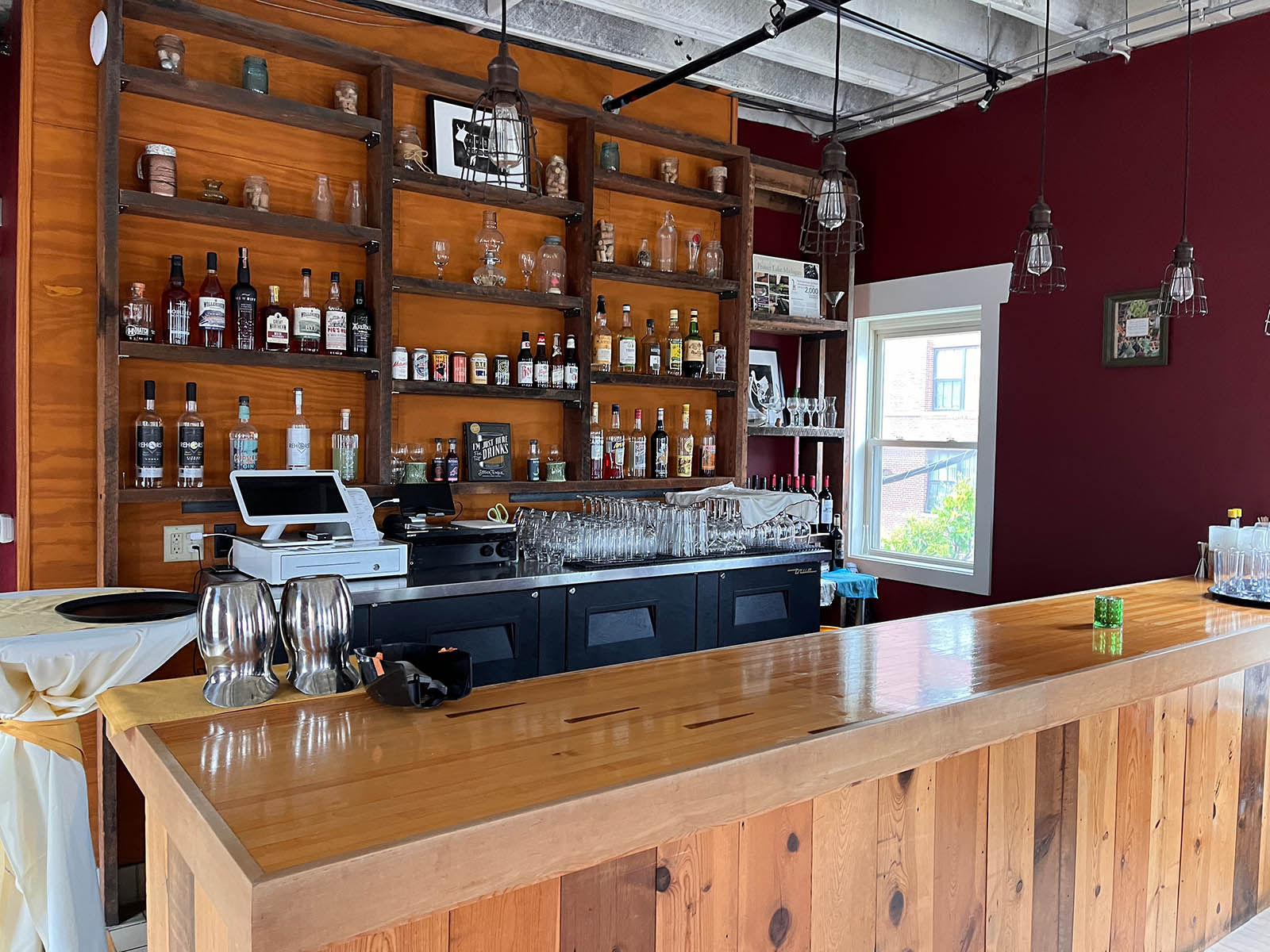 The first saloonkeeper appears to have been 38-year-old Charles Moore – who, like Swanson, was from Illinois. Moore, his wife Minnie (nee Neibauer, later Herbrand) and her children from a previous marriage, 10-year-old daughter Marguerite and 9-year-old son Edward Julius Herbrand, appear to have lived not upstairs or in the house behind, but around the corner on Hanover (now South 3rd) Street.
The family were members of Ascension Lutheran Church just a few doors south.
By 1917, Miller's records name Minnie as the keeper of the tied house on the corner of Reed (now South 2nd) and Washington Streets, and the records include some interesting data.
The saloon was valued at $9,070, which meant that rent – which was 10 percent of book value – was $907. At the time the 1917 data was compiled Moore had paid $852 of that rent and owed $55.
Her sales that year were $850 in bottled beer and $214 worth of keg beer. Moore was not getting rich behind the plank.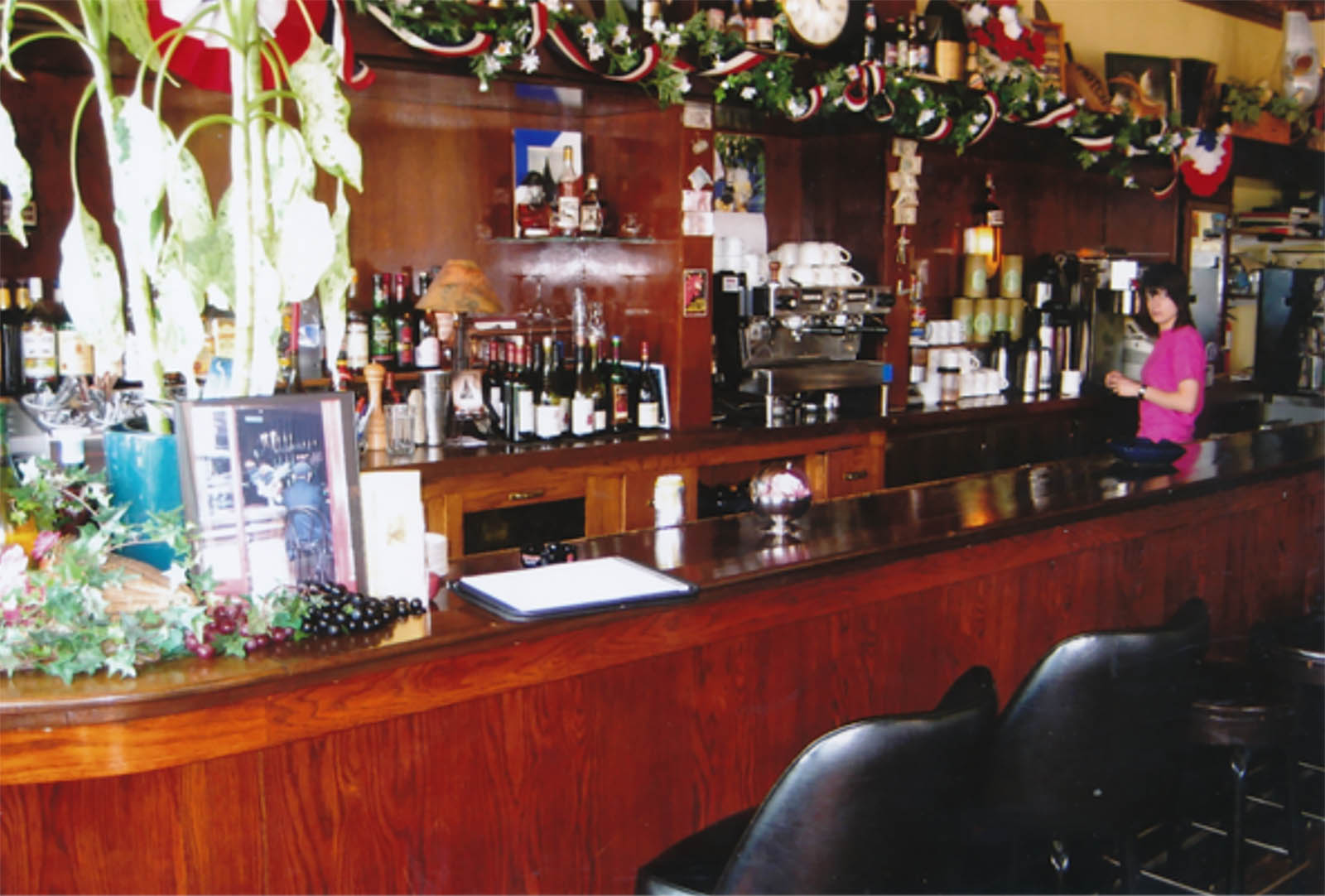 That might explain why in 1919 – as the onset of Prohibition loomed – no liquor license appears to have been issued for the property.
When the country went dry at the dawn of 1920, Miller began to sell off some of its many properties – some of which were held by the Miller-owned Oriental Investment Co. – and that money would help the company weather more than 12 years of Prohibition.
The 2nd Street saloon was one of 42 properties in Milwaukee and 10 outside the city that were shed in 1923, bringing in a total of $432,806.65.
This saloon must've been considered quite valuable, as it sold – via Oriental – for $13,250. The four other city taverns Oriental sold that year earned a combined total of $12,214.50.
Slovenian immigrant Joe Marn, who had bneen running a saloon on Virginia Street, was the buyer and we know a bit about this "soft drinks" slinger.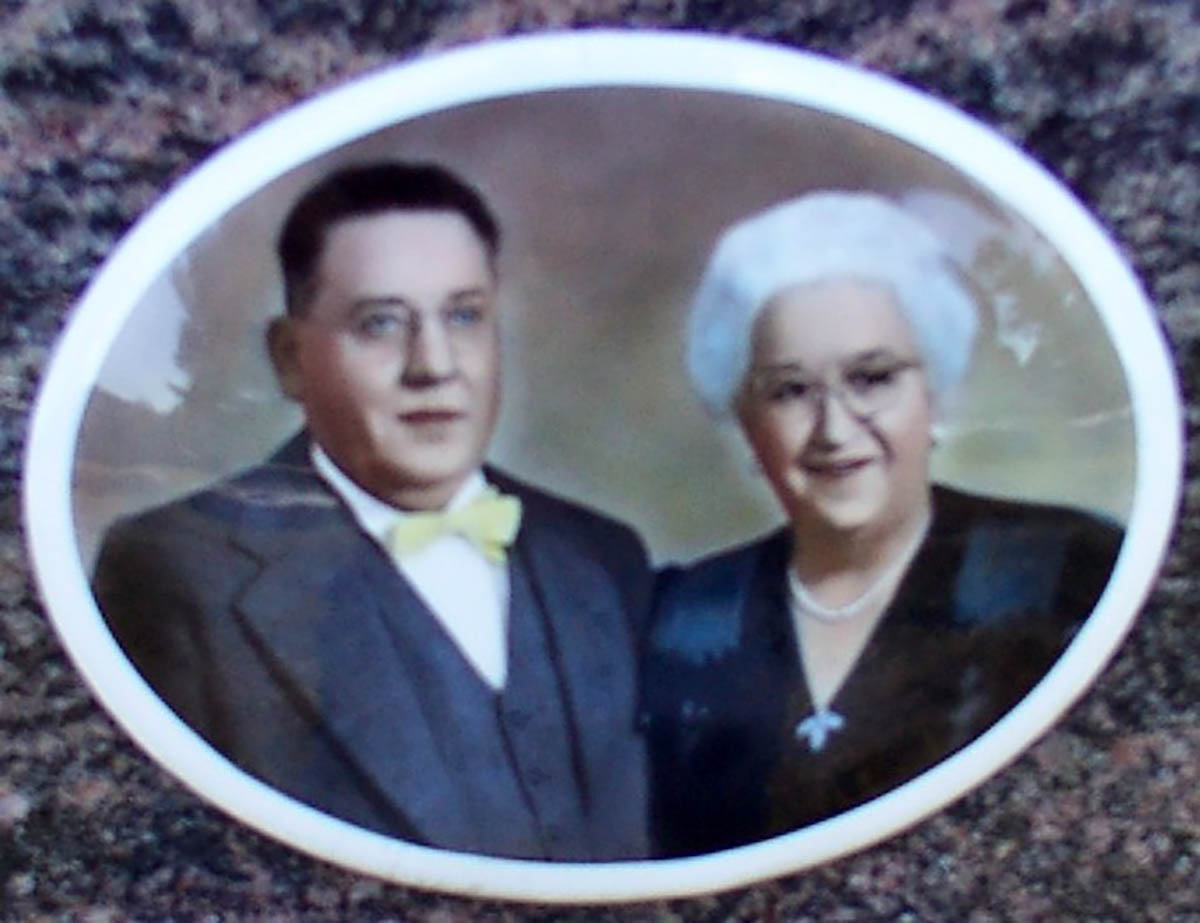 Marn – who was 33 when he bought the place – and his wife Anna were born in Yugoslavia when it was part of Austria, where they married. The couple immigrated to the U.S. in 1912 and had a daughter, Anna, three years later.
Once they bought the 2nd Street saloon, it appears that the Marns lived above the bar, but also owned the house behind it, which they likely rented to supplement their income. The 1930 census also notes that they had two lodgers in 1930.
As what appears to be have been the case with most soft drink parlor operators during Prohibition, Marn kept a stash of alcohol in his place, though when he was raided on the same day as Pat Lapinski's place, also on the South Side, federal agents found relatively little.
While the newspaper reports that, "at Joseph Marn's place they found a small amount of wine," at Lapinski's, they stumbled upon moonshine and a whole "wildcat brewery."
Fortunately for saloonkeepers, Repeal arrived in 1933, and the Marn family could now sell alcohol legally, which they did. They also began to either sponsor or actually field a Marn's Tavern baseball team.
By 1940, young Anna was 24 and married to Jim Goggins, with whom she had an infant son, James. The young family lived with the Marns.
Soon after, Joe Marn decided to expand and diversify. He built a one-story block building along the south side of the tavern and the duplex and installed a quartet of bowling alleys in it.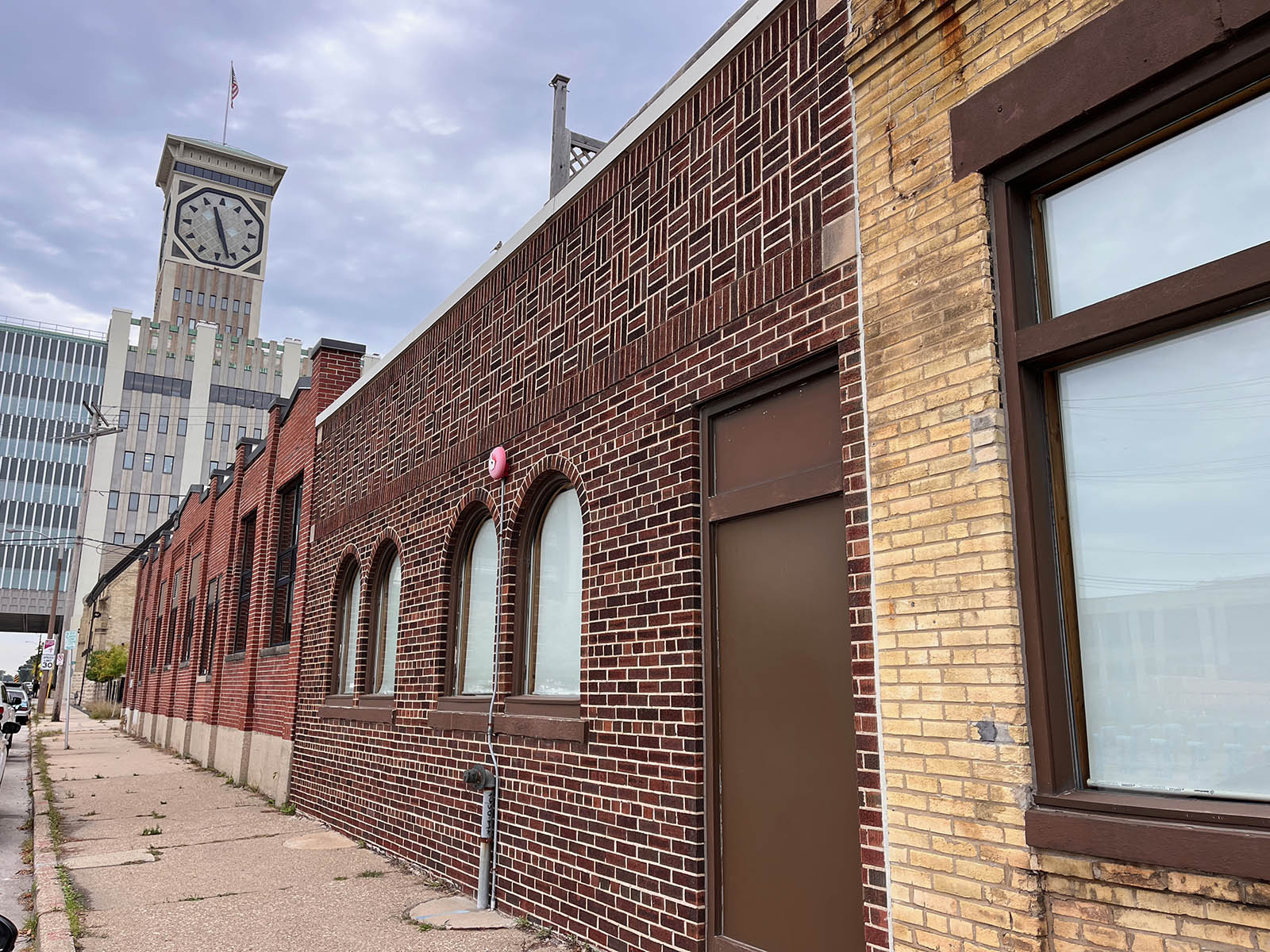 By December 1941, Marn's Arcade was advertising, seeking men to work as pinsetters. That same year, the place was also referred to as Marn Marble Arcade.
The lanes would prove especially popular with employees of nearby Allen-Bradley, according to the book, "They Came to Bowl."

According to Swanson, the new bowling alley building was built in such a way as to suggest that a second floor was planned, but it never happened.
Perhaps this is because not long after the lanes were added, and for reasons unknown. the Marns moved on, opening Joe Marn's Tavern at 1104 S. 11th St. (now home to Taqueria El Cabrito).
Later, after Marn's death in 1957, that tavern – also called Marn's Corner – would be operated for decades by Anna and Jim Goggins.
Meanwhile, back on 2nd Street, likely around 1944, the saloon was purchased by Frank and Charlotte (nee Sieczkowski) Marunowski, who renamed it Frank's Marble Arcade. Interestingly, despite the name and the fact that Frank appears to have remained involved, most sources seem to suggest that Charlotte was really the boss, at least until her passing in 1972.
Like the Marns before them, the Marunowskis lived above the bar, with their daughters Doris and Barbara, who told Swanson that they recall watching the construction of the Allen-Bradley clocktower in the early 1960s.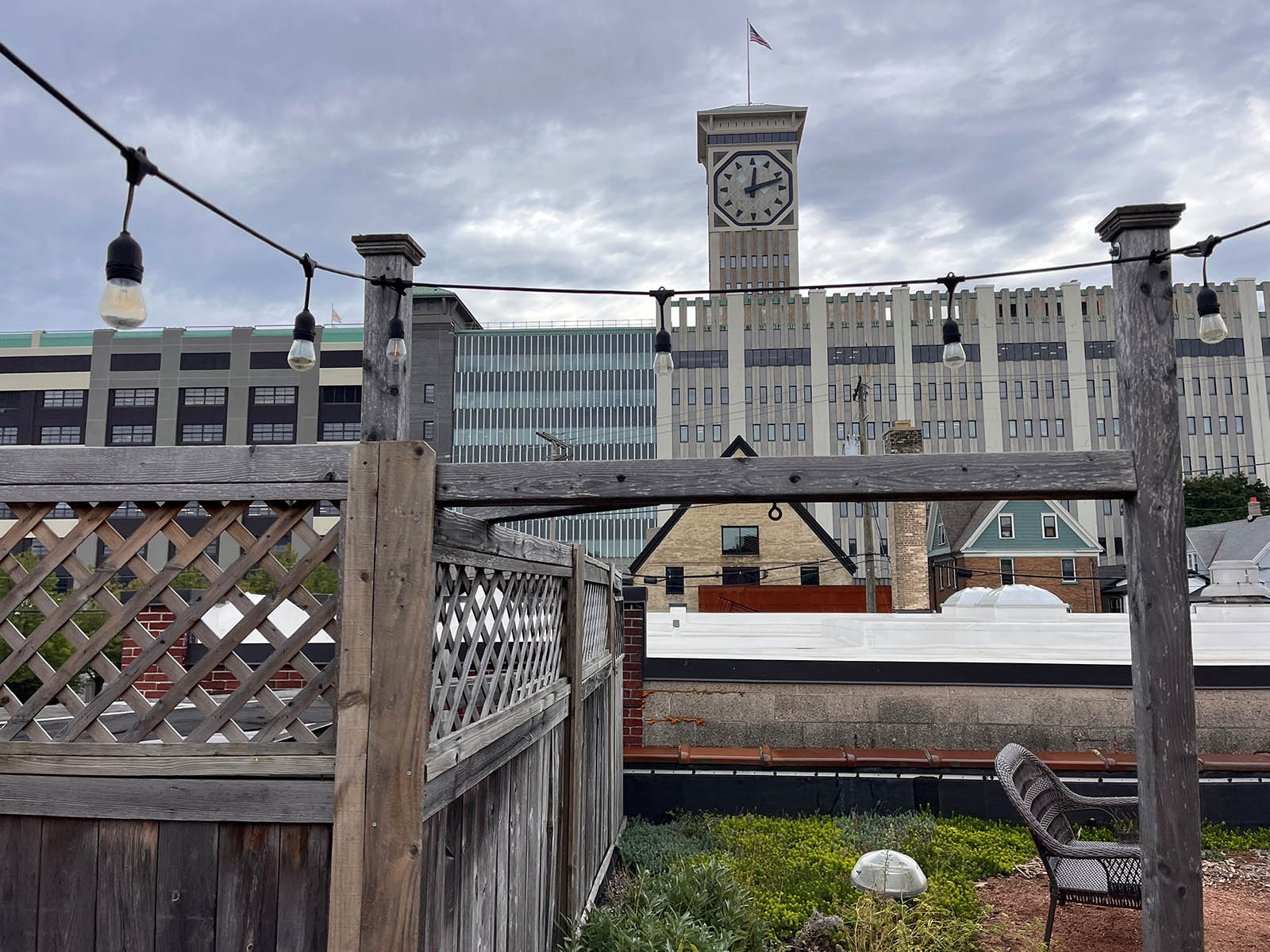 "They would go on the roof and put their lawn chairs out there and just watch the clock tower being built," he says.
In fact, a later newspaper reference noted, "Dorie was raised in the Marble Arcade Bowling Alley family established by her mother, Charlotte, in 1944."
After Charlotte's death in 1972, the sisters became co-owners and ran the business with their husbands. By then human pinsetters has long since been replaced with automated ones.
"Dorie" Jankowski and "Bobie" Dobson stayed there until the early 1990s, when the Marble Arcade was sold to Michael Phillips, who ran it briefly.
According to her obit, Barbara, "was an accomplished bowler and meticulous bookkeeper always favoring the league bowlers with prize money based on numerous stats painstakingly recorded, calculated and typed. She was a bowling league promoter and organizer who enlisted teams from the many businesses and taverns the family patronized.
"Although the 50 years working in the Marble was the main focus of their lives, Bobie and Dobie made time to pursue their own interests. They were the perfect couple with never an argument and rarely a raised voice. They were inseparable."
The last reference I could find to the Marble Arcade was on April 9, 1997, when the daily newspaper noted that, "Marble Arcade Stars won the handicapped (3,266) and scratch (2,594) team (bowling) titles."
After the building apparently sat idle for a number of years, Phillips leased it to Jacques Chaumet, who opened Jacques' French Cafe there in 2004.
Born in France, where he lived until he was 25, Chaumet studied economics in England before returning to France, where he found little demand for economics majors.
Visiting friends in California, Chaumet stumbled upon Santa Fe while driving cross-country to Florida and he fell in love with the city and with a woman who lived there. Later, after they married and had children, Chaumet's wife wanted to return to her hometown of Milwaukee.
There, after having worked for four years at Grenadier's and Mo's ... A Place for Steaks, Chaumet followed another passion and opened his restaurant in the shadow of the clocktower, which he called Milwaukee's Eiffel Tower.
But, seeking more space, Chaumet moved a block east just two years later where he opened Chez Jacques, and a bar called M's opened in the 2nd Street building.
In 2007, the Journal Sentinel wrote, "The modern yet simple design of M's includes a dark walnut bar, a baby grand piano on a small stage, and some high-top tables in the main bar area. The smoke-free side room has more tables and a large, L-shaped half-booth, which adds to its charm.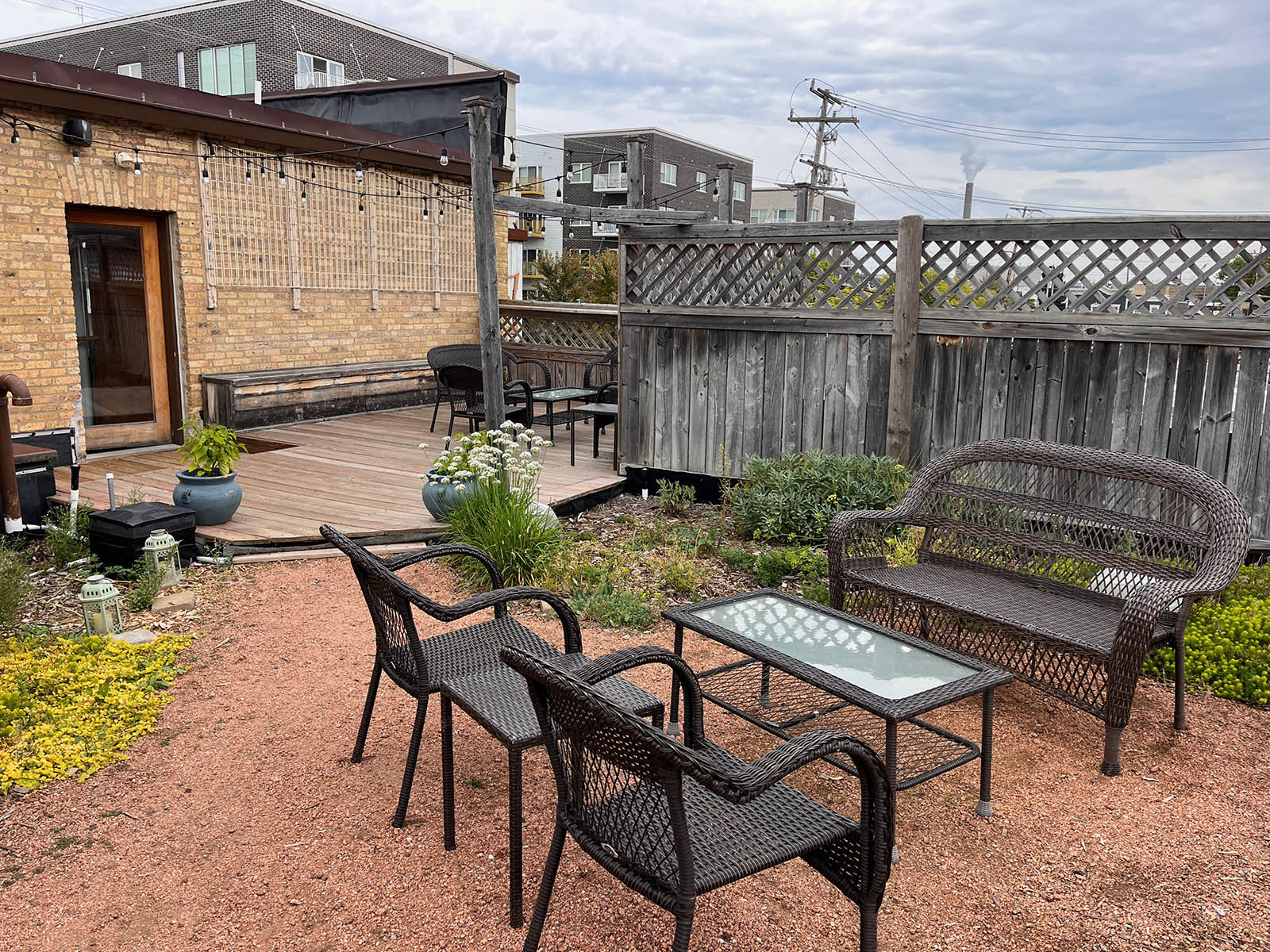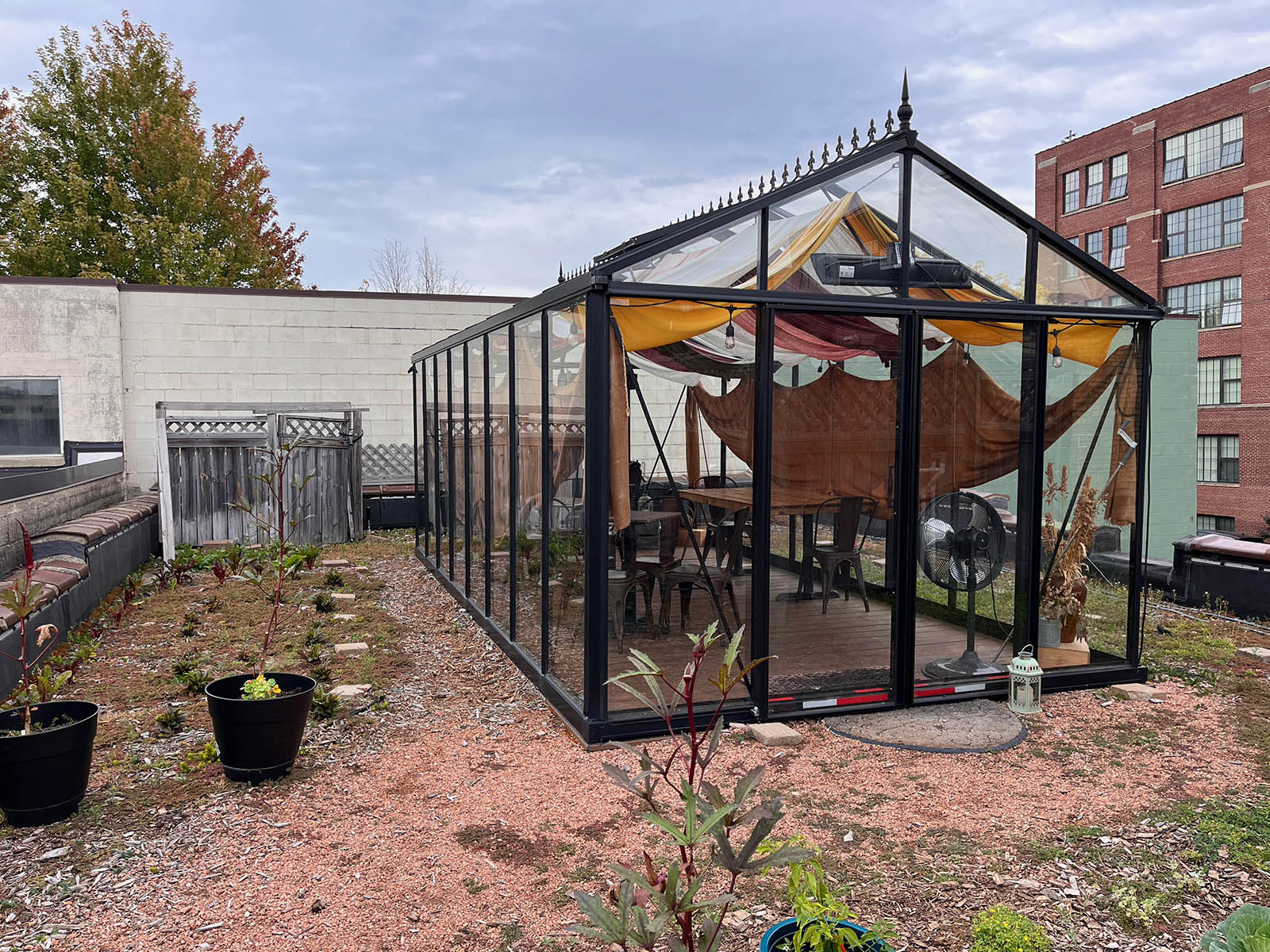 "The music is a mix of stuff from the '70s, classics from the likes of Dean Martin, jazz and a few pop hits. Expect outdoor seating when weather permits."
But that didn't last too long, either, and it's here that Swanson enters the story.
In order to get Braise ready for life as a restaurant and cooking school, Swanson undertook a lot of work.
"I'm very proud of what we've done to convert it to this," he says. "We got it on the historical register with (the Wisconsin Historical Society), and they said we can pick a timeframe to convert it back to and we picked the '40s. That's why we did the windows the way we did.
"When you look at it like pictures from the '80s when it was just all cladded up, it was just dark. I was like, I don't want to go back to that era. So we went back to what the windows would've been with the transoms up there and stuff like that."
The place looks great on the outside, with remarkably clean cream city brick, a small enclosed removable dining area on the side and a brand new patio where the duplex used to stand.
That was torn down because it could not be occupied once the restaurant opened and Braise needed an outdoor dining space to survive the pandemic.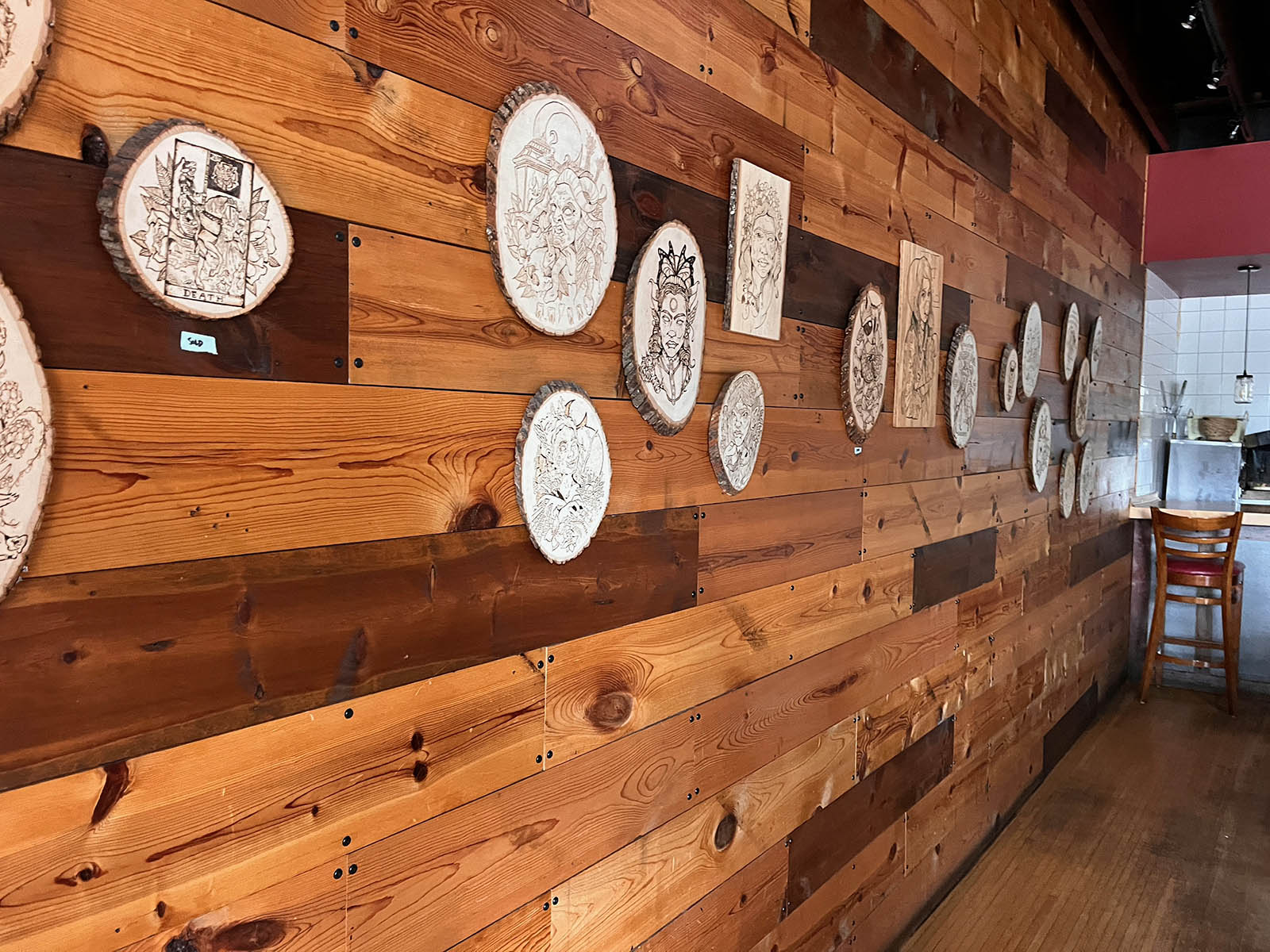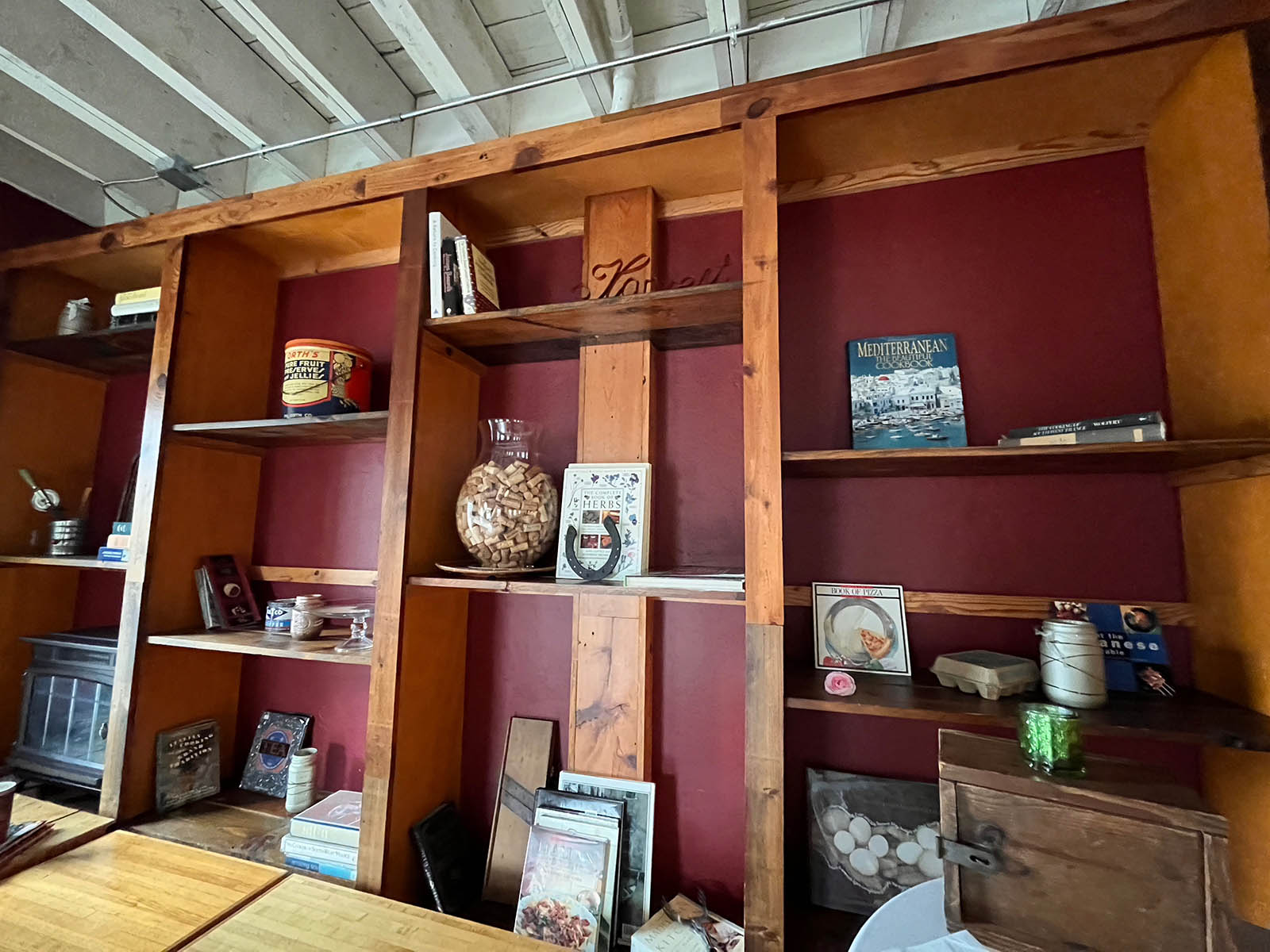 As was the case with the conversion of the saloon building, during which Swanson re-used whatever materials he could, the hardwood floors were salvaged from the house. You can see it today as the floor in the events space on the second floor of the restaurant, occupying what used to be the saloonkeepers' apartment.
In the main bar room, the tin ceiling has survived and been preserved and the space still has its original hardwood floor.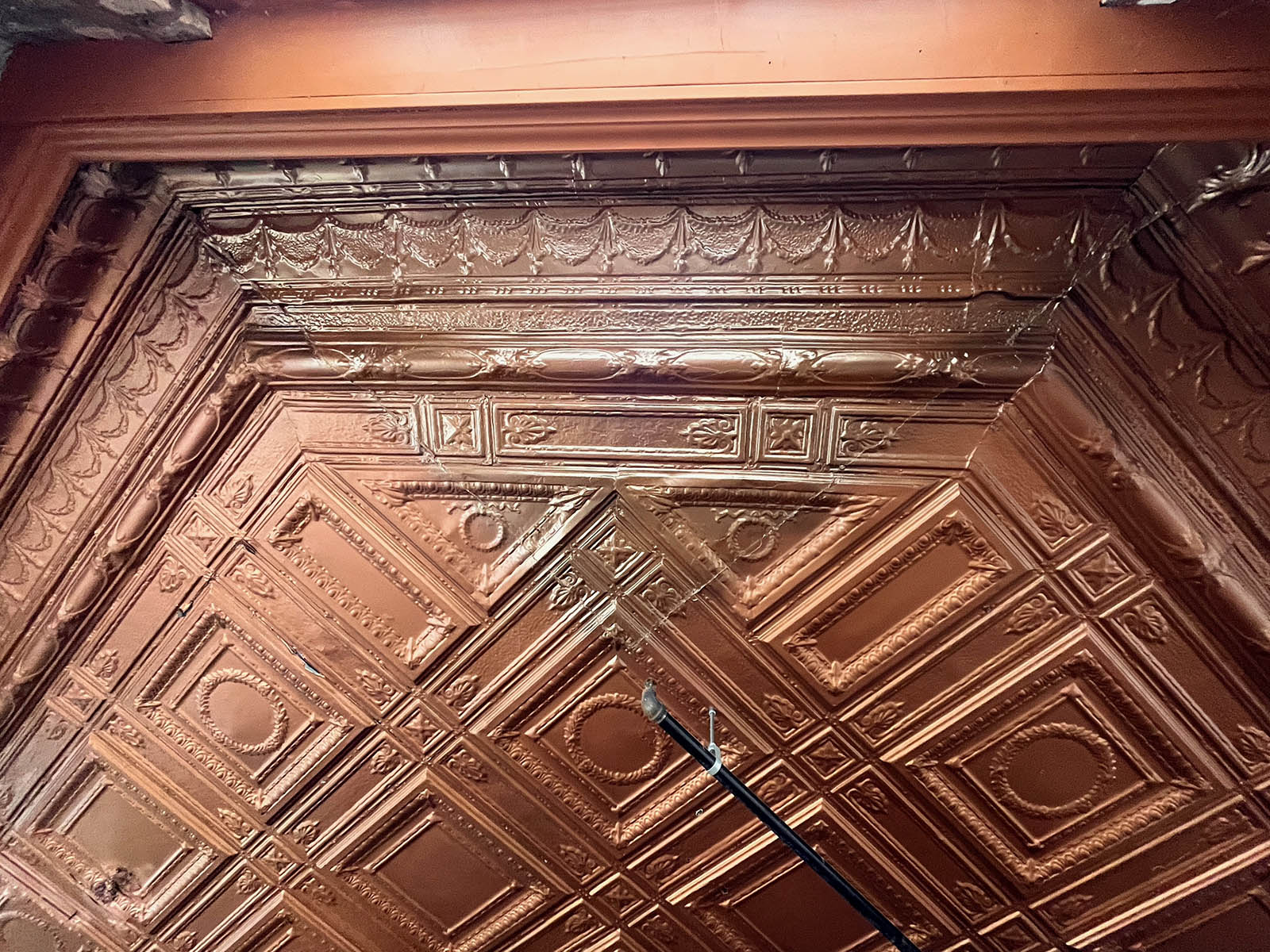 In the ceiling and on the walls, you can see clues to where the original recessed entrance once stood.
The back bar was removed and replaced with shelving. Look up in the left corner and you'll see some bowling pins. Those were donated by the former owners of the Marble Arcade and had previously been used in the lanes in the adjacent room.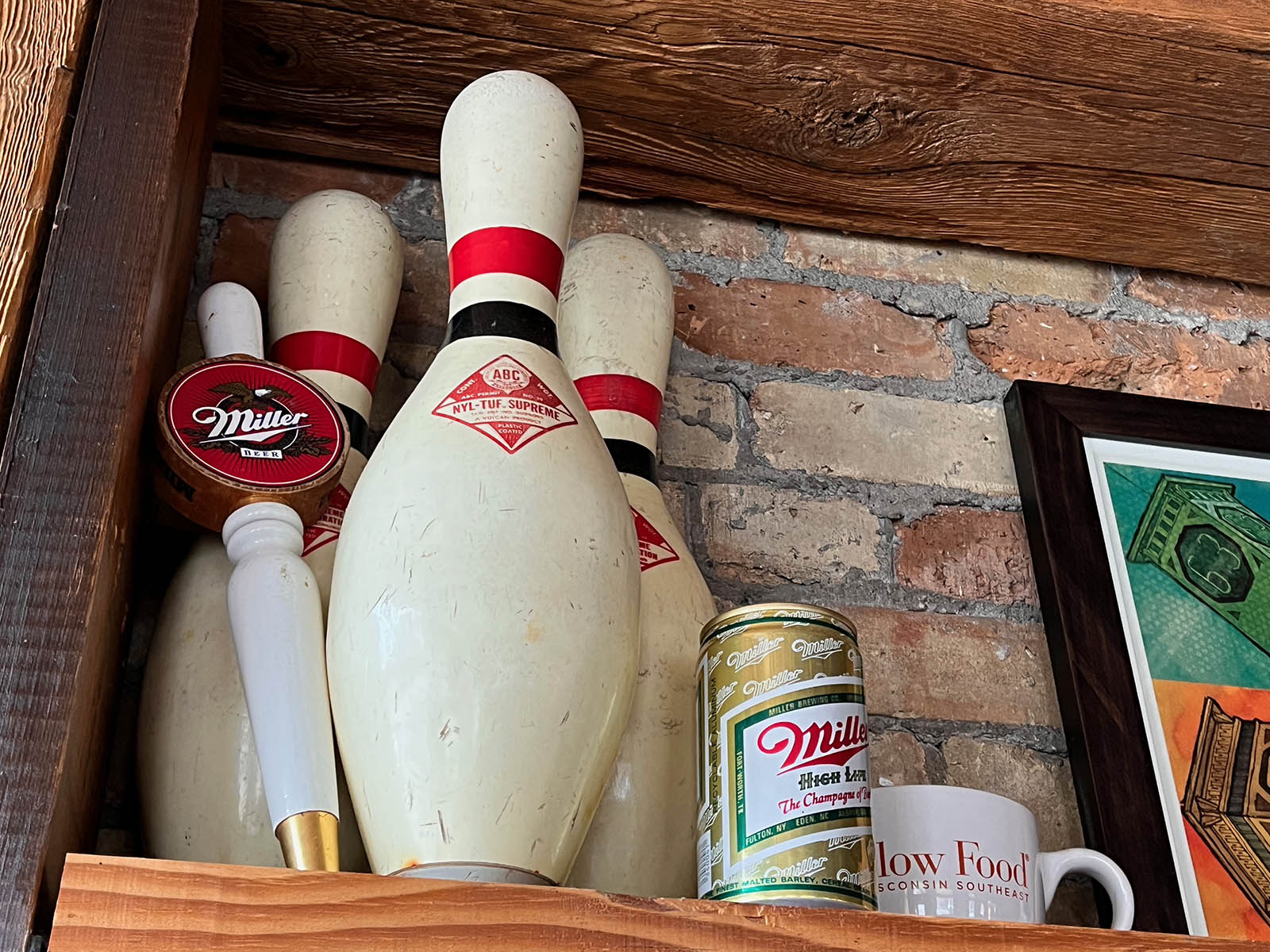 While the bar itself has been altered, the rail and structure are original, with a new top and front. The wood on the front, like wood used to build shelving and in other areas was all salvaged from inside the building during the renovations.
Most obvious is the wood from the former bowling lanes, which can be seen everywhere. When they built the kitchen, the wood removed from the lanes there was reinstalled at the front of the dining room. That spot had previously had a terrazzo floor where the shoe rental was, but a previous owner had torn up much of that floor.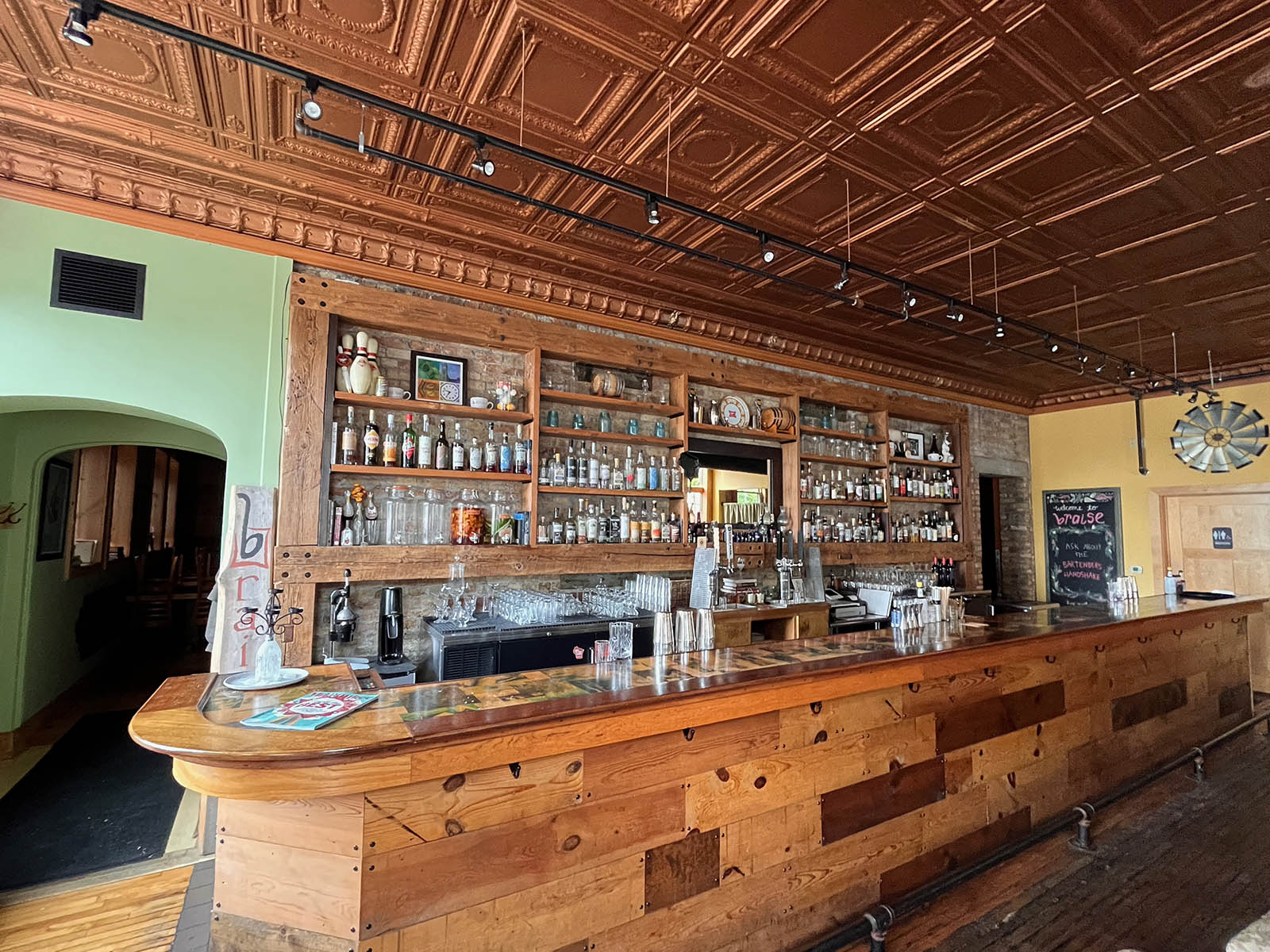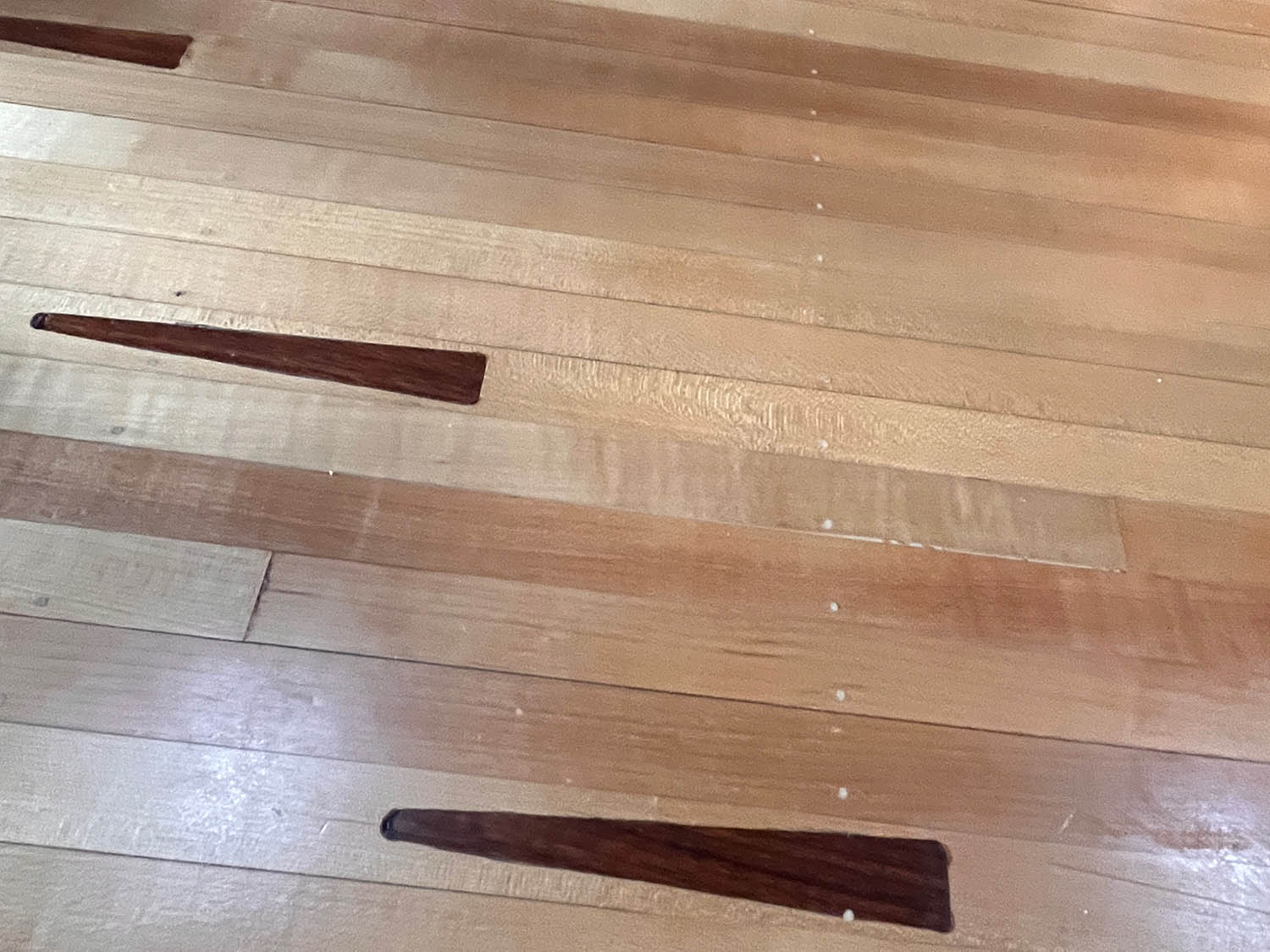 Tables and bartops are clearly made from the bowling alley surfaces. You can see the inlaid markers and arrows.
In the dining room, the huge communal tables made from bowling alley sections weigh 600 pounds.
Here, you can look at the floor and see the two strips of darker wood, which show where the ball returns were located. Each ball return served two lanes.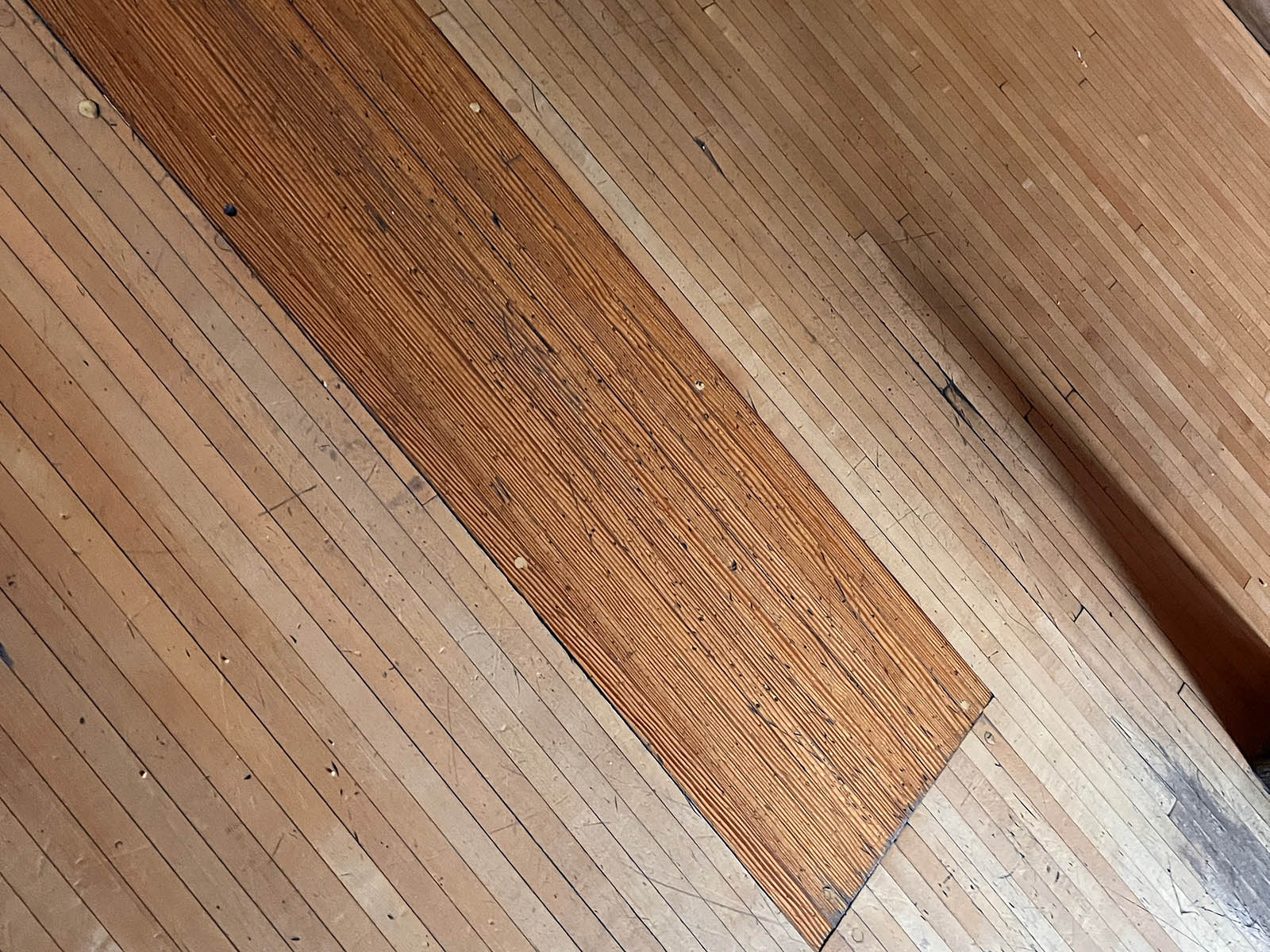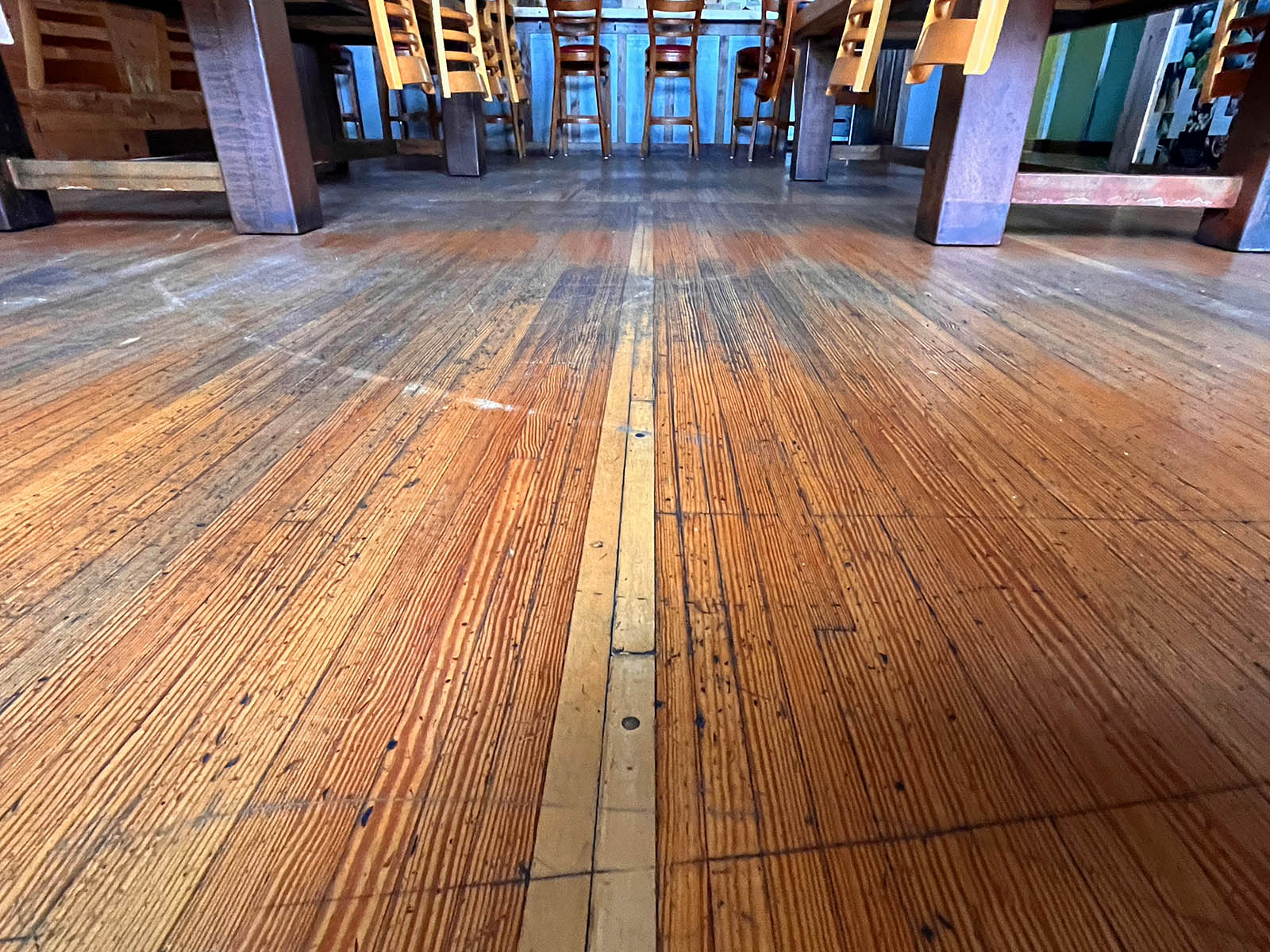 The room where the pinsetting machinery was located – before it was removed with no small effort by Swanson and his crew – now houses the cooking school area.
The roof of the bowling alley building has an outdoor "greenhouse" dining area, a patio and garden space, where the restaurant grows its own herbs and some vegetables. There's also an apiary up there.
It's a beautiful and thoughtful – as well as environmentally friendly – conversion.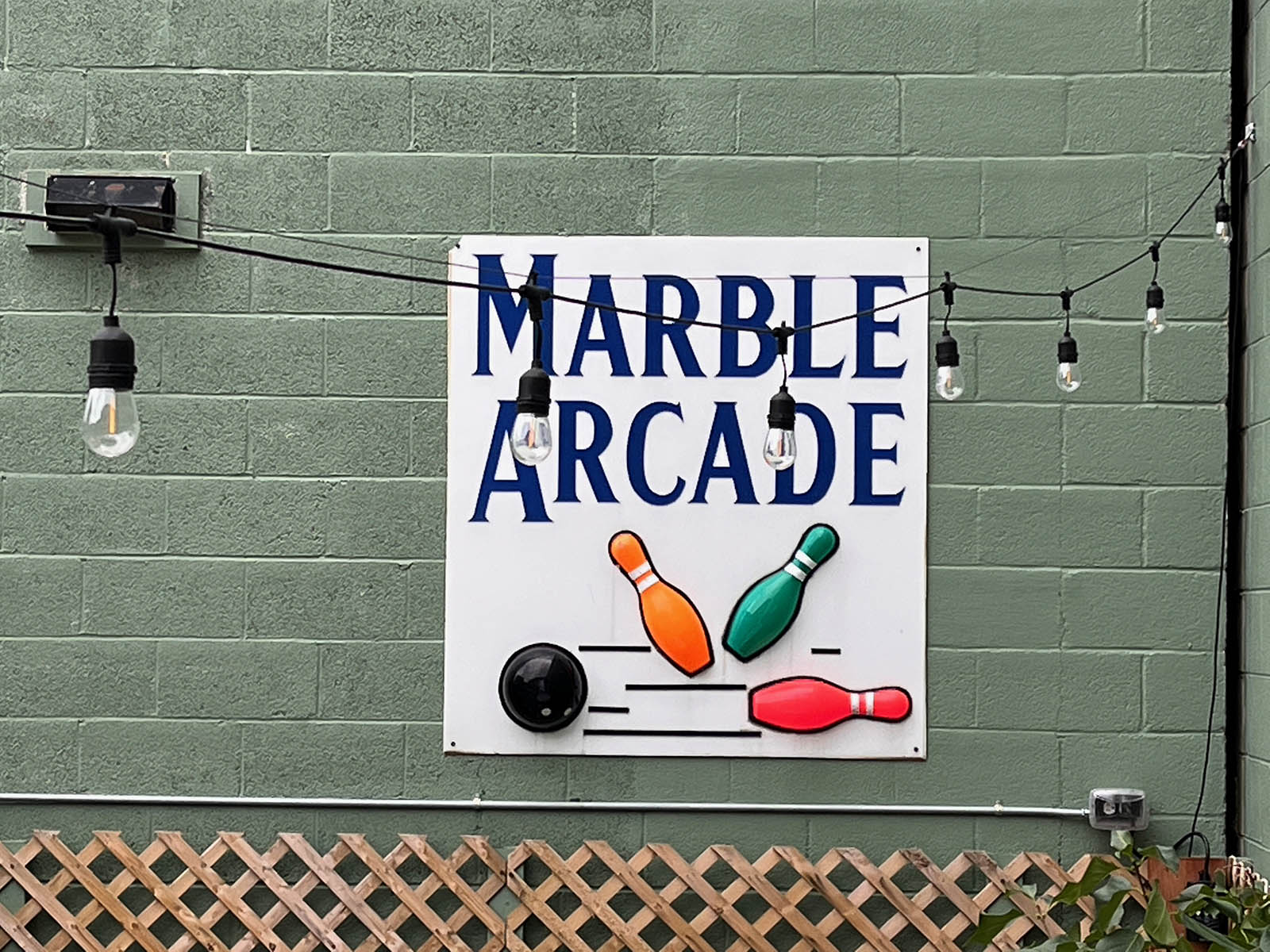 "It was fun to kind of convert it back to that and have ties to what the Marble Arcade was before me and to what the history of this building was," says Swanson, as we sit on the patio just steps away from an original Marble Arcade sign that he recently stumbled upon at an antiques store in Port Washington.
"To me, that was kind of the fun of it," he adds. "I didn't want to totally gut the interior and not have any aspect of that history."
Born in Brooklyn, N.Y., where he lived until he was 17, Bobby received his BA-Mass Communications from UWM in 1989 and has lived in Walker's Point, Bay View, Enderis Park, South Milwaukee and on the East Side.
He has published three non-fiction books in Italy – including one about an event in Milwaukee history, which was published in the U.S. in autumn 2010. Four more books, all about Milwaukee, have been published by The History Press.
With his most recent band, The Yell Leaders, Bobby released four LPs and had a songs featured in episodes of TV's "Party of Five" and "Dawson's Creek," and films in Japan, South America and the U.S. The Yell Leaders were named the best unsigned band in their region by VH-1 as part of its Rock Across America 1998 Tour. Most recently, the band contributed tracks to a UK vinyl/CD tribute to the Redskins and collaborated on a track with Italian novelist Enrico Remmert.
He's produced three installments of the "OMCD" series of local music compilations for OnMilwaukee.com and in 2007 produced a CD of Italian music and poetry.
In 2005, he was awarded the City of Asti's (Italy) Journalism Prize for his work focusing on that area. He has also won awards from the Milwaukee Press Club.
He can be heard weekly on 88Nine Radio Milwaukee talking about his "Urban Spelunking" series of stories.