American Family Field is trading out wooden bats for a hardwood court, dribbling ground balls for dribbling basketballs, thanks to the first ever Brew City Battle.
Hosted at the Brew City ballpark on Friday, Nov. 11, the truly one-of-a-kind basketball doubleheader will feature both the Wisconsin Badgers men's and women's teams as they take the court against the Stanford Cardinal and Kansas State Wildcast, respectively. And what a court it is, placed on top of the AmFam Field infield, serving as an utterly unique and almost surreal basketball backdrop, the familiar and unfamiliar eye-catchingly intertwined.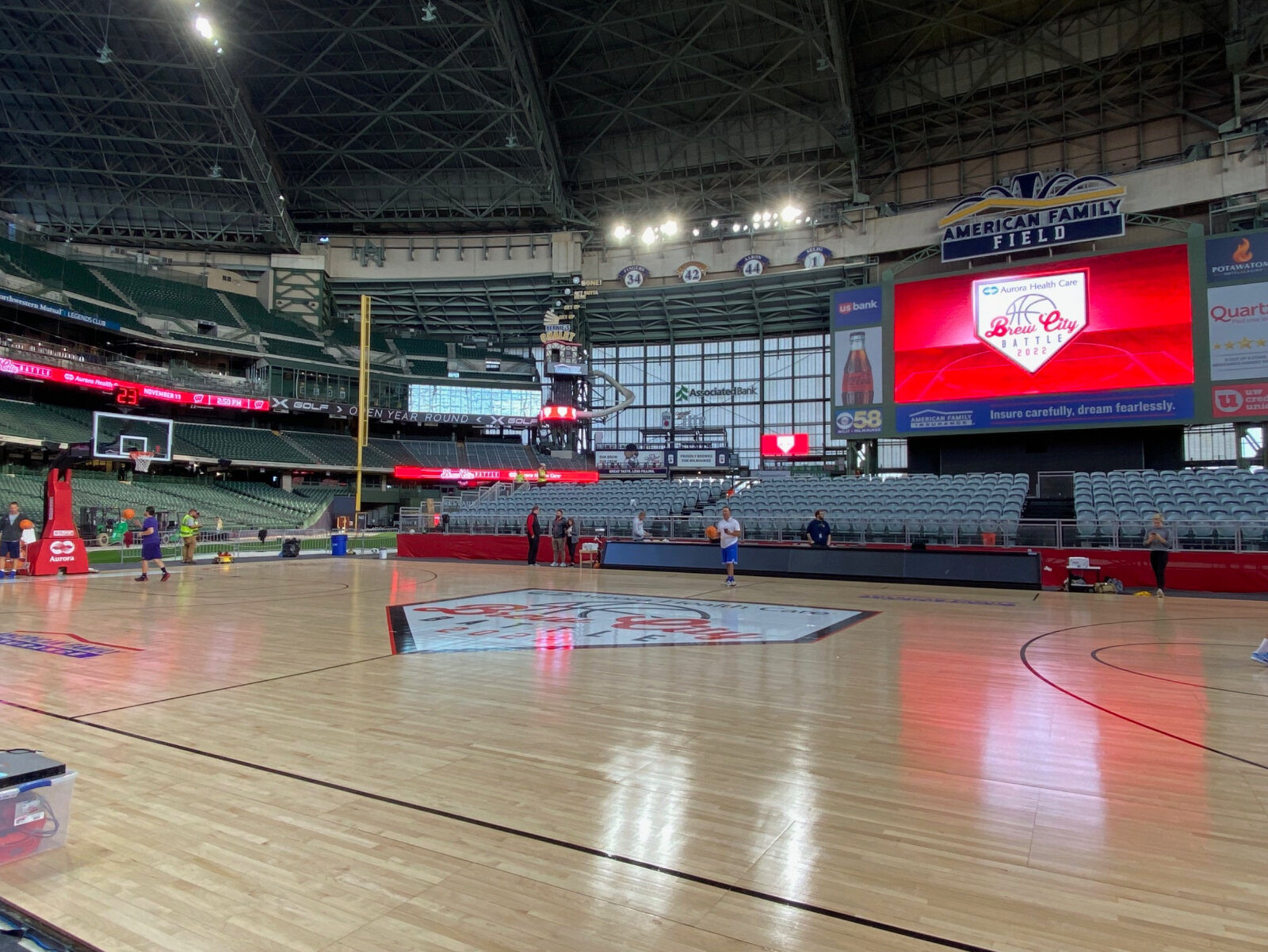 But before the Badgers take the court on Friday, the Brew City Battle invited several Milwaukee media members (including yours truly) to shoot around on the hardwood – and even tip off a few Brew City battles of their own. Check out our Facebook Live below and take a first look for yourself at a really awesome venue hosting some significantly less awesome hoops skills.
So yeah, in case my red shade, sweat stains and wheezing breathes didn't give it away, I definitely got all my steps in today thanks to these (surprisingly intense) pick-up games. And while I scored a ton of steps, I definitely did not score a ton of baskets. The only thing more labored than my breathing was my dusty jumpshot. But it was a high-effort hoot – and a game I (and my knees, hamstrings and ankles) will certainly never forget.
And if you'd like to watch some games you'll certainly never forget – and that will feature significantly better basketball talent – check out the Brew City Battle on Friday night. Tickets for the top-notch college basketball twofer are still available at the Brew City Battle's website – and for more information, click here.
As much as it is a gigantic cliché to say that one has always had a passion for film, Matt Mueller has always had a passion for film. Whether it was bringing in the latest movie reviews for his first grade show-and-tell or writing film reviews for the St. Norbert College Times as a high school student, Matt is way too obsessed with movies for his own good.
When he's not writing about the latest blockbuster or talking much too glowingly about "Piranha 3D," Matt can probably be found watching literally any sport (minus cricket) or working at - get this - a local movie theater. Or watching a movie. Yeah, he's probably watching a movie.