If you head out to Oconomowoc to check out the shops (and the cool old railroad station) downtown, maybe visit City Beach in summer, or go boating on Lac La Belle, maybe grab some custard at The Kiltie or panini and gelato at Golosi, you'll find there are also a couple breweries there, too.
To find the elder of the two – Brewfinity Brewing Co., N58W39800 Industrial Rd. – head straight through downtown and turn left into a small industrial zone where you'll find a rather indistinct building.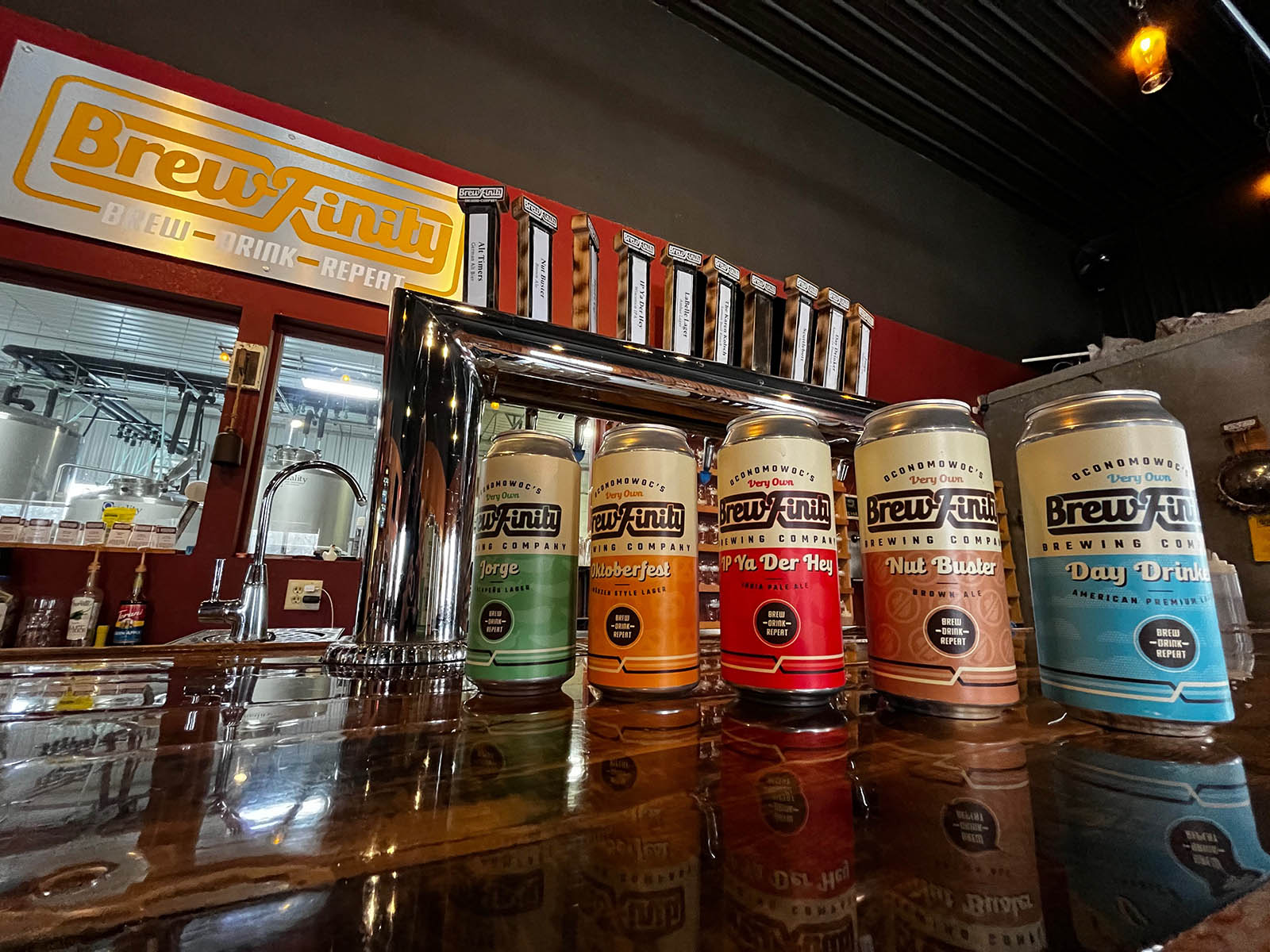 The beer inside more than makes up for what the shed lacks in character.
In addition to solid IPAs and great traditional lagers, owner and brewer Chad Ostram makes some real distinctive brews, too, like a kolsch laced with lemon and basil and a much-beloved jalapeno lager that brings all the flavor with none of the heat.
I visited Oconomowoc on a frigid day to sit down with Ostram to talk about Brewfinity, in the taproom and brewery that had originally housed the now-defunct Sweet Mullets.
OnMilwaukee: Give us a brief history of Brewfinity.
Chad Ostram: Sure. I was a home brewer for 20 years, and thought when I quit my day job, I would buy a brewery somewhere or build a brewery and do this in retirement. This place formerly known as Sweet Mullets. It went up for sale in 2015. I discovered it was for sale and proceeded to purchase it. I took over Jan. 1, 2016.
Did you buy it lock, stock, and barrel? It had a brew house, it had a tap room.
It was turnkey operation, which is one of the reasons I actually decided to move forward and purchase it.
How long had they been open here?
They opened in 2012. So they were like two years in and the wheels kind of fell off between the two previous owners.
Still you thought you could make a go of it?
Well, this is a spectacular location if you can't tell, I mean right on the thoroughfare. I'm just kidding. I think location ... it's a struggle to make this a go here. The rent is cheap, which is nice, We've got 10,000 square feet and we pay less than most people do. So I mean, that's the positive.
The downside is you don't have all those people wandering around out of town and coming in.
Right. Or drive-bys really. And we've got to work on our signage and I think our biggest struggle is people from Oconomowoc don't even know we exist.
And did they have the same problem I assume, with Sweet Mullets? Too low of a profile?
Yeah. I think that all carried over. They had a couple different business model ideas that I did differently. Their idea was if people are within 15 miles of this location, they should be here drinking the beer. So they wouldn't sell locally, they would push more toward Madison, Cedarburg, Milwaukee.
They were also a brew pub. So they did have hard liquor and a chef on staff and stuff like that. When I came in to purchase it, the chef was gone, they just had a couple short order cooks basically.
Were they canning here, too?
They weren't canning at that point at all. They were just doing basically keg sales and that was pushed by one of the investors more than anything I believe so.
It's sort of counterintuitive to not embrace your town, isn't it?
Yeah. I was a one man show for a long time. So I mean, if I had drive to Cedarburg to deliver one keg, that's half a day of the travel for a keg. It's not cost effective. I took the approach that if I sell in Oconomowoc, I can deliver and be back in 15 minutes. It's the time savings for me and that's kind of my whole business model anyway. I'd rather sell more beer locally within five miles of this place, than that (same) amount outside of that region just from an efficiency standpoint.
And at that point you were the only brewery here, right? Why not be Oconomowoc's brewery, right? Why not be the brewery that the town says, "this is our place"?
Right. Yep, 100 percent. So I started focusing more locally on my sales and stuff like that. And then eventually when I bought it, I kept it as a brew pub for a little while. But one of the eye opening moments for me was I was shadowing the person we had in the kitchen and it hit me that, ah, I got to know how cook all these recipes in case she's sick. I mean, who's her backup? Ultimately I am.
But yeah, so from that standpoint, it kind of hit me, it's like, all right, I need to know every single aspect of this business, from running a bar basically: Running a kitchen, books, accounting, sales at the time. My wife jokingly said to me about four months in or something, she's like, "did you ever imagine you were going to be running a bar instead of a brewery?"
You worked it all out, presumably?
Yeah. We have a full menu. But one of the things that I struggled with too was getting help for the kitchen. Nobody wants to work a kitchen and this was even pre-COVID. So I was always working in the kitchen and I kind of stepped back and said, "all right, I need to make a change here." So I simplified the menu and required all the bartenders to cycle through the kitchen and work a shift. So they alleviate me from having to do it.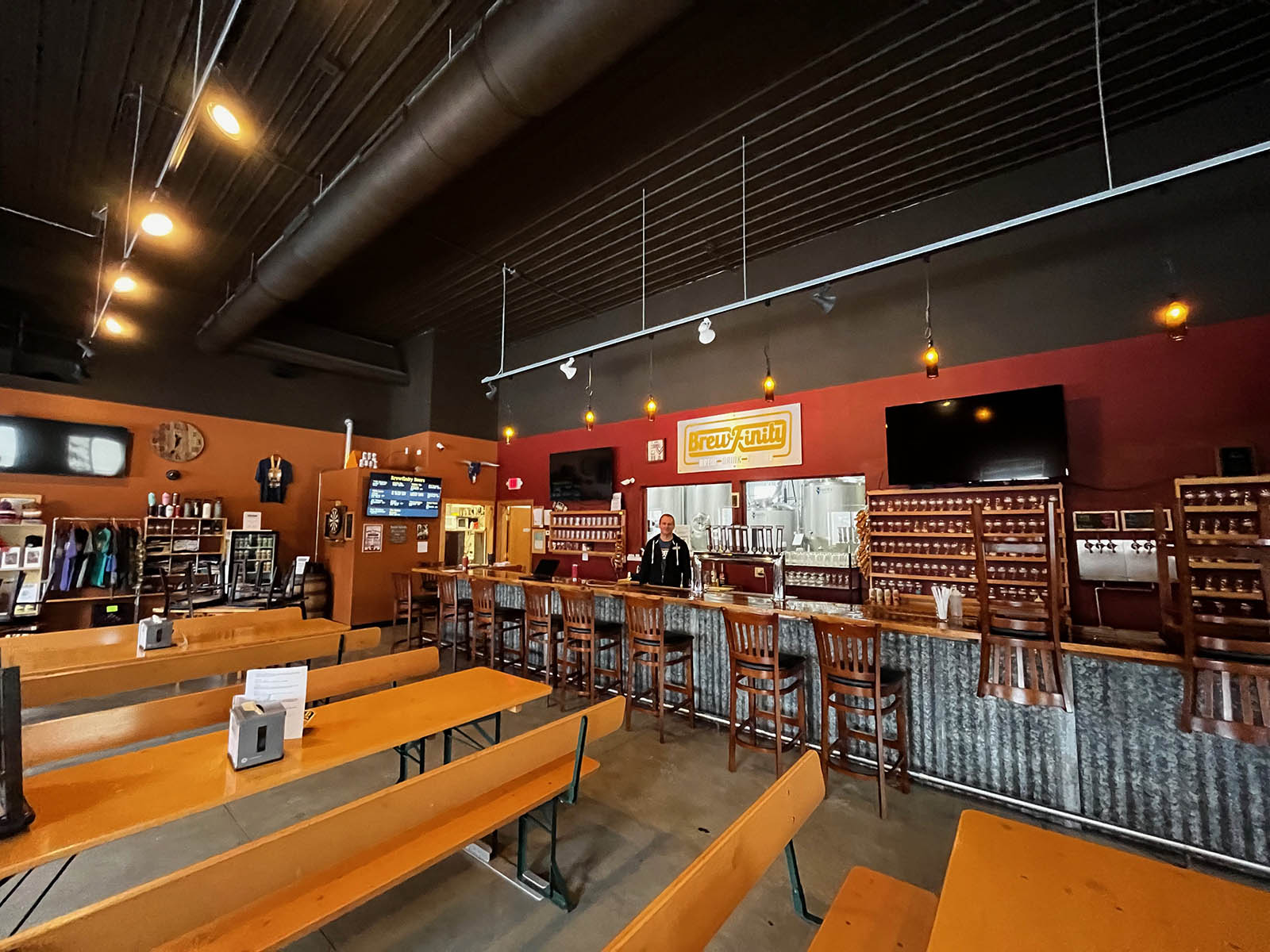 What kind of stuff are you doing on the menu?
Our big thing that we're doing is chicken wings; boneless, bone-in. We do soft pretzels, edamame, hot dogs. We added in a fish fry recently, mozzarella sticks. I would say the wings are the big thing, pizzas are the other. We'll see how the fish goes. We just literally added that in.
Because the fact is you're not a restaurant, right? I mean, you have food because people want to eat while they drink, but you're a brewery.
Right, 100%. When we were (initially) set up as a brew pub, they kind of complained the food was awful, but the beers are great. Well, I didn't want be known for the food. So we pared the kitchen way down. We provide great beer, but you can grab something to eat here too, if you're hungry.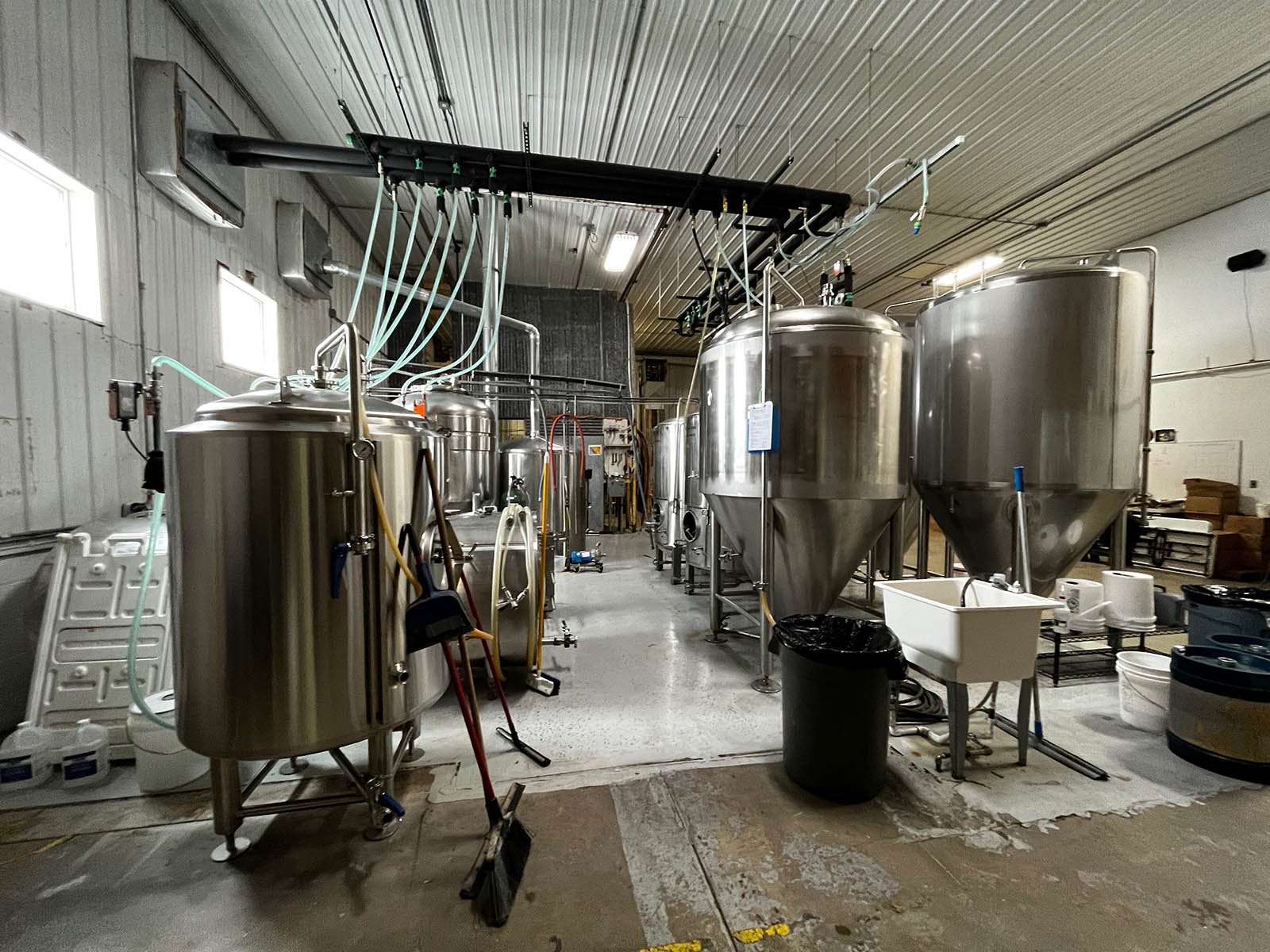 Had you worked in a brewery before? Did you struggle at all in terms of ramping up your skills to a 15-barrel brewhouse?
The interesting thing is we started a home brew club, 15, 20 years ago now, and our goal was to get every member five gallons of beer out of it. We had like eight, 10 members so I actually bought some 50-gallon kettles and stuff. So even though it's not a production system, but some breweries operate a one-barrel system which is essentially what we had as home brewers.
When I came in to take over, they had a brewer on staff but he quit literally when I announced that I was buying the place. So he wasn't even around to really teach me. There was another guy that was helping him out that stuck around to show me the things that I couldn't figure out. The good thing is, with my experience and my background, I just mentally walked the system on how everything should work and figured out the process that way.
Things I didn't know is how to actually get carbonated beer into a keg because home brewers just have the old sanke kegs where you pull the cover off and dump a tube in. So it's stuff like that, that the guy that was on staff helped me through so.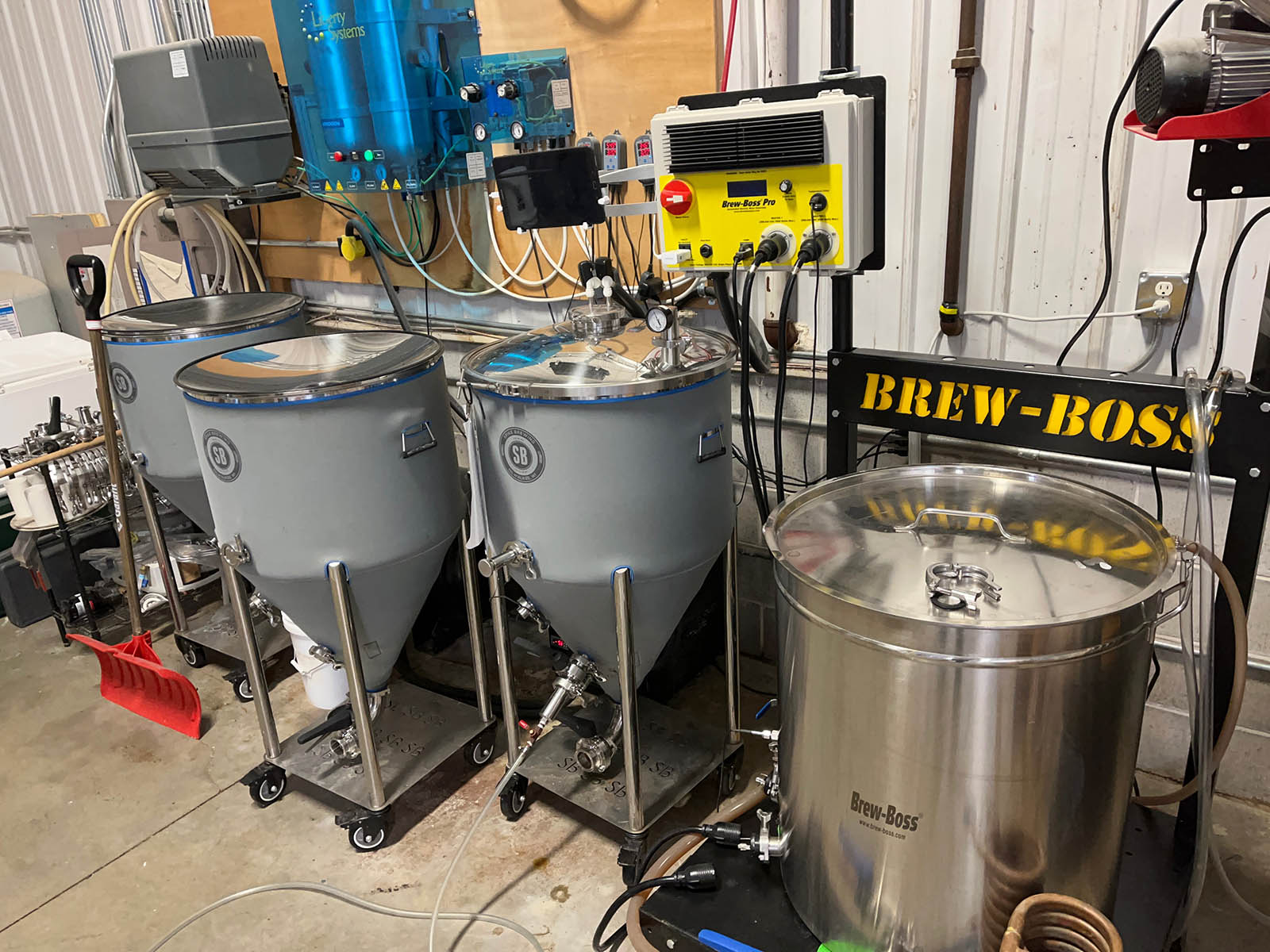 So are you running the same system now or have you changed it?
The brewhouse is the same. We've made modifications, significant modifications throughout. Fifteen-barrel. We started out with two 15-barrel fermentors and two seven-barrel. We still have those, but we've also added in two 15-barrel fermentors and two 20-barrel fermentors.
That'll keep you going for a while.
Yeah. All we really have to do is add fermentors and stuff. That would be where we would add capacity is more fermentors, basically.
Tell us about the beer. I assume these are your flagships here in the cans (in the taproom cooler)?
Yeah. So the one beer that was a carryover from Sweet Mullets, is the jalapeno ale that they had called Jorge. When I bought the place, everybody was asking me, "are you going to keep that beer? Are you going to keep that beer?"
I didn't want to tick anybody off at the time so I was like, "yeah, I'll figure it out." So I switched the base recipe on it, from an ale to a lager and converted the base recipe to be able to deal a little bit with the oil of the jalapeno, give it more head retention. And then I figured out how they processed the jalapenos to add them. Because it's a matter of getting the flavor without getting all that capsaicin in there.
We process a 110 pounds of jalapenos by hand. We cut them open, pull the seeds and the veins out, and then we run it through a juicer to break down the material so that it's easier to deal with.
And did people like it with the changes?
Oh yeah. One thing that people have said is the quality of the beer has gone up and the consistency is a lot better than it used to be. The previous owners had some issues with consistency from batch to batch and they don't disagree with that.
I imagine it's challenging when you get into the business, you got to learn that consistency, right? If you haven't brought that experience with you, you have to learn.
Yep. Even from day to day, it can change. So that's always a challenge.
So what's in the cans? You've got the Jorge in cans?
Yep. Day Drinker is our premium light lager. That one actually I did as a challenge to myself as a home brewer, they always tell you it's difficult to do a very light, dare I say, bland beer, because any off flavors come out right in front.
So I did that. I did that on a small batch and then the beer garden in Hartland, Nixon Park Beer Garden came to me, wanting put three of my beers on tap and he didn't want to put a mass produced beer on tap so he picked Day Drinker and as a result, Day Drinker has been our one that has stuck around and is one of our best sellers. Definitely our best seller during the summertime, but also for people that come in here who aren't really craft beer drinkers, it's the lowest common denominator, they can enjoy a beer.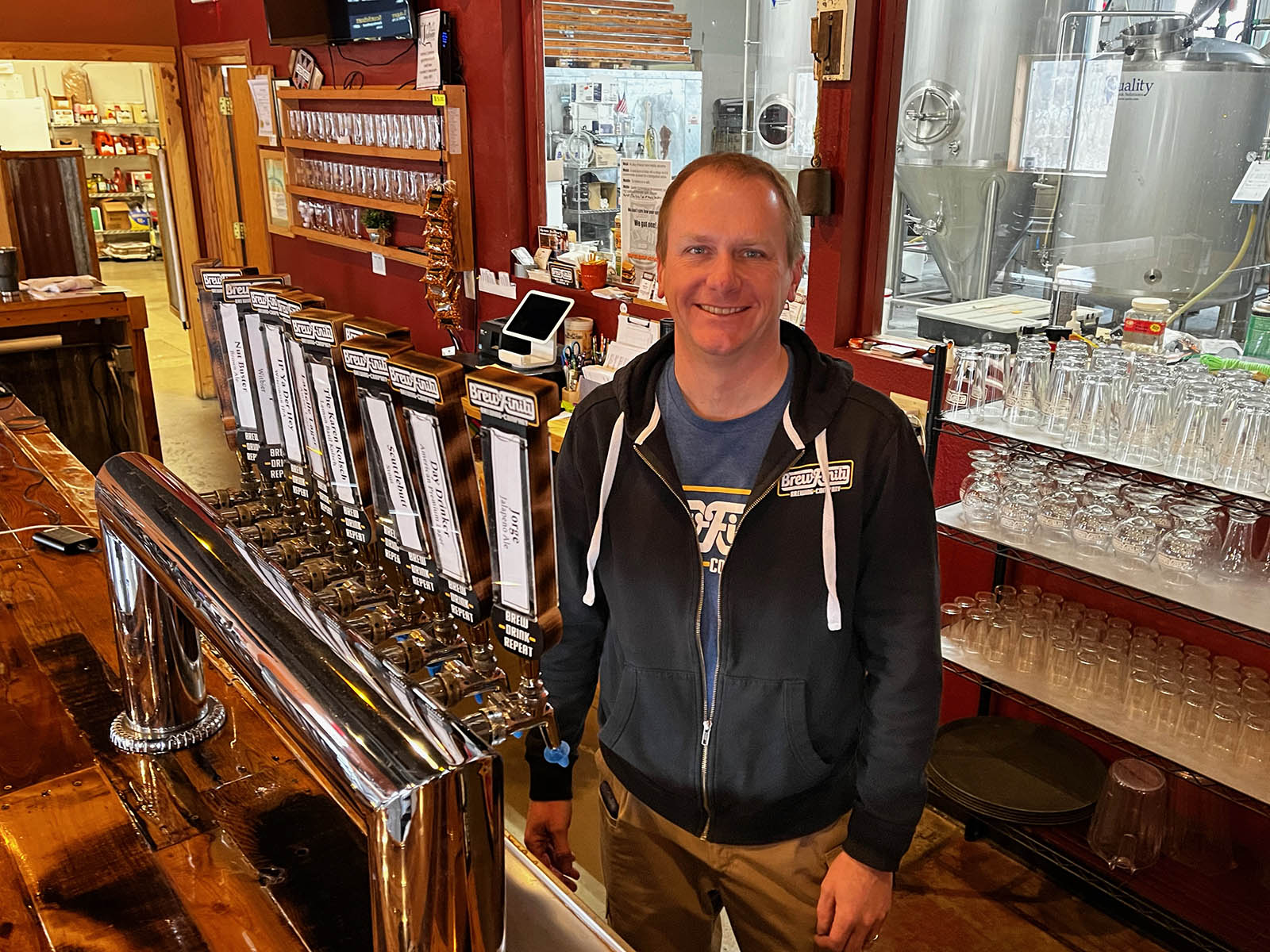 So then you have '80s Love Child.
'80s Love Child is our juicy IPA. That's got the Citra, Mosaic components to it. That's more of a higher-end IPA, I would say but it's one of our popular ones. The other ones that are kind of seasonal that we have is our Nut Brown Ale.
Do you have a canning line here or do you use a mobile canner?
We use a mobile canner. We use WilCraft Can out of Oak Creek.
We have a Dopplebock, that's a seasonal, and we did our Oktoberfest (in cans), as well. And then we have more of a traditional style IPA called IP Ya Der Hey. That one takes into account more of a traditional hop (bill), Centennial, Cascade, Columbus and Chinook.
What's in the bottles?
The bottle is a barrel aged barley wine we did in 2019. We did that three years ago, though we still have some of that. And then the other cans is another batch of barley wine called Knuckle Dragger. It's the same recipe that we put into the oak barrels.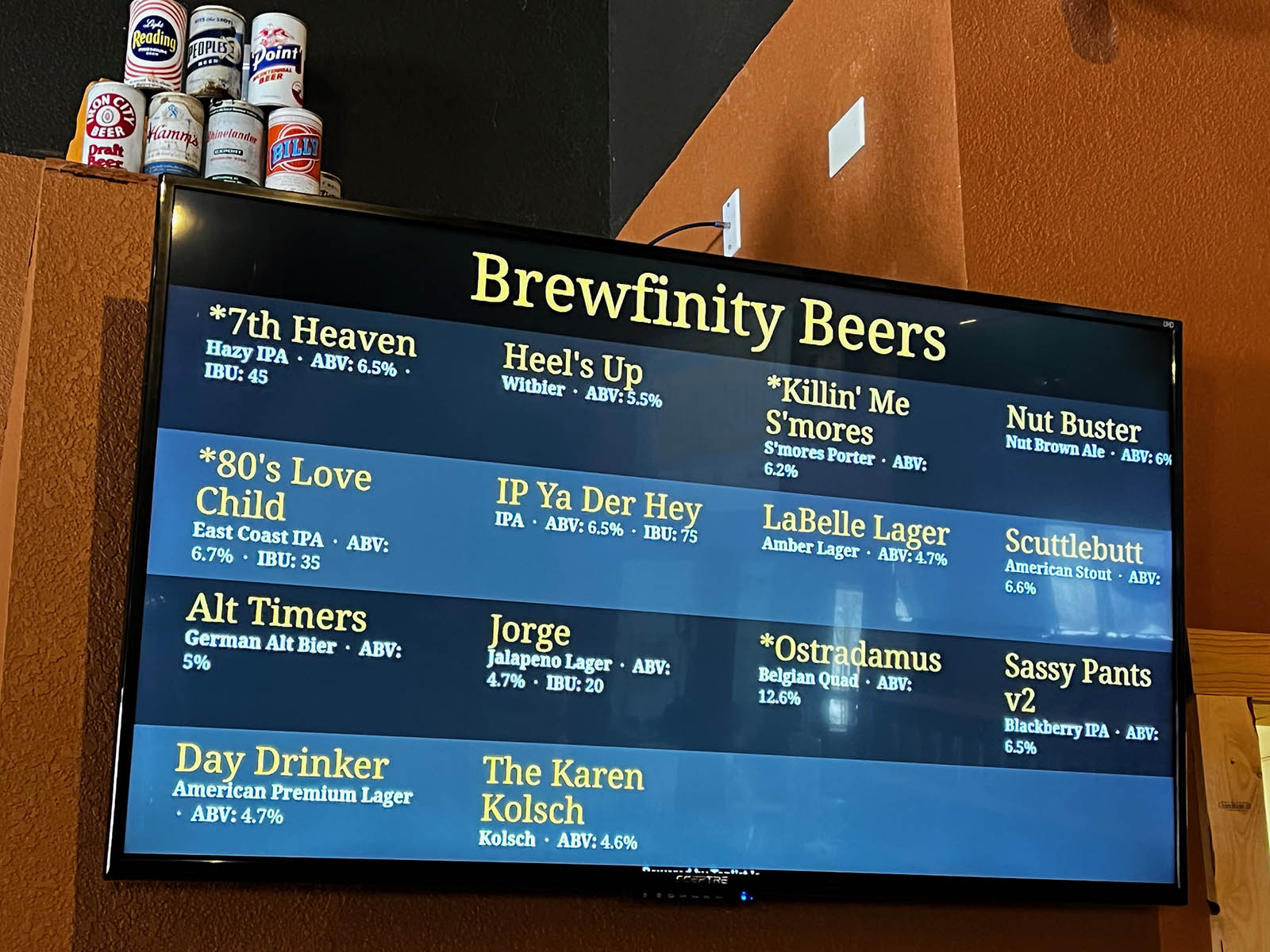 I see you have an alt bier on.
Yep, out here a lot of people like their traditional-style beers, so a lot of lagers, a lot of malt-forward IPAs. We always have some IPAs just because everybody likes their IPAs. And we have probably three or four on right now, which normally I would be right around two, maybe three.
How often are you switching it up?
I always say nothing is guaranteed. Everything's a one and done unless the sales prove me wrong. So for example, we just released our American Scuttlebutt, (stout) we flew through that. So that's on my production list to get reproduced.
Day Drinker, '80s Love Child have proven their worth so they stick around. It all depends on numbers. We like to switch it up. I don't say anything will stick around per se. Usually when we have a couple open taps, like actually we have two right now, I look at the board and try to find something that'll fill a hole that maybe I haven't done before.
So what's in the tanks right now? What are you working on right now?
We do a home brew contest with a local charity. It's a group of ladies that started it called Charitable Hops. They pick a local charity to support. They do a big fundraiser. Part of that is a home brew competition where we go in and we judge the home brew and then we pick a winner and then that winner gets to come in and brew with us. So his beer is actually in the fermentor right now. He came in a week ago to brew it with us. We have that, I'm working on a recipe for a Scottish ale right now.
Have you done one before?
I have in the past, but I always look at the recipe and tweak it accordingly.
What's business looked like for the last, I guess that's almost two years now, right?
March 2020 when we didn't know what we were up against, everybody shut down. I mean, everything was shut down. I think March 17.
And then the State Legislature repealed the lockdown. But when they did that, we weren't ready to open quite yet. So we gave it a couple weeks, got our feet back under us. We did social distancing, we removed a bunch of tables, removed half the bar stools and reopened that way.
Did people come?
Yeah. And what we actually found was the two spots where we removed the bar, like two bar stools, we'd have six people standing there. So we decided, you know what, we'll put all the bar stools back, we have some special sanitizers we were using to clean everything and we made sure we were a lot more diligent about getting out to wipe everything down when people were done, put hand sanitizer out for everyone.
But for the most part, we realized that the people who were uber afraid would stay home anyway, they weren't coming out. And we had some customers that did that.
We also provide outdoor seating, we put a couple picnic tables outside for people. We had to-go, but the bulk of them would just walk in. I mean, if they did to-go, they would just skirt over here to the corner of the bar and avoid the crowd and get their stuff and then leave.
It didn't kill us, but our numbers were down significantly. I think November-ish (2020) when they told everybody to stay at home again, we saw a 50 percent drop in business, until about the second week in December when people just decided they want to come out. So our December actually, the last two weeks were a lot higher than they were the previous two weeks and we had a respectable December as a result.
In 2021, did Delta and Omicron cause any problems for the business?
It slowed things down in here, but it hasn't been awful. It comes down to the people who are afraid stay home. Those who will venture out will do it one of two ways, they'll come out and they'll wear the mask in and sit down and then they'll take it off. And then you have the handful of people that are like, "whatever," and they won't wear masks.
You have beer at retail, as well, right?
Yep. We're still self-distributing yep.
Is that you driving to Cedarburg then? (Laughs)
It used to be. Now, a buddy of mine semi-retired from his day job so he wants something to do one day a week. So he comes in one day a week and does my deliveries for me.
So where is your beer at retail in the Milwaukee area?
Discount Liquor, Total Wine, were at Rays, those are big ones there. We're in Woodmans, a lot of Piggly Wigglys out to the west, in Hartland, Oconomowoc. And then a bunch of liquor stores like in town here we're in the liquor stores here, we're at Albrecht's Sentry over in Delafield. Cornerstop down in Dousman, just a lot of mom and pop shops too along the way.
When Steel Tank opened (also in Oconomowoc), did that affect your business?
No, not really. I was brewing their beer for them initially. And then last year they had an opportunity to buy a seven-barrel brew house from QTS (Quality Tank Solutions), so they built out their brewery.
Ultimately, it'll be helpful in the sense too that now people who are not from Oconomowoc will come here to visit two breweries.
Yeah, it's more of a destination.
Born in Brooklyn, N.Y., where he lived until he was 17, Bobby received his BA-Mass Communications from UWM in 1989 and has lived in Walker's Point, Bay View, Enderis Park, South Milwaukee and on the East Side.
He has published three non-fiction books in Italy – including one about an event in Milwaukee history, which was published in the U.S. in autumn 2010. Four more books, all about Milwaukee, have been published by The History Press.
With his most recent band, The Yell Leaders, Bobby released four LPs and had a songs featured in episodes of TV's "Party of Five" and "Dawson's Creek," and films in Japan, South America and the U.S. The Yell Leaders were named the best unsigned band in their region by VH-1 as part of its Rock Across America 1998 Tour. Most recently, the band contributed tracks to a UK vinyl/CD tribute to the Redskins and collaborated on a track with Italian novelist Enrico Remmert.
He's produced three installments of the "OMCD" series of local music compilations for OnMilwaukee.com and in 2007 produced a CD of Italian music and poetry.
In 2005, he was awarded the City of Asti's (Italy) Journalism Prize for his work focusing on that area. He has also won awards from the Milwaukee Press Club.
He can be heard weekly on 88Nine Radio Milwaukee talking about his "Urban Spelunking" series of stories.