When Steel Tank Brewing (contract) brewed its first batch of beer in January 2017, it marked the first time recorded history that Oconomowoc had two breweries operating simultaneously.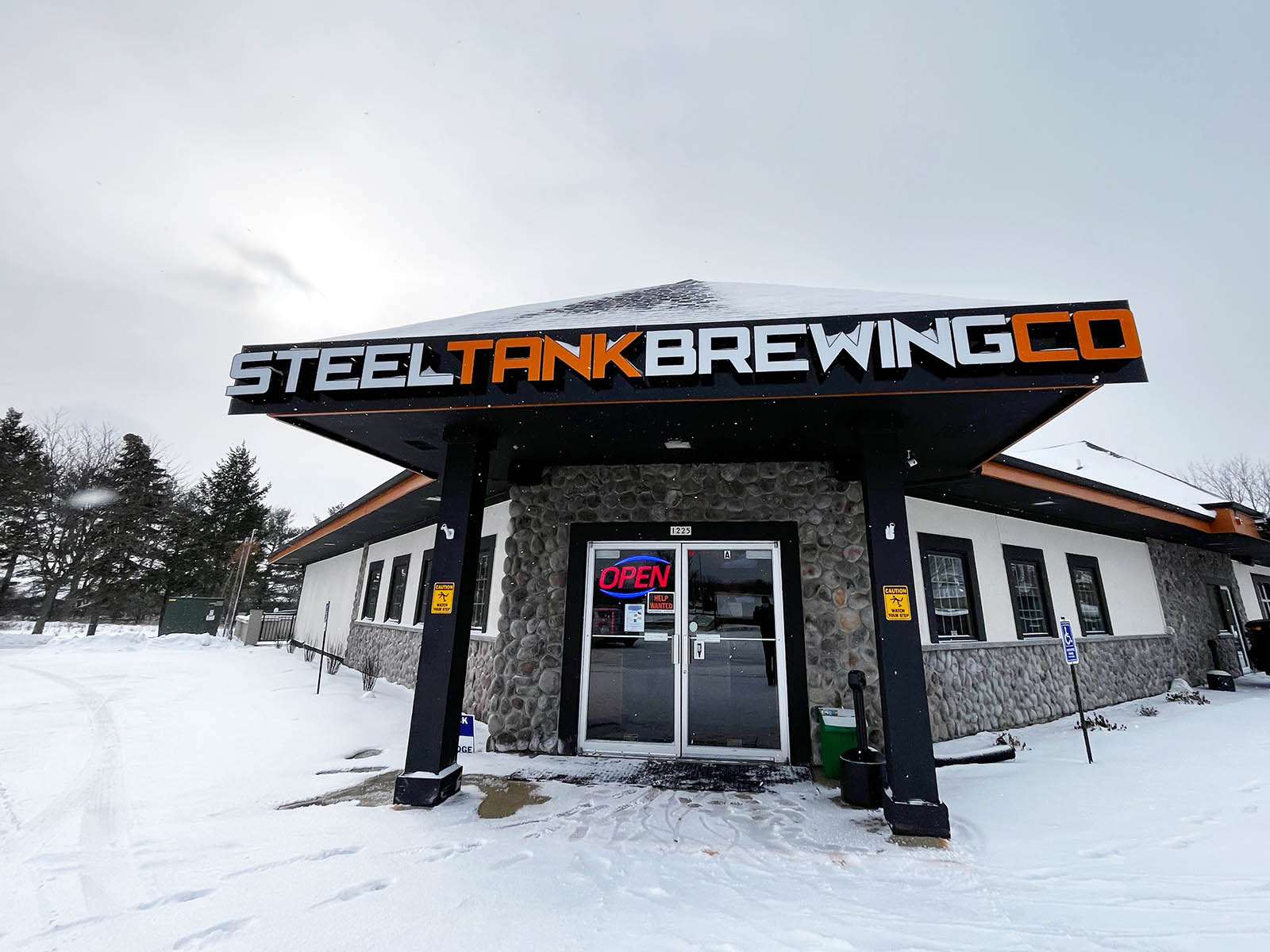 After a brief stint brewing with House of Brews in Madison, Steel Tank's owners – Dave Baron, Jason Radosevich and Mike Wengren – began contract brewing with hometown Oconomowoc brewery Brewfinity, on the other side of town.
Baron and Radosevich have been friends since they met at work years ago. They began working toward opening a brewery together in 2013, three years after Radosevich got into homebrewing. In 2020, they left their jobs behind to focus on Steel Tank.
The one guy that has kept his day job is Wengren, who is the drummer for and a founding member of the metal band Disturbed.
Having assembled their own system, brewmaster Radosevich is filling his own steel tanks now, with help from Baron and Wengren. The brewhouse was built by Quality Tank Solutions (QTS), less than a half-mile from the 4,500-square-foot Steel Tank taproom and restaurant (formerly home to Hops & Leisure), 1225 Robruck Dr.
The seven-barrel system is also housed in a QTS building.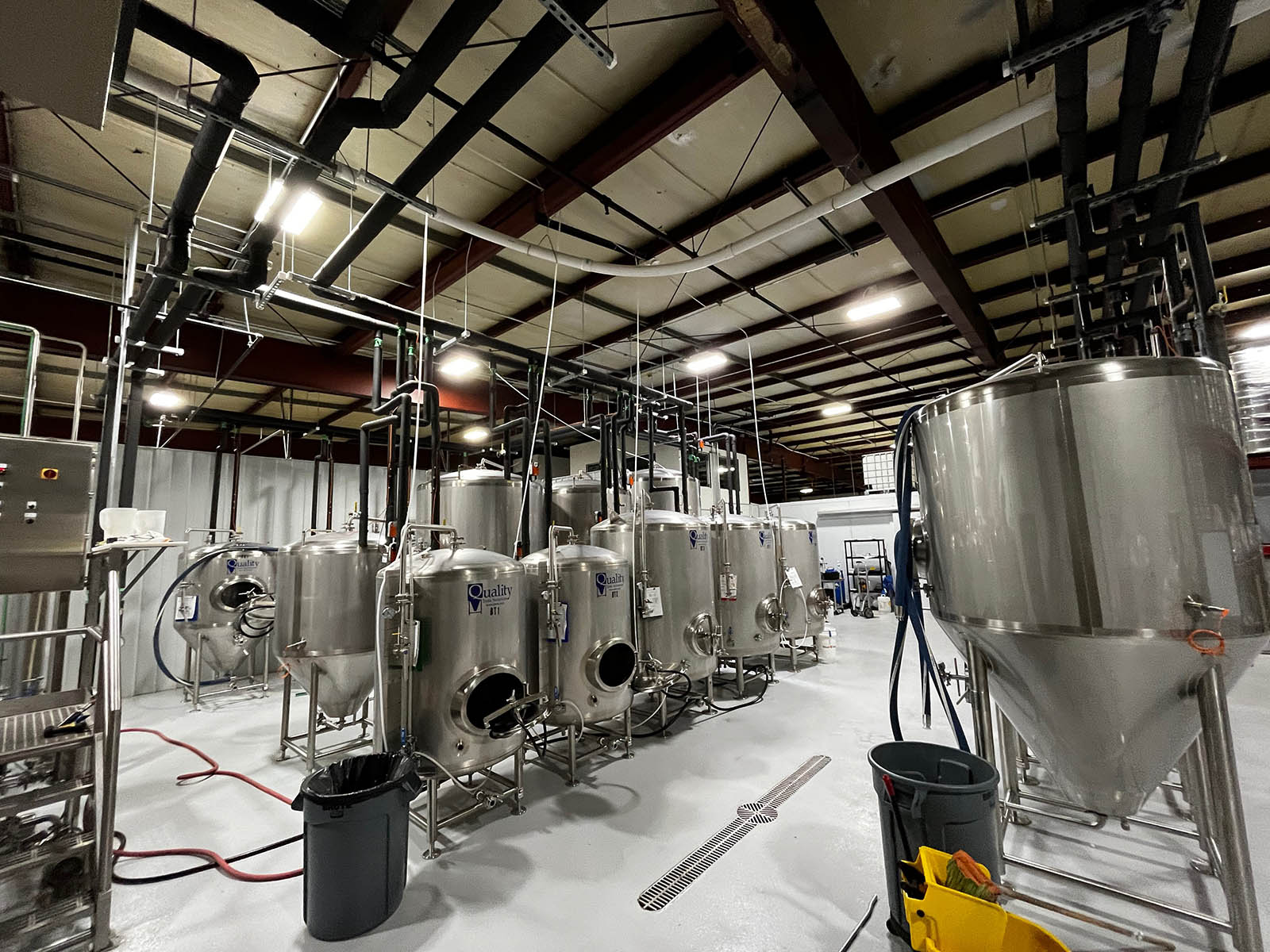 Now, Steel Tank – which has been distributing beer to taverns in kegs – has secured retail distribution and is about to get a canning line to bring its beer in cans around the state. To bolster production its boosting its system with five 15-barrel fermenters, two 15-barrel brite tanks and a centrifuge.
It seemed like a good time to check in.
OnMilwaukee: Tell me a bit about the roots of Steel Tank.
Dave Baron: Jason and I have been manufacturing engineers for years and we worked together, for, I'd say, almost 20 years now. We've been friends. And I think three different companies we actually have worked at together. When we were at Oilgear, we were just having some fun and it was a weekend and we were looking at beer stuff on the computer and Jason told me all about how he dreamt about owning a brewery someday.
And I was just getting out of a situation with my brother, I was rehabbing houses for years and I said, "Well, man, I'm interested. What do you have?" And we started home brewing. So we started creating, just doing different beers and stuff like that. I had a lot of fun. He gave me an oatmeal coffee stout that just sold me on what he does.
So Jason had been doing brewing already?
Jason Radosevich: Yeah. I was brewing already. The whole beer side of stuff got started at the end of 2010. My mom asked me what I wanted for Christmas. I had no idea, but one of my friends was doing some homebrewing and he gave me a bottle of this beer and I thought it was pretty good. "You guy do this yourself? That's a cool thing. I'd like to try that."
So mom asked me, what do you want for Christmas? I said, "I don't know, there's this Mr. Beer kit that's at Pick 'n Save," and she got it for me. You want to talk about super simplicity ... extract brewing, that was ridiculous.
It was just a little one-gallon thing, just plastic barrel looking guy, you know? And when I was making that beer, I had an epiphany. I was like, "This is really cool." Science has always driven my life. It's part of what got me into manufacturing – math and science and everything. I had so much fun doing it, that I started buying every book that I possibly get on the brewing process and everything, and just doing all this research and then gradually getting into going to Northern Brewer and buying five-gallon setups and plastic pails, fermenting in that, and I just kind of grew, grew, grew.
I was brewing two to three times a week and I had so much beer that I was bottle conditioning. I had like a 6-foot by 6-foot by 6-foot cube with bottle conditioned beer. I'm not going to drink that much. So I was literally bringing it to my workplace at the time in truckloads.
It was actually just a little bit, I was working at different place at the time and I would literally just hand out six-packs and 12-packs of anybody that wanted it, and then just said, "Give me the bottles back. I'll wash them, sanitize them, reuse them." And then the second time that Dave and I started working together again, that's when I gave him one of those beers that I had made.
Dave: It was a stout.
Jason: It was an oatmeal coffee stout.
Dave: And I don't like stouts.
Jason: No, he didn't. That's the thing. At the time, because I had given away pretty much everything that I had at the time. I enjoyed drinking all of it that I was making, but I was trying to fine tune the process and really dialing everything in. And that's the beer that sold Dave on all this was the coffee stout.
Dave: Yeah. And I had no beer in my house and I had this growler of stout, like, "Well, I guess I'll drink this."
Jason: Yeah. He likes coffee, too. And when I explained to him how I made it, the other thing too was he told me that his uncle used to make wine and it was just shit.
Jason: So he was apprehensive to a certain degree because he's like, "Well, I've already tasted what homebrew stuff is like," because you never know, and this is probably going to taste like absolute garbage, but he comes back the next day and he's like, "That was really good." I was like, "Okay, so here's the plan. This is what we're going to try to do."
So how how long did it go from that moment until you guys decided to do this?
Jason: About three years was when we really tried to start to formulate how this was going to go, and we spent about three years because there really are a lot of different avenues that you can go down when opening a brewery. You can spend millions and millions of dollars that you don't have, or that you do have, or you can spend a super small amount of money, contract brewing.
Dave: Which is how we had to do it.
You had that contract with Brewfinity, right?
Jason: We did for a little bit. Yeah. But there was a multitude of different areas. And we literally brought every single one of them to light in any shape of any way, shape, or form that we could, to see if it was feasible or what the viability of that put particular plan was going to be. And then we changed it, we changed it, we changed it.
Eventually, before Brewfinity, when it was Sweet Mullets, even before Chad (Ostram) owned it, the previous owner that was there, I had stopped there randomly to talk to him about if there was any willingness to do any contracting and stuff like that, but the owner was never there. And I left my information.
Eventually one of the bartenders gave me his contact. I called him and he said, "No." At the time he was trying to sell it.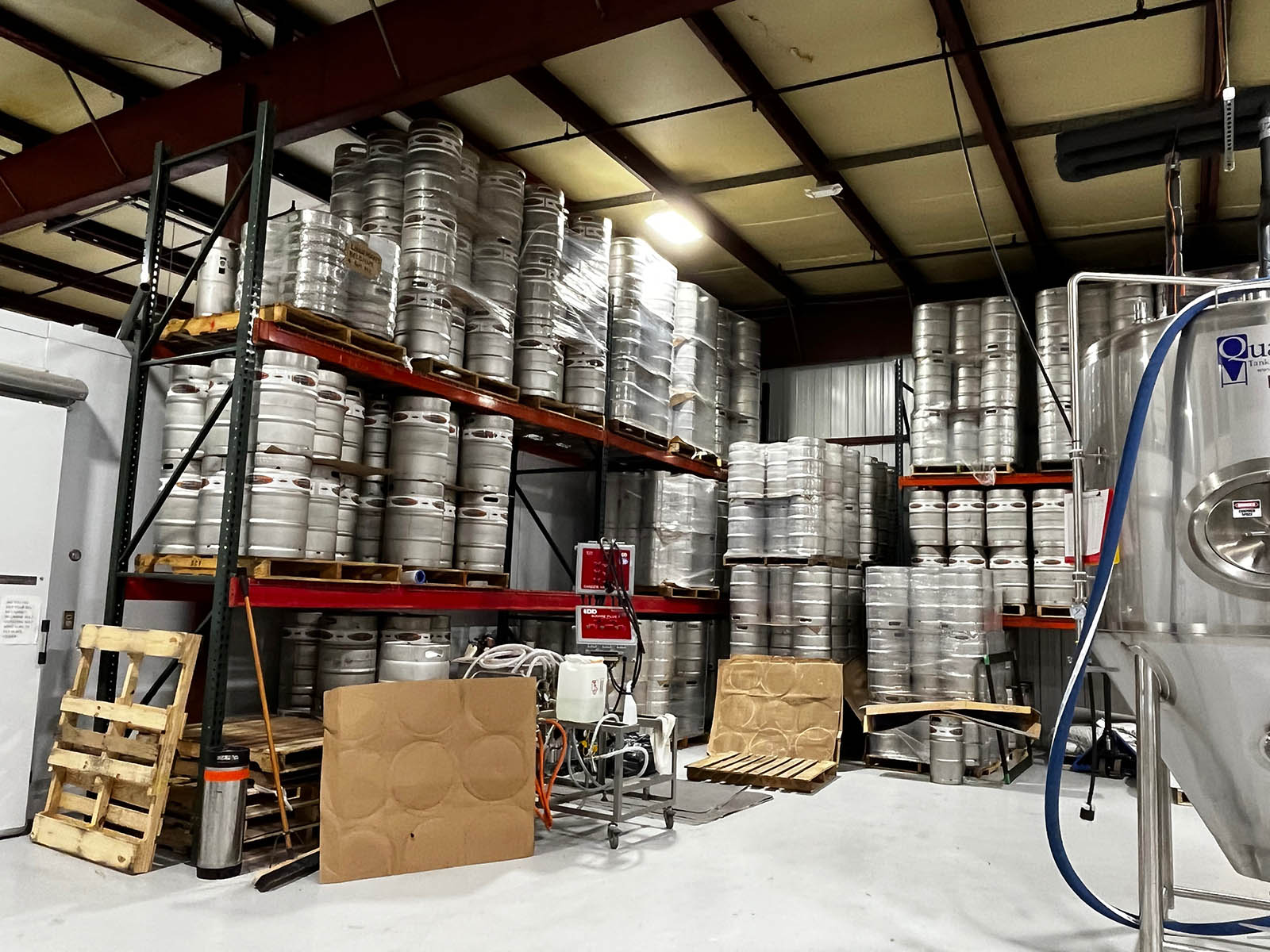 Did he try to sell it to you?
Jason: No, he already had, because he had other business partners that were involved with it. So had an idea of what they were already going to do with it. I don't know if that fell through or if it was Chad or however that worked out. I don't know the details, but that was that wasn't an option. But he turned us on to Page Buchanan at House of Brews in Madison.
Dave: Not in business anymore.
Jason: Literally all of 2016 was nothing but getting permits. We filed our initial permit with the TTB in January of 2016. They got back to us, I think, in February. But then we had accidentally applied for the wrong license. So we had to reapply and then we finally got it at the end of September. And then we had to apply for the state licenses after we received that. We got the state licensing, I think, in December.
Dave: We were literally brewing beer already, too.
Jason: Page already had his licensing. So there was nothing illegal about it. From a selling standpoint, that's where we needed the other stuff. So Page ended up brewing that first batch and it was kegged up in January of 2017.
So that was in Madison?
Jason: Correct. Yep. So then in, I think, it was Jan. 16, 2017. We made our first self-distribution sale in New Berlin.
Dave: Cleveland Pub.
Jason: We were draft only.
Dave: Still are right now.
Jason: Yeah, but we've got a canning line ordered. That's coming this month. Our distributor is looking to start releasing that in March, right now is the plan. We're meeting up with them next week.
Who are you working with?
Jason: General Beverage. In 2018, Page was closing up his doors and at this point we reached out to Chad and said, "Hey, do you have any interest in doing this?" Which he did. So 2018, we started contracting with him. Then we got a seven-barrel system.
From QTS, I assume?
Jason: Yeah, and it's a Cadillac system. I'm on a lot of brewer-related pages on Facebook and everything, and I see people struggling with their other brands of equipment. I'm so happy we don't have to deal with anything like that. And then I look at what their brew days and I'm like, "Oh, my God, I'm getting a headache just looking at what they have to go through on zoom."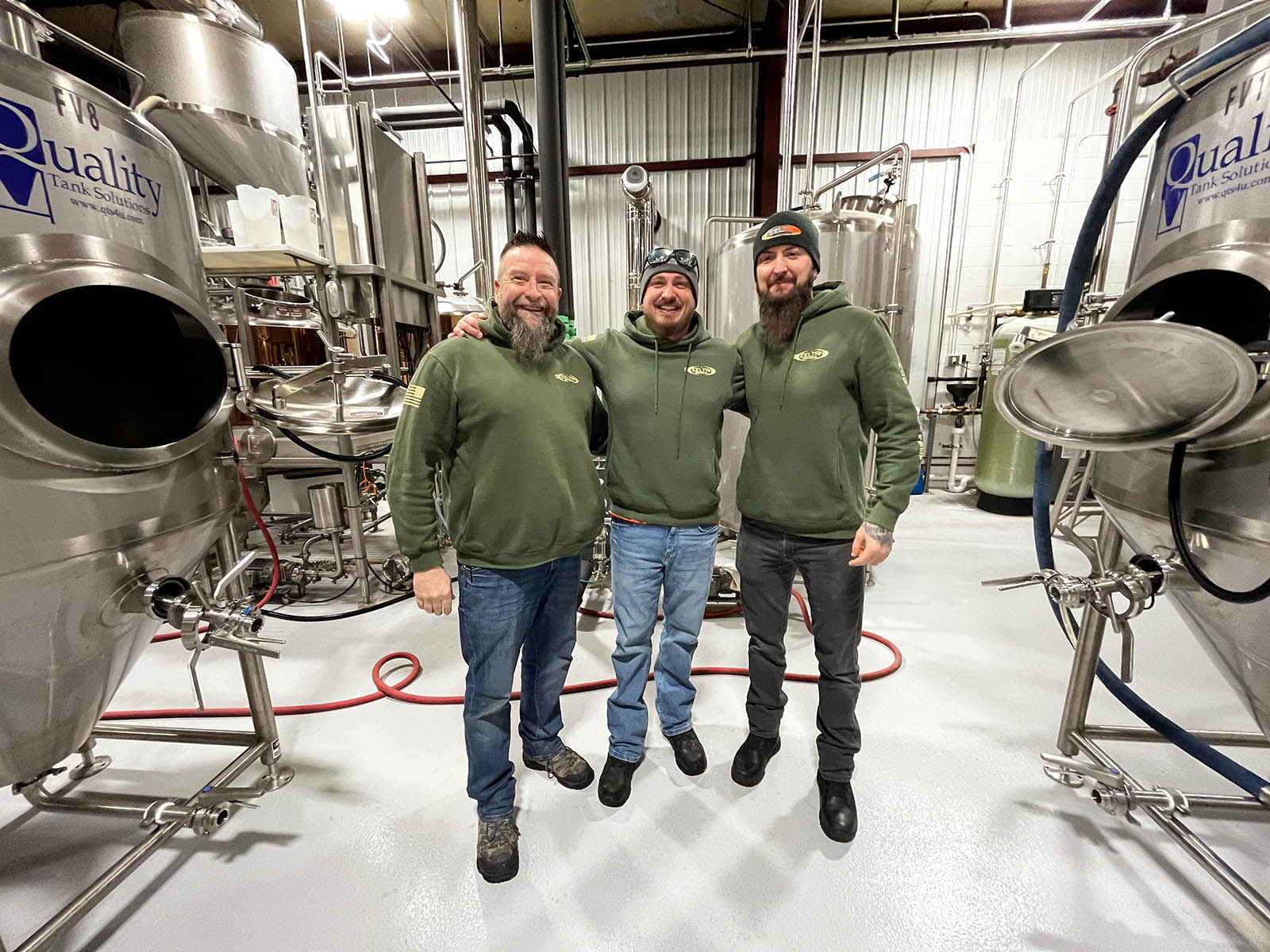 Do you guys have a division of labor?
Jason: No, we all partake in all of it, in every aspect of the business. We're trying to get a general manager.
Dave: He's more or less the designer, we'll call him that. He designs all the recipes and stuff like that. But any one of us can brew.
Jason: It's not difficult to brew. It's understanding the formulation of the recipes. We all take part in all of it. We're trying to get a general manager in on this (taproom/restaurant) side to take over this because the canning side of things is going to increase our distribution, which is also going to increase our production. And then we need more hands on over there (in the brewhouse).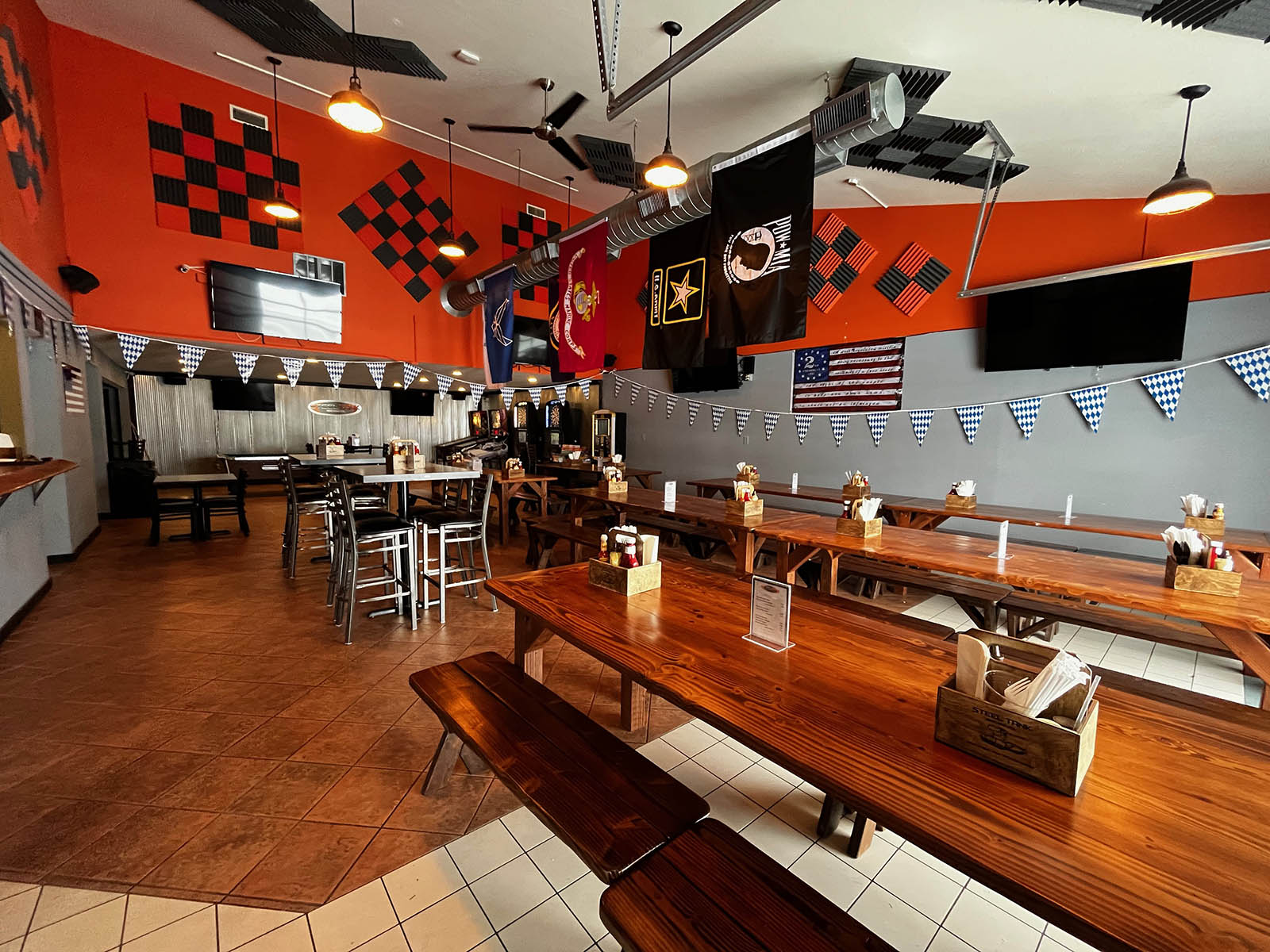 So how did this taproom and restaurant happen? How did you go from let's make beer to this?
Dave: We were working full-time jobs. After work, I got to deliver (beer) here. I got to deliver there. We'd get home at eight, nine. At 12 o'clock at night on Sundays, I'd be delivering beer at some bar. And I'm like, "This is crazy." Well, he got fed up with it, and said, "This is all we're going to do. I can't keep doing it."
We actually literally have only been self employed for a year now. We had this place for almost two years.
Was that a scary day?
Jason: Well, and that's the thing. The chain of events that happened was, like Dave was saying, with our self-distribution it was becoming difficult to do that and work at full-time jobs. And we had the idea like, "Hey, we need a different form of consistent revenue generation. And that usually comes in the form of capital."
So we looked and we looked and we looked at, I don't even know how many places we looked at. We looked at boat loads of different places. Pretty much New Berlin and west and then, and this place was here and it had sat for a little bit and we worked out a deal with the owner to lease it out.
Dave: We looked everywhere. We were trying to build in some places. This used to be the old Wisconsin Harley-Davidson.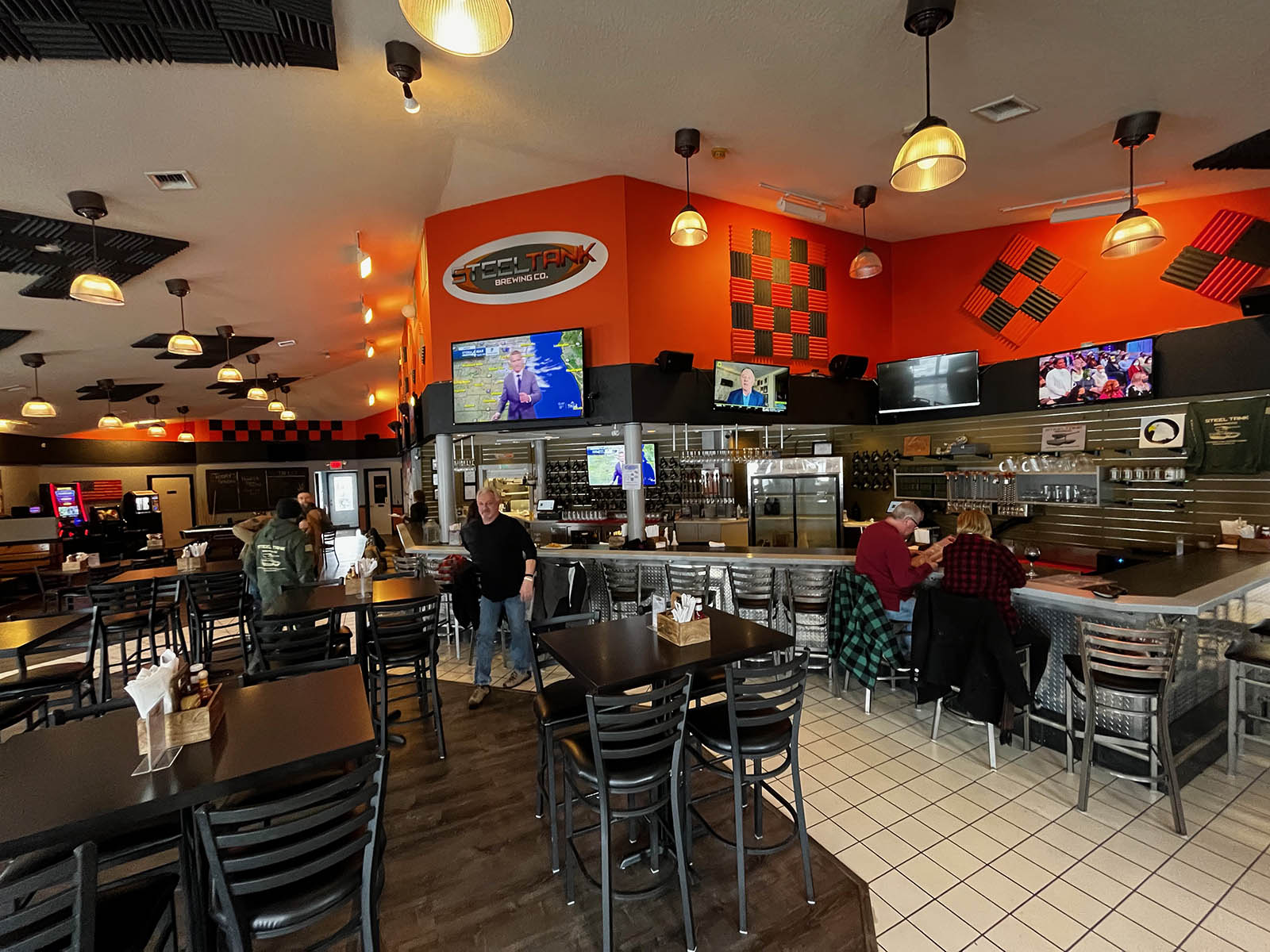 Jason: In the '90s, this building was built for Wisconsin Harley-Davidson and then it became a couple of different restaurants. But we found this place, got a deal in place and that's when then Mike was like, "Hey, I want to be a part of this, too."
Dave: We felt sorry for him. Helped a brother out. (Laughs)
Jason: We opened this place up, Jan. 18, 2020, right before the whole COVID scare.
Good timing.
Dave: We had two beautiful months. It was awesome.
Jason: Yeah. Everything was great, a new location, everybody was enjoying it and whatnot, and then the COVID stuff happened. And that was a struggle. We limped through it, but we made it through.
But in June, because Dave and I were in manufacturing, we were both in hydraulics and both of our industries were taking a massive hit due to coronavirus. All globally, hydraulics were tanking. I ended up losing my job in June of 2020.
Oh, so you did not choose?
Jason: No, I didn't choose to. I lost it. And then, at the same time we were actually opening up this side. So basically I was like, "Wow, I guess I know what I'm doing now." And I was here every fricking day, doing all this crap that we had to do to get this going. And then Dave was told, I think in July, the next month, July or August, that he was going to end up losing his job in November.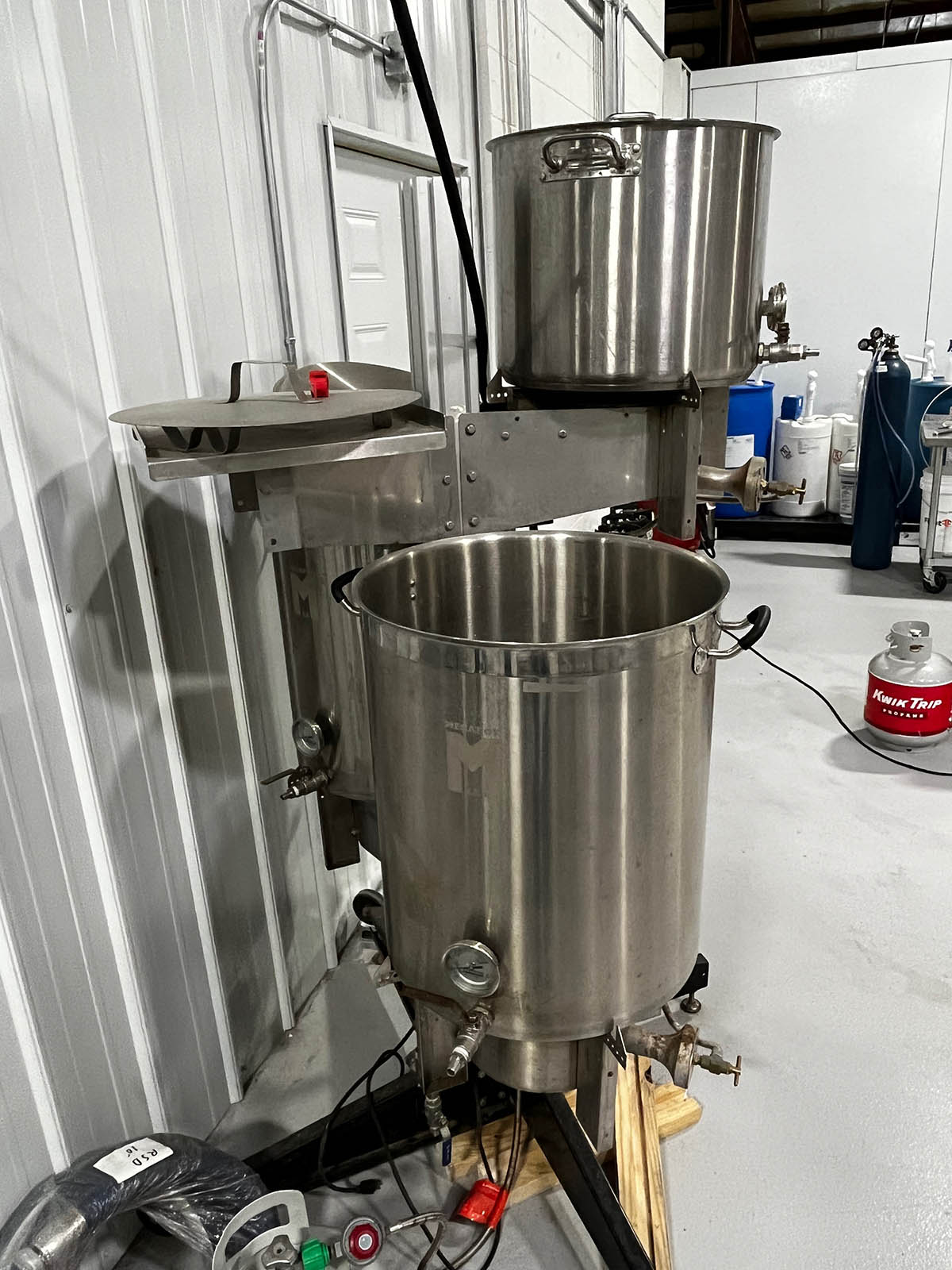 Dave: It was always in the plans, (but) I think somebody upstairs was pushing us.
Jason: Well the other thing, too, is if you want to really expand something and grow it, you have to have the time available for it and working full-time jobs, Dave was working down in Sturtevant at the time, and I was working in Franklin. Both of those are well over an hour from here. So it was difficult to manage it, but once that stuff happened, we had to really refocus our attention.
And we both just kind of said, "Well, I guess screw it. We're going to sit down and we're going to make this work and we're going to grow it the way that it needs to grow." And again, it's not going to happen unless you are physically here and making it happen.
So how did Mike come into the picture?
Mike Wengren: I've known Jason for a long, long time, 15-plus years. We used to be somewhat related through marriage. And right when he was starting to do the home brewing, you'd see each other at holidays and he'd always show up with this new growler of this or new growler of that. "Hey, check this out." I wasn't always the biggest beer guy. So he made a really big impression on me with the beers.
It was like, "Wow, OK, I'm not a big beer guy, but this is fantastic." We kept in contact and we'd see each other once in a while. And as things progressed and I saw his dedication and his focus, I was like, "Hey, you know what? Any day you start to develop this and you want an investor, let me know. We almost joked about it."
And then one day he calls, "Hey, remember that conversation you were always talking about, well, hey, would you really be interested?" I'm like, "Wow, OK, yeah, let's sit down and talk about it." So it was really a no-brainer for me.
Did the (COVID) timing work out for you?
Mike: Well, that was the irony because here I was looking for something else. Disturbed is going to be around for a long time and we put a lot into it, but I also don't want to have to tour as much as we used to. I have kids. I like to be home. So I was looking to put something into something else besides having to be gone a year at a time here and there.
Is that where the rest of the band is too, at the same place?
Mike: Yeah. We still very much love Disturbed. But we have families. We do it now because we want to, because we love it. Not because we have to. So that's a nice luxury to have. So much like these guys losing their jobs. Because of the pandemic, I partly lost mine, too. We all did.
So I wasn't touring. There was no plan of doing so, so I kind of slid into this. These guys gave me that opportunity. I came in, I'm just trying to help where I can. Following these guys' lead and watching them do their thing.
So what's the balance of business now between the restaurant side and the beer side?
Dave: This is a gathering point. You wanted to see what Steel Tank's all about, we have every beer that we've brewed so far on tap here. We've got 22 styles on tap lines. So if you want to taste them, we got them. We actually have to tone it back because we only have 22 tap handles. I'd like to keep going.
Jason: To Dave's point, this is because obviously, not all of our brews are available for distribution all year, but it's always available here. So if you want to try anything, this is the place to go.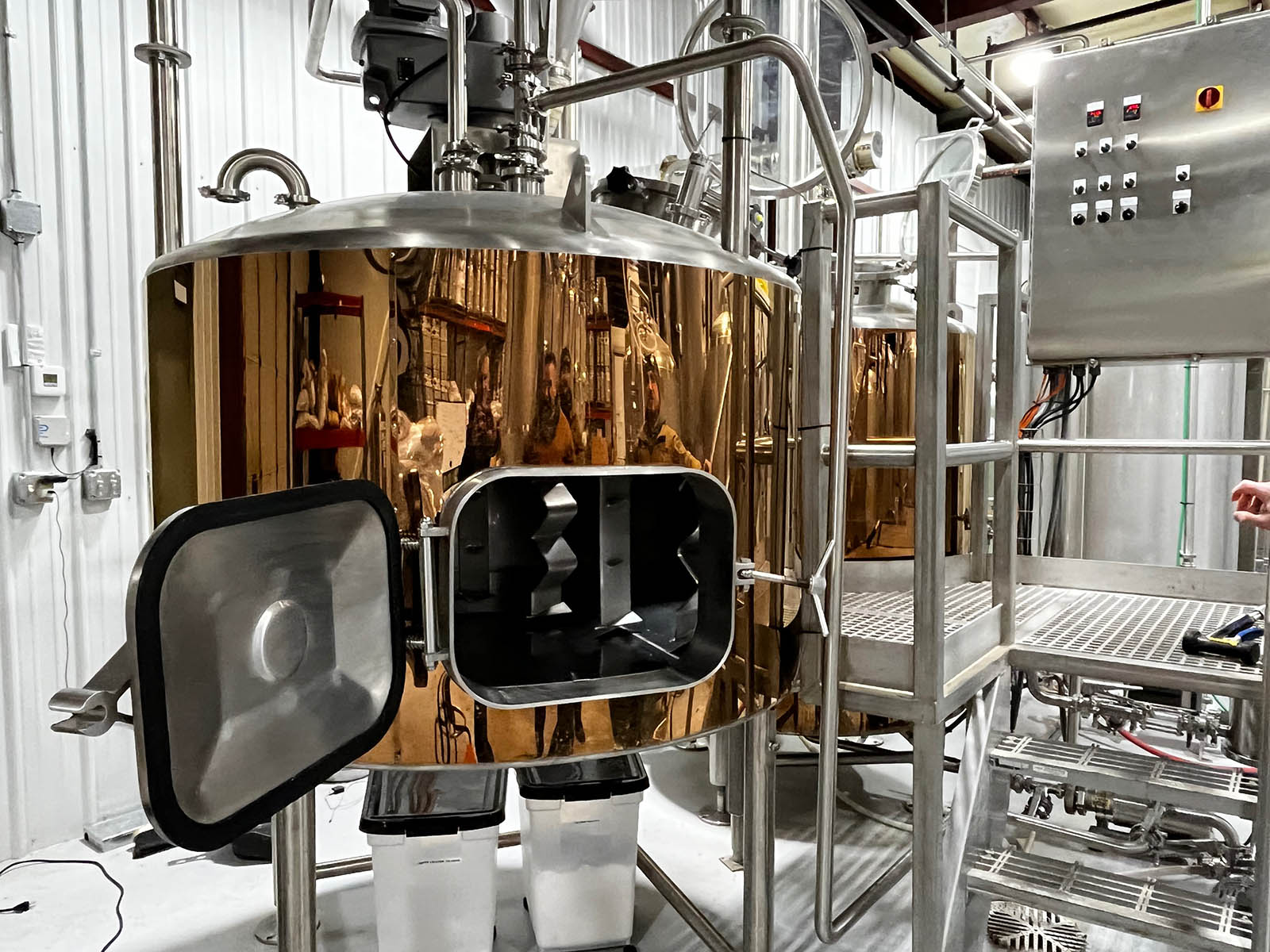 And then we have a great chef. He makes amazing food. It's really fun. I'm actually not even just saying it just because it's our business. I'm saying it because it is really, really good. And come in here and sit down, try any one of the beers that we have on tap. I've got 64 other recipes besides those ones to make for different beers. Wild, crazy stuff, not so crazy stuff, I've got everything in between.
What's your sweet spot as a brewer? What do you like to focus on?
Jason: My all-time favorite style, start the day, is definitely Oktoberfest. Oktoberfest is my No. 1 style. I could drink that beer any time of the year.
Dave: And that's one we keep on tap year 'round. In fact, we have a customer that's keeps it on tap year 'round, too. (Laughs)
Jason: Out of all the beers that we have, it's the No. 1 seller on an annual basis here. Believe it or not. So even over hazy IPAs, over standard IPAs, it is the No. 1-sold beer that we have today, right now.
I really love those and I love to sit down with really good clean lagers. I love pilsner malt, I love that breadiness, that character, that comes from out the filter malt. And if you get a really good clean pilsner style lager, I could drink that all day, every day. We use Rahr primarily, but for the pilsner malts, we use Weyermann, their premium pilsner is just amazing.
Dave: In fact, we love malt so much, our flagship here, the Punisher, is an extremely malty IPA. It's just delicious, a lot of people who don't like IPAs, if they try that, they're like, "This is really good," because they're so used to the real bitterness.
Jason: Oh exactly. Because I know West Coast-style IPAs are really popular, but that to me is just alcohol flavored hop water, because they're extremely thin. You drink some of them you're like, "What the hell is that?" You taste so much booze off of it. To me, that's not enjoyable.
Dave: We're very traditional. We stick with the tradition of beer and we don't do all that weird stuff.
If you've got 22 lines and 64 more recipes, you got to be dabbling, at least a little.
Jason: Oh yeah. I have a lot of different ideas for all that stuff. But the main thing right now is, with the equipment that we have distribution is going to limit us and how crazy we can really get with some of the different styles.
Because a lot of that stuff, a lot of our equipment is going to be, our space is going to be used for that set of stuff. But as we grow and then we buy some more fermenters and everything like that, then that's when we start to travel down those roads. Because people do like those milkshake-style IPAs and stuff like that, they do.
There's a reason people are making it.
Jason: Yeah, exactly. And people love them, and they saw it's the same thing with the hazies. You know, when hazy beers came out, traditionalists hated those things because no beer should ever be hazy because it's just a shitty brewing practice.
But the bio transformation changes all that. And that's when people start to really realize like, "Hey, you can actually make a really good high quality beer that's hazy," when you understand what makes it and how it's done. Then it's like this, "No, it's not just a crappy, shitty brewing practice. It's really good, clean made beer."
And that's the thing with these milkshake beers and everything like that. There's a lot of weird things that people are doing with them that aren't any sense of the word beer, but it is what it is.
But if people like them, we're not going to tell people that "No, we're not going to make that. You like it. Why would we make that?" That doesn't make any sense.
You're just going to find your own take on it.
Jason: Right. I've got, in one of the fermenters right now, a beer I'm calling a Midwest-style hazy IPA. I don't know how to classify it because it doesn't really fit. To me, it's not an amber, it's not an IPA. It's not even a hazy IPA. It's this weird balance of three different styles.
Yeah. I'm calling a Midwest-style hazy because it has this caramelized malt backbone to it ... I don't want to give away everything I did to it, but it has this really good balance of malty nuttiness, but then has all of the aspects of the hazy, that juiciness, all that hop character that comes through. You get this balance of both of those things. And when you drink it, you're like, "What is this thing?"
I've had a lot of people that I know that are beer drinkers that are in groups that exchange 12-packs with people all across the United States and everything. I've had them try it, they say the same thing. "This is really strange, but it's really good."
That was just one of those things. I had this yeast that we used for our hazies. I had just harvested it but I didn't need to make another hazy at the time, but I didn't want that yeast to go bad. So I went through our inventory, found a bunch of hops and I was like, "OK. Well I've got those. I can make another hazy, but what do I got for malt?"
And I went and I looked for the malt and I was like, "OK, well, we got all this stuff. And I was like, what can I make with that yeast? And those hops and this? Well, we're going to find out." So I threw it together. And that's how that one came up.
So what are you guys going to do in terms of when you get the canning line? Obviously you're going to have to start having flagships if you're going to go to retail.
Dave: We got five styles.
Jason: Our Punisher is still is our flagship, our Punisher IPA. That's the one that everybody loves.
Dave: We've got three IPAs. We got the Punisher, the Ground Pounder, and the hazy called Tear Gas. And amber, our Tracer Rounds amber is very popular. And we decided to put a kolsch in there, which is a real nice light style of beer. It's an easy-drinking beer.
Jason: We actually had a guy that lived in Germany, come here and say that out of all of the kolsch-style beers that he's tried in the United States and I don't know how many places it was, it could have only been one. I don't know. But he said out of all the places that he's tried kolschs, that was the closest one that you could find to one that was brewed in Cologne. Germany.
I think that people, when they go to the store, they're going to buy two things. They're going to buy the crazy new thing. Like, "Hey, I haven't tried that." They're going to get a four-pack of that or a six-pack, whatever comes in new, just to try. But then they're always going to get something else, too, that they know is like, "Okay, so I'm going to go with that pilsner, right? I'm going to go with that light lager or something like that." And they're always going to buy that stuff. That's never going to go away. Because that's the beer they're always going to drink no matter what.
So that's the drinker you're aiming for?
Jason: We want to make the beers that people want, because there is a place for them, but we also want people to buy our beer and have it in the refrigerator for special occasions, beer that we know that everybody's going to want to drink, because they're comfortable with it. They know what it is. It's good-quality beer.
So that's your retail market and then your taproom market is the more diverse place?
Dave: As of now. As we keep growing, though, that'll change.
Jason: We'll branch out with that and take these other, different styles that we have out to the market, smaller batches, obviously, limited locations and things like that. But yeah, that's what we're really kind of trying to accomplish. Good beers that everybody always knows that they're going to want to drink.
Born in Brooklyn, N.Y., where he lived until he was 17, Bobby received his BA-Mass Communications from UWM in 1989 and has lived in Walker's Point, Bay View, Enderis Park, South Milwaukee and on the East Side.
He has published three non-fiction books in Italy – including one about an event in Milwaukee history, which was published in the U.S. in autumn 2010. Four more books, all about Milwaukee, have been published by The History Press.
With his most recent band, The Yell Leaders, Bobby released four LPs and had a songs featured in episodes of TV's "Party of Five" and "Dawson's Creek," and films in Japan, South America and the U.S. The Yell Leaders were named the best unsigned band in their region by VH-1 as part of its Rock Across America 1998 Tour. Most recently, the band contributed tracks to a UK vinyl/CD tribute to the Redskins and collaborated on a track with Italian novelist Enrico Remmert.
He's produced three installments of the "OMCD" series of local music compilations for OnMilwaukee.com and in 2007 produced a CD of Italian music and poetry.
In 2005, he was awarded the City of Asti's (Italy) Journalism Prize for his work focusing on that area. He has also won awards from the Milwaukee Press Club.
He can be heard weekly on 88Nine Radio Milwaukee talking about his "Urban Spelunking" series of stories.