Whether your wedding is right around the corner, or down the road, The Corners has just what you need to make your day extra special!
It's often said, "It's the thought that counts." And of course, we agree. But what if there was thought put into a gift ... and the recipient actually loved it? Now that's a winning idea.
When choosing gifts for a bridal party, many brides and grooms opt for one gift for all of their supportive friends. Others buy individual gifts based on their friends' personalities. Either way, it's integral to choose a gift they will all love and remember.
To that end, we've rounded up 10 of our favorite gift ideas for the friends and family who are standing up for you on your special day. Who's ready to be inspired?
1. R-E-L-A-X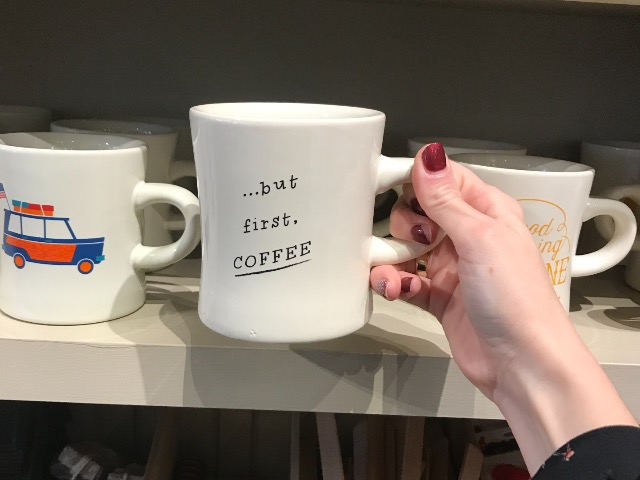 The morning after a wedding can be a, um, challenging one. That's why a cute coffee mug with a fun statement is a great gift for those who will need a caffeine pick-me-up. Add a bag of their favorite coffee, and they'll be chasing away that hangover in no time. ($10.50, MOD GEN, 211 N. Broadway)
2. Get framed
A picture says a thousand words! Simply add a favorite image of you and your bestie – or a group shot from one of the events leading up to your wedding day – to this gorgeous frame to make it a personal gift to be cherished. ($29, West Elm, 342 N. Water St.)
3. Choose beauty
We don't know about you but some of our favorite gifts are those we simply wouldn't buy for ourselves (not because we don't love them; they just feel like an extravagance). Why not gift your bridal party with one of these objects d'art, like these incredibly chic coasters? They'll think of you every time they rest a glass on their new favorite home décor. ($14, Anthropologie, 301 N. Broadway)
4. Stay happy and hydrated
Wedding days are wonderful, but they can also be wonderfully long. That's why it's crucial to stay hydrated throughout the day and night so you don't miss a beat of the festivities. We're longtime fans of Swell water bottles – which can keep liquids cold or hot – and their funky designs. (Up to $40, Lizzibeth, 550 E. Menomonee St.)
5. Toast to tea time
During the frenzy of the engagement party, bachelor and bachelorette parties, rehearsal dinner, wedding day and gift opening, it's essential for members of the bridal party to take time for reflection and to care for themselves. A hot cup of soothing tea will often do the trick. ($10 mix-and-match of 12 sachets, David's Tea, The Corners of Brookfield)
6. Explore the city
Sometimes brides and grooms want to gift something that's a bit adventurous – and we can't think of anything better than perfectly packaged coupons to some of the city's coolest restaurants, bars and performing arts venues. Enter City Tins, adorable tins packed with coaster-sized deals you can use at a bevy of hotspots throughout the city. ($30, available at shops throughout Milwaukee or at citytins.com)
7. Make memories
Make sure the memory of your wedding day always stays fresh for your wedding party by gifting this "memory a day" book. To make it extra special, write your own note of thanks on the date of your wedding day. ($17, Paper Source, The Corners of Brookfield)
8. Light it up
While candles are often an expected gift, this cool American Provenance candle is in a league of its own. The fabulous aroma and hygge-perfect presentation are a step above the rest. And, seriously, can you ever have too many candles? ($18, Milworks, 143 N. Broadway)
9. Nail it
Female members of the wedding party often run out of time to schedule a relaxing mani or pedi, so gifting them with a few nail polish colors that will perfectly coordinate with their dresses can be a great pre-wedding gift. These chic bottles – which beg to be displayed on your bathroom shelf – are a beautiful bonus. ($18, Kendra Scott, The Corners of Brookfield)
10. Take a sip
It's Wisconsin, after all, so why not give your friends the gift of a midday sip? This stainless steel flask, engraved with the words "happy hour," makes any hour the happiest of the day. A small bottle of their favorite libation is optional but encouraged. ($40, Von Maur, The Corners of Brookfield)
Fashionista, stylist, writer and TV personality, Jordan Dechambre, owner of Jordan Dechambre Style, lives for fashion and writing. Her unique resume encompasses everything from a former life as a magazine fashion editor to the current host of Bon-Ton Department Stores' nationwide New & Now fashion shows.
Jordan is a brand ambassador for many of the nation's leading retailers and the official Fashion Expert for the "Real Milwaukee" morning show. She is also a sought-after fashion show producer and stylist, and recently co-chaired a runway reunion of all the designers from season 15 of "Project Runway."
In addition to her fashion career, Jordan is a public relations and social media consultant and an avid writer. She has written for Ladies' Home Journal, Milwaukee Magazine, M: Milwaukee's Lifestyle Magazine, Wisconsin Bride, among others, and won several Milwaukee Press Club awards.
When she's not traveling, Jordan can often be spotted enjoying a glass of prosecco with friends, walking her rescue pup Charlie in the Third Ward, drinking way too much tea at Kickapoo Coffee or ruining her diet with a chocolate chunk cookie from Treat Bakeshop.
Learn more about Jordan at jordandechambrestyle.com or on Instagram and Facebook @jordandechambrestyle.