In 2006, I wrote a blog expressing my interest in joining The Brewcity Bruisers, and a mere nine years later, I attended the women's roller derby team's Boot Camp – a three-hour workshop that introduces the sport to newbies.
Attending Boot Camp was my friend Leah Delaney's idea.
"My father has always been a huge disco rollerskater who taught me how to skate at a very early age," says Delaney. "At the tender age of 40, I decided to get back on skates. Boot Camp was so much fun and filled with really supportive ladies. Plus, I knew that if I continued this, I would have the best ass this side of the Mississippi."
As an "experience junkie" who will do just about anything for the love of an interesting story, I was eager to give derby a roll and, even more so, to pick my derby name. I went with "Molly Ringworm."
It wasn't until I got to the camp – located at an indoor rink in Walker's Point – that I remembered I don't actually know how to roller skate.
Although I can hold my own on a skateboard and ice skates, I have roller-skated only a few times in the past decade and that was during a kids' birthday party at the rink that smells like nachos and feet.
Luckily, it didn't matter that I was a wreck on wheels. There were numerous other women who showed up for Boot Camp who couldn't skate either. And then there were some, like my friend Leah, who was basically a roller queen with a mouth guard.
Nicole Armendariz – aka "VerucAssault" – is on the Rushin' Rollettes home team as well as one of the travel teams, but says when she started two years ago, she couldn't skate.
"I got my start with a boot camp – couldn't really skate before that, other than just slowly and wobbly, getting from point A to point B," says Armendariz.
Armendariz loaned me a pair of skates (these are four-wheeled "quad" skates, not rollerblades), a helmet, wrist guards and knee pads. Another derby girl loaned me a pair of stretchy pants because I showed up in jeans, and yet another Bruiser let me borrow an old mouth guard at the bottom of her bag. For some reason that didn't gross me out. Roller derby really isn't for the squeamish.
Boot Camp was led, primarily, by Jennifer Lippit (aka "Abra Cadaver"), Angela Waranka (aka "Karma Suture"), Rebecca Berkshire (aka "Becky the Butcher") and more. The women provided verbal tips, physical help and engaged in a short demo "bout." (In roller derby the games are called "bouts.")
Although roller derby is a full-contact sport, Boot Camp is not. It's very safety focused and provides the opportunity for people to get comfortable on their skates and learn a few moves. I can't say I ever got completely comfortable on my skates, but I eventually was rolling forward – no longer falling on my ass, and not as stiff as a hockey stick.
Boot Camp is offered four times a year and the next one is Feb. 6, 2016 from 9 a.m. to noon. Each boot camp occurs one week before a new round of Recreation League skating sessions. Women who sign up for the Recreation League continue to build on the skills learned at Boot Camp and have the option to stay in the Rec League forever at a non-competitive level, or to train to become a rostered Brewcity Bruisers skater.
The cost of Boot Camp is $10 and it's ideal if participants have their own gear, but some of it can be borrowed.
The derby players who instructed the class are extremely supportive – as were the participants. I have never been a "sports person," and midway through the camp, I had a moment of realization that sports really are about more than scores and high fives and abs of steel. Duh.
I definitely walked away understanding the basics of roller skating as well as a few integral-to-derby-playing moves. The three hours went by quickly and although I was sore for a couple of days after, I felt energized – and starving – directly after Boot Camp.
Although I don't plan to move forward and join the Rec League, I had a ton of fun with dozens of very different, very encouraging women, all of whom stepped outside their comfort zones for a few hours.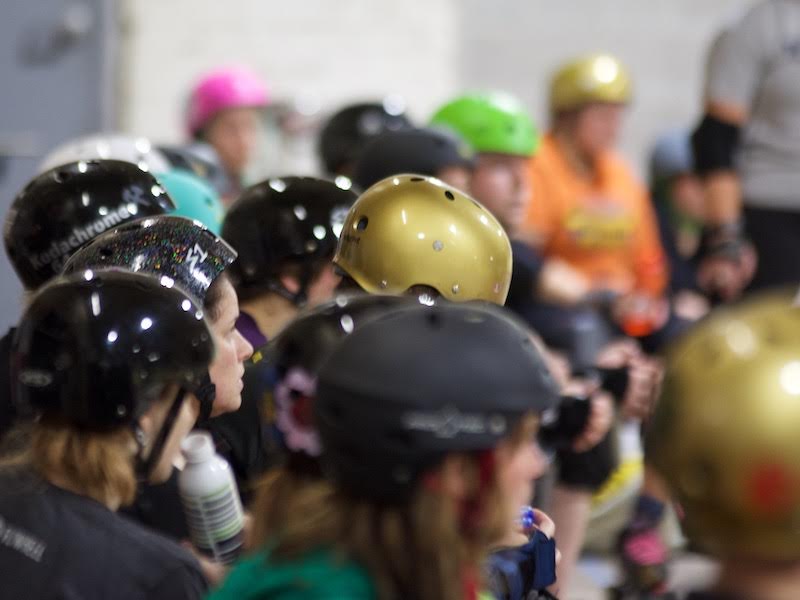 "We have women of all types, all professions, all backgrounds who skate together. All of these women are very different, but what ties them together is that they want to get better at something," says Armendariz.
"A lot of people at boot camps are in the same shoes: they want to try something new, they don't know anyone yet, and they haven't skated since they were a kid. Because of this, it's a positive, non-judgmental environment designed to teach and encourage growth and skills. Even better – there's zero commitment."
For more information about Bruisers Boot Camp, email recruitment@brewcitybruisers.com.

Molly Snyder started writing and publishing her work at the age 10, when her community newspaper printed her poem, "The Unicorn." Since then, she's expanded beyond the subject of mythical creatures and written in many different mediums but, nearest and dearest to her heart, thousands of articles for OnMilwaukee.

Molly is a regular contributor to FOX6 News and numerous radio stations as well as the co-host of "Dandelions: A Podcast For Women." She's received five Milwaukee Press Club Awards, served as the Pfister Narrator and is the Wisconsin State Fair's Celebrity Cream Puff Eating Champion of 2019.