Standing just two games out of first place in the East at 22-14, the Bucks are looking pretty good this season – and they're about to look even better with their previously leaked but now officially revealed Earned uniform look.
Joining the Bucks' already full closet with the classic white and green duds, the Fear the Deer black look and the new blue alternates, Earned edition jerseys are bonus looks rewarded to the 16 NBA teams that qualified for the playoffs the previous season. The concept was previously introduced in the 2018-19 season (if you remember this jersey), then ditched the following year and now resurrected – because hey, in a season mostly without fans, gotta make money somehow. But considering it's actually a pretty snazzy look, I'm not complaining. Take a look for yourself: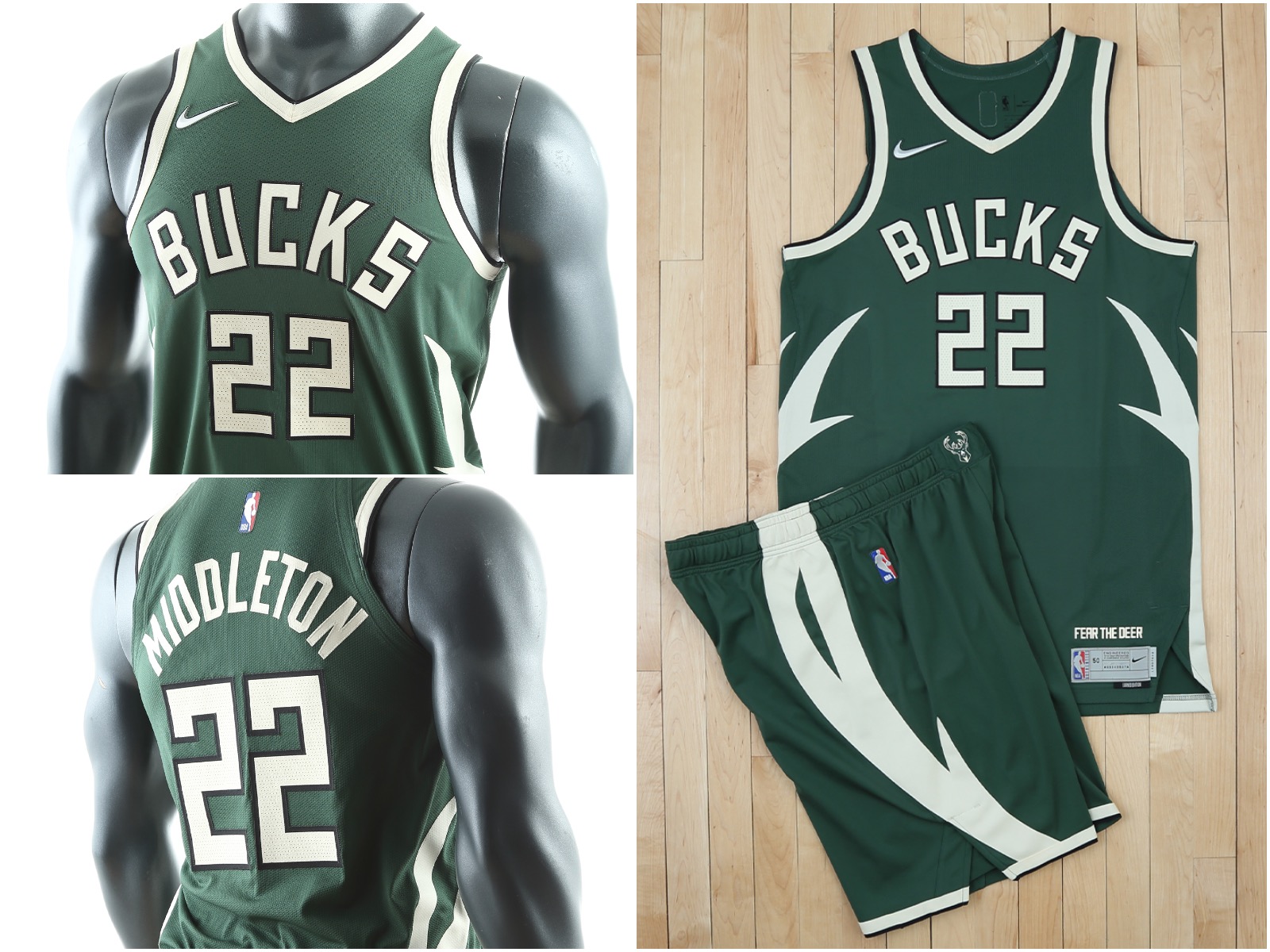 I liked them when they first leaked – and months later, I still like 'em! We'll see how the antler side panels play in action; they could either look cartoony and obvious, or they could look really cool. But right now, they appear like just the right amount of busy – and as for the overall uniform, it's pretty outstanding. I like the darker, woodsier color combination; the sharp black outlines really pop; and I like that it's a fresh look while still fitting into the Bucks' overall aesthetic, still recognizably the Bucks while also bringing some new ideas to the table. Compared to a lot of other teams' boring Earned uniforms (oh wow, the Rockets got black jerseys; what a unique thrill), I'd say Milwaukee got one of the better looks in the bunch.
And, as always, if you don't like the new uniforms, winning makes everything look better.
You won't have to wait long to see the Bucks bust out their nifty new jerseys as the Earned edition look will make its debut in tonight's home game against the New York Knicks, followed by ten more times throughout the second half of the season.
And, if you'd like the look yourself, the jerseys – along with the full Earned-inspired collection of T-shirts, hoodies and more – will go on sale to the public at the Bucks Pro Shop and the Bucks' website starting Thursday, March 18.
As much as it is a gigantic cliché to say that one has always had a passion for film, Matt Mueller has always had a passion for film. Whether it was bringing in the latest movie reviews for his first grade show-and-tell or writing film reviews for the St. Norbert College Times as a high school student, Matt is way too obsessed with movies for his own good.
When he's not writing about the latest blockbuster or talking much too glowingly about "Piranha 3D," Matt can probably be found watching literally any sport (minus cricket) or working at - get this - a local movie theater. Or watching a movie. Yeah, he's probably watching a movie.