Perhaps you've seen the Herman and Gertrude Buemming House, just a couple blocks off Brady Street. It's the one that looks like a little White House, built almost right up to the sidewalk at 1012 E. Pleasant St.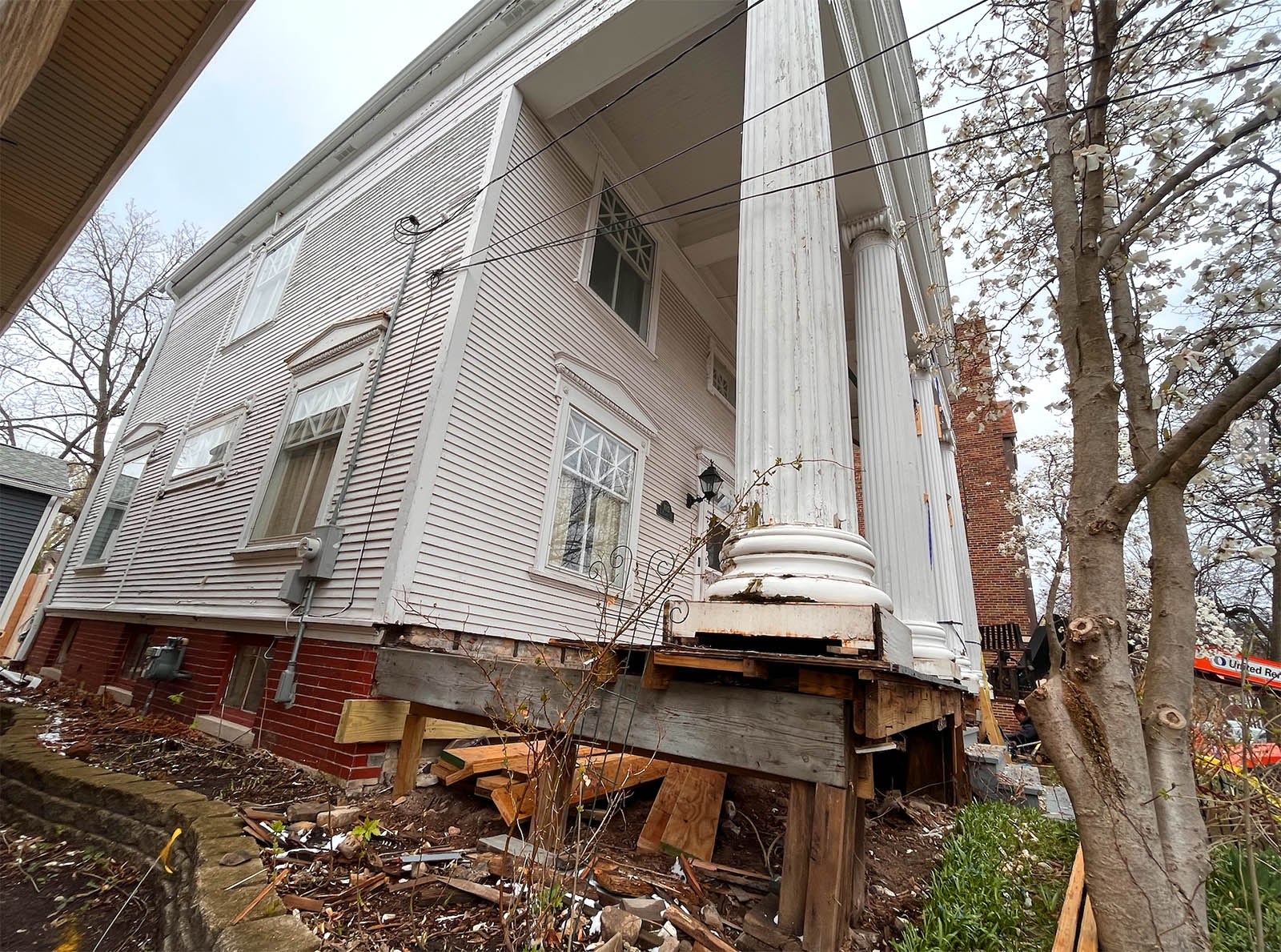 If you've passed by lately, you'll have noticed that some pretty ambitious work is being done.
"We are undergoing a major exterior restoration project right now and things are getting really interesting," says owner Tina Klose, who lives in the house with her life partner, Jeff Jones.
The most visible work is the effort to jack up the porch that sits under a row of columns. As it sagged over the years, it's pulled some of the house along with it, creating cracks inside. So, while Klose and Jones would love to spend their time and money remaking some of the interior living spaces, there's not much choice here.
"The porch is getting mostly replaced with all new decking and some needed repairs underneath," Klose says. "The four big columns are the scary part for me. They are shoring it all up and (brought) a big lift over to support the pediment. There will also be new footings placed under the columns and we hope to lift up the sagging a bit."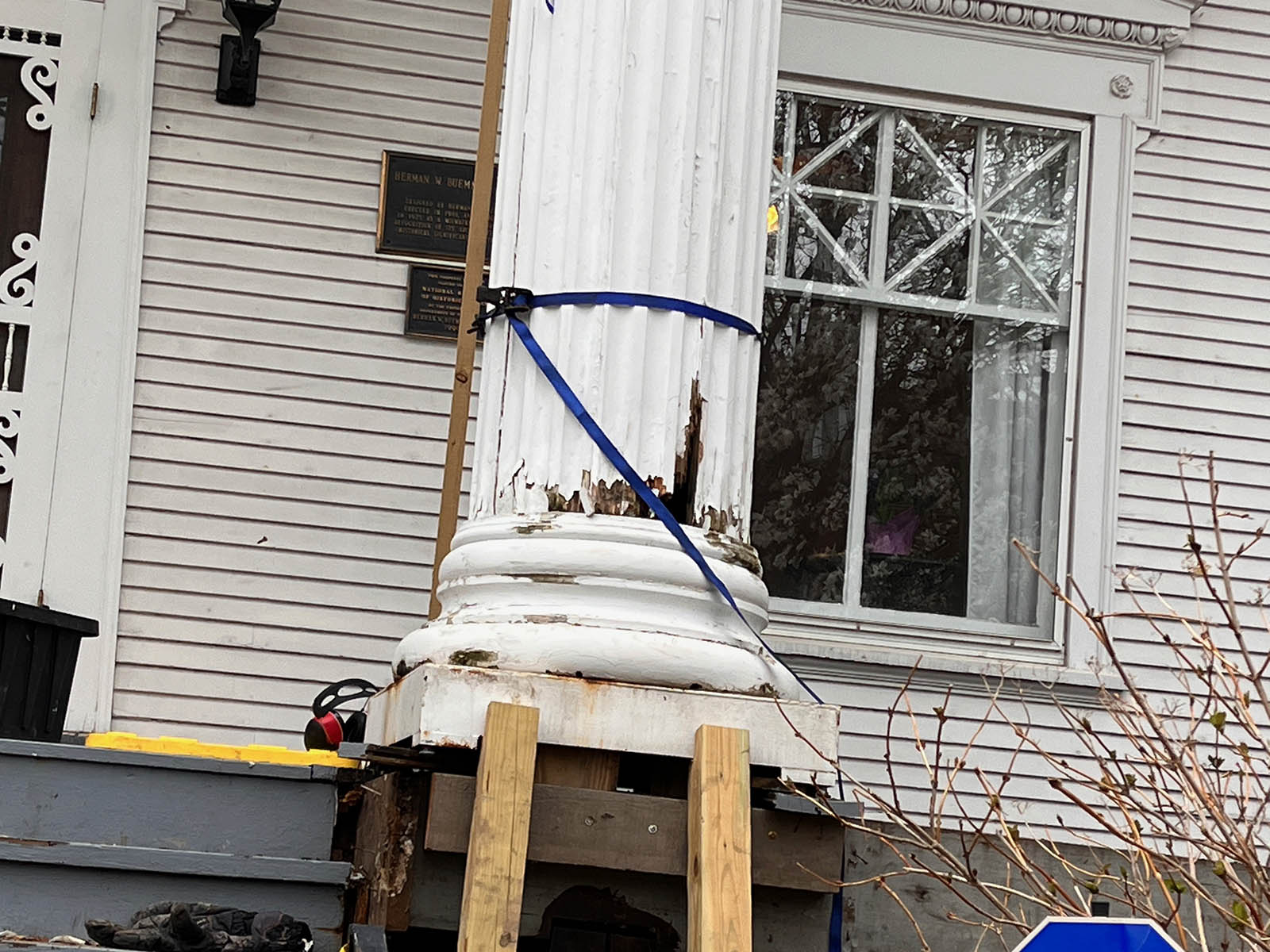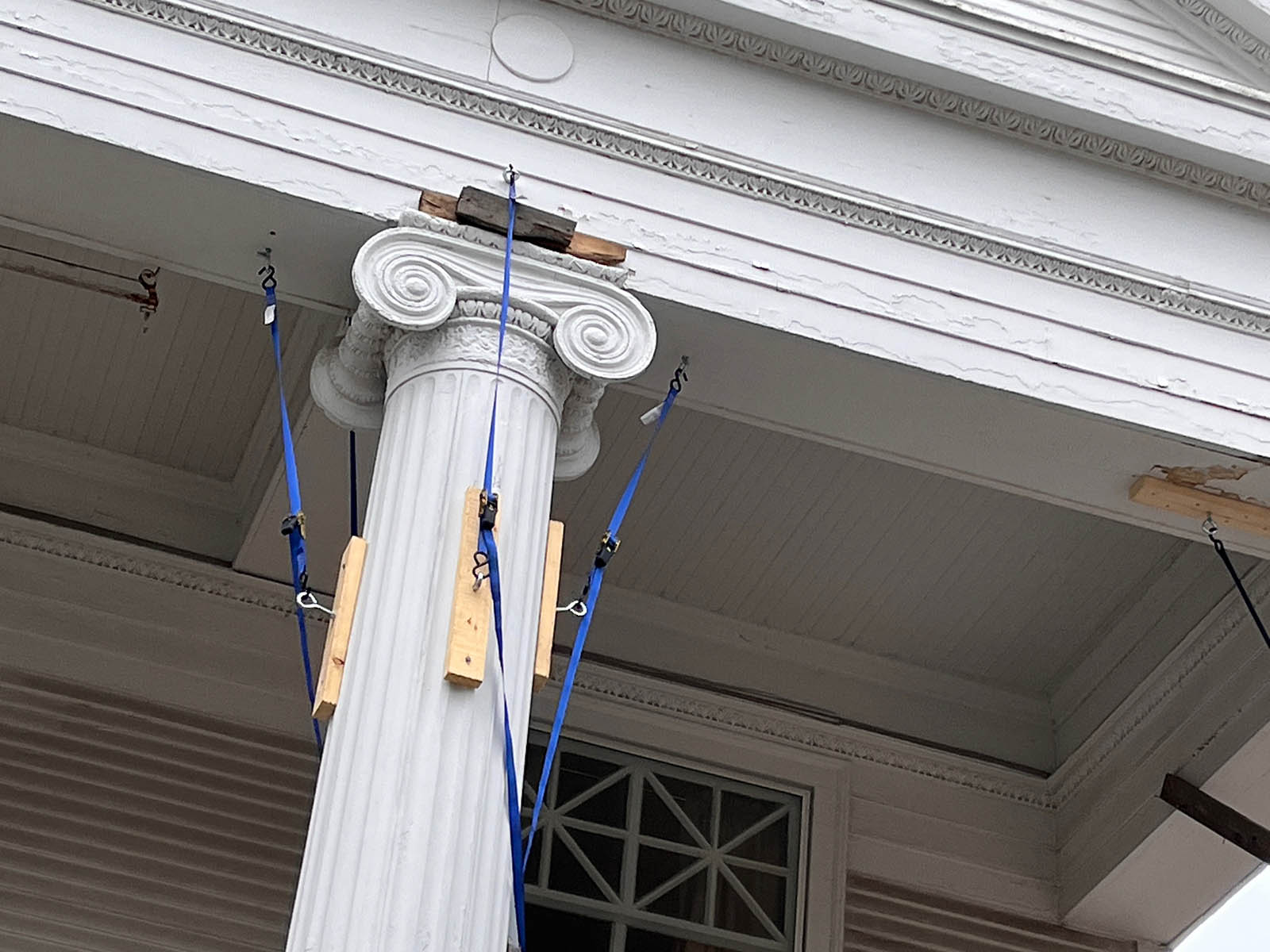 In addition, the entire exterior is getting scraped, the wood siding repaired as needed and painted. It's also getting new gutters and some window repairs, too, including to the lovely lunette window at the top.
The day I visited, the jacking was causing some creaking that was causing a bit of stress for the owners, who say their contractor is being cautious and going slowly to make sure he doesn't overdo it.
Inside, Klose and Jones continue to work on projects like new bathrooms, as they have the time and money, doing some of the work themselves.
Klose and Jones bought the house in 2016, even though they weren't really looking.
But on something of a whim after hearing it was for sale, out of curiosity, they walked over from their Brady Street house with no intention of buying and somehow found themselves owning a 1901 house that one of Milwaukee's most respected architects had designed for his own family.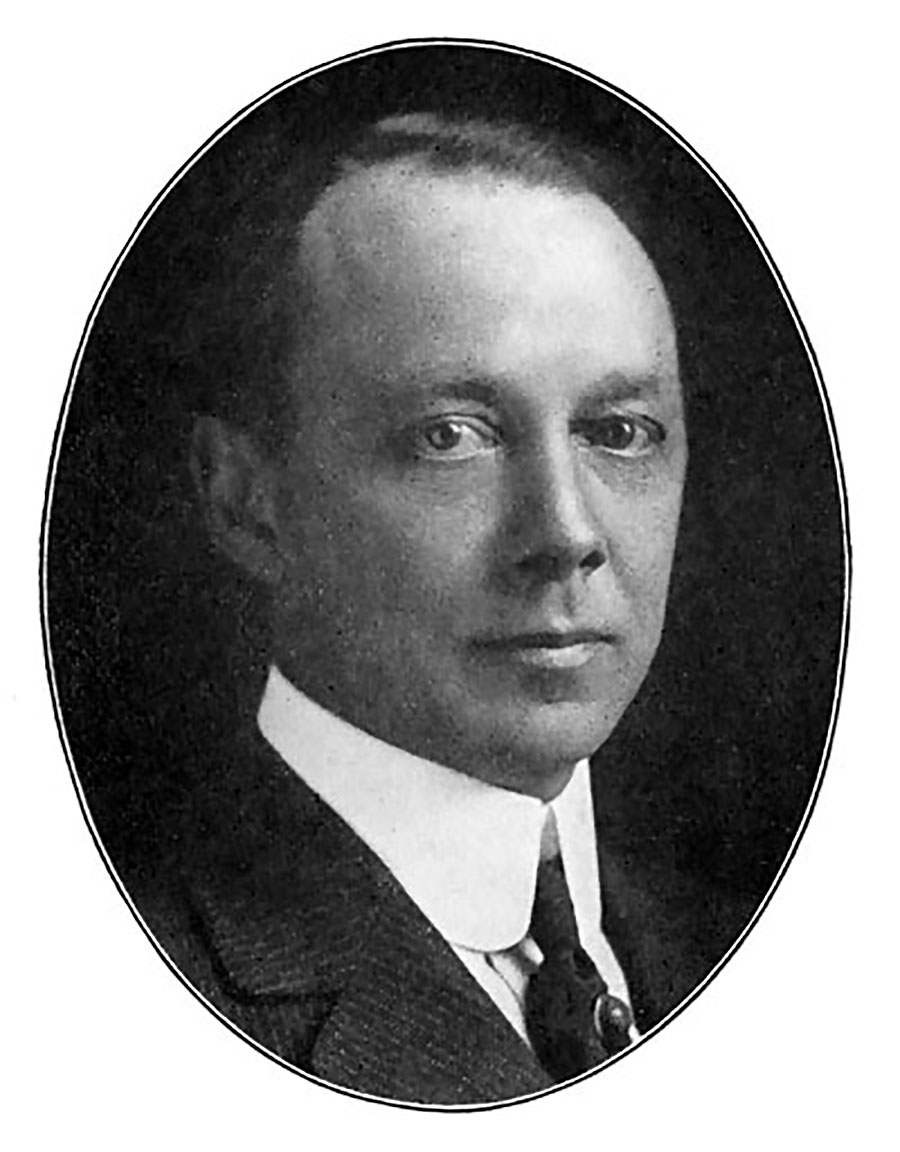 That architect, Herman Buemming, has an interesting story.
Born in Toledo, Ohio on Sept. 5, 1872 to German immigrants Julius and Charlotte Buemming, Buemming and his family moved to Milwaukee when he was 12. The boy attended Sixteenth Ward School (likely 18th Street School, now razed, though potentially the predecessor to this one or even this one).
Upon graduation in 1888, he apprenticed for a year in the practice of Charles Gombert, architect of the North Point Water Tower. He then was hired as a draftsman by the Pabst Brewing Company.
But seeking better things, Buemming traveled to New York City and enrolled at Columbia University in 1891 and studied architecture for three years, after which he worked with a number of architects, including no less than Stanford White and George B. Post.
During his time with Post Buemming served as superintendent on the construction of the Bank of Pittsburgh building (razed).
Buemming came back to Milwaukee in December 1896 and went into partnership with Gustave Dick, setting up in the Pabst Building on Water and Wisconsin, and they drew a variety of buildings, from upper East Side mansions to churches like Bay View's Immaculate Conception to taverns like Century Hall on Farwell Avenue and commercial buildings like the University Club.
In 1901, Buemming served as superintendent on the William LeBaron Jenney's Railway Exchange building across the street from the Buemming and Dick offices.
At the same time Buemming, who had just married Gertrude Durr on April 27, designed his own home to be built next door to Durr's parents' house on a plot of land gifted by the Durrs.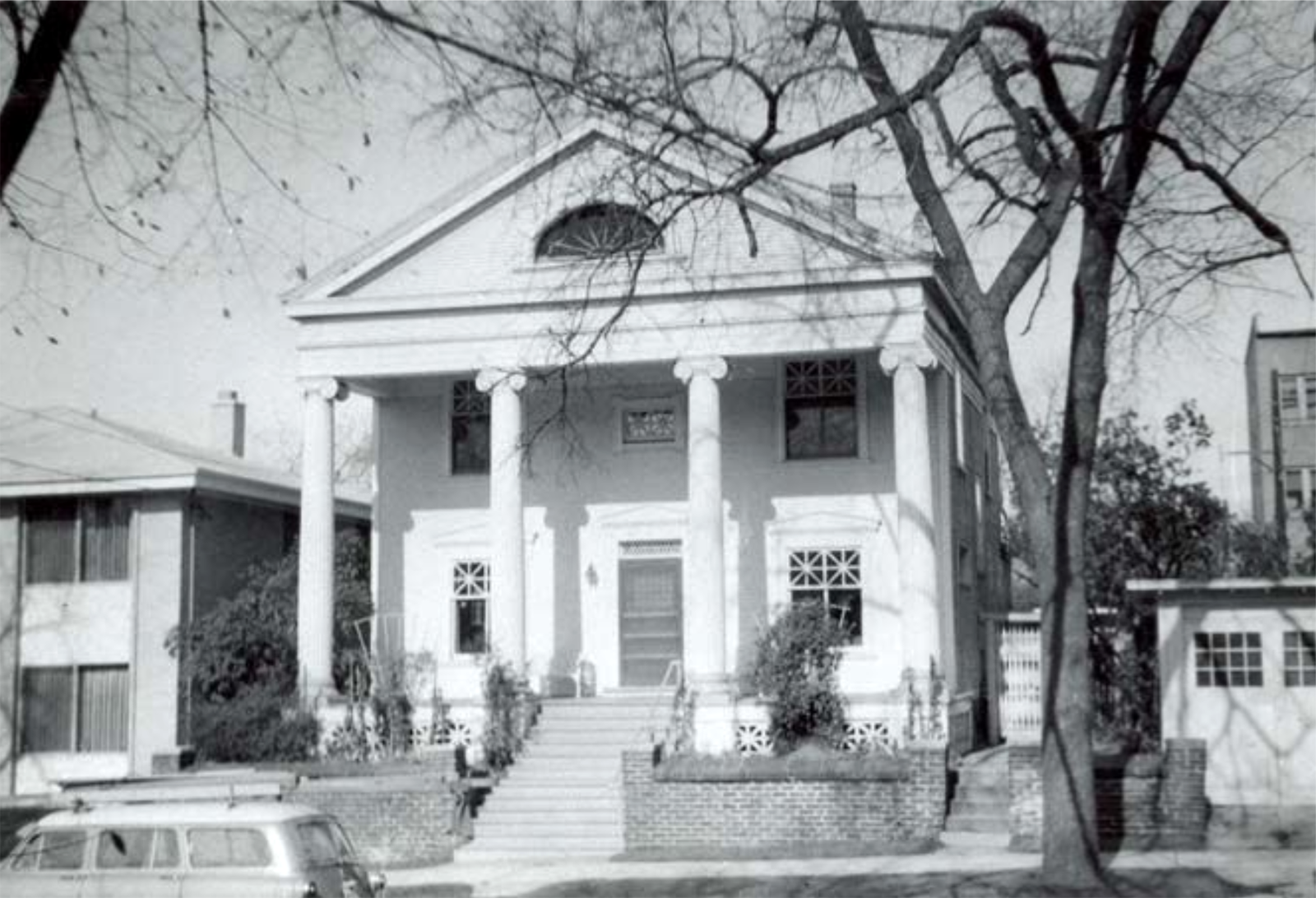 Klose says some in her neighborhood have suggested that the home that previously occupied the site was moved around the corner to Kewaunee Street, but I could find no evidence of that. Neither could I find a permit to raze it, so who knows for sure?
So, why did Buemming build a Greek temple for a home?
As the Society of Architectural Historians website notes, "In the 1890s, American architects expressed a newfound interest in various forms of classicism. This house illustrates a revival of the Greek Revival style of the 1840s.
"Buemming built this two-story house for himself and his wife Gertrude to resemble a Greek temple. It has a full-facade Ionic-columned portico and is crowned by a pediment with a fanlight. The columns have entasis and a classical height-to-diameter ratio of nine to one. Among the classical details are anthemions decorating the corners and crest of the pediment, Greek astragals in the porch base and first-story windows, and egg-and-dart molding in the pediment raking."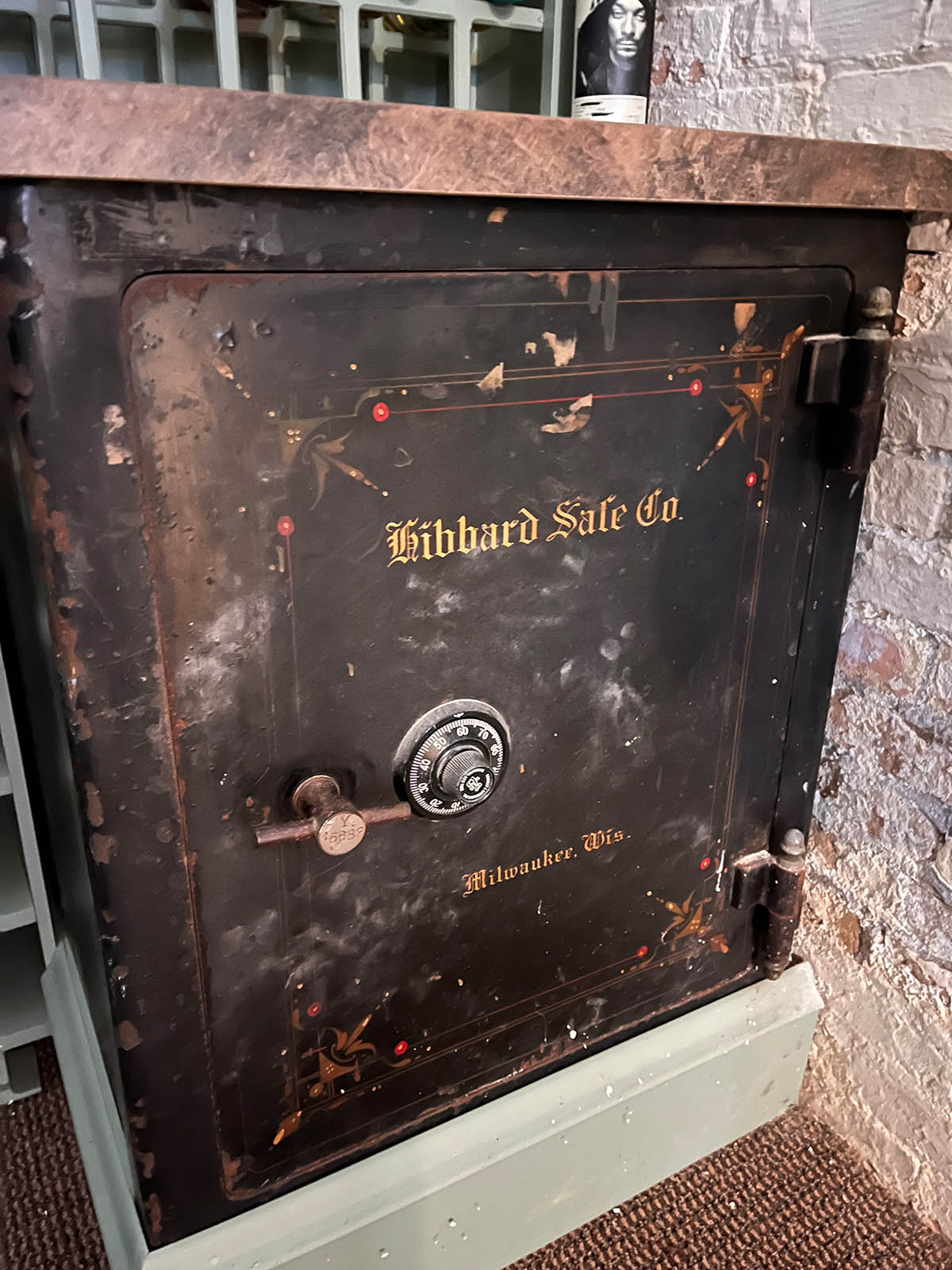 Interestingly, Buemming designed a nearly, but not quite, identical home (with, I'm told, a mirror-image floor plan and smaller windows) at 3112 W. McKinley Blvd. two years later.
This sort of Neoclassical/Beaux Arts style tended to be more associated with buildings like banks and churches and government buildings – indeed some of Buemming's churches were drawn in a similar style – but Buemming used the style to great effect in this house.
By creating a huge portico and making it basically the entire facade of the house, this place looks monumental, despite the fact that it doesn't feel at all huge inside. But outside, it stands tall and regal, almost like the Parthenon atop its perch.
Oddly, the interior of the house is not at all like the exterior.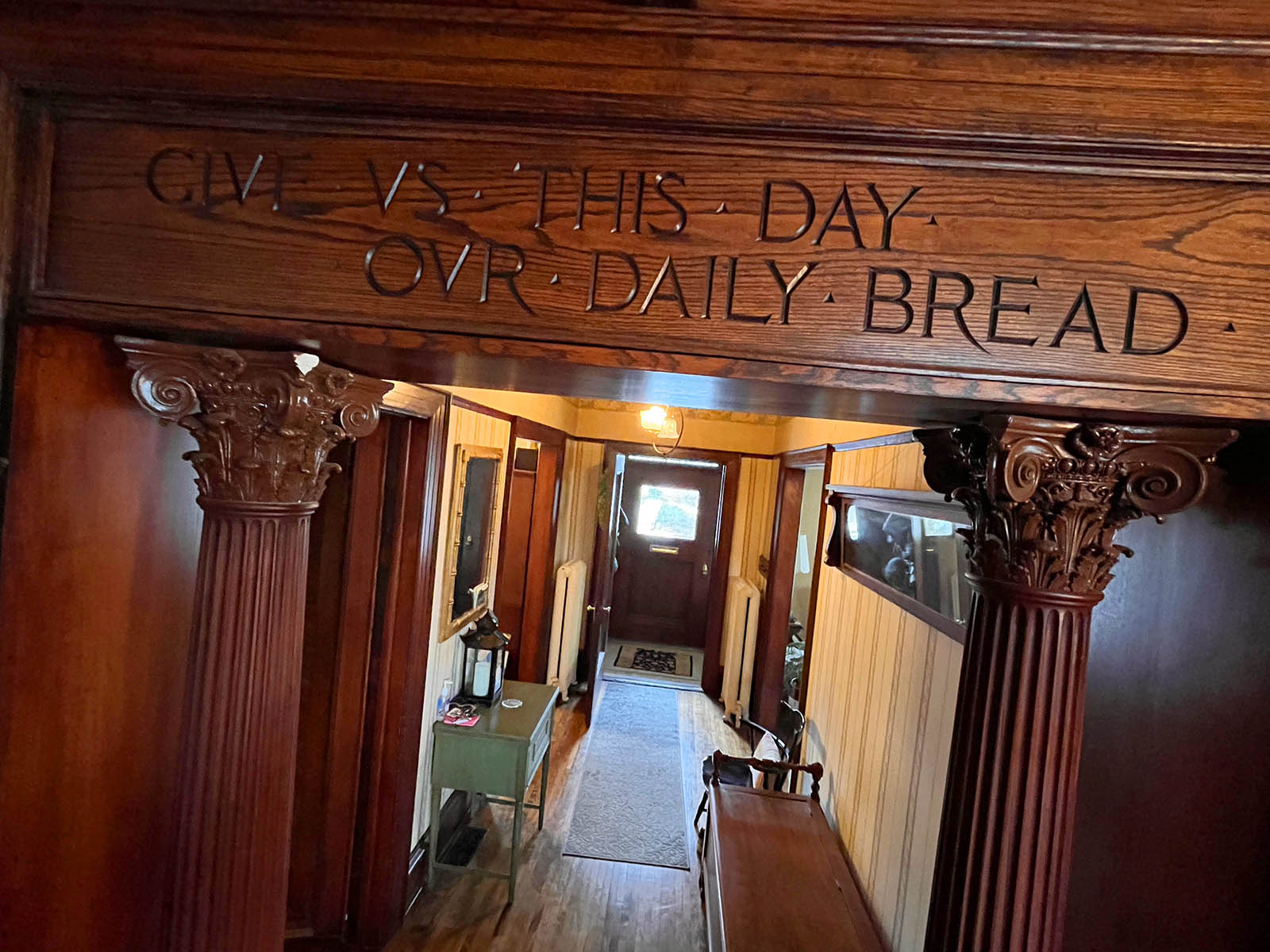 "The dark-stained hardwood floors, the feathered mouldings around the doorways, the doors with their two vertical panels, and the simple hand-crafted looking dark mahogany and oak woodwork all help to create the warmth, intimacy, and informality associated with Arts and Crafts interior design," notes the report that got the house listed on the National Register of Historic Places.
Not long after the Buemmings moved into their new house, a son, John Durr Buemming was born.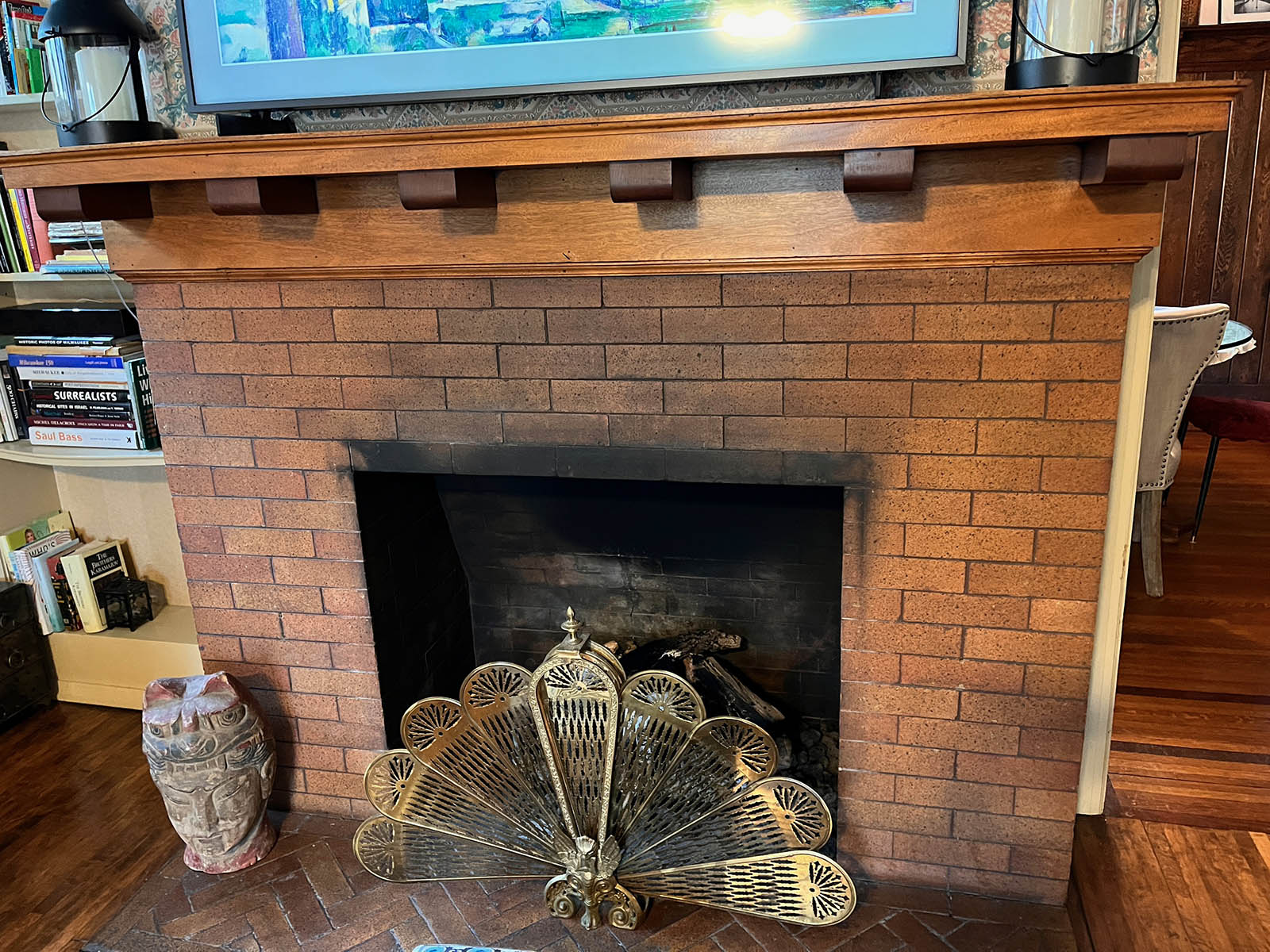 In 1905, on a site he could almost (but not quite) see from his porch, Milwaukee Public Schools erected what is now called Cass Street School, which was one of the first "fireproof" steel and concrete schoolhouses built in Milwaukee. It was designed by Buemming and Dick.
Two years later, however, the architects ended their partnership and Buemming took a new office, closer to home on Jackson Street.
In 1910, the Buemming family moved to a new house designed by the architect at 2328 E. Newberry Blvd., where the couple remained until 1941.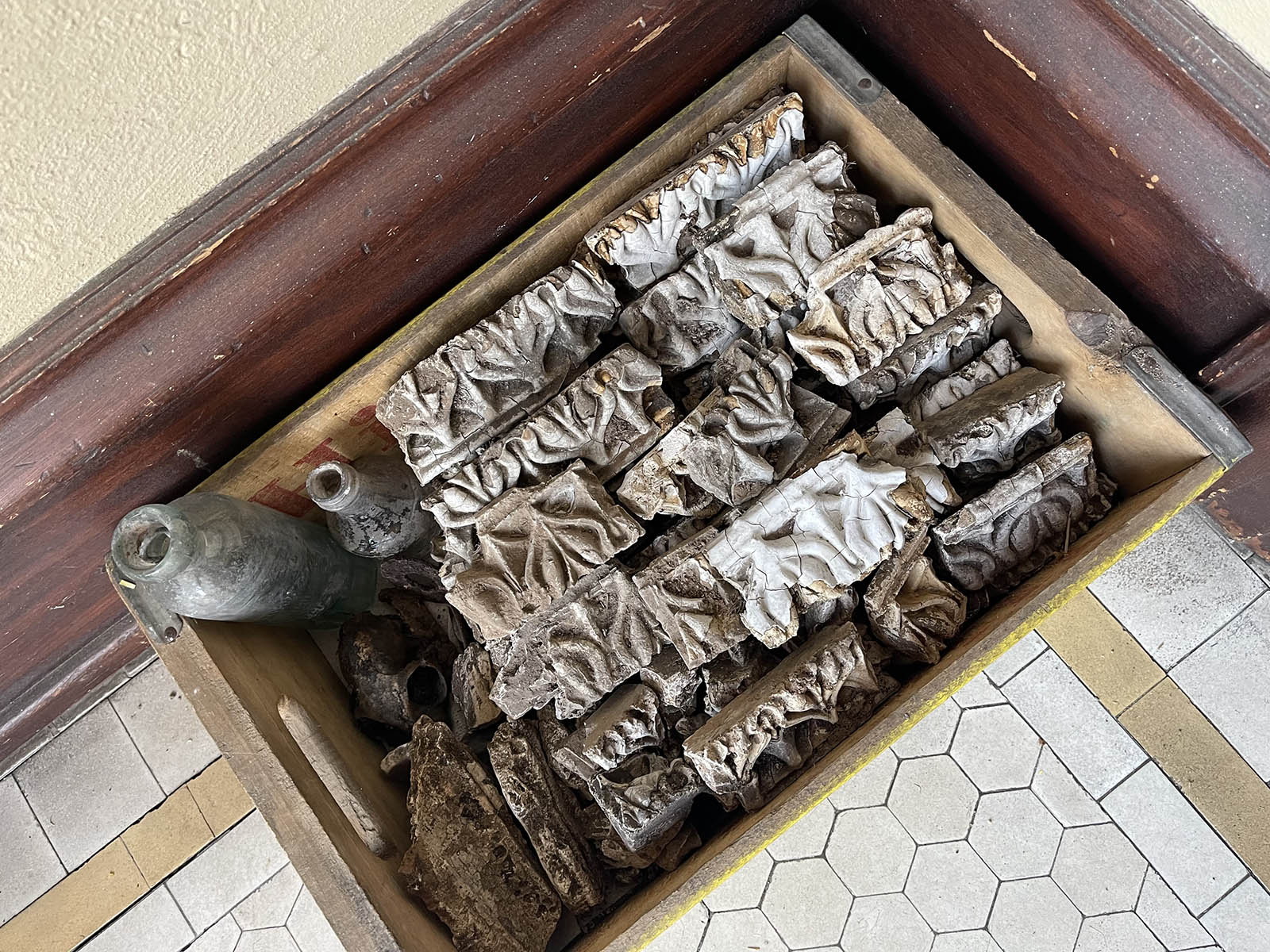 In 1919, the architect formed a partnership with Alexander Guth, who had worked for Buemming from 1904 until 1915. Striking out on his own and then working briefly with Alfred C. Clas, Guth ended up partnering with his former boss for eight years.
The Buemmings' son, John, also studied architecture, but, sadly, committed suicide in 1933.
Buemming's last partnership began in 1939 with Clarence Jahn and lasted four years, at which point, Buemming retired (and, the same year, Jahn died).
Buemming passed away on April 17, 1947.
Back on Pleasant Street, it appears the Greek temple house was rented for a few years until Charles and Nellie Mott bought it in 1914 and remained there for 31 years.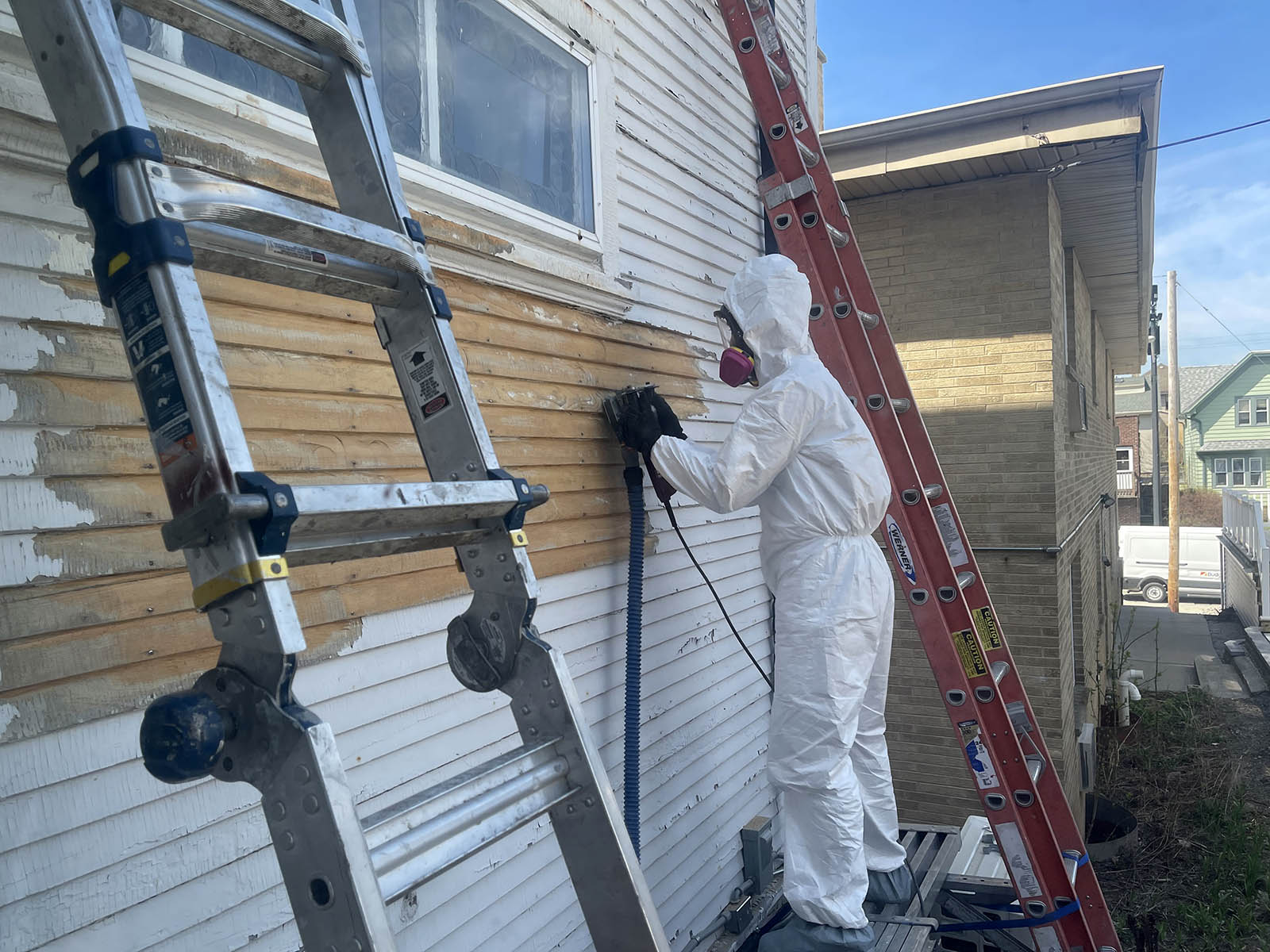 Well-known Milwaukee Journal art critic Frances Stover lived there from the '40s until her passing in 1967. Stover's sister Isabel remained another five years.
Theater manager Clair Richardson – often described as "flamboyant" – who founded the Skylight Opera, lived there, remaining for seven years. After that, a few owners came and went, until local businessman – known for sitting on many boards and commissions, including the Board of Harbor Commissioners – Ron San Felippo bought the house in 1986.
Klose says San Felippo still stops by occasionally, sometimes bearing house-related gifts, like paintings and drawings of it.
Now, seven years after moving in, and undertaking some work inside on their own, Klose and Jones are turning their attention to the exterior.
At first they were just going to do the paint, but then things just grew, especially once they realized the porch needed more work than expected.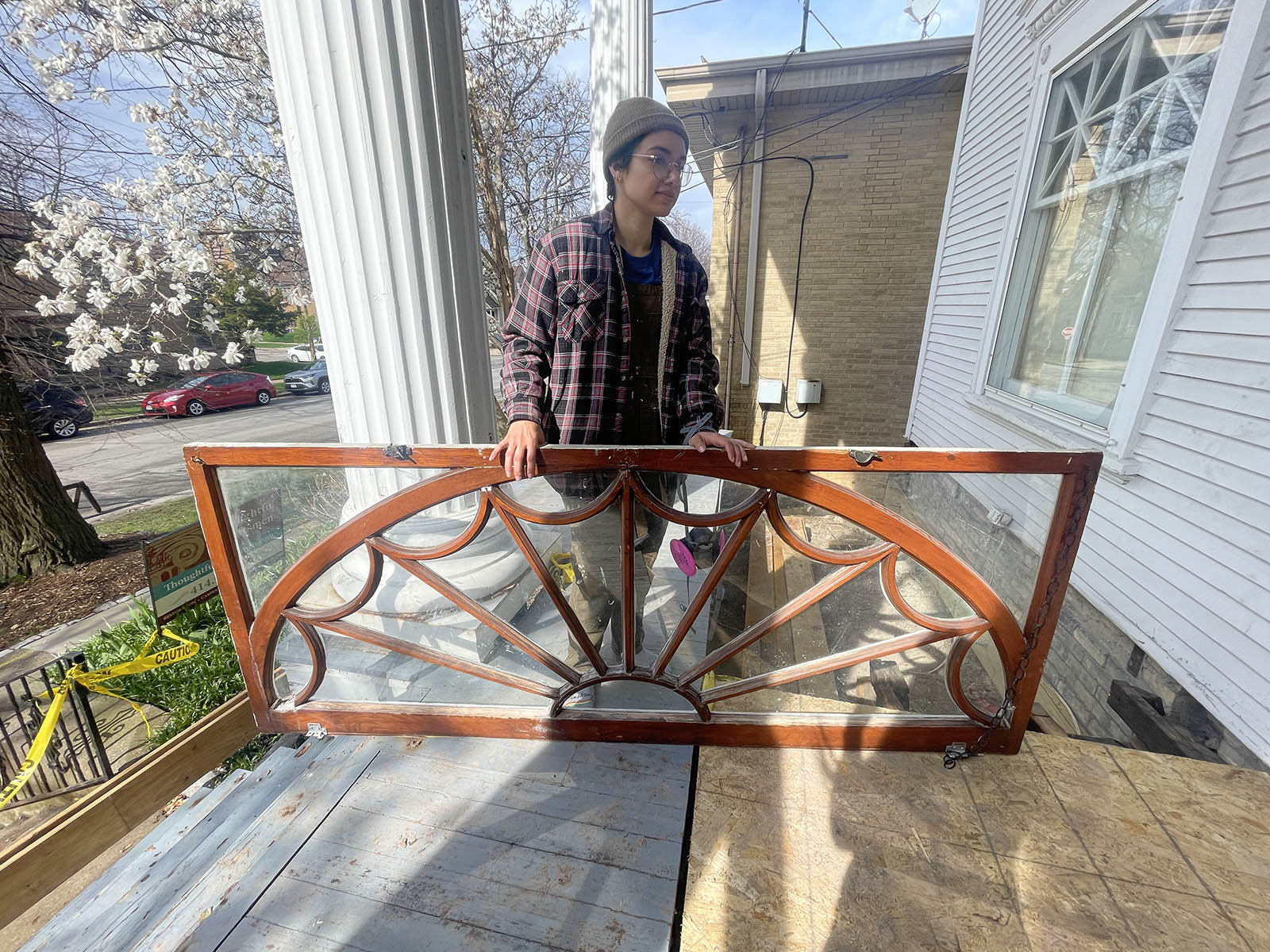 "We thought we'd be along further along," says Klose, who says that state historic tax credits have made a lot of the work possible. "But we also didn't realize we'd do this big of restoration project on the outside."
Add to that an unexpected and expensive sewer line replacement and Klose says the tax credits have been a godsend.
The Wisconsin Historical Society's Tax Credits for Historic Homes program can earn owners of historic residences a return of 25 percent of the cost of approved rehabilitation work.
Once owners submit a detailed application, says Klose, the process is fairly straightforward.
The state will then send a conditional approval letter which determines that the proposed project meets the 'Secretary of the Interior's Standards for Rehabilitation' if the conditions are met.
"In our case, some of those conditions include removing paint in a manner that does not cause damage to the wood, only replacing materials that have deteriorated beyond repair, and then only with materials that match the original in material, dimension, designs and detail," she says. "You must repair rather than replace original wood trim whenever possible and may use epoxy for smaller areas of rot.
"After the work is complete, there is a final step to close out the project and claim the tax credit which involves taking photos of each side of the house, as well as detailed photos of specific work that was completed, along with the actual costs of the eligible project work."
Homeowners must spend at least $10,000 on eligible work over a two-year period. While there is also a $40,000 cap per project application, multiple applications can be submitted at once.
"This is extremely helpful when taking on an exterior restoration of this size," says Klose.
"I don't know if it'll ever be done," says Klose of the work on the house. "We have made progress on it, but it's just slow and you have to accept that things aren't going to be done overnight. Especially when you're living in a house.
"But you just go as you can and (it's about) finding the balance of where do you stop."
Born in Brooklyn, N.Y., where he lived until he was 17, Bobby received his BA-Mass Communications from UWM in 1989 and has lived in Walker's Point, Bay View, Enderis Park, South Milwaukee and on the East Side.
He has published three non-fiction books in Italy – including one about an event in Milwaukee history, which was published in the U.S. in autumn 2010. Four more books, all about Milwaukee, have been published by The History Press.
With his most recent band, The Yell Leaders, Bobby released four LPs and had a songs featured in episodes of TV's "Party of Five" and "Dawson's Creek," and films in Japan, South America and the U.S. The Yell Leaders were named the best unsigned band in their region by VH-1 as part of its Rock Across America 1998 Tour. Most recently, the band contributed tracks to a UK vinyl/CD tribute to the Redskins and collaborated on a track with Italian novelist Enrico Remmert.
He's produced three installments of the "OMCD" series of local music compilations for OnMilwaukee.com and in 2007 produced a CD of Italian music and poetry.
In 2005, he was awarded the City of Asti's (Italy) Journalism Prize for his work focusing on that area. He has also won awards from the Milwaukee Press Club.
He can be heard weekly on 88Nine Radio Milwaukee talking about his "Urban Spelunking" series of stories.