The Midwest is often influenced and inspired by the East Coast, but sometimes the reverse happens. Such is the case with The Butterfly, a retro lounge and supper club located in New York City that's an homage to The Butterfly Club in Beloit.
Chef Michael White opened The Butterfly in New York's Tribeca neighborhood in 2013. White, who was born and raised in Beloit, worked at the original Butterfly in 1990.
"It's where I learned the nuts and bolts of the kitchen. It was a great experience. The Friday fish fry was always packed. It was a blast to work," he says.
White went on to study at the Culinary Arts School at Kendall College in Chicago where he worked at the legendary Spiaggia restaurant and befriended Milwaukee restaurateur Paul Bartolotta. White moved to Bologna, Italy, in 1993, opened a restaurant there and returned to Wisconsin in 2000 to open Ristorante Bartolotta in Wauwatosa.
In 2001, White moved to New York City and planned to open a restaurant in the fall, but was unable to do so until 2002 because of Sept. 11. Today, White is one of New York's most renowned chefs and co-owner of the Altamarea group with Ahmass Fakahany. The group owns 11 restaurants, including The Butterfly.
White says New Yorkers are receptive to the Wisconsin supper club concept, particularly those who are Midwest transplants.
"New York is a melting pot of people from all over the world, including the Midwest," says White. "Whenever there's a Wisconsin win it's very much a talking point at The Butterfly. And I've had numerous customers pull out their Wisconsin driver's license to show me. It's a lot of fun."
The New York Butterfly is a nod to the Beloit Butterfly, meaning there are some similarities – deep fried cheese curds, brandy Old Fashioneds, mid-century decor – but it's more of a retro reinvention of the classic.
"You probably wouldn't see an arugula salad in a Wisconsin supper club, but you have to offer it at a supper club in New York City," says White. "And (unlike many Wisconsin supper clubs) we're never going to have carpeting."
In 1924, Hal and Mae Sherburne opened the Beloit-based Butterfly – which was originally named The Butterfly Tea Room – after the many yellow and white butterflies in a nearby field.
In 1938, the business changed hands and became The Butterfly Club. In 1972, it was destroyed by a fire and rebuilt to what it looks like today – green plush chairs, green walls, green carpeting and mirrors on the ceilings.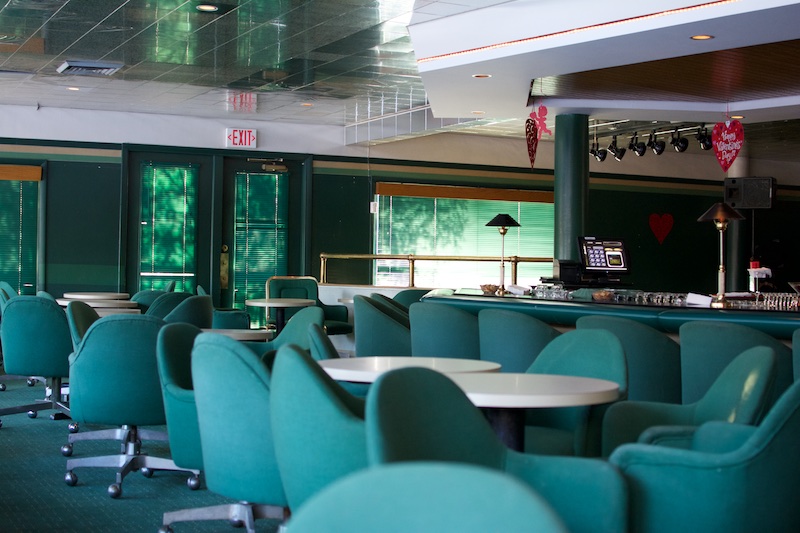 In 1977, a patio overlooking a few acres of nature was added.
Brothers Mike and Hektor Sala bought the Butterfly Club in Beloit in September 1999. Since then, they have become friends with White and White's father, who still resides in Beloit.
Born in Albania, the Salas moved to Wisconsin as young men because their uncle lived in Freeport, just across the border in Illinois. They opened a casual dining restaurant in the Beloit area, but wanted to operate a business that offered more than a place to eat food.
"You can eat at home. I wanted to own a place where people could come out, enjoy and release the stress of the week," says Mike Sala.
On the weekends, Salas' Butterfly hosts live music and has a small dance floor. It is also known in the area as a destination for celebrations as well as a go-to for a fish fry dinner.
Sala says his Butterfly serves up to 600 fish fries on a Friday night and veteran bartender Rick Brown mixes 200-300 brandy Old Fashioneds.
"I gotta make 'em ahead of time," says Brown. "You have no time to muddle when an order comes in for eight at a time."
Ice cream drinks such as brandy Alexanders and grasshoppers are also very popular. "I also make a lot of martinis and pink squirrels," says Brown.
Aside from fish and cocktails, highlights of The Butterfly Club menu – in Beloit – include steaks, seafood platters, appetizers and desserts. During a recent visit, we were enchanted from the moment we sat down.
The bread basket – featuring an assortment of bread sticks, dinner rolls and sweet rolls topped with icing – could have almost been a meal by itself.
However, we ordered the Oysters Rockefeller ($9.95) – in-the-shell oysters mixed with spinach and garlic butter – and perfectly baked French onion soup topped with toasted croutons and cheese ($3.95). Other appetizer items include baked brie with Greek butter, mussels steamed in lemon, olive oil and garlic sauce, and homemade onion rings.
The prime rib and shrimp, which we ordered medium rare, included a thick 8-ounce steak that was rich and juicy – but not fatty – and came with three large pieces of soft Honduran shrimp and a side of au gratin potatoes. At $23.50, we found the price extremely reasonable.
We also sampled – and devoured – the savory shrimp de jonghe. This was Ron Faiola's favorite dish, too. A few years ago, Faiola spent a week at The Butterfly in Beloit to conduct research for his book, "Wisconsin Supper Clubs: An Old-Fashioned Experience."
"My favorite thing about the Butterfly Club in Beloit is their version of shrimp de jonghe, a Chicago-based dish loaded with shrimp, garlic, butter, sherry, mushrooms, onions, then topped with toasted bread crumbs and baked in a puff pastry shell. It has a rich flavor and is very delicious," says Faiola.
Sala says customers have brought in Faiola's book and asked him to sign it. Others have traveled from Beloit to the Butterfly in New York, or came to his Butterfly after going to the one in New York first.
"I hope to get there someday myself," says Sala. "I've heard great things about it, even though it is very different from the one here."



Molly Snyder started writing and publishing her work at the age 10, when her community newspaper printed her poem, "The Unicorn." Since then, she's expanded beyond the subject of mythical creatures and written in many different mediums but, nearest and dearest to her heart, thousands of articles for OnMilwaukee.

Molly is a regular contributor to FOX6 News and numerous radio stations as well as the co-host of "Dandelions: A Podcast For Women." She's received five Milwaukee Press Club Awards, served as the Pfister Narrator and is the Wisconsin State Fair's Celebrity Cream Puff Eating Champion of 2019.