Jimmy Jackson and his wife, Heidi Ann Schmidt, opened the Jackson Grill, 3736 W. Mitchell St., 15 years ago. Jackson, who spent his entire life in the service industry, always wanted to open a supper club and when this space became available, formerly Karlovich's Korner, he knew it was the right spot.
The cozy Jackson Grill, with the tagline "Milwaukee's Supper Club," features classic '50s supper club decor – from linen tablecloths to bread baskets – along with a 16-stool bar and a small dining area that accommodates 35 diners. Hence, reservations are necessary for weekend dining.
"I think our customers appreciate the coziness," says Jackson. "It's a very intimate dining experience."
Jackson, who also serves as the lead chef, created a small but detailed menu featuring steaks, seafood, pasta and a Friday fish fry. "Our risotto and scallops are the finest in the world," he says. "I keep it short and sweet, but use the freshest and finest ingredients I can get my hands on."
Appetizers include Cajun barbecue shrimp cocktail, escargot with garlic butter, tomato bruschetta and, what we sampled, hand-cut, duck fat fries served with house-made aioli. We weren't sure what to expect from duck fat, but it turns out, when potato sticks are fried in it, the result is savory and rich, unlike any other French fry we've tasted.
All of the entrees are served with homemade soup or field salad and a choice of side: garlic mashed potatoes, saffron Yukon Gold potatoes, macaroni and cheese, homemade fries, pasta with garlic butter or steamed broccoli with cheese sauce.
Steaks, of course, are king, and there are six to choose from. We ordered the six-ounce black Angus filet Mignon (medium rare), a 10-ouncer is also available, and found them to be one of the best steaks we've had in town. The incredibly tender meat was thoughtfully seasoned and topped with perfect grilled portobello mushrooms. We chose the garlic mashed potatoes which were whipped into airy clouds and decadent with butter and garlic, but not overpoweringly so.
Desserts are seasonal and made daily. We had the bananas foster, which was not set on fire per usual, but every bit as decadent and banana-licious as versions we've had in New Orleans. It was large enough for our group of four to share and the perfect ending to a scrumptious and indulgent dinner.
They also serve a classic and delicious Old Fashioned. "We use fresh fruit and the perfect amount of alcohol and it all comes together," says Jackson.
Jackson's father owned Ray Jackson's Restaurant on Bluemound Road from 1962 to 1986 and started working there at a young age.
"Ray Jackson's was the closest bar to County Stadium," says Jackson. "It was a sports bar, but not because it had a lot of TVs, rather because a lot of sports figures and personalities hung out there."
Today, sports industry people continue to visit Jackson at Jackson Grill, including Brewers sportscaster Bob Uecker, team owner Mark Attanasio and general manager David Stearns.
"A lot of people come in here who knew my father," says Jackson. "Lynn Dickey stopped by recently."
Jackson says his father had a great life and "had more fun than any 10 people put together."
Jackson later attended culinary school at Stout University, served as a culinary apprentice under Master Chef Jahn Kramph, collaborated on five cookbooks and received numerous awards and honors. Today, he lives with Schmidt in the Story Parkway home he grew up in with his parents.
The walls at Ray Jackson's were adorned with framed sports figures' signatures, a tradition that continues at Jackson Grill. There are about 30 autographs on the wall in the bar area.
Jackson Grill was featured in the 2011 documentary "Wisconsin Supper Clubs: An Old Fashioned Experience" broadcast nationwide on PBS, and in the "Wisconsin Supper Club" book, released in April, 2013.
The Jackson Grill bar opens at 4 p.m. Tuesday-Saturday. The dining room opens at 5 p.m. It is closed on Sunday and Monday.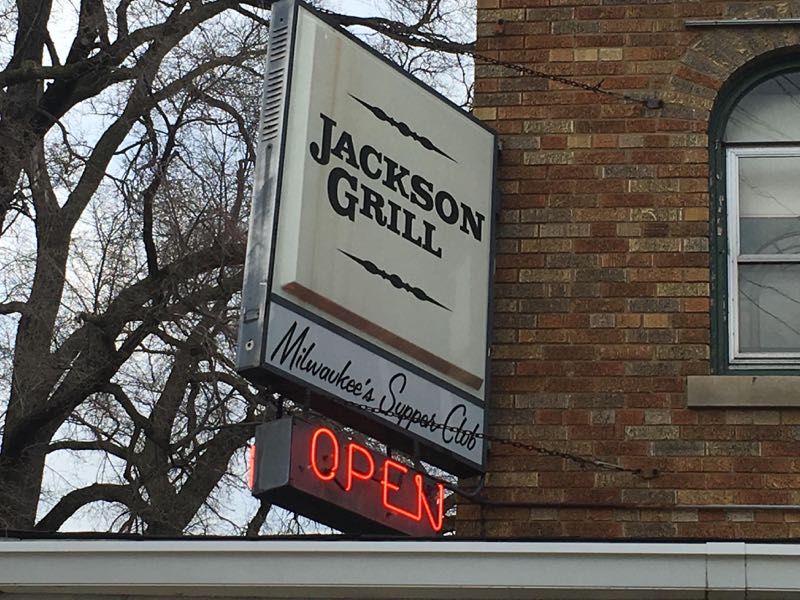 Molly Snyder started writing and publishing her work at the age 10, when her community newspaper printed her poem, "The Unicorn." Since then, she's expanded beyond the subject of mythical creatures and written in many different mediums but, nearest and dearest to her heart, thousands of articles for OnMilwaukee.

Molly is a regular contributor to FOX6 News and numerous radio stations as well as the co-host of "Dandelions: A Podcast For Women." She's received five Milwaukee Press Club Awards, served as the Pfister Narrator and is the Wisconsin State Fair's Celebrity Cream Puff Eating Champion of 2019.