Depending on your pop culture perspective, you may know Milwaukee native Candice Michelle as a professional wrestler, Playboy model or the star of one-of-the-most talked about Super Bowl commercials in history.
Candice Michelle Beckman Ehrlich, who grew in Greendale, but left for Hollywood at age 18, has done a bunch of different things, but in 2005, her career really took off, thanks to a controversial Go Daddy commercial about a "wardrobe malfunction," and her subsequent debut in wrestling. In 2007, she was the WWE Woman's Champion, but her career ended in injury in in 2009.
Now a 39-year-old mother of three daughters, Michelle works with her husband, an L.A. chiropractor. She also planning on becoming a motivational speaker. But when wrestling came calling to give her a chance to fight one more match – to go out on her own terms – Michelle jumped at the opportunity. She'll wrestle on her home turf at Saturday night's House of Hardcore event in Waukesha.
We sat down with Michelle Thursday afternoon over brats – she says she misses the sausages in Milwaukee – at Vanguard. Joining us was Tommy Dreamer, a wrestler and promoter who made the easy call to entice Michelle back into the ring after almost eight years out of the business. Enjoy this latest Milwaukee Talks.
OnMilwaukee: How did you respond to Tommy's offer to wrestle again?
Candice Michelle: I just knew what he was going to say, and I knew it was the perfect timing. And it's just such a gift, really, what he's giving me. I didn't realize I had so many feelings still, because I've been grateful to have moved on after wrestling, which I feel is a really hard thing to do.
But I had a beautiful family. I've been a mom full time. It was just time for me to be me again, to find out who I was. So to have this opportunity, to be in my home town, to come back and wrestle and to face my fans, and face my fears and everything that happened …
You're crying right now. Are you ready for this?
I did training at Knox Pro Wrestling Academy, back in L.A. That first bump … woo! That sh*t hurts. You forget. And my body forgot. I trained for a month and a half there a couple times a week. I cried every time I was there. Whether it was because I was in pain or because I missed it, or because of facing those spirits.
Is this a one-time thing?
Final match, yeah.
I don't know a whole lot about wrestling after 1990 or so, but one thing I remember is that wrestling fans are incredibly passionate and have long memories. What do you think it will be like to see your fans again?
I have so many emotions for this weekend. You know, there's excitement to see people. There's fear. How you're going to be accepted, how you're going to perform.
Uh oh, you're crying again.
Tommy Dreamer: She'll cry no matter what.
Michelle: There's gratitude for being here and to be able to do this. My whole family's coming. There's so much love for the business, and respect for it. It's awesome. I'm excited to just lean into it, and give it my best.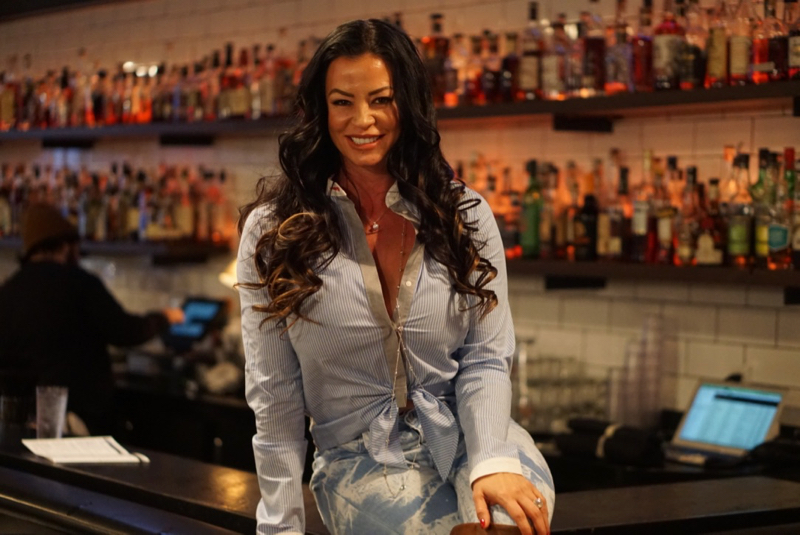 Wrestling is far from the only thing on your resume. I assume probably most people's first exposure to you was the GoDaddy Super Bowl commercial, right? How did that happen?
They asked for an audition in L.A., and I was one of the last people to audition, via Skype. The producers were over in London, and they wanted to see me. They were like, "Here's the script, but just kind of be you. Do what you want." I kind of won them over with my personality. They called Bob Parsons of GoDaddy, the owner, and said, "Well, we just found your future ex-wife."
So I booked the job and actually, I booked WWE in the same month. I went from waitressing full-time to booking two of my biggest gigs in one month.
We rehearsed. We shot the commercial. And (GoDaddy) paid for two Super Bowl spots. It's like $5 million a spot or whatever. The first spot was this whole spoof on Janet Jackson's wardrobe malfunction. So that happens, and the FCC got really upset and pulled the second one. By pulling it, it just created all this controversy. It's kind of the simplest thing, but I woke up the next morning, I had like 80 voicemails of people wanting to interview me. I'm like, "What did I do? I don't even know what happened here."
You didn't see that coming?
No. It's kind of one of those things like, people say, "You wait for your big break." I guess I just don't believe in your big break. I believe you work hard, and you get what you work for.
What were you doing before that?
I mean, I was doing auditioning and I had little spots on TV shows and magazines, and modeling, but waitressing paid the bills.
How old were you when you left Milwaukee?
I was 18. I worked was at a roller skater rink, Wisconsin Skate University. There was a modeling competition, and whoever won would get a contract to John Roberts Powers' modeling school. Long story short, I won that. Then I ended up deciding this is what I want to do for my life. I want to move out to L.A. I packed up my car, hugged my mom goodbye, and I drove to Hollywood.
And simultaneously, you were becoming a wrestler?
I grew up on wrestling. At that time I wasn't like, "Oh, I want to be a pro wrestler." I didn't even know you could train to do that. So it was really funny, because for me, it came full circle. I grew up watching it every Monday night with my stepdad, Ken. This is actually part of a little talk I give: I had a Hulk Hogan doll, instead of Barbie dolls.
I went to the shows. I remember high-fiving the Bushwhackers. And then I move to LA, and my agent calls me. He's like, "Hey Candice, you know, WWE's holding this first-ever Diva Search contest, and the winner will get $100,000 and a one-year contract." He's like, "Are you interested?"
It sounded a little weird to him. I'm thinking, "Heck yeah, I'm interested." I grew up watching this. I love it. I'm athletic. And it's being on TV. So it's the best of both worlds. I didn't win that contest, but then they offered me the three year contract from there.
Back in 2005, everybody was talking about this commercial, and suddenly you were a professional wrestler. How did you adjust to the instant celebrity?

It's what I worked for. It's what I love. It becomes hard work. I was like, "I wanna be a champ." And then you're champ, and you're like, "Oh. I don't sleep. You work 24/7." But it's what we live for. We love it.

Dreamer: I remember seeing her first day. So many wrestlers were pissed because she had an interview segment. And they were like, "Who the hell is this girl?"

You were more famous than the other rookies?
Dreamer: It doesn't matter when you step into a wrestling ring. She didn't belong there. She was getting a lot of flak. I remember meeting her and her being clueless in a wrestling locker room.

Michelle: It was brutal. I remember I was in the locker room with Lita, who is very intimidating. I went to put my makeup on; I thought I took the worst spot in the locker room. I thought I was being respectful. I sat on the floor by a mirror. And she got up in my face, and she was like, "What? Do you think you can walk in here and take the best spot in the locker room?" And I was like, "I'm sitting on the floor!"

I was considered the Hollywood girl. These wrestling girls, they paved the way of going to these Indie shows and training camps and putting their bodies through this for so long. And I just come from Hollywood and show up. So I get their side of it. I had to earn the wrestling respect side of it.

A few years later, you were in Playboy. How did that change your career?

For me, I dreamed of being on the cover of Playboy. It was a really cool opportunity because I had done some special editions for Playboy. It embodies a beautiful woman. They always said, "Oh, you'll never be in the magazine if you do these special editions."

So to grace the cover, you get paid a lot. So to just break the odds or the norm of what people say you can and can't do are the same thing them saying I can't wrestle. I had to put in the extra work.

How did wrestling end for you?

We were coming back from a two-week European tour, and it was our last match in Nebraska before we got a break. It was a big match with me and Beth Phoenix, and I went up to the top rope for a spot where she was gonna hit the rope and I was gonna eat it. But my boot caught, and I nose dived. So I was knocked out, on live TV. The next thing I remember is waking up in the ambulance, and they said, "Your husband's being flown in."

When you're in a neck brace, and you're in an ambulance, and they're flying your husband in, it's pretty scary. Thankfully I just had a broken collar bone and a concussion. But the hardest part is it shelved me. I worked so hard to get that spot, and that recognition from my coworkers, and from the fans. And now I'm shelved for six months.

I think most wrestlers have a very relentless mentality. Somehow I had to convince (producer) Johnny Laurinaitis and the doctors there that my collarbone was not broken anymore, even though the X-rays show it was still. Somehow I weaseled my way into a match, and the first drop kick, I shattered it. But, I finished the match.

But that wasn't it for you?

I was shelved another six months. Then I was coming back, and WrestleMania was coming up, just being in overdrive. I did a Superman punch, landed on my ankle and tore two ligaments. That was the final injury where I got the call to say, "All right, kid. You're done."

What did you do after wrestling?

We kind of enjoyed life for a while. When you wrestle, you're on the road. So we took a couple trips and got pregnant with my first daughter. Now we have three. You know, I'm grateful for the injury and when it happened and everything because I could have never said, "I'm done."
I wasn't at that point where I was done. But I can't ever imagine life without my children. It came at a great time. I'm grateful for the mom I am, and the person I became, and how wrestling somehow prepared me to be a mom.

Do you still watch wrestling? Are you in close with people you used to work with?

I have my core group of friends, and we're in contact. Some of them are still wrestling. We're family always. We're always there for each other.

Do you come back to Milwaukee often?

Every couple years. It's nice to come back for like, four days. Everybody's so happy to see me, and they love me. Then, after the fourth day, they're in the bars and they want to vent all the drama about the family. So I'm gone by the fourth day. I just get all the love. I don't have to know anybody's problems or issues.

What do you miss about Milwaukee?

I love brats. I love Wong's Wok. My family hates it, but I went to Martin Luther High School and they're right across the street. We would sneak out. It's so good. I don't know why. It's like my childhood. I have to have it every time I'm here.

Do you still call Milwaukee home?

It's always home here. All my family's here. My friends are here. My best friend from kindergarten. Everybody's here. I have nobody there. It's not like we would move back, but it's still special.
Andy is the president, publisher and founder of OnMilwaukee. He returned to Milwaukee in 1996 after living on the East Coast for nine years, where he wrote for The Dallas Morning News Washington Bureau and worked in the White House Office of Communications. He was also Associate Editor of The GW Hatchet, his college newspaper at The George Washington University.
Before launching OnMilwaukee.com in 1998 at age 23, he worked in public relations for two Milwaukee firms, most of the time daydreaming about starting his own publication.
Hobbies include running when he finds the time, fixing the rust on his '75 MGB, mowing the lawn at his cottage in the Northwoods, and making an annual pilgrimage to Phoenix for Brewers Spring Training.