If you've lived anywhere in Milwaukee during the last 30 years, you know the voice of Carole Caine. Simply, Caine is a broadcasting legend here in town, serving as one half of the popular Dave & Carole morning show on 96.5 WKLH since the mid '80s.
But that abruptly changed when the station didn't renew Caine's contract this summer, and just like that, she was off the air … gone, but hardly forgotten.
Every outlet in Milwaukee covered the shocking news of her departure, and a few spoke with Caine about the experience when she was ready to talk.
But now, we're going deep with Caine to talk about what's next. In this long-form interview, she explains not just how it felt to leave, but also what her future has in store – including working as a video correspondent for OnMilwaukee.
Additionally, Caine will fill in this winter on "The Morning Blend," voice spots for WVTV-TV (Channel 18), an attorney, a local spa, and will do imaging work for an out-of-market radio station in Wisconsin. And that's just the beginning.
In other words, you certainly haven't seen the last from this passionate Milwaukeean who loves her fans, her family and the charities she's been able to help through her role in the media. Enjoy this latest Milwaukee Talks.
OnMilwaukee: How was your summer?
Carole Caine: You know what, my summer was pretty darn good. I went to New York with my daughter. I had fun, and just kind of relaxed a little bit.
OnMilwaukee: When I used to see you in the studio, you were all business … but it was also very early in the morning. Now, you look very relaxed and happy. Do you feel that way?
Caine: I do, I do. I feel happy in the fact that there's a lot of stress that's been relieved, just done. Getting up at 3 a.m. is very stressful, and then getting to where you have to be, and doing what you have to do, that's very stressful. I don't have to worry about that anymore.
OnMilwaukee: I want to close the loop on a few unresolved things from your last job. Your former general manager said, "Carole is well aware of the reasons that led to the decision over the last year not to renew her contract." You mentioned that it was a surprise but you haven't really elaborated. Is that more about taking the high road or is it more about moving forward instead of looking back?
Caine: I think it's both. I don't think that I want to comment on what they said about me. I don't agree with everything, but that's their position.
OnMilwaukee: The only other question that there seems to be some dispute is about this farewell opportunity.
Caine: Anything other than being able to go on the show live and talking to listeners about my departure just wouldn't have felt right.
OnMilwaukee: So would you have taken the opportunity had it been given to you?
Caine: It depends on what you're saying as to what would be the opportunity. The opportunity to go on the next day, live on the radio, I'm not sure I would have even have taken that because this was not the way that I wanted everything to end.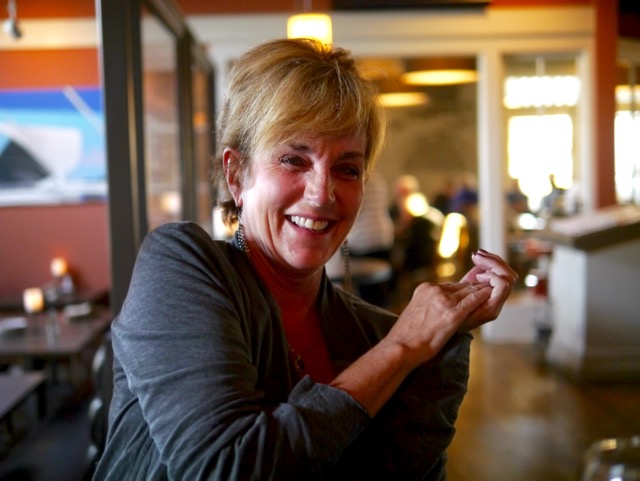 OnMilwaukee: In your 30 years on that show, did you ever think about the final day and how you did want it to end?
Caine: There's a lot of things I think about.
OnMilwaukee: Is there anything you want to say to those people who listened to you for so long?
Caine: Everybody that I have been able to connect with on Facebook, I have said absolutely how much I have adored them as listeners, how much I have been so grateful for all of the feedback that I have been given. It was an odd way to go, for not only me but for a lot of people. I think that my ability to be able to say goodbye through various like publications and show, is interesting. Not the way I would have liked it.
OnMilwaukee: Is it somewhat fulfilling?
Caine: Listen, after 30 years, is it ever really enough?
OnMilwaukee: Have any of your old coworkers reached out to you?
Caine: No.
OnMilwaukee: Many people would probably think that a logical progression would be to go do another morning show, right?
Caine: No.
OnMilwaukee: Why not?
Caine: Because honestly I think that Dave and I had something very special. I don't think that you can recreate that quickly or non-organically.
OnMilwaukee: You see a lot of new morning shows fail because it takes a long time to build that trust.
Caine: It's really hard to build a relationship with somebody that you don't know, especially here in the Milwaukee market, because the people here are so special. They draw you in, and they know if you're real, and they know if you're not. I think that if you try and push something that's not real, they're going to get it.
OnMilwaukee: Before I even knew you, the years that I would listen to you on the radio, I knew you had and you still have a genuine sense about you that maybe is a little rare these days. You never really spoke in the DJ voice, and you shared a lot of your personal life with the listeners.
Caine: Yeah.
OnMilwaukee: That must have been a decision you made at some point in your career, right?
Caine: It wasn't really a position I made in my career. It was just the way that I always was.
OnMilwaukee: Even before Dave & Carole?
Caine: I was with Dick and Ellen. It was so humbling was that people would say, "You were my sister. You were my daughter. You were my friend."
OnMilwaukee: Is that gratifying?
Caine: Yeah. It's gratifying, but I didn't do it for that.
OnMilwaukee: Right but as a side effect, as a by product, I mean that's got to feel validating, right?
Caine: You know it's not validating. It's not gratifying. All those words are very nice, and it's very professional. What it is is it's humanizing.
OnMilwaukee: No one's going to be able to see your tears right now, but I sense this is something that you care about deeply. It never was just a job for you.
Caine: No. They were never just people to me.
OnMilwaukee: To that extent, you raised a lot of money for Children's Hospital. You did a lot of stuff in the community.
Caine: Yes.
OnMilwaukee: You made Milwaukee your home.
Caine: Yes.
OnMilwaukee: This wasn't a stepping stone to ...
Caine: No. love this place. I hate you for making me cry.
OnMilwaukee: Sorry, it's my job.
Caine: I love this place. I love this area. I love the families that I've met through the Children's Hospital.
OnMilwaukee: But now there's a chance for people to see another side of you, in a different sort of way, through collaborating on multimedia lifestyle projects on OnMilwaukee.
Caine: Yes!
OnMilwaukee: What is your TV gig going to be?
Caine: I have been given the opportunity to be the new face and voice of Channel 18, so that I'm very excited for.
OnMilwaukee: What's that going to be like?
Caine: It'll be doing some voice work. I think it'll be interesting, and I'm thinking that there might be a position for them when it comes to a show. I'm thinking more with OnMilwaukee.
OnMilwaukee: Good. Keep thinking it! Forever, you've had to have your finger on the pulse of pop culture and classic rock.
Caine: Yep.
OnMilwaukee: Is it hard to turn that off? Is it hard to sleep normal hours? Is it hard to not watch "American Idol?"
Caine: No. I'm totally all in. I still watch all of that stuff.
OnMilwaukee: You're doing your show prep even though there's no show?
Caine: There are things that I wake up in the morning sometimes and I think, oh I want to talk about that … but that's not part of deal right now.
OnMilwaukee: While we're getting the OnMilwaukee projects starting up, are you still connecting with former listeners?
Caine: I had a Facebook group that invited me to a party. First of all, the whole Facebook "Bring Back Carole" group was phenomenally interesting to me. It was just, holy crap, are you kidding me? There were 1,000 people that wanted me to come back. That was very nice, but then I got together with a group of them.
OnMilwaukee: Oh really?
Caine: Yeah. We had a great party. They've kind of interacted with me here and there, and it's been really a lovely experience in the fact that I would never have had that experience if I had still been (at the station). This has been a much more personal experience. They're lovely, lovely lovely people. I'm so ... God, Andy, I'm so grateful. That's the one thing about this whole thing that I will say I had no idea. I am so grateful as to how many people were so touched or ...
OnMilwaukee: Affected?
Caine: Affected. It sounds weird, and it is weird. I'm just me. I'm just me.
Andy is the founder and co-owner of OnMilwaukee.com. He returned to Milwaukee in 1996 after living on the East Coast for nine years, where he wrote for The Dallas Morning News Washington Bureau and worked in the White House Office of Communications. He was also Associate Editor of The GW Hatchet, his college newspaper at The George Washington University.
Before launching OnMilwaukee.com in 1998 at age 23, he worked in public relations for two Milwaukee firms, most of the time daydreaming about starting his own publication.
Hobbies include running when he finds the time, fixing the rust on his '75 MGB, mowing the lawn at his cottage in the Northwoods, and making an annual pilgrimage to Phoenix for Brewers Spring Training.