It's been three years since Meraki opened its doors at 939 S. 2nd St. in Walker's Point.
The restaurant, which boasts a menu of international comfort foods, offers affordably priced options in an upscale casual environment. It's also the sort of spot where you can grab a quick bite at the bar, or experience an affordable, well-prepared in the beautifully eclectic dining room.
But, as chef and owner Chad Meier (pictured on the left) took a look at his restaurant in the context of the swiftly evolving Milwaukee food scene, he saw a need to revisit the experience he was offering guests.
To facilitate, he hired Joshua Wolter, formerly of c.1880, as consultant and acting general manager for the restaurant. It was a serendipitous move, as Wolter has years of experience handling front of house experiences for a number of area restaurants, including the Marcus Hotels & Restaurants, Cubanitas and Osteria del Mondo.
"He's amplifying the vision that I've always had for Meraki in terms of service and customer experience," Meier notes. "I'm always a fan of evolution and moving forward, and this is a real opportunity to take advantage of the knowledge he brings to the table. He has the tools and the skill and the knowledge to make that happen."
Wolter says it's a role he was happy to take on.
"Meraki has an almost untapped potential," notes Wolter. "Chad [Meier] is very talented in the kitchen and the space is unlike any other in Milwaukee. This is really about allowing the chef to do what he does best, while really bringing an attention to detail when it comes to service."
Amplified customer service
Wolter says he'll be working, overall, the focus his efforts on providing a truly hospitality-driven experience for guests.
"In so many places in the city, service has become a lost art," says Wolter. "But, everywhere you go, people pay for excellence and everyone wants to be treated well. So our goal is to offer people an experience that they are more than happy to pay for."
Among those changes are subtle details, things like complementary fresh wood-fire baked bread and whipped butter for every table and old school touches like full table settings.
The restaurant's musical playlist has also been replaced by an eclectic vinyl collection from which guests can pick and choose favorite albums to enjoy during dinner.
In conjunction with service changes, the format of both the bar and dining room menu will also evolve.
Flexible portions
The dinner menu, which features a collection of both shareable appetizers and entrees, There will be appetizers and entrees. However, most entrees will also be available in both half and full portions, offering flexibility for diners in terms of both shareability and their ability to explore more of the menu in a single visit (pictured below: both full and half portions of Tunisian braised goat with harissa, candied almond, couscous and pigeon peas).
"It's also about accommodating diners who have smaller appetites," notes Wolter. "No one should feel like every meal is an overwhelming indulgence."
Culinary Adventure, an offering that's been a staple at Meraki for quite some time, will also see changes. The program, which offers $35, $50 or $65 options, explores both on and off-menu items that can be tailored to accommodate dietary restrictions.
For $35, you might get a menu featuring Meraki's bread service, a scotch egg, brussels sprouts and an entree. From there, the $50 and $65 levels escalate the experience with additional courses, some of which feature special seasonal or off-menu items.
Want more interaction with the chef? Make a reservation at the counter by the kitchen, which is now reserved exclusively for the fullest experience of the Culinary Adventure.
"We built the open kitchen for a reason," notes Meier. "We want people to see what we're doing and engage. We're literally two feet away from guests at the counter, and this offers an opportunity for guests to be a part of the experience. Cooking is what I know, and what I do best … and I can talk about food all day long."
Bar Bites
At the bar, there will be happy hour specials from 4:30 to 6 p.m. daily. The specials will take a progressive approach, offering guests discounts on Meraki's Bar Bites menu (a collection of traditional tapas sized bites for $5 each) in accordance with their drink purchases. Every drink ordered earns the guest $1 off the bar bite of his or her choice.
Featured options include the highly snackable cheesy puffs (deep fried balls of cheese infused pate choux).
There are light, fresh options like green tea soba noodles with smoked mackerel and cucumber.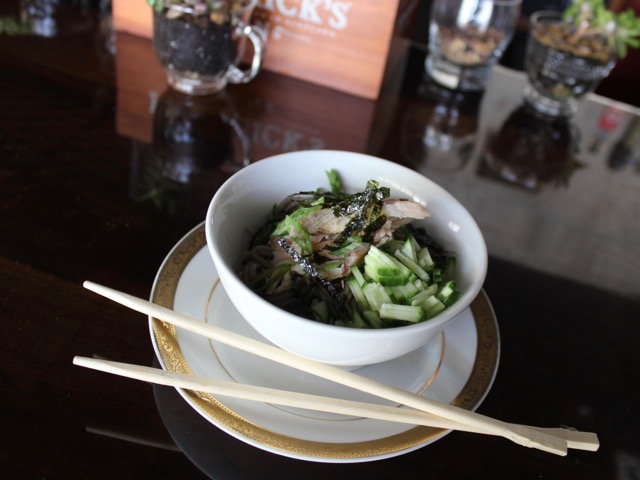 And there are soul-satisfying plates like the okonomiyaki Japanese savory pancake filled with seasonal vegetables and topped with shredded nori, scallion and lashings of savory sauce and Kewpie mayo.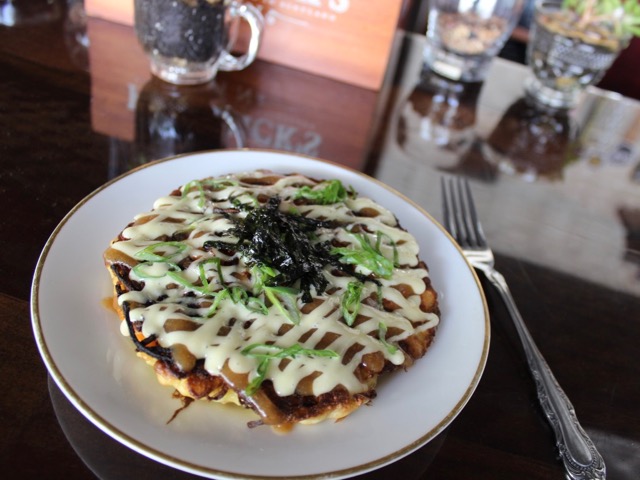 Guests will also find comforting plates like seasonal ravioli.
There's also a super secret off-menu bar-only cheeseburger; but, if anyone asks, you didn't read about that here.
Service industry night
Speaking of burgers, beginning in June, Meraki will also offer Industry Hump Day specials every Thursday from 9 p.m. to midnight.
In addition to a service industry discount, the bar will also offer a weekly burger special, complete with a housemade bun, custom blended beef and toppings inspired by a particular musical mood. That mood will also be reflected in the playlist for the evening (based on picks from the Meraki vinyl collection, of course).
Wolter says the current changes are just the beginning of an ongoing reimagination of the restaurant, with an intent focus on the customer experience.
"It's a very exciting time at Meraki," notes Meier. "And I am really looking forward to what's to come."
Lori Fredrich (Lo) is an eater, writer, wonderer, bon vivante, traveler, cook, gardener and girlwonder. Born and raised in the Milwaukee area, she has tried to leave many times, but seems to be drawn to this quirky city that smells of beer and alewives.
Some might say that she is a little obsessed with food. Lo would say she is A LOT obsessed with food. After all, she has been cooking, eating and enjoying food for decades and has no plans to retire anytime soon.
Lo's recipes and writing have been featured in a variety of publications including GO: Airtran Inflight Magazine, Cheese Connoisseur, Cooking Light, Edible Milwaukee, Milwaukee Magazine and the Milwaukee Journal Sentinel, as well as on the blog Go Bold with Butter, the web site Wisconsin Cheese Talk, and in the quarterly online magazine Grate. Pair. Share.