With the postseason just a few days away, Milwaukee Bucks fans will soon pack into Deer District once again, hungry to see another trip to the NBA Finals ... and also hungry, just in general. The MECCA Sports Bar & Grill is ready to help with the latter, introducing several new postseason-worthy menu items Thursday morning for the upcoming playoff push.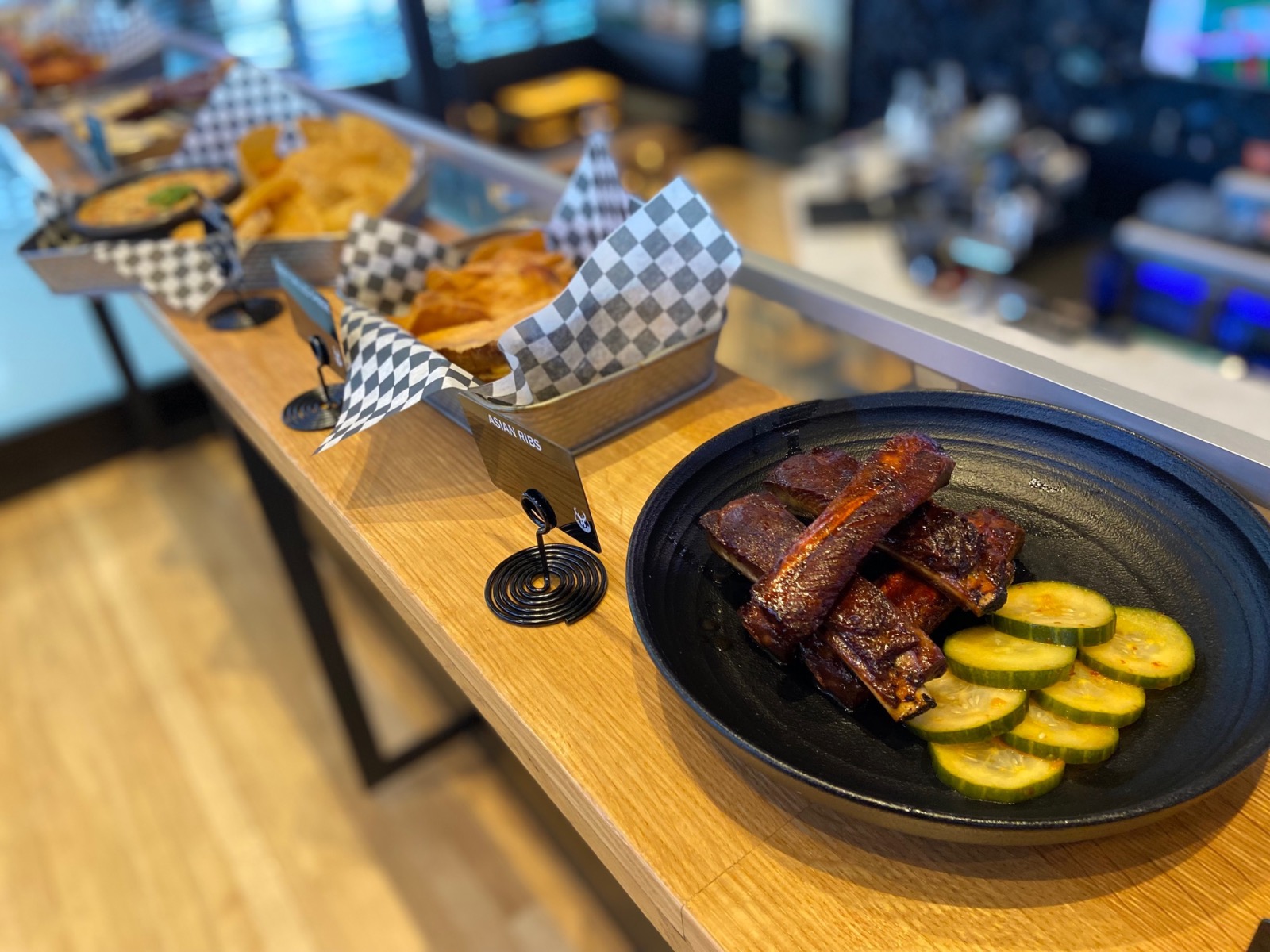 Expected to make its debut on the sports bar's menu by the second week of the playoffs, The MECCA's new items include several fresh takes on handheld bar snack favorites with Giannis-level flavors – such as the venue's two new takes on chicken wings, hot honey garlic and Nashville hot wings. The former in particular delivers a punchy and satisfyingly sticky sweet heat – hopefully the perfect tasty compliment to when Khris Middleton's heating up from beyond the three-point arc.
Those two new sauces join The MECCA's current roster of wing flavors, including BBQ, Buffalo, garlic parmesan and sweet chili.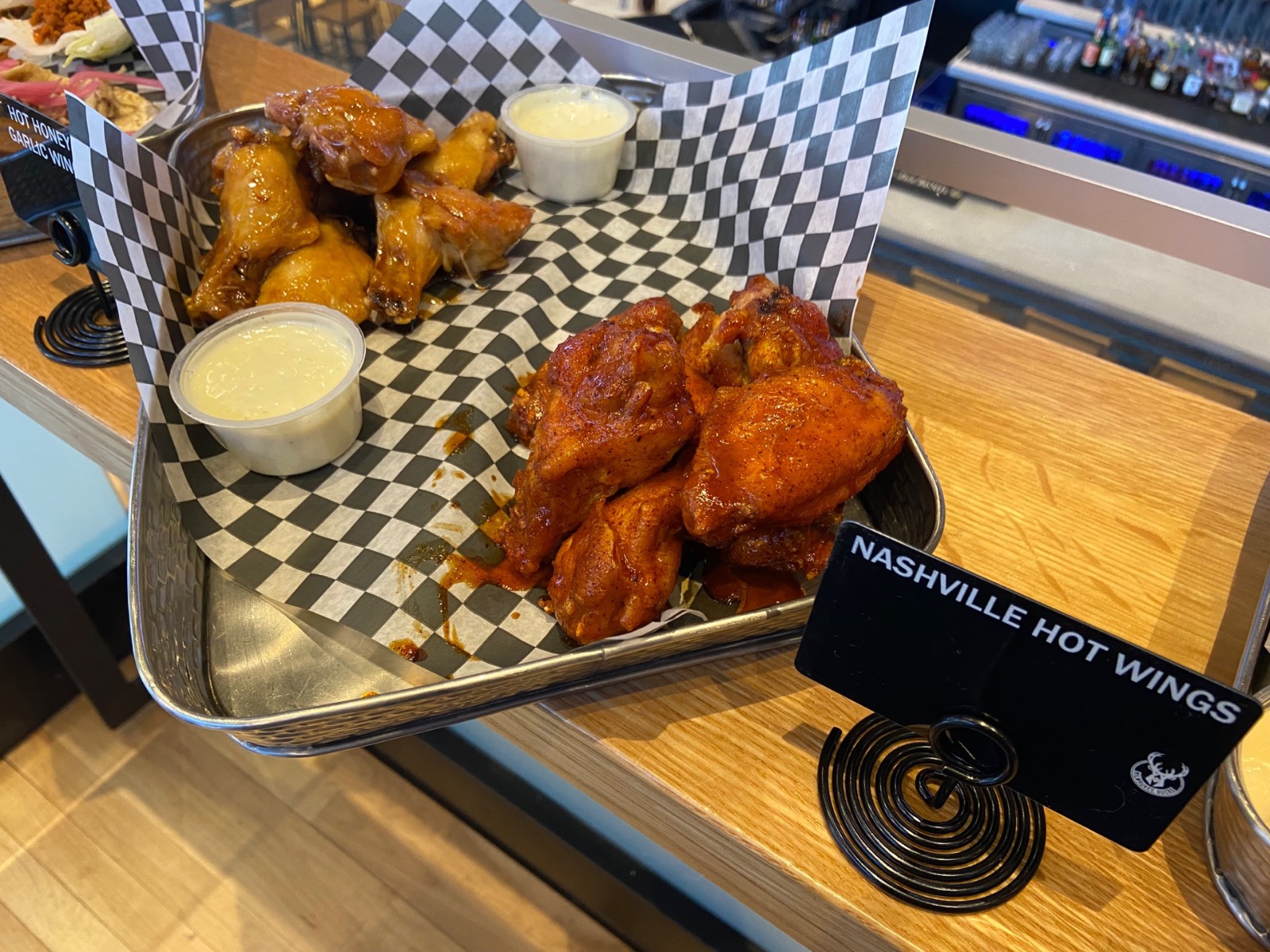 For other handheld options, the sports bar will also add a collection of tacos to the menu. Some of the tacos joining the MECCA menu include adobo chicken with a serrano and jalapeno salsa, braised brisket, and pulled pork with a Chinese five-spice sauce and pickled onions. The new additions also feature a soy chorizo taco – which, according to Michael Small, director of food and beverage operations at The MECCA and The Cluckery, can be ordered with lettuce cups and therefore serve as a vegan option on the menu.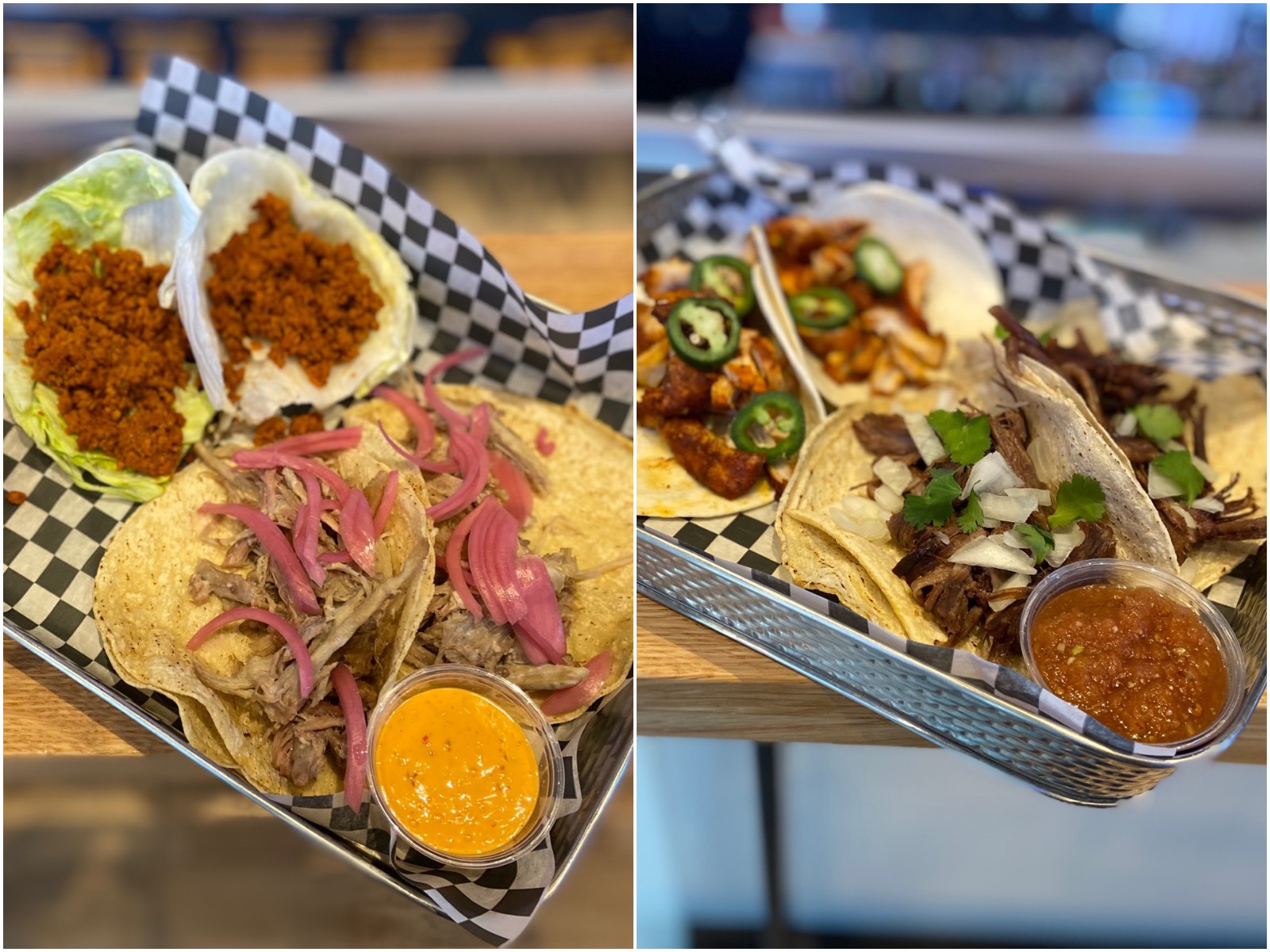 And for the complete opposite of vegan, The MECCA will also add Asian sticky ribs to its plethora of offerings, an order of satisfyingly chewy and porky ribs complete with a tantalizingly tacky sauce on the outside and spicy homemade pickles on the side.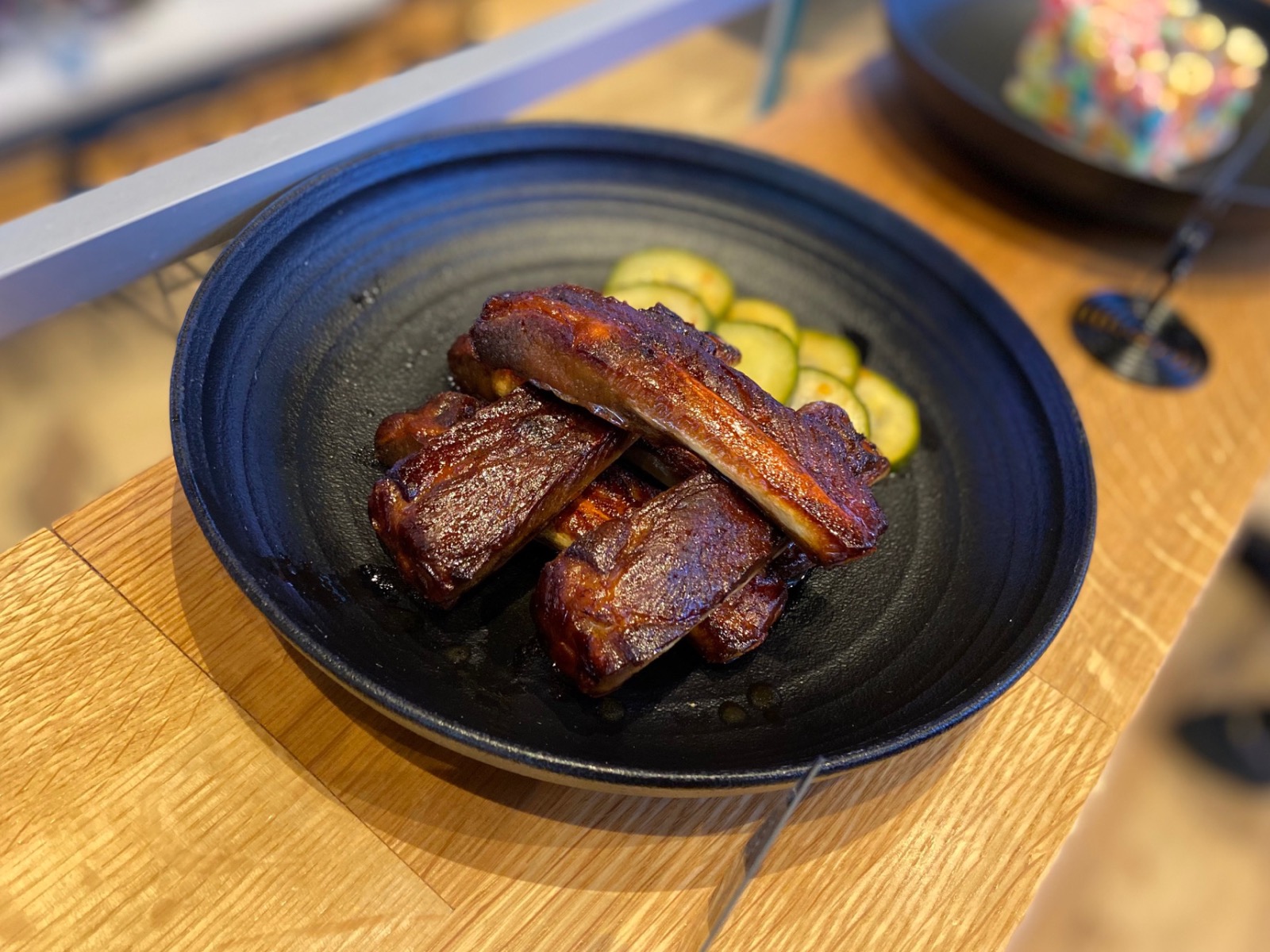 Other sharable and snackable options debuting on MECCA's menu include a new take on spinach artichoke dip, topped with spicy jalapenos, a parmesan cheese crust and chips for dipping and dunking galore. Among the new additions is also another variation on a Bavarian pretzel. Currently serving a combo platter of sausage and pretzel bites, the new pretzel dish features a large soft twisted pretzel paired with a duo of dipping sauces: a tangy Blue Moon beer mustard and a classic queso blanco.
Speaking of cheese, because this is Wisconsin, The MECCA will revamp their grilled cheese – complete with a little bonus cheese. The sandwich features a blend of melty, gooey American and cheddar cheese griddled between two slices of bread, which come complete with thin parmesan crisp layer on the outside. In conclusion: cheese.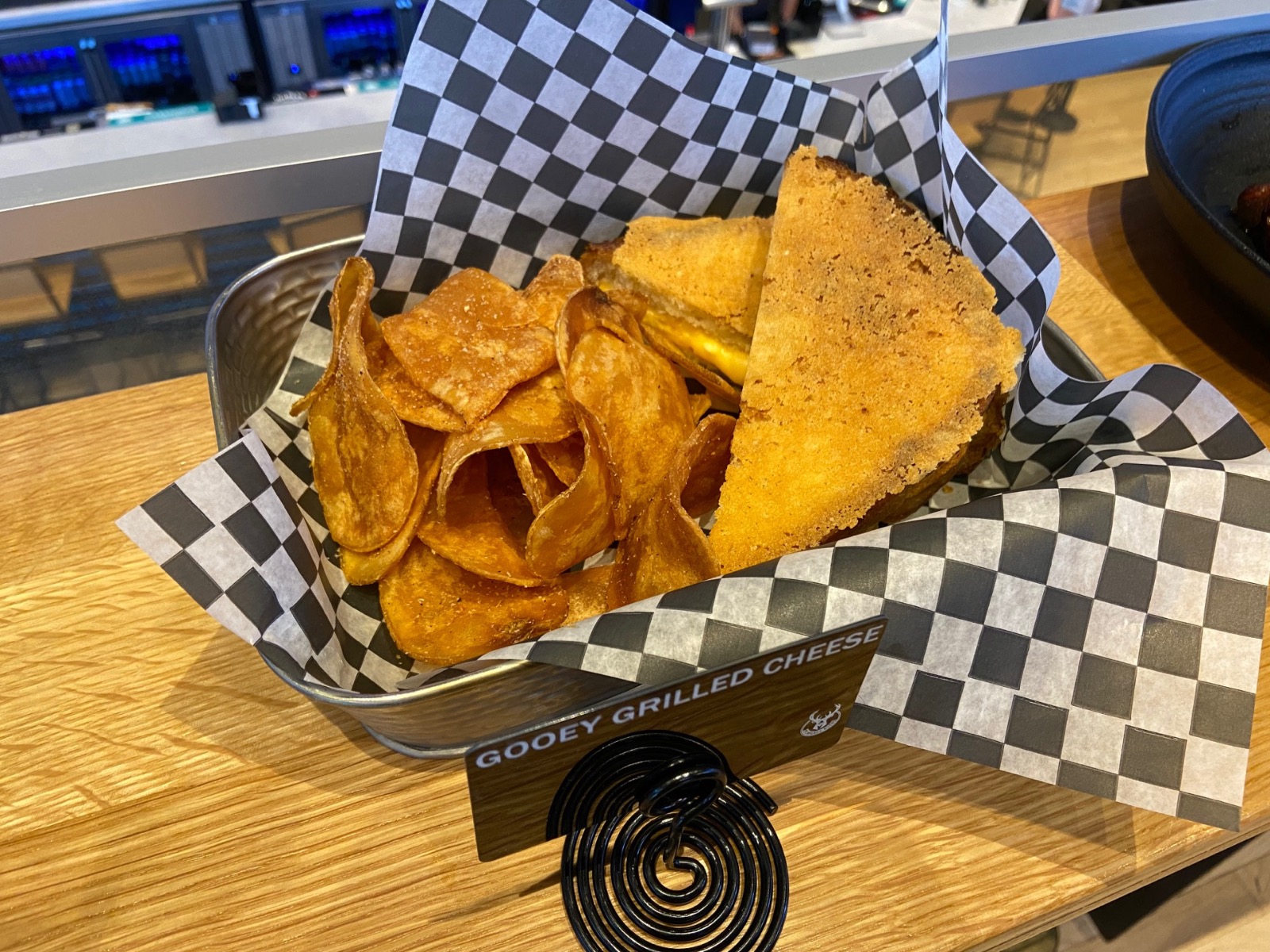 And what better way to celebrate a sweet playoff victory than with a sweet treat? The MECCA's new dessert of choice is a classic favorite for young and old: a cereal bar, combining fruity loops and marshmallow into an addictively crunchy and creamy slam-dunk dessert. (Sorry, I'm legally obligated to make a "slam dunk" pun in a basketball-adjacent food article like this.)
These new dishes will soon join the rest of The MECCA's culinary lineup, which currently includes popular pub grub options like cheese curds, chicken tenders, burgers, sandwiches, salads and other sports bar staples – all served under the venue's monolithic 38-foot screen, blasting the big game so no one will miss a single Giannis dunk. (To make it even harder to miss any of the action, there's 64 other screens scattered all around the two-floor bar and restaurant.) And to make the bar feel like the basketball court just across the plaza, The MECCA will go all-in on an arena-like atmosphere with DJs and video board shenanigans during breaks, with potentially Bango, energy squads and giveaway items dropping in for away games.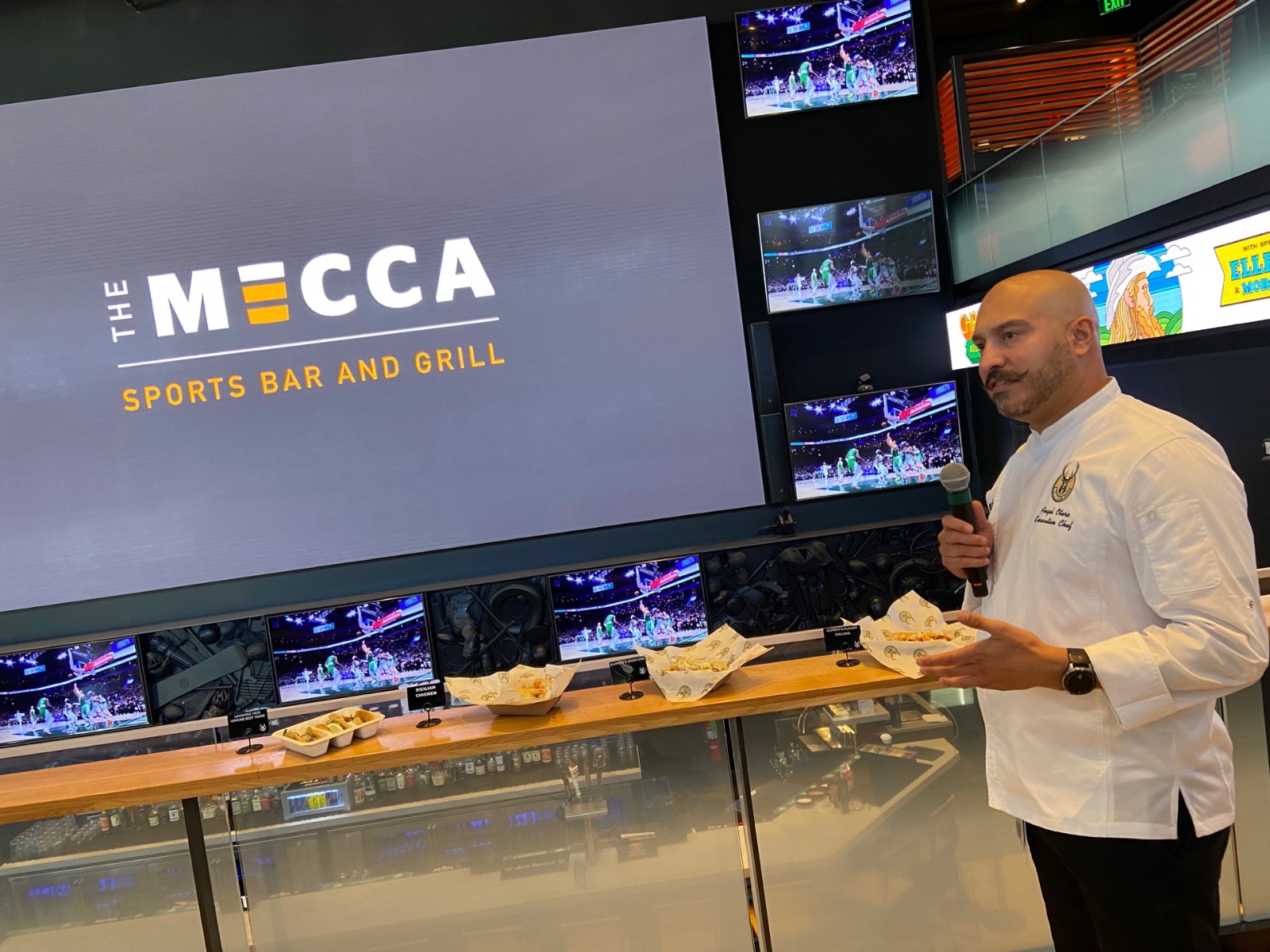 On the topic of Fiserv Forum, the Bucks' home court will add some new menu items as well for the postseason. Much like its bar brethren across the way, the arena's Laughing Taco stand – found on the main concourse – will feature a new ground beef taco including beef, potato and a classic cilantro and diced onion topping inside a corn tortilla. Two new sausages – a traditional chili dog as well as a Greek dog, serving a brat loaded with an olive oil and arugula topping, red onions, diced chiles and feta cheese – will also be found at the Klement's booths on both the upper and main concourses, while the Jockey Club will add a new item as well: a Sicilian chicken sandwich, piling sliced grilled chicken, marinara sauce, sauteed peppers and provolone cheese into a roll.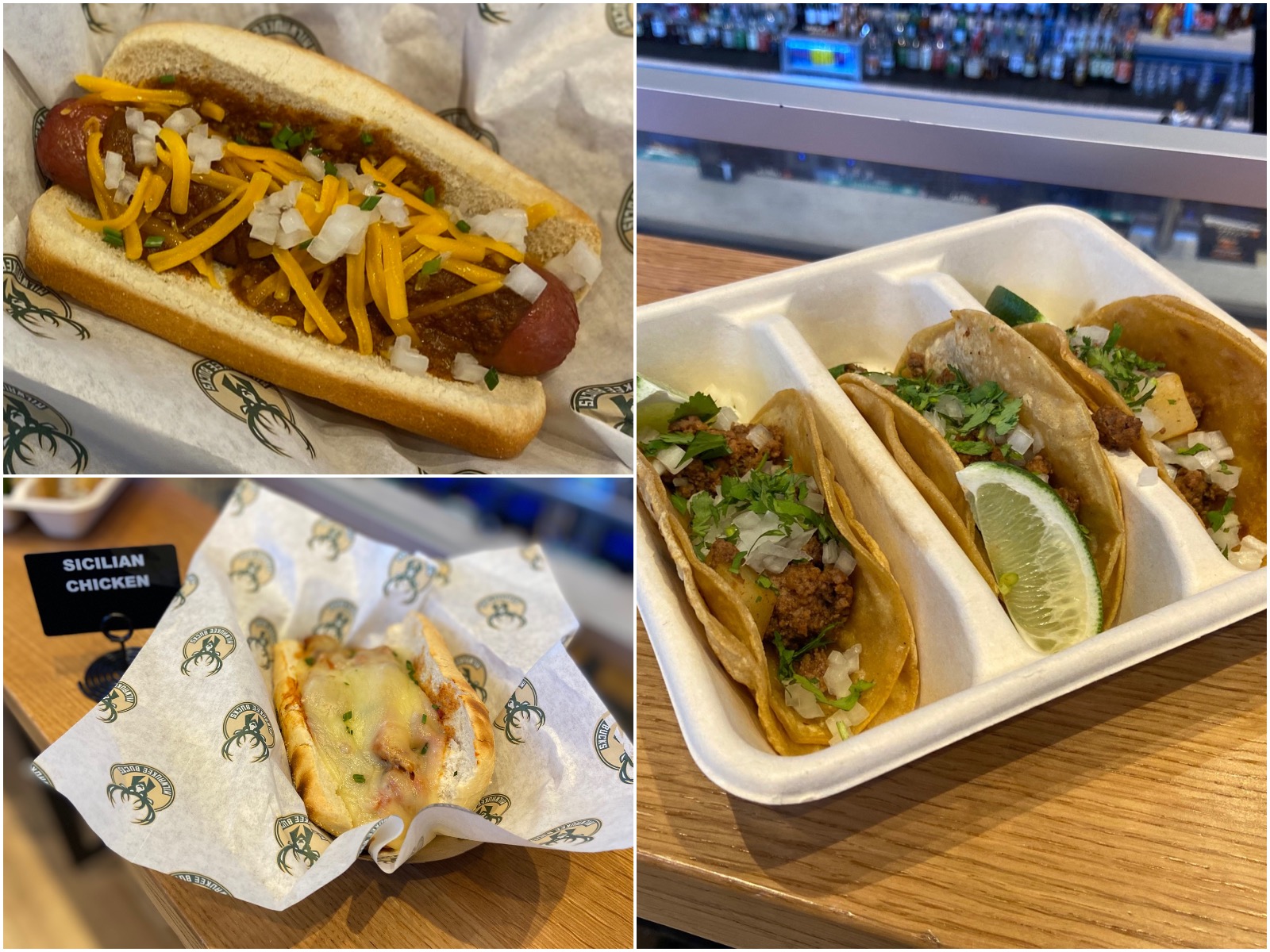 It's all in preparation for the beginning of hopefully another extended stay in the playoffs for the defending champion Bucks, who'll tip things off in the first round at home against the Chicago Bulls at 5:30 p.m. on Sunday, April 17. For more information on hours, reservations and beyond, visit The MECCA's website – and for more information on the postseason, check out our Bucks basics guide to the playoffs as well as stay tuned to OnMilwaukee for more updates.
Most important of all, though: Feer the deer!
As much as it is a gigantic cliché to say that one has always had a passion for film, Matt Mueller has always had a passion for film. Whether it was bringing in the latest movie reviews for his first grade show-and-tell or writing film reviews for the St. Norbert College Times as a high school student, Matt is way too obsessed with movies for his own good.
When he's not writing about the latest blockbuster or talking much too glowingly about "Piranha 3D," Matt can probably be found watching literally any sport (minus cricket) or working at - get this - a local movie theater. Or watching a movie. Yeah, he's probably watching a movie.