When actor Charlotte Rae, a Milwaukee native who is best known for her role as Edna Garrett in the '80s sitcom "The Facts of Life," decided to publish a memoir, she did not hold back on the truthful details of her less-than-idyllic life.
"I thought I'd let it all hang out," Rae said from California during a telephone interview with OnMilwaukee. "Nobody is perfect and nobody has a perfect life. Life is wonderful and tough. I wanted to share a real life."
The book, called "The Facts of My Life," was co-written by Rae and her son, Larry Strauss. It was released by BearManor Media at the end of 2015. (Order it here.)
Although Strauss wrote much of the copy from Rae's oral and written stories, friends of Rae's say the voice of the book sounds very much like her own.
"Larry really did a great job," says Rae. "He really gets me and I am very grateful for that."
The book opens with what is described as a "nightmare come true" when Rae's other son, Andy, who was 16 at the time, was in the juvenile ward at New York's Bellevue Hospital because he was autistic – a condition that people knew little about decades ago – and was considered unstable and dangerous.
Andy, who also had epilepsy, died from a heart attack in his 40s. Rae called this the "most devastating thing" in her life, and shares honest details in the book about her other struggles, including her alcoholism, heart problems, homosexual husband (whom she divorced after 25 years of marriage) and diagnosis of pancreatic cancer six years ago.
However, Rae – who will turn 90 next month – has plenty of positive memories and life experiences to share along with plans for the future. She also shares fond memories of living in the Midwest when she was a child and young adult.
Rae grew up on 12th Street in Milwaukee and moved to Shorewood with her family when she was 10 years old. She later attended Northwestern University outside Chicago with future famous actors Cloris Leachman and the late Paul Lynde.
"When I started out, I wanted to be a serious actor," said Rae. "I never thought I'd get into comedy."
Rae's successful career was a mix of screen, stage and cabaret appearances. She was a successful Broadway actress with two Tony nominations before mainstream America met her in the '70s as Mrs. Garrett on "Diff'rent Strokes."
Rae pitched the idea of a spinoff show and starred for seven years in "The Facts of Life" starting in 1979. She also appeared in movies, most recently in 2015's "Ricki and the Flash" starring Meryl Streep and written by Diablo Cody.
"I've been extremely lucky," says Rae.
Charlotte Rae appeared in early seasons of "Sesame Street" as Molly the Mail Lady.
OnMilwaukee: How did you and your son decide to write a book together and what was your process to create it?
Charlotte Rae: My son, who is a beautiful writer and the author of several novels, said to me one day, "Ma, you're going on 87. I think it's time we did a memoir."
So I started to tell him stories and write a lot of things down, and he really got me. My friends say it sounds just like me, as if I were saying it all.
I am really happy with how the book turned out and grateful to Larry for wanting to do it.
Do you have plans for your 90th birthday?
I have the best plans of all: I'm in a play. I'll be performing at the California Theatre Center in Samuel Beckett's "Endgame." I can think of nothing better than working on my birthday.
Do you ever miss being on television?
No. I loved being on the show, I loved the girls (on "Facts of Life") and the crew and the writers, but after seven years, it was enough. It was time for me to do a lot of other things.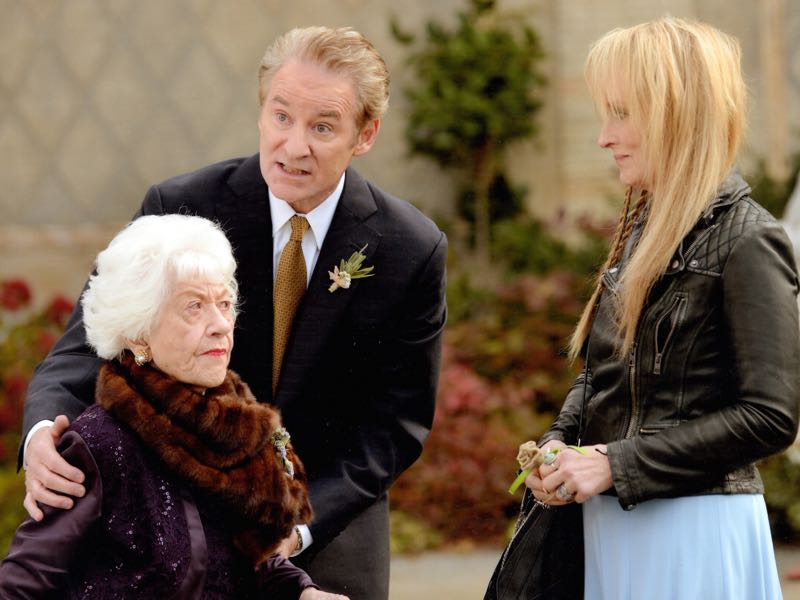 Charlotte Rae with Kevin Kline and Meryl Streep in "Ricki and the Flash."
Are you still in contact with the women from "Facts of Life?"
Yes. I am very close with Nancy (McKeon) and recently visited her on her ranch in Austin. I had a "jammie party" with her children. We had so much fun. I'm also still close with Lisa (Whelchel) and Kim (Fields) and Mindy (Cohn). They are all doing very well with beautiful families.
Do people still remember you as Edna Garrett, even though the show has been over for a long time?
People of a certain age still remember me as Edna Garrett. They often want to give me a hug because the character was so warm and nurturing. I don't mind at all. I think it's very nice.
Where did you live in Milwaukee as a child?
We lived above my father's tire and appliance store at 1232 N. 12th St. I loved that neighborhood – it was a mixture of so many people and religions. We moved to Shorewood and it had different advantages.
What are your memories from Shorewood and Shorewood High School?
My family moved to Shorewood when I was 10, to 4431 N. Murray Ave. I loved Shorewood High School. It was like a college campus with so many different buildings – just amazing. I had some great teachers there, too, whom I learned a lot from.
I will never forget Miss Dubeck. She brought an orange into the classroom one day and held it up in front of the class and asked, "Would you pay more money for this orange if it meant migrant workers could get schooling or would you rather just pay less?" She really opened my eyes to the way of the world.
I also had a science teacher at Shorewood who worked part time as a taxi driver to make enough money to support his family and it bothered me from a young age that teachers aren't treated better and make more money for all that they do for American children.
I really liked all of the extracurricular activities at Shorewood High School. Chorus, drama club, camera club – there were so many things to keep kids busy after school. It was such a different time.
What would you still like to accomplish in your life?
I would like to see an early detection test for pancreatic cancer to be discovered. I am a pancreatic cancer survivor, but my mom, older sister and uncle all passed away from it. Most people find out they have pancreatic cancer after it's too late to do anything, because there isn't a test to take to find it early like a colonoscopy for colon cancer or a mammogram for breast cancer. I am very grateful, though, for surviving. It will be six years on my birthday.
I don't need to travel a lot – I am going to Mount Rushmore soon and I think it will be fun to see the statues and the Badlands. But otherwise, there is plenty for me to see right here at home. I look out the window at the sky and I see beauty. I see beauty every day, everywhere.
I also might want to skydive. I think that would be a real thrill.
Charlotte Rae delights the audience during a recent speaking engagement.

Molly Snyder started writing and publishing her work at the age 10, when her community newspaper printed her poem, "The Unicorn." Since then, she's expanded beyond the subject of mythical creatures and written in many different mediums but, nearest and dearest to her heart, thousands of articles for OnMilwaukee.

Molly is a regular contributor to FOX6 News and numerous radio stations as well as the co-host of "Dandelions: A Podcast For Women." She's received five Milwaukee Press Club Awards, served as the Pfister Narrator and is the Wisconsin State Fair's Celebrity Cream Puff Eating Champion of 2019.