BARABOO – The Cheeze Factory offers scratch-made vegan food in a recently remodeled space filled with tables and chairs, a shiny, spotless kitchen and a rotating dessert case, but chef and co-owner Sage-Louise says it's not really a restaurant.
"It's part of my spiritual practice. It's what every moment, every instant, every aspect of my life is about. It's a labor of love," says Sage-Louise.
Thirty years ago, while living in Colorado, Sage-Louise discovered A Course In Miracles, a Christian-based, self-study curriculum that focuses on forgiveness and healing, and it answered many of the questions she had asked herself since she was a child. And so she went with it.
In the early 1990s, Sage-Louise moved to the Course In Miracles Academy in the Wisconsin Dells and later opened The Cheese Factory, a vegetarian restaurant, amongst the motels, pools, supper clubs and, eventually, waterparks.
In 2013, after much research and soul searching, Sage-Louise and her associates – who are also Course In Miracles followers – decided to transform the menu from vegetarian to vegan. Thus, they changed the name from The Cheese Factory to The Cheeze Factory to acknowledge they were no longer serving dairy products.
However, this was confusing and frustrating to some diners, both old and new, who missed menu items like Sage-Louise's grilled cheese sandwich, rated by Rachael Ray as one of the top five in the country.
"We lost customers, but we couldn't handle the cruelty and environmental impact of the dairy industry anymore," says Sage-Louise. "And we got through it. We're still here."
In December 2017, Sage-Louise and 20 of her associates – who are originally from around the world, including Europe and Australia – moved their labor of love to Baraboo after the owner of the Dells' building decided to sell it.
The group took a risk and bought a building in the small city of Baraboo, perhaps best known as home to the Circus World Museum, not knowing what to expect in terms of customers.
"We were clueless. But what we did know is that we'd been around for 22 years at the time and that we had loyal customers from around the world who would hopefully follow us," says Sage-Louise. "'If you build it, they will come.'"
After a year in business, The Cheeze Factory is thriving in its new home – not only because of its international reputation and dedicated Dells' customers – but also because locals embraced it.
"We get a lot of meat eaters in here. They don't care that it's vegan, they just care that it tastes good," says Sage-Louise.
The Course In Miracles literature is prominently displayed on a wall in the front of the restaurant, but the employees never speak of it to customers unless asked.
"It's very personal to us. We don't preach or proselytize," says Sage-Louise. "We don't care what religion anyone is or isn't; if they eat meat or they don't. The only thing we care about is that our food is delicious."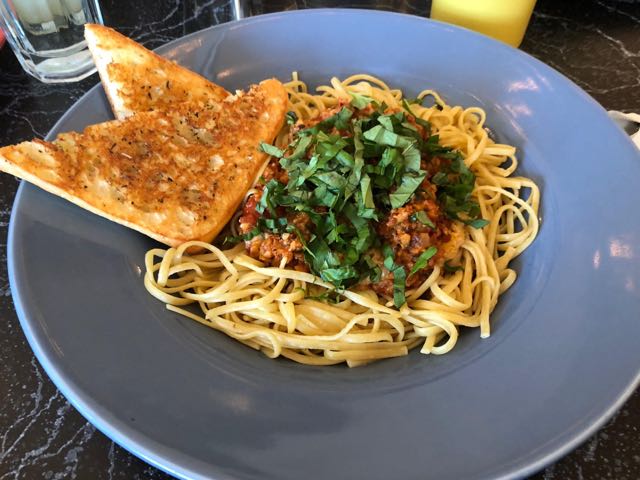 And delicious it is. The Cheeze Factory serves breakfast / brunch, lunch and dinner. It has a kids' menu, but does not have a liquor license.
House specialties include the sesame stir fry, "sausage" linguini primavera, chickpea chili and a variety of soups, sandwiches and salads. During a recent visit we had a homemade curry soup, a "tuna" sandwich, a "bodacious 'beef' burger" and spaghetti with "meat sauce" parmesan – all of which were incredibly filling and flavorful.
The desserts – listed on the menu as "heavenly" – were phenomenal as well and the apple pie came with a heart baked into the crust.
"We're not in this to make a ton of money, obviously," says Sage-Louise. "As long as we can pay our bills and make folks happy, we're good."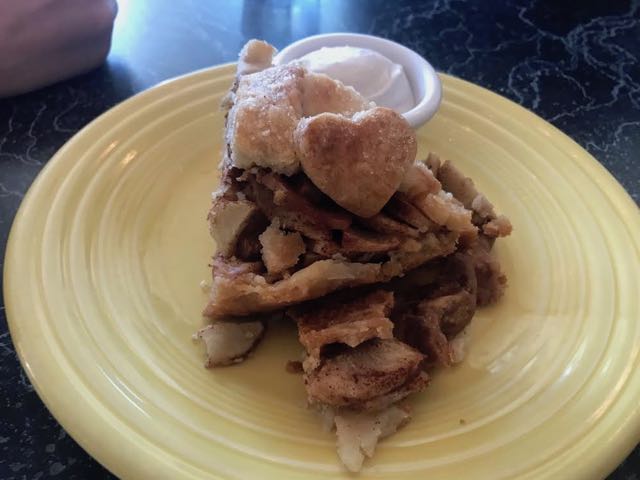 Molly Snyder started writing and publishing her work at the age 10, when her community newspaper printed her poem, "The Unicorn." Since then, she's expanded beyond the subject of mythical creatures and written in many different mediums but, nearest and dearest to her heart, thousands of articles for OnMilwaukee.

Molly is a regular contributor to FOX6 News and numerous radio stations as well as the co-host of "Dandelions: A Podcast For Women." She's received five Milwaukee Press Club Awards, served as the Pfister Narrator and is the Wisconsin State Fair's Celebrity Cream Puff Eating Champion of 2019.