At first thought, a Wisconsin Dells vacation seems like an experience best suited for parents who want to watch their kids careen down water slides or treat them to fudge and moccasins on the strip. However, research shows that 25 percent of The Dells' visitors come without children – and this number is increasing every season.
"We are seeing more people without children coming to The Dells, or parents coming to The Dells to enjoy the experience as grown ups without their kids," says Carla Minsky, communications manager for the Wisconsin Dells' Sundara Inn & Spa.
According to Minsky, even the water parks are welcoming more kidless couples – many of whom are on a respite with friends and appreciate the freedom to experience the extreme slides, rent a luxury cabana and, overall, to enjoy a water park without having to worry about or cater to children. ("Watch this, mom!" "Can I get one, Dad?")
For folks of all ages, The Wisconsin Dells offers a plethora of H2O parks, including Noah's Ark, the largest outdoor water park in America, along with Kalahari, Great Wolf Lodge, Mount Olympus, Chula Vista and the Wilderness Resort.
However, for adults who want to "do The Dells" without having to hear the pitter-patter of little flip-flopped feet, there are plenty of grown-up activities beyond the water parks.
Relaxing in The Dells
For a ridiculously relaxing– and child-free – experience, check into Sundara, a destination spa nestled in a forest of pine trees at the edge of The Dells. Located on 26 acres, Sundara offers 26 suites – all of which have a king-sized feather bed, spa bathroom and fireplace – as well as private villas.
It might take a minute to get into the spa spirit, especially upon arrival when almost everyone seems to be wearing a thick white robe, holding a refreshing beverage with a cucumber floating in it and speaking in hushed tones. However, within an hour, the peaceful environment will most likely positively affect even the most stressed-out guests. Just remember, use of technology is only allowed in private rooms, so no chatting with Siri in the serene lobby area.
Although guests are free to come and go as they please while visiting Sundara, they should try to stay for an extended period of time to fully immerse themselves in the peaceful environment intended to clear the ol' mind and reduce the ol' stress level. Consider this as a motto: the more robe time, the better.
Overall, the property is stunning. Sundara features "soaring organic architecture" to reflect nature indoors with features like high ceilings, generous amounts of natural light and curvy, flowy hallways.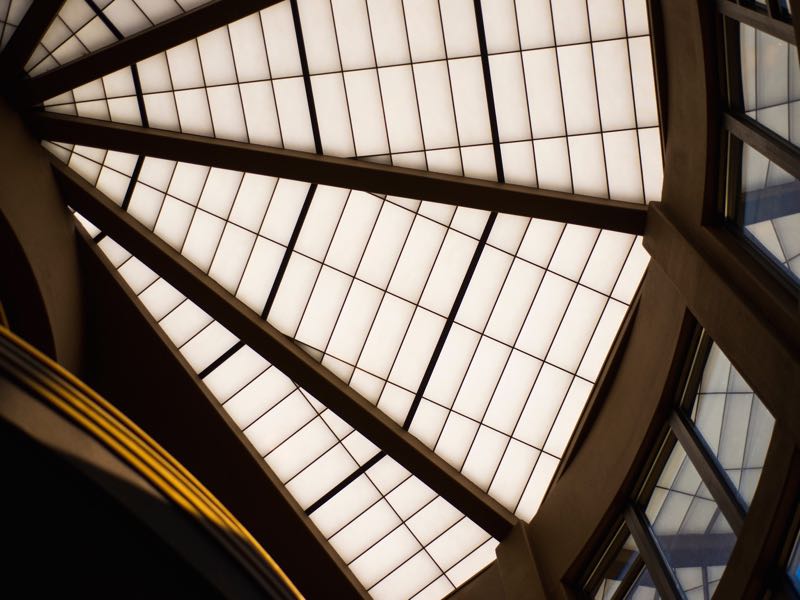 While the resort was being constructed, workers removed as few trees as possible, so the buildings are encompassed by lots of lush, fragrant conifers. The planners were also careful to respect the wildlife, so consequently Sundara guests often spot turkey, fox, deer and owls from their room windows, while hiking on the short meditation trail or while relaxing in a grove of trees with a dozen hand-made hammocks.
"There is something about a hammock that provides such a simple pleasure," says Minsky.
All Sundara guests are invited to indulge in a five-step purifying bath ritual which includes a warm sand wash (which includes a sand scrub made with locally-sourced sand), steam, cool-down shower, hot tub and cold plunge. There's also an outdoor area with a hot tub, bar, food service, fire pits and an infinity pool, which is referred to as such because of its edgeless appearance. The heated deck and warm pool allow for year-round swimming and soaking.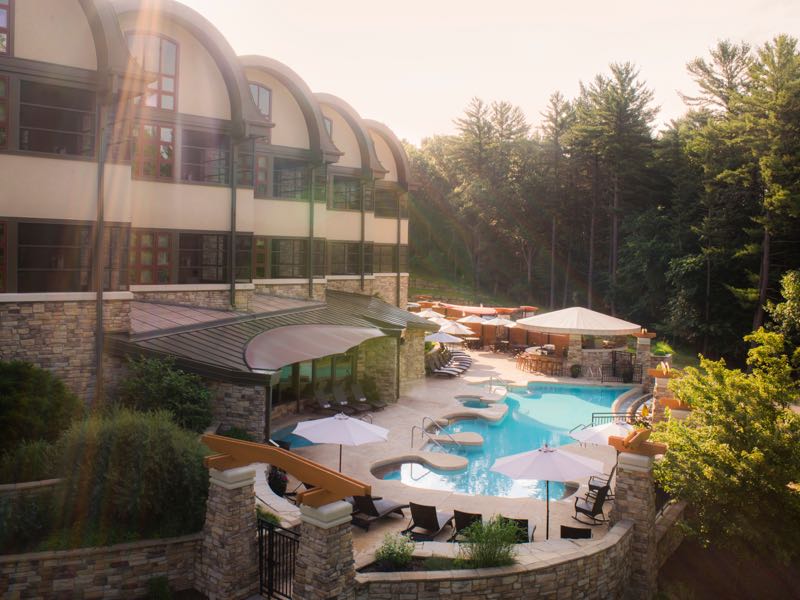 Sundara boasts 14 treatment rooms and many other services for a fee, including massages, body scrubs and wraps, bath therapies, facials, manicures / pedicures and more. Surprisingly, one-third of the spa services are for men and couple's massages are also available. Couples massages are unique experiences in that they allow for a twosome to simultaneously relax, be alone with their thoughts and connect at the same time. Male and female massage therapists are available.
Sundara's big picture is impressive; however, the lasting appeal is woven into the details. Indoors, there's a "turn-down service," which includes the dimming of lights, the playing of soothing music, chamomile mint tea on a bed tray and locally-made lavender caramels on the pillow tops. Outdoors, the trees and grasses swaying in the wind work together to create mental relaxation.
Also worth noting is the complimentary breakfast: an impressive buffet of deliciously prepared hot and cold foods, including eggs Florentine, lean sausages, un-greasy hash browns, bagels, homemade oatmeal, fresh fruit, Greek yogurt, house-baked muffins and more. (To the women behind me in the buffet line, thank you for not outwardly judging my Kilimanjaro-sized helping of hash browns.)
Sundara also gives back to the region in various ways, including through a partnership with the Madison-based Breast Cancer Recovery Foundation.
'We do every thing we can to help people relax, feel hopeful and restore their health," says Minsky. "People tell us all the time they felt better leaving Sundara and that's a gift to us."
Drinking in The Dells
Perhaps the polar opposite of spending quiet time at Sundara is bar hopping on Broadway, but we highly recommend both.
Although the moniker is a bit offputting, Nig's – named allegedly after a man named Nigel who was the original owner – has a mix of tourists and locals and offers decent drink specials like the $5 pint of your choice in a souvenir glass.
The bar, which opened in 1947, also offers pool, darts, pizza and the chance to win a Harley-Davidson through a fundraising raffle every fall. After downing a drink or two, visitors are free to purchase a "I had a swig at Nig's" T-shirt.
Plus, the vintage sign is really cool. (But that name, oh, the name!)
The Showboat Saloon was built in 1907 and remained a tavern until Prohibition in 1920, at which time it became a candy shop and possibly a speakeasy in the basement. There are many rumors echoing throughout the salon, including that there are tunnels beneath the building that Chicago mobsters used to import liquor during Prohibition and that the upstairs once housed ladies of the evening and ... ghosts.
"I have never witnessed a ghost here," says bartender Kris Glassey. "I might have been inebriated and thought I heard something, but that was probably just the beer talking."
In recent years, the playfully-debaucherous Showboat Saloon has grown its selection of craft beers. The bar started with a single offering and, today, has 21 taps of local-to-rare craft brew offerings. The selection is constantly rotating and taps are a mere $2.50 on Sundays and until 6 p.m. Monday through Friday.
"During the day this place is very family oriented, but in the evening there's a switchover and then it's a party," says Glassey.
However, if booze is the party poison of choice, there are now two distilleries in the area – Dells Distillery in the Downtown Dells and Wollersheim Winery & Distillery about 30 minutes away in Prairie du Sac.
The Dells Distillery opened in 2013 and offers a Western-themed restaurant along with house-distilled vodka, whiskey, brandy and rum.
The Wollersheim Winery is certainly worth the short ride from the Dells – or the 90-minute drive from Milwaukee. Especially in August and September, when the grapes are ripe on the vines.
The Wollersheim story is fascinating. Although it all began with a Hungarian nobleman in the 19th Century, it has been owned and operated by the Wollersheim family since 1972. In 1990, the family purchased the Cedar Creek Winery in Cedarburg.
Today, the two wineries produce 240,000 gallons of vino that are available at both wineries, as well as in stores and restaurants across Wisconsin and Illinois.
A wine tasting and one-hour guided tour is available for $5 and the new distillery offers five samples also for $5. We learned a lot on the wine tour, but had some indecisiveness when it came to picking our favorite vino:
Dining in the Dells
There's a lot of good restaurants in the area, but here are a couple of favorites for those who won't need crayons with their placemats.
The Cheeze Factory, formerly The Cheese Factory, is a vegetarian / vegan restaurant that was opened 25 years ago as part of a the owner's spiritual path. Although it is staffed entirely by people who live by a Christian-based curriculum called "A Course In Miracles," they (thankfully) only serve delicious, dogma-free homemade food.
The 1943-built Del-Bar is a well-known supper club in the Dells today. The swanky-yet-casual bar and restaurant was designed in the Prairie style by a protege of Frank Lloyd Wright and offers classes and contemporary dishes. At the very least, stop in for an Old Fashioned or two. And ladies, be sure to visit the spic-and-span pink-tiled restroom that's 1950s perfection.
Ishnala restaurant, also a supper club, is just a few minutes beyond the Dells and just inside the gorgeous Mirror Lake State Park. Historically, Ishnala was a ceremonial ground for the Winnebago tribe until pioneer settlers purchased it in 1826 and constructed a log cabin trading post. In 1952, it became the stunning-yet-simple supper club it is today, featuring the original stone fireplace, log walls, giant pine tress that grow through the roof and an incredible view of the lake.
The winding road that leads to Ishnala is an adventure in itself with hundreds of acres of meadows and forest. Ishnala is winding up its 62nd season and is open every year from May 1 to November 1.
Gambling and golfing in The Dells
Without kids in tow, the casino is suddenly a solid entertainment option. Ho-Chunk, owned by the Ho-Chunk Nation of Wisconsin, is located in the town of Delton, between The Dells and Baraboo. There's also a hotel on site with more than 300 rooms. #cha-ching!
The Dells offer golfing options galore – weather permitting, of course and remember this: when kid free, it's time to tee. (Or something like that.)
Wild Rock Golf Club at the Wilderness is a champion course that offers 18 holes along landscape of woodlands, streams, sandstone ridges, iconic red barn, prairie grasses and amazing views to the Baraboo Bluffs. There's also the Woods Executive Course, a bit easier 9-hole course.
Trappers Turn Golf Club is also a championship course with 27 holes and a picturesque view of hills, woodlands and scenic water features.
Christmas Mountain Village Golf Course boasts an 18-hole Oaks Course or a 9-hole Pines Course. Both have gentle hills. Ho, ho, ho.
Cold Water Canyon Golf Course at Chula Vista Resort is a historic course. The first nine holes were built in 1923, and today, it's an impressive 18-hole course set among greenery and canyon fairways next to the Wisconsin River.
Spring Brook Golf Course is a beginner's course – or ideal for a quick outing – that features 9-holes on rolling terrain.
Fairfield Hills Golf Course & Range is also great for beginners and has 9 holes and the area's largest and longest practice range.

Molly Snyder started writing and publishing her work at the age 10, when her community newspaper printed her poem, "The Unicorn." Since then, she's expanded beyond the subject of mythical creatures and written in many different mediums but, nearest and dearest to her heart, thousands of articles for OnMilwaukee.

Molly is a regular contributor to FOX6 News and numerous radio stations as well as the co-host of "Dandelions: A Podcast For Women." She's received five Milwaukee Press Club Awards, served as the Pfister Narrator and is the Wisconsin State Fair's Celebrity Cream Puff Eating Champion of 2019.