As we close out 2020, we wanted to share some of our favorite stories from the last decade. We hope you enjoy reading these stories as much as we enjoyed telling them. Click here to see the rest of our picks of must-reads and happy new year, Milwaukee!
A new, rapidly growing organization in Milwaukee is working to give Latino employees in the food industry support, increased visibility and a platform to share their culinary stories.
In brief, the mission of Chef Latinos Wisconsin is to create a strong network of Wisconsin-based chefs which cultivates a community of learning, a mechanism to showcase their talents and a venue to give back to their community.
"We're coming together not only to cook and share best practices in the kitchen, but also to share our personal stories and struggles," says Chef Nicolas Ramos of Antigua. "Collectively we can also give each other advice on how to overcome struggles, or at least be there for more support."
"Like music, food is a universal language," he adds. "And we believe that behind every dish, there is a story to tell. We want to help voice those stories. We also want to showcase our family cooking traditions, our regional food, techniques, and all the things that make us unique."
Filling a need in the community
It's no secret that the American food industry is dependent on Latin American workers.
Before he passed, Anthony Bourdain spoke out on the topic, calling for increased recognition for the work of countless chefs, farmers and restaurant workers. "Despite our ridiculously hypocritical attitudes towards immigration, we demand that Mexicans cook a large percentage of the food we eat, grow the ingredients we need to make that food, clean our houses, mow our lawns, wash our dishes, look after our children," he said. "As any chef will tell you, our entire service economy – the restaurant business as we know it – in most American cities, would collapse overnight without Mexican workers."
Bourdain hit the nail on the head. Workers from Mexico, Puerto Rico and countless South American countries form the backbone of the food industry.
The U.S. Department of Labor reports that Hispanic and Latino workers comprise over 25 percent of the workforce in restaurants and other food service occupations. Add the numbers of those employed in categories like bakeries, food manufacturing and agriculture, and the number grows exponentially. Yet, despite an overall increase in diversity, fewer than 3 percent of the individuals nominated for James Beard Foundation awards between 1991 and 2018 have been Latin American.
The factors contributing to an overall lack of recognition have little to do with a lack of talent and more to do with a general invisibility. Workers, particularly those working behind the scenes, aren't readily recognized. It often takes more for Latino workers to move up the chain in kitchens, despite their often advanced levels of talent. Their struggles in kitchens often go unnoticed and their voices unheard. Meanwhile, media has only begun to adequately cover Latin cuisine in a meaningful way, offering insights into the subtleties, nuances and diversity of Latin American culture.
In short, there's quite a long way to go before the culinary world offers adequate representation – and support – for the fastest growing population in the U.S.
Humble beginnings
Chef Latinos Wisconsin began with a fortuitous conversation between Ramos and his colleague Erasmo Guerrero at a meeting of the American Culinary Federation (ACF)
"I met Chef Erasmo through the ACF," says Ramos. "We bonded since we were the only ones who looked like one another in the room, and over time, we got to know one another."
As time wore on, they recognized the value of their newfound collegiality and began to talk in more depth about ways to expand their circle to include other chefs.
"We began to recognize that there are so many of us who want to connect," says Ramos. "From there, Facebook became our playground, and we began to reach out to one another. Eventually, we began meeting informally. And the group grew from there."
"We want to create a network so that we can be resources to one another, help people in the community to find good jobs, provide training," notes Chef Martin Magaña, who says he's been leveraging his connections from past work in Madison to identify other chefs who might be interested in joining the organization.
"This group is a safe place for all of us," says Ramos. "So many of us are in the background and have no voice. In some cases, our English might be broken, but there's a desire to learn. When you see familiar faces, it's easier to reach out and ask for help. We want to be that safe place where people can go with their struggles and find support."
Currently, the group includes as many as 40 or 50 chefs, says Ramos, with an active core group of eight to ten chefs. They're all from different places. They have different culinary stories. But they're all committed to coming together to share their knowledge and move the industry – and their Latino community – forward.
Chefs Latino Wisconsin hosted their first collaborative dinner and auction on Aug. 17 at St. Adalbert Church, 1923 W. Becher St. The event, which was attended by 350 people, raised funds to support the work of the parish and its school. The event featured a buffet of Italian dishes created by numerous local chefs from the organization as well as desserts prepared by Chef Ivan Fernandez, the pastry chef at Lambeau Field.
"Each of us has a unique set of skills," says Guererro. "And when we work together, we capitalize on that. For example, Chef Oscar [Vega] has a lot of management skills, so he spent time training all the volunteers that worked at the dinner. At the same time, he was communicating with us in the kitchen."
"You would think that being cooks and leaders in kitchens that there would be bumping heads," says Magaña, "But our event was really like a ballet. Everyone danced and nobody's toes got stepped on. Everyone did their jobs and they did it very, very well."
"There's so much talent in kitchens around the city," adds Chef Luis Corona. "I started as a dishwasher. I didn't know the language. There are a lot of people out there like me working behind the lines at kitchens. We have a big responsibility … to our community and to one another."
Meet some of the chefs
Ramses Alvarez
Native of Mexico City
Executive chef, Hyatt Regency Milwaukee
Growing up, Alvarez took inspiration from his godfather who worked as a chef in Mexico City. From there, his passion grew. When he came to Milwaukee in 1999, he did so to gain more experience and better training. To that end, he sought out positions in a broad range of restaurants, from gastropubs to fine dining. His career, which spans nearly two decades has included work with Chef Sandy D'Amato at Coquette Cafe and Sanford, along with a variety of positions in kitchens including Lake Park Bistro, La Merenda, Mason Street Grill and Water Street Brewery. Alvarez also provides services as a personal chef.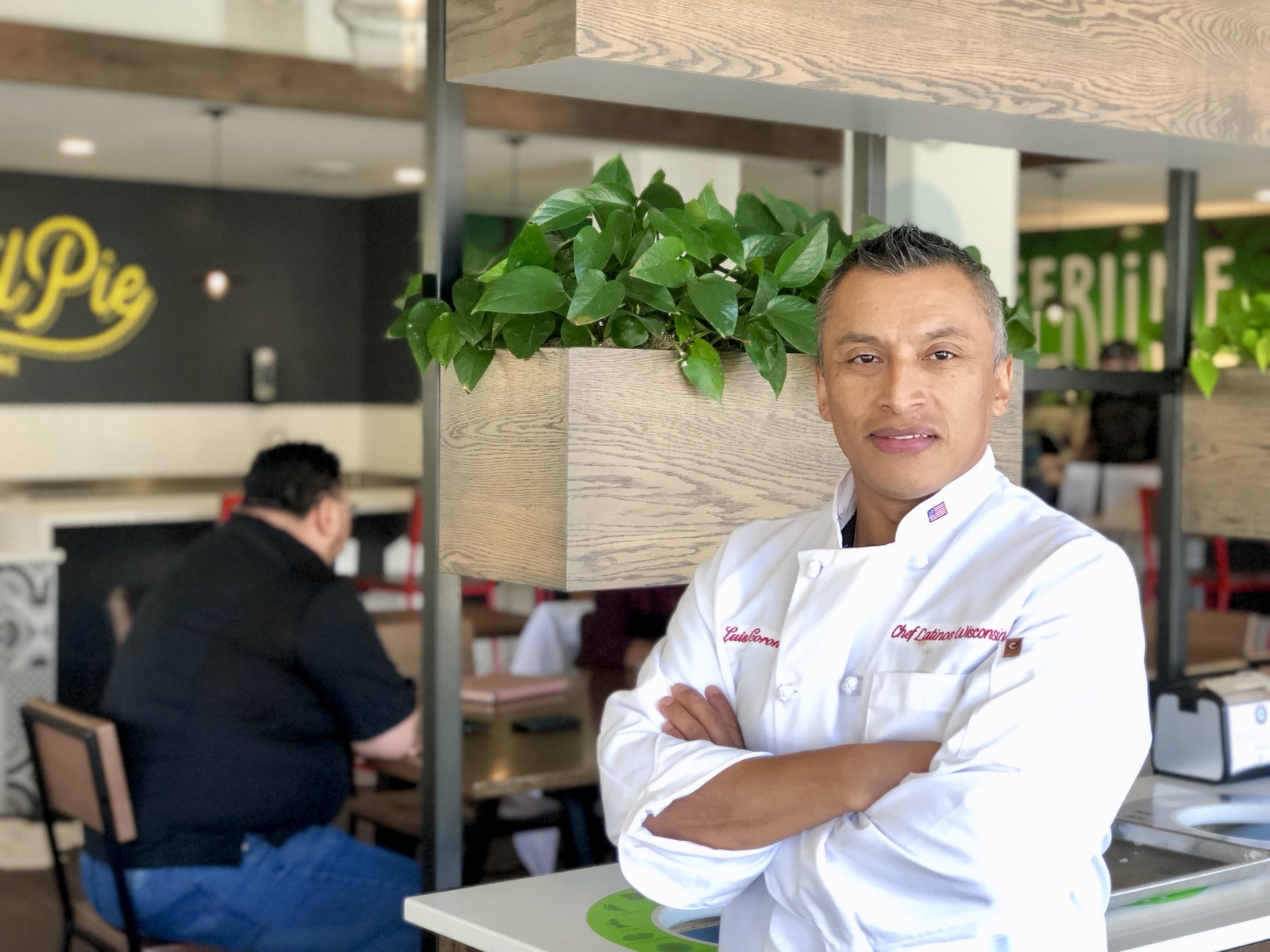 Luis Corona
Native of San Luis Potosi, Mexico
Dining director and head chef,
Hart Park Square Senior Community
Corona was born and raised in Mexico, but moved to the U.S. at the age of 17. He learned to cook from his mother, who emphasized the practical aspects, telling him: "In case your wife gets sick, at least you'll know how to cook an egg." He never imagined that cooking would eventually become his greatest passion.
But when he moved to the U.S., he found sustaining work in the restaurant industry. Like so many, Corona began his career as a dishwasher, working his way through the ranks and developing a love for the work.
"The kitchen is one of my happy places," he says. "And there's nothing more beautiful than combining cultures in a dish … because even in a dish, there are no borders. God has surrounded me with the right people and the right places to be where I am now. I feel blessed and grateful that God put this talent in my heart and hands to serve so many. And this is not over yet. There is still so much learning and cooking to do on my journey."
Arnulfo "Peanut" Gonzales
Native of Milwaukee, South Side
Event chef, Good City Brewing
Gonzales discovered his passion for food while spending time in the kitchen with his mother, Chef Juanita Gonzales. Years later, he loves creating elevated versions of dishes that remind him of those experiences cooking with his mother.
Like so many, he began his career in the restaurant industry as a dishwasher. There, he gleaned an inside look at kitchen operations and an intimate knowledge of the struggles experienced by staff. To this day, his favorite quote is one from Anthony Bourdain: "Everything important that I learned, I learned as a dishwasher."
From there, he worked his way through the ranks, gaining experience as a server, host, cashier, bus boy, fry cook, prep cook, sous chef, head cook and executive chef. In his spare time he enjoys giving back to the community and does so through his work with Chef Latinos Wisconsin and the Milwaukee Rescue Mission. Gonzales says he has a strong desire to continue advancing his level of community involvement and philanthropy, as well as sharing his craft with young chefs as a way to give back to an industry that has given so much to him.
Erasmo Guerrero
Native of Aguascalientes, Mexico
Banquette sous chef, Potawatomi Hotel & Casino
Chef Erasmo Guerrero has over 20 years of experience in the hospitality industry. Prior to taking his position at Potawatomi Hotel & Casino, his work has included positions in a variety of country clubs and hotel restaurants. He is a member of the ACF and co-founder of Chef Latinos Wisconsin. Guerrero's son Gerardo, who works as a Lead Cook at Fiserv Forum is also involved with the organization.
Marco Lezameta
Native of Lima, Peru
Sous chef, Anmol
Lezameta emigrated to the U.S. from his home in Peru when he was 11 years old. He'd grown up watching his mother cook, and he was mesmerized by the smells and flavors that came from her kitchen. Like many children, he wasn't a fan of vegetables; but he says he had hope that one day he would be able to make them taste better.
In his early twenties, Lezameta took his first restaurant position as a dishwasher at an Indo/Pakistani restaurant. The position piqued his interest in the restaurant industry and he pursued training under an experienced executive chef who believed in his potential and saw something in him that no one else had. After four years of blood, sweat and tears, he was able to take over as head chef. From there, he pursued additional work in a variety of restaurants as well as education and certification to assist him in his work.
"I love what I do," he says, noting that he's been lucky to have had both the instruction and support system to allow him to be both creative and successful. "My career as a chef has allowed me to make a decent living and take care of my family. It has allowed me to do so much, meet wonderful people, push my creativity to the fullest and I couldn't be happier. My 14-year-old now wants to follow in my steps, and that drives me to teach him all I can about this industry and be a great example to him."
"If anyone asks me what sparks my passion,"he adds, "I will always say my family. They are the ones who keep me motivated to be a chef."
Martin Magaña
Native of Mexico City, Mexico
Executive chef, Tess
Chef and co-owner, Frida
Magaña moved to Milwaukee 17 years ago. His work in the restaurant industry began with a dishwashing position, progressing from there.
Although his cooking reflects many influences – gleaned from work in both Madison and Milwaukee – his roots remain devoted to Mexican cuisine and his dishes often layer classic technique with modern flair.
Magaña says he would not consider himself a chef. If you ask, he'll point to the fact that he never attended culinary school, nor does he have a degree. He will, however, admit to an incredible passion for food and cooking. And that, combined with his skill in the kitchen, makes it a title well earned.
Maritza Paz
Native of Iquitos, Peru
Chef and owner, Chef Paz
Paz's passion for food was birthed in her home kitchen, where she cooked with her mother (also a chef) from an early age. When she graduated from school, Paz followed in her mother's footsteps, pursuing a career in the restaurant industry in Peru before emigrating to the U.S. in 2001. Here she continued to expand her skills through work in a variety of restaurants as well as consulting in cities including Miami, New York and Madison. In 2012, she opened her own restaurant in West Allis, where she shares her love for Peruvian culture and traditions through food. Today, Chef Paz not only runs her restaurant in Milwaukee, but operates two restaurants in Peru, with a third on the way.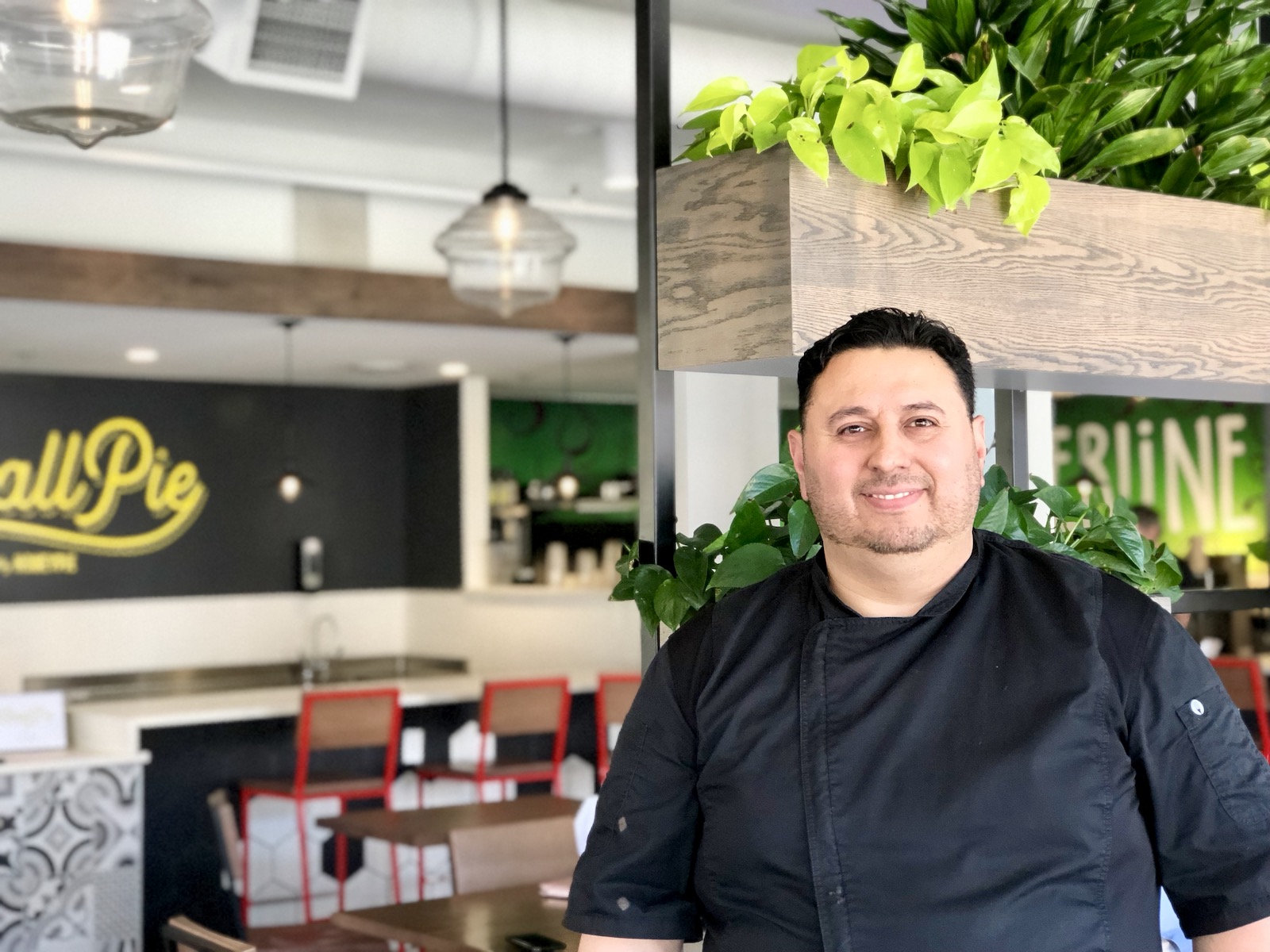 Nicolas "Nico" Ramos
Native of Queretaro, Mexico
Chef and owner, Antigua Latin Inspired Kitchen
Ramos is a Mexican native who moved to the U.S. at a young age. If you ask, he'll say that he considers Wisconsin to be "home." Ramos and his wife Citlali Mendieta-Ramos opened Antigua Latin Inspired Kitchen in 2006. Together, they've established a business that includes a dine-in restaurant, full-service off-site catering, product development and a food truck (Lola's Empanadas) which serves at area special events.
Chef Ramos loves learning, sharing and collaborating. He's been active in a variety of organizations over the years including ACF, an organization which has honored him with a number of awards including Chef of the Year in 2017. Currently, Chef Ramos is focusing on establishing Antigua as one of the best Latin restaurants in Wisconsin.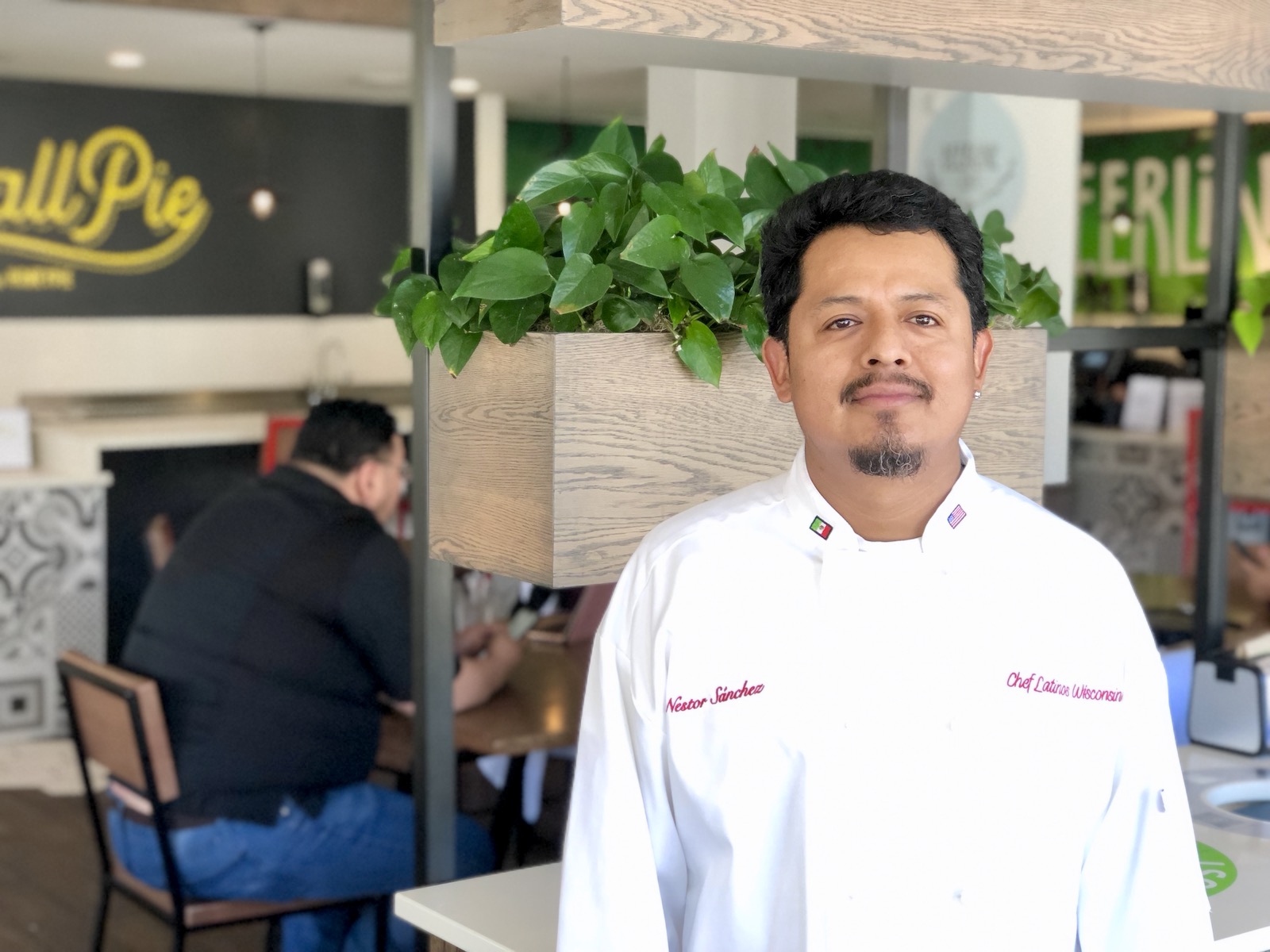 Nestor Sanchez
Native of Oaxaca, Mexico
Line cook, 5 O'Clock Steakhouse
A native of Oaxaca, Mexico, Sanchez found his passion for culinary arts from an early age, working his way through the ranks of restaurant kitchens from dishwasher to executive chef. Over the years, his experience in Milwaukee has included work with the Wisconsin Club, the Hilton, SURG Restaurant Group, the Milwaukee Club and the Milwaukee Athletic Club where he earned Hospitality Board Magazine's Platinum Club Award
Nestor says that his passion is making every dish a memorable one, using both locally sourced and global ingredients and creative presentations.
Oscar Vega
Native of Irapuato, Guanajuato, Mexico
Executive chef, Angry Taco
Vega's culinary career began in Mexico at the age of 16. After moving to the U.S., he says he fell even more in love with cooking and pursued work with a variety of accomplished chefs. Over the years, he made the decision to return to Mexico to complete his culinary degree. When he returned to the U.S., he expanded his knowledge through work in a variety of restaurants.
"We are blessed to work in the most amazing industry," Vega says. "Cooking is an act of love and care and when I cook, I cook from my heart … and my stomach because I love food. When I cook I share my passion, my culture, my best memories, and my praise of where I come from. Through food, we are able to transport people to a specific time and place. When they remember that meal that their mom or grandma used to make for them, we are also able to create new memories, share special moments and touch peoples' lives. That is why I love doing what I do. Cooking is my passion. It's my life."
Get involved
Despite its name, Ramos says that Chef Latinos Wisconsin is open to any food industry employees who wish to take advantage of the support, training and initiatives managed by the group, as well as the charitable work with which they are involved. In fact, he says, they hope to leverage their connections to expand the organizations to include Latino chefs and industry professionals from across the state.
"We're still in the beginning stages," says Lezameta. "But we're looking for opportunities to really come together to make a difference."
Industry employees who are interested in getting involved with Chef Latinos Wisconsin can reach out to the organization through Facebook or by email at cheflatinoswisconsin@gmail.com. Community members who are interested in supporting the organization and keeping up with community events can follow Chef Latinos Wisconsin on Facebook.
Lori is an avid cook whose accrual of condiments and spices is rivaled only by her cookbook collection. Her passion for the culinary industry was birthed while balancing A&W root beer mugs as a teenage carhop, fed by insatiable curiosity and fueled by the people whose stories entwine with each and every dish. She's had the privilege of chronicling these tales via numerous media, including OnMilwaukee and in her book "Milwaukee Food." Her work has garnered journalism awards from entities including the Milwaukee Press Club.
When she's not eating, photographing food, writing or recording the FoodCrush podcast, you'll find Lori seeking out adventures with her husband Paul, traveling, cooking, reading, learning, snuggling with her cats and looking for ways to make a difference.