Check in early and stay late during OnMilwaukee's "Hotel Week" sponsored by VISIT Milwaukee. These seven days will be packed with stories about historic area hotels, reviews, history, food and drink, staycations and more. Find out what it's like to be a tourist in this town. (Chocolate on your pillow not included.)
When I was asked to participate in OnMilwaukee's Hotel Week, I was ecstatic. Interns never get to do cool stuff, but not at OnMilwaukee! (If you are young college student, this is not an invitation to apply! I don't need competition for my job).
I was asked to review the Courtyard Marriott. I was surprised I wasn't assigned to check out The Pfister for a night, but for a college student who obviously lives in squalor, the Marriott might as well be The Pfister.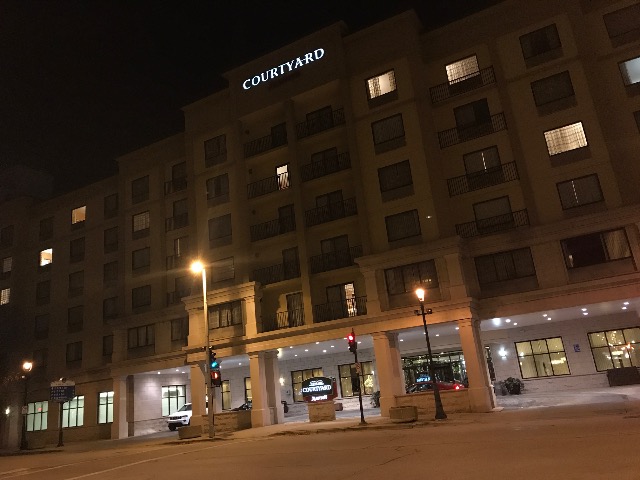 The Marriott is located in the heart of Downtown Milwaukee at 300 W. Michigan St., which is the perfect location if you are on business or just visiting Milwaukee, sitting right in the heart of the city's hustle and bustle. Of course, I am neither a business man nor a tourist new to Milwaukee, but Marriott's prime location is also perfect for staycation, offering everything a millennial could wish he could afford within reach.
Upon entering the hotel (if you bring a car for your stay at the Marriott, you can use the valet for $27 or park it yourself for $22), you are greeted by a lobby with pleasant modern décor, featuring with several booths and benches for casual conversations and relaxation. On the opposite side of where you enter from, the Marriott has a bar called The Bistro that serves beer, cocktails, soups, salads and sandwiches, as well as hosts its breakfast in the morning. However, the Bistro is more of a place to grab a quick drink or bite to eat rather than a place to hang out at – maybe more of a place to crash after you leave your nearby nightlife hot spot for the evening, but you're not quite ready to call it a night.
As for other amenities, the hotel also has a pool and hot tub that stay open until 11 p.m. as well as a fitness center that is available 24/7. The latter was a particularly welcome amenity given the fact no student housing at my alma mater has a pool, much less a hot tub.
Checking in is a breeze, and the staff was friendly and helpful as they explained the ins and outs of the hotel. As for the actual room, the Marriott features options with balconies, suites or regular rooms, complete with two queen beds or one king size bed. I took the king size bed, which proved to be extremely comfortable. As for the rest of the room, the area was spacious with a couch, a desk and a nice big TV that had the ability to sign into your Netflix account. On the nightstand next to my bed, there was also an iHome speaker. However, the speaker was only equipped with a jack for an iPhone 4 or lower, which I'm pretty sure went extinct.
If I'm being honest, though, the best part of the room was a clean bathroom, which as a college student living on campus, I have not had the pleasure of experiencing in a long time.
Being Downtown also meant that I had all of Downtown's dining choices, meaning I could eat at a real restaurant instead of fast food or an averagely cooked meal fresh out of the microwave. In my case, I took a quick ten-minute walk straight down Michigan Street to the Swingin' Door Exchange. This tucked away Downtown gem has pleasant old-school feel and is a great spot to catch a game – essential to keep up with the alma mater's teams – while also catching a bite to eat.
I started off my dining experience off with the KT Buffalo Chicken Dip, which delivered the perfect blend of spice and flavor. For my main course, I enjoyed the half-pound Angus cheeseburger and French fries, washing everything down with a draft Lakefront Riverwest Stein.
Overall, I had a great staycation at the Courtyard Marriott. It is impossible to beat the location, and anything I wanted to do in Downtown Milwaukee was right there. The only downside: I had to return to my typical college student life the next day.