Check in early and stay late during OnMilwaukee's "Hotel Week" sponsored by VISIT Milwaukee. These seven days will be packed with stories about historic area hotels, reviews, history, food and drink, staycations and more. Find out what it's like to be a tourist in this town. (Chocolate on your pillow not included.)
I'm a sucker for a hotel that feels cool and cozy all at the same. And the new Westin in Downtown Milwaukee accomplishes just that.
Milwaukee's very first Westin, nestled behind the towering U.S. Bank building on Van Buren Street, is a welcoming, bustling hotel with a sleek vibe and a warm heart. The hotel's design draws inspiration from the Native American meaning of Milwaukee – a gathering place by the water – and focuses on well-being.
Does it ever!
When entering on the street level, cool tones and even cooler music greet you and beckon you to the third floor that is the hub of this hotel. Natural light floods the hotel's lobby, restaurant and guestrooms, while also offering dramatic views of the city and calling you to sit and bathe in the feels. On my Friday night stay, there were wedding parties, families, business travelers and more filling the space with an energy you don't have at all hotels.
The lobby serves as the extended bar area for the you-must-try restaurant Stella Van Buren, and it was a hopping place to be on a frigid fall – OK, early winter – night in the city. People were nestled in open booths, relaxing in front of fireplaces and checking out the beautiful garden wall that really brought a touch of nature to the space.
The new hotel features 220 guest rooms and suites, and stunning views overlooking Lake Michigan and the Downtown skyline. Almost half of the rooms offer an unparalleled view of our lovely lake. I was lucky enough to enjoy a deluxe lake view room that provided a serene lookout over Lake Drive and the Discovery World Museum on one of the first blustery nights of fall.
The room was typical for my experiences with Westin: a true delight. The Westin "Heavenly" bed, a curved and stylish working area, luxurious bathroom and your typical hotel standards provide a comfortable and classy home away from home.
Outlets galore, a fridge for late night leftovers, a pull out couch for guests that have one too many and room floor access to only those with keys were just a few of the things that made me feel right at home and safe. A flat-screen offered up access to stream Netflix, Hulu and more along with cable access to channels such as HBO. Quiet floors were available for those wanting a quiet atmosphere, which is always appreciated. If I'd brought along a canine friend – which the hotel does allow – they'd have gotten their own "Heavenly" puppy bed, too.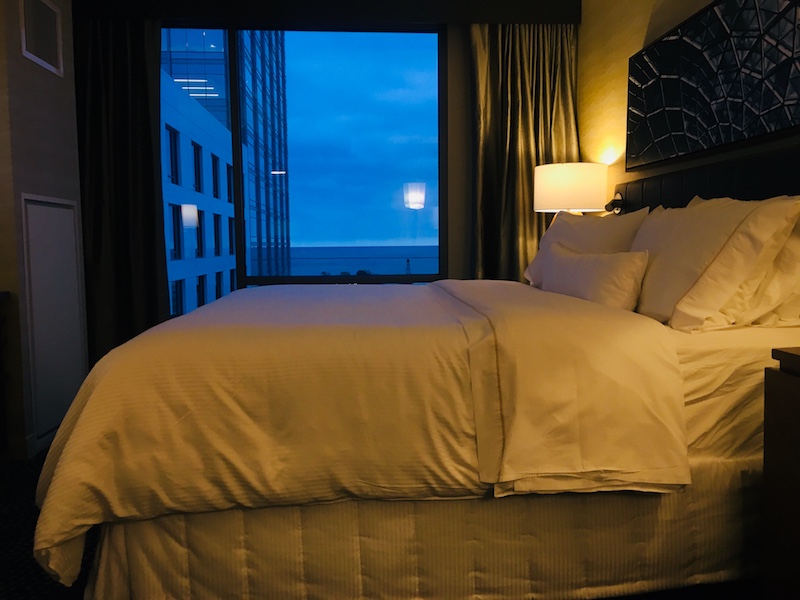 The Westin Milwaukee focuses on well-being, so I took that to heart for my girls-night-out staycation. Eating is part of that, right? As I mentioned before, old man winter could be felt full force on this night in Downtown, so I was grateful we had dinner reservations right at the hotel in the Italian-American steakhouse Stella Van Buren.
Our editorial team has long talked about a list of places that "don't feel like Milwaukee" for a piece (don't steal that idea!) and Stella is on it. It is a very large decadent feeling space that somehow stills feels warm and comforting. The bourbon selection may help – but so does the entire bar wall, bathed in soothing yellow and gold tones highlighting the expansive options to choose from.
When you visit during the day, the space is filled with natural light and is a delight to sit in. There are billowy curtains, creamy seat coverings and dark wood tones that call out my name, and floor to ceiling windows look out over our beautiful city. But evenings at Stella offer a different feel and I loved it. Cozy buttery leather chairs, candlelight and a view up Van Buren of city lights through the huge windows is sensually stunning. I mentioned cozy, which is important because I feel Stella is a comfort food restaurant.
Our group of four lovely ladies started out our indulgent dinner with tasty black truffle garlic bread knots, to-die-for burrata bruschetta, parmesan truffle potatoes and arancini – cauliflower risotto bites. When I say to-die-for bruschetta I truly mean just that – just get it. The crispy parmesan potatoes were a surprise hit with our group who couldn't get enough of potatoes themselves, but also the truffle aioli that came with them. A bottle of bubbly got us started, and we stayed with prosecco all dinner long.
There are a great selection of entrees at Stella that vary from homemade pastas, seafood, steaks and crispy salads. And they don't disappoint. A grilled shrimp and avocado salad was the perfect plate with asparagus, a gentle white balsamic, clementines and crispy shallots. Another shrimp dish that shined? The spicy Gulf shrimp spaghetti that married heirloom tomato, basil, parmesan, garlic and hot pepper oils.
Our entrees were rounded out with perfectly poised cheese ravioli and Mediterranean branzino – a rare Milwaukee menu option. The ravioli was light and fluffy with hints of pesto butter, toasted pine nut and grana padano. Entrees are served a la carte, so we added roasted mushrooms, brussels sprouts and the best damn sweet potato au gratin ever as our sides.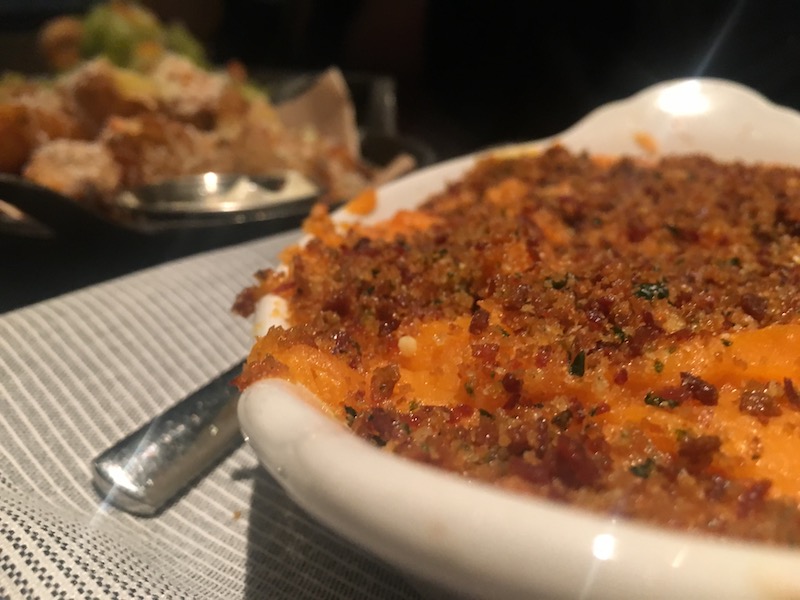 We chose a selection of gelato for our dessert, along with dessert drinks such as coffee and Bailey's. Service in the restaurant was spot-on, and our waitress and support staff was attentive, talkative and engaging. They were knowledgeable about Milwaukee – which I always look for and appreciate in a hotel environment.
We headed north in the cold just in time for things to get hot at Plum Lounge at 780 N. Jefferson in the Cathedral Square neighborhood. The fire-filled front patio, a blueberry hookah and cocktails made for the perfect ending to this girls night out.
With the morning sun came another glorious lake view and an exploration of the hotel's dedication to well-being. The gym is outstanding and guess what – if you neglect to pack your workout wear, it isn't an issue. At the Westin, they help you keep moving by providing the latest New Balance workout gear delivered right to your room for just $5 for use during your stay, so you can pack light and stay fit. Literally.
Then, you can head on down to the WestinWORKOUT room and maybe a ride on Peloton? Westin has a first-of-its-kind partnership that allows you access to the new Peloton commercial-grade bike. You can even take a live studio cycling class from it without ever having to leave the Westin.
If you are looking for something beyond the bike or gym, Westin still has offerings that you should consider. Book the "Move Well Milwaukee" package and take in a Yama Yoga class just a few blocks walk in the Historic Third Ward. When you return you can keep the zen going with a Superfood smoothie from The Juicery – a Westin must-try.
If the smoothie isn't quite your game in the morning, no worry. The bar at Stella Van Buren is transformed into a mini-cafe where you can enjoy Starbucks coffee, lattes, pastries and more. Or, you can walk right down a skywalk to Colectivo or even Bartolotta's Downtown Kitchen if you want to explore for something more.
My only wish is the Westin had a spa … but luckily for us, the Well Spa at The Pfister Hotel is just a few short blocks away. You haven't fully lived till you've experienced the Hammam steam shower with mud treatment. Go try it. Really.
Then head back to the lovely Westin and partake in brunch at Stella. The brunch menu is expansive, and you can end your girls-trip with one of the best brunches in town. I know I did.
Carolynn Buser is one of Milwaukee's loudest and most adamant cheerleaders (don't dare try to disagree). She's the primary voice behind much of OnMilwaukee's social media and content direction, and apologizes in advance if she can be too sarcastic at times.
What else? She's a wine lover, closet trashy novel reader, beauty supplies addict and devourer of cheese (shocker for a Wisconsin born and bred girl, right?). She's also a bit of a foodie, which is a word most of you hate, we know. She works as hard as she plays - and that includes in the gym! So, you've probably seen her at one of the area's newest restaurant openings (and yes, she will share her opinions good or bad) or enjoying a cold one at a local pub.
All in all, Carolynn's a believer in positive thinking and will do her best to smack down your negative ones while writing about her city, her loves, quests and more.