Check in early and stay late during OnMilwaukee's "Hotel Week" sponsored by VISIT Milwaukee. These seven days will be packed with stories about historic area hotels, reviews, history, food and drink, staycations and more. Find out what it's like to be a tourist in this town. (Chocolate on your pillow not included.)
'Tis the season for honesty and being good, so I begin with a confession: I'm not much of a believer in staycations. Not that there's anything wrong with them, I just have a hard time feeling relaxed and carefree on a supposed vacation when I'm walking past the same places I drive past every day on the way to work, my office windows looming over my supposed "getaway" like the eye of Sauron haunting me with thoughts like, "Hey, don't you have an assignment due Monday?" Is it really a getaway when you've only gone a block away?
And while I'm also opening up, I'm also not a believer in celebrating Christmas before Thanksgiving. It's disrespectful to Thanksgiving, a perfectly lovely holiday in its own right, but more importantly, a month of Christmas fever is just too much. By the time the day actually hits, you've heard "Wonderful Christmastime" 761 times, and you're tired of it – and everything Christmas. My significant other forced me to put up our apartment's Christmas tree two weeks before Halloween, and it's the worst thing I've done this year – and I saw "Fifty Shades Darker" TWICE.
So guess what I found myself doing Thursday night? That's right: It's Christmas in November, taking a vacation close enough to my workplace that I could've parked in our usual lot. And now, one final confession: It was a night that made me a believer.
For my Hotel Week piece, I was dispatched to the Residence Inn by Marriott located across the street from the Riverside at 648 N. Plankinton Ave. I've walked past this building dozens of times, whether headed to or from work or a concert, but Thursday marked my first time actually entering the place, one that I always assumed was just a really, really, ridiculously oversized Planet Fitness.
Spoiler alert: It's not.
Arriving in the entrance rotunda and walking into the lobby – parking is a bit cumbersome, requiring driving all the way around the block to get into the secure underground lot, but to be expected considering the location – I was met by a surprisingly modern entrance, black and white walls and furniture decking out the cooly clean space. If you're looking for the desk, however, you'll need to head into the ACTUAL hotel lobby; this entrance is for the entire building itself, which also holds ASQ, City Year, VISIT Milwaukee, Mid-America Real Estate and, yes, a very large Planet Fitness.
But it also holds the Residence Inn Downtown Milwaukee and its ACTUAL lobby, an extremely welcoming one that looks just a touch different than the usual blandly comfortable entrance. The impressive stone staircase would serve typically as the center of attention, but instead, the highlight comes in the common area, where a large mural tells the building's legendary history as Gimbels/Boston Store – a history I'd always heard but never truly knew or felt until walking through its former glory. You read the history, but you rarely ever take the time to realize it's just a few steps away – and still alive and elegant.
And in case that wasn't enough to recalibrate my expectations for the night, the lobby desk staff was exceptionally welcoming and polite – and there was a cozy apple cider bar! Consider this Grinch sufficiently holly-jollied
If I wasn't in a festive mood by then, the room certainly would've done the trick. The fifth floor suite was massive, fully equipped with a whole kitchen – complete with a full-sized fridge, oven, stove, dishwasher and tons of shelving. I could've lived comfortably in there all the way until Christmas actually hit. The living space was just as pleasant and abundant, with not one but two bedrooms and bathrooms – perfect for in case the pillows in one bed were no longer fluffy and cool, and I needed reinforcements – as well as a spacious and sleek living room, complete with gigantic windows viewing out over the city, reaching from the top of the high ceilings to the floor.
Due to those very lofty ceilings, leftover from its department store days, it's more immensely spacious than immensely cozy, but it'd still make the perfect stay for a family – or for, say, an entertainment writer wanting plentiful room for his holiday night of respite. Plus, those huge windows meant huge glamorous curtains that brought out my inner diva.
But after getting a lay of my massive room, it was time to bring out my inner Who from Whoville, get into the Christmas spirit and head down to the official Milwaukee Christmas tree lighting. So I walked out the Residence Inn's back exit – which conveniently leads right onto Downtown's recently award-winning Riverwalk – and headed over to City Hall.
After a brisk five-minute walk, I arrived at the festivities and immediately felt warmer – and not just because of the tiny but tasty shot of Colectivo hot chocolate handed out for free along with delightfully decorated gingerbread cookies. It was seeing kids young and old lining up to take photos with a reindeer, along with a Santa Claus sitting in his festive perch – but also leaving it to sit closer and at the level of a young child stuck in its stroller. It was seeing proud parents and a happy Milwaukee community listen to the sounds of a large children's choir singing holiday classics to the crowd. And it was seeing Mayor Tom Barrett flipping the switch on the lights to the big, beautiful tree with the help of several young kids pulled right out of the crowd. For 30 wonderfully festive minutes, I was almost convinced we were a week from Christmas, rather than a week from Thanksgiving.
After a quick stop at Starbucks for some liquid warmth to go with my newly warmed heart, I made my way to part two of my Christmas in November: the Holiday Lights Festival, hosted at Pere Marquette Park. Unfortunately, by this time, the once merely brisk weather began to get legitimately chilly, but the live entertainment – from adorable child dancers dancing perfectly imperfect to "Let It Snow" to Jenny Thiel, Lex Allen and others ably crooning Christmas classics – kept things cozy. Plus, WISN 12 morning hosts Andy Choi and Melinda Davenport – with Santa's help – thankfully turned on the glowing holiday scenes a little bit earlier in the evening.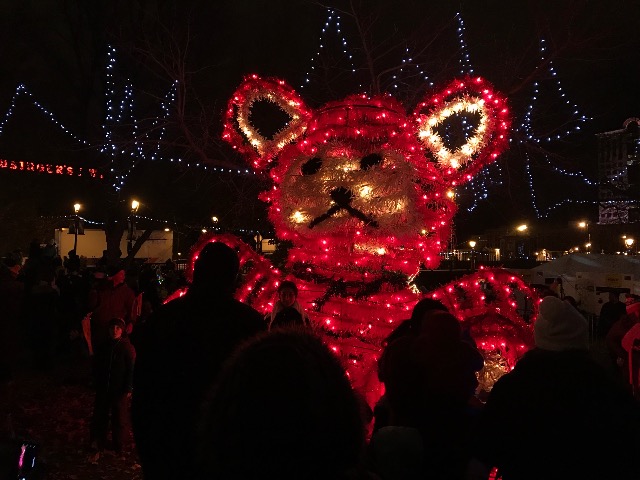 My heart now full with holiday joy, it was time to fill my stomach at The Rumpus Room. The warm gastropub atmosphere definitely matched the night's vibe and so did the classed-up pub eats, including addictively chewy cheese curds and a perfectly cooked, meaty pub steak with satisfyingly crunchy and crispy onion rings. The only part of the meal that was more naughty than nice was the price, which felt high – more like a low-end steak house bill than a comfort pub food bill. Comfort food shouldn't kill your wallet – and if it does, it better be spectacular. The Rumpus Room was merely just very good.
Still, we arrived back at the Residence Inn with bellies full of food and hearts full of cheer. When I looked out one of the room's gigantic windows before going to bed, my focus was no longer my office building lording over my night, putting an emotional leash on my staycation. Instead, it was the fifth-floor view up Plankinton Avenue, marveling at the tops of the old Milwaukee buildings that I never particularly noticed at ground level while driving another day to work, all leading toward the new Bucks arena. The past and the present, all leading toward the future – while timeless Christmas music echoed in my ears.
Perhaps you can discover a lot about your city – and yourself – on a getaway hosted barely a block away.
As much as it is a gigantic cliché to say that one has always had a passion for film, Matt Mueller has always had a passion for film. Whether it was bringing in the latest movie reviews for his first grade show-and-tell or writing film reviews for the St. Norbert College Times as a high school student, Matt is way too obsessed with movies for his own good.
When he's not writing about the latest blockbuster or talking much too glowingly about "Piranha 3D," Matt can probably be found watching literally any sport (minus cricket) or working at - get this - a local movie theater. Or watching a movie. Yeah, he's probably watching a movie.