The Great Milwaukee Summer is HERE! Your guide to what you'll be doing, where you'll be drinking, who you'll be hearing and how you'll be getting a sweet tan this summer is on OnMilwaukee. The Great Milwaukee Summer guide is brought to you by Educators Credit Union and Harley-Davidson Museum.
As a new viewer to crit racing at the Kwik Trip Tour of America's Dairyland, it can be difficult to understand what's happening when an amorphous chunk of cyclists fly by at top speed, clad in similarly colored clothes, with helmets and sunglasses screening many of their recognizable facial features. And often, when you finally start to recognize someone in the field, they zip out of view and by the time the group makes it back around the block again, they will have been moved like clothes in a washing machine into a completely different position at the opposite end of the field.
Sometimes a rider will make it a little easier to pick them out of the crowd when they separate themselves completely and break away off the front, but it's a tough ask to stay out there on their own, and often isn't long before they're swallowed back up by the chasing group.
Here is a newbie's guide to understanding crit racing.
What is crit racing?
To start, bike racing has many competitive families that are designed to showcase and celebrate a variety of bike racing skills, from short-term power to long-term endurance to bike handling abilities to sheer guts. These families include road, mountain, cyclocross, track, BMX and more. Within those families there are a myriad of genera; for instance, road racing can be broken down into stage races, grand tours, one-days, criteriums, time trials, ultra-distance and more. And even these subsets can be divided further into niche specialities.
But since we're talking ToAD, we're talking criterium, or crit racing (the preferred nomenclature). Crit racing is a short-form, multi-lap road race within a closed, looped course. It's a first-to-the-line-style race; winners are decided after the final lap, when the first rider's wheel crosses the finish line and is awarded the most points to becomes the winner on the day. Each subsequent finisher earns fewer and fewer points.
Since ToAD is a multi-day crit racing series (the longest one in the country, in fact) racers can accumulate points across multiple days. They can participate in as many or as few races as they want, but the more they race, the more points they can earn, until finally, on the last day, the person with the highest point total becomes the overall series winner.
Adding a little extra spice to the mix, this year ToAD is also part of another new-ish series called the American Criterium Cup. So at the same time that riders are earning points in the ToAD series, they will also be accumulating points in this completely different national race series, which spans six months and 10 different states. This year the Giro d'Grafton (Day 3 of ToAD) is also Day 4 of the American Crit Cup.
Cats (hold the kittens)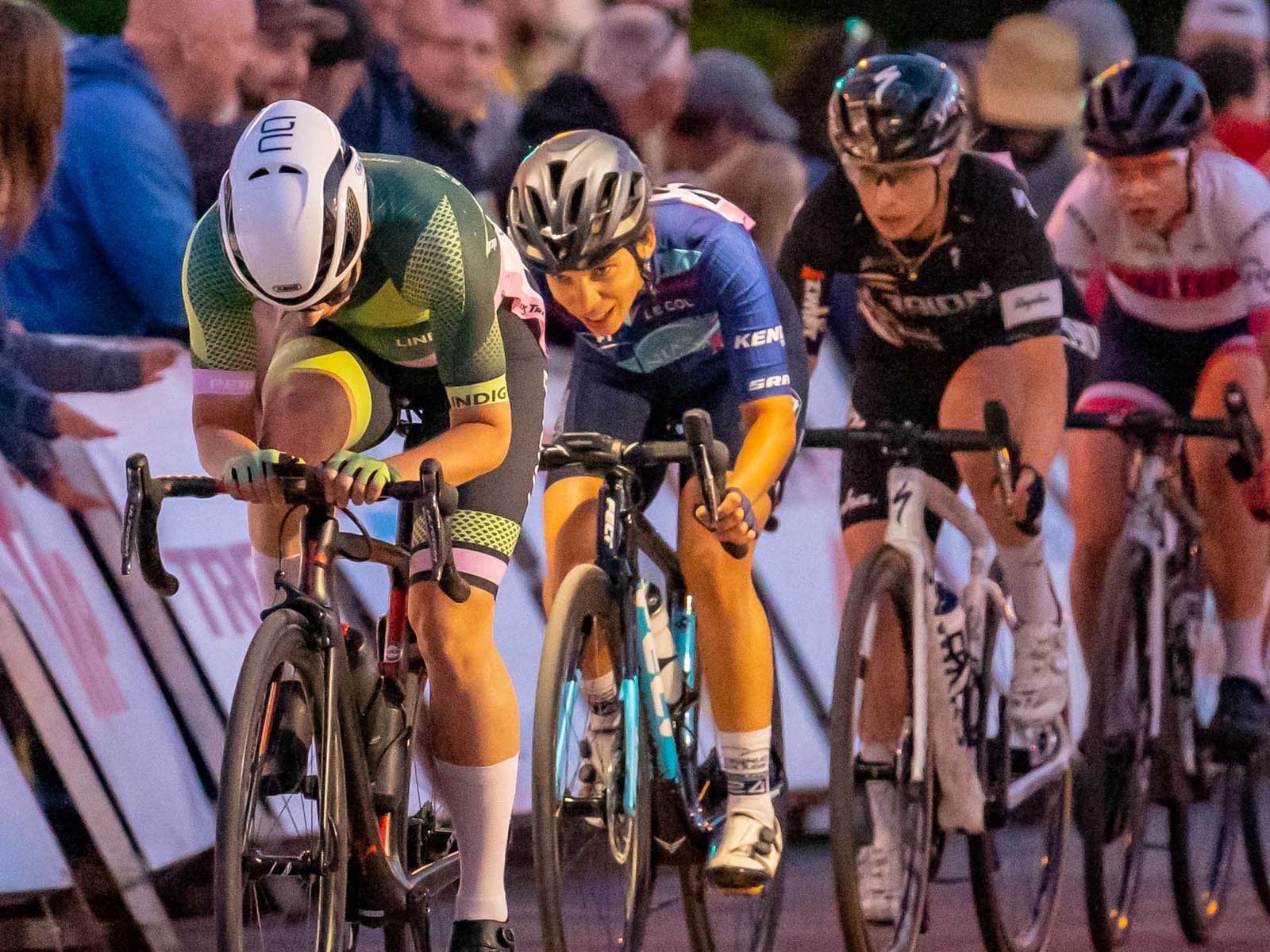 If you look at the daily schedule, you'll notice that there are opportunities to race for almost all ages and skill-levels throughout the day. The races earlier in the day are open for junior races, adult novices (starting at Category 5, or Cat 5 for short) and seasoned or up-and-coming amateurs (Cat 4 and 3). The more experience a racer has, the further they will progress up through the Cats.
At the end of the day the Cat 2, 1 and Pro racers ultimately take to the streets.
The early races usually give spectators a chance to cheer for their friends, enjoy the revelry of the surrounding street festival and find a good vantage point for the main event, but a notable inclusion to the Cat 3/4 races this year is the Paracycle competition. These fields can consist of riders of all levels with various disabilities including visual impairment, physical impairment and cerebral palsy. While the Paracycle races are raced together with the Cat 3/4 races, they will be scored separately.
If you want to jump into your first race, you can register online. You can also take a gamble and show up early on the day of the race, but it's better to save money and pre-register to avoid sell-outs (which often happens).
Why do they ride so close together?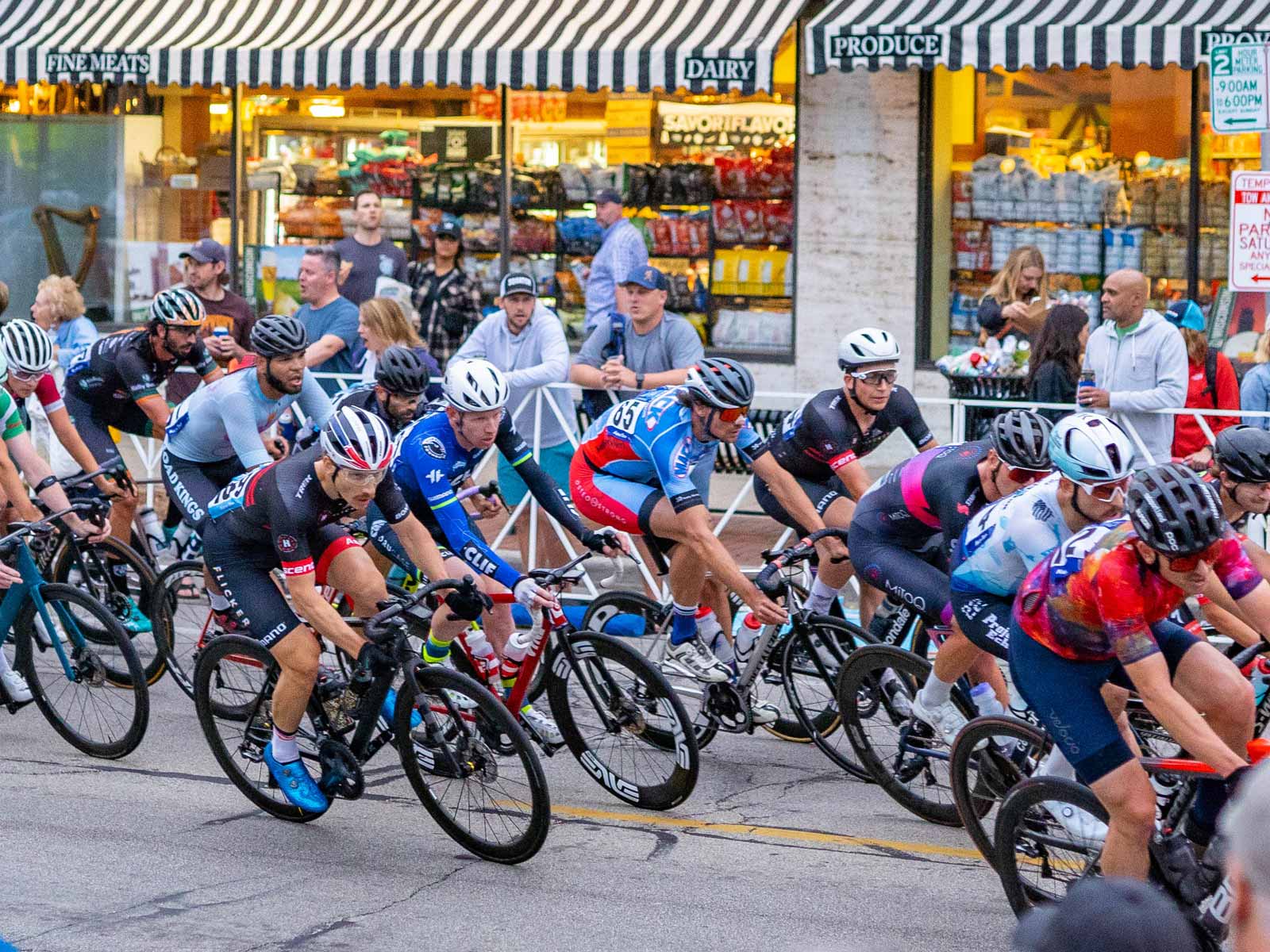 Positioning is extremely important to winning and it's always in flux and racers are constantly fighting for the best position. Obviously you can't get across the line first if someone is in your way, so it's good to be at the front of the main group (often referred to as the peloton). But this takes a lot of energy and you also can't beat your competitors if you wear out before them, so you can save energy by hanging out at the back. But if you're too far back, it doesn't matter how clear your line is, nor how much energy you've saved, because the travel distance is too far to overcome.
So the racers you want to keep an eye on are usually towards the front of the peloton, but not right at the front. This is because the lead rider will use a lot more energy plowing through the wind resistance, and those drafting behind can reap the energy-saving rewards of around 30%. And if the peloton is really big, riding at the very back can lead to as much as a 55% reduction in effort.
Half the effort seems like a good tradeoff to sit at the back. But even so, the strongest riders won't want to stray too far from the front for a number of strategic reasons; this could include chasing down a rogue break-away, launching into their own break-away, or avoiding the squash and stretch as the field slows into a corner and accelerates out of them, which could negate the power-saving benefits (though well-practiced tail-gunners can use this to their advantage).
Also, the further back you are in the field, the more likely you will be caught up in a crash. Expending the extra energy at the front is often worth it to bolster your luck and avoid finding yourself on the ground.
What is a prime, and why is it pronounced that way?
Not every racer is competing for the big win. Sometimes they're in it for the extra cash in midpoint sprint battles. If you hang out at the Start-Finish line for a few laps in the middle of a race, you'll likely hear the announcers ring a bell announcing a prime (pronounced preem, and here's some forum rabble-rousing about its peculiar pronunciation). Primes are intermediate sprints that offer bonus prizes, which often include large chunks of cash. Winning a prime can sometimes be a pair of socks or it could be enough to cover your race day fees and maybe even a little bit of lunch afterwards.
Those competing for the stage win or overall win do not typically expend their energy to sprint for these prizes, especially if they've got teammates to send out to pick up the cash for them. However, sometimes top racers will uses these primes as launching points for their attack; if they think they can gather enough strong legs together, they'll use the prime as bait to get others to attack and bolster their chances at a break-away staying away.
Where are the best spots to watch a race?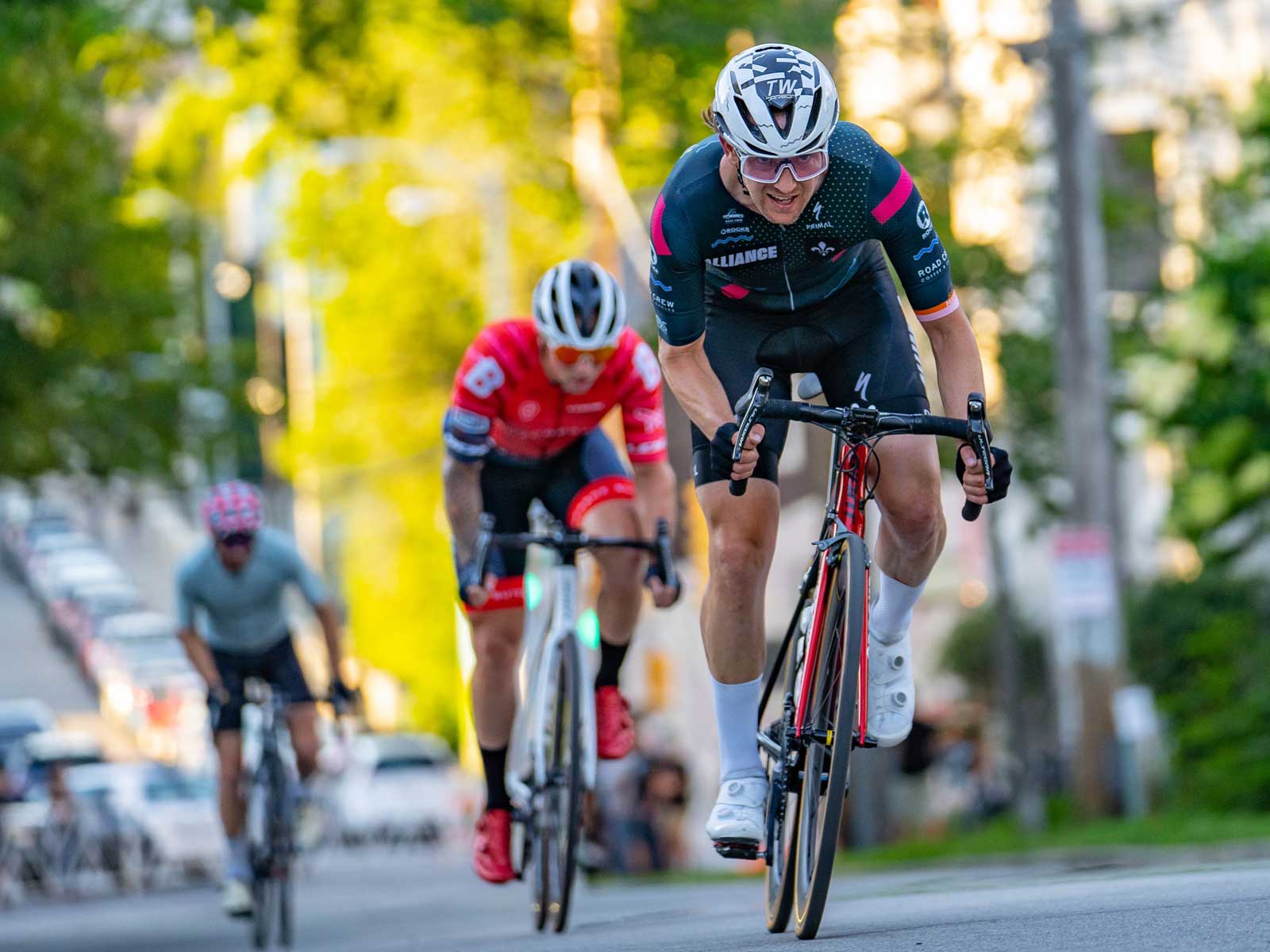 Positioning yourself on course in advantageous ways can also be fruitful for your viewing pleasure. But it depends on whether you're trying to feel the intensity of the sport, or pick someone out of the crowd.
The turns and the tops of hills and headwinds are areas where riders will naturally slow down, which can help you find your favorite atheletes.
On the opposite side, the inside of corners, bottoms of hills and tailwinds can be thrilling to experience, but over long periods of time, can also be dizzying and headache-inducing. Enjoy them responsibly.
Getting above the races, like in the parking garages at Downer Avenue and in Wauwatosa can give you a birds eye perspective and a clear view of the finish line.
But the bottom line is there's no one position to stand in at all times. Big moves can happen anywhere. Walk the course, explore the neighborhoods and enjoy the festivities while you watch.
Who should I cheer for?
Strategies for picking someone to watch can vary. You can choose based on already-known skill levels or notoriety, but since this is a newbie guide, this is probably information you don't have.
Hosting traveling riders is a great way to immerse yourself in the action, and it gives you a default racer to watch. It's also a big commitment.
Listening to the announcers can help familiarize yourself with the most notable riders. Once you've got the names, you can look for their corresponding number pinned onto their jerseys. Then, once you've put a name to a number, you can start looking for specific features. Jersey color is an obvious marker, but if they're on a large team, you may also want to note their sock and helmet colors.
It's tough, but a little practice develops keen eyes.
Is there a livestream?
There is no live video stream, but there is a live radio feed. This is great for catching up when you can't be at the races, but it's also useful to better follow the action even when you're there. Last year I popped the stream up on my portable bluetooth speaker and was able to wander the course, and track the story as it unfolded.
Look for the "Listen Live" link at tourofamericasdairyland.com once the races are underway.
Jason McDowell grew up in central Iowa and moved to Milwaukee in 2000 to attend the Milwaukee Institute of Art and Design.
In 2006 he began working with OnMilwaukee as an advertising designer, but has since taken on a variety of rolls as the Creative Director, tackling all kinds of design problems, from digital to print, advertising to branding, icons to programming.
In 2016 he picked up the 414 Digital Star of the Year award.
Most other times he can be found racing bicycles, playing board games, or petting dogs.