The Great Milwaukee Summer is HERE! Your guide to what you'll be doing, where you'll be drinking, who you'll be hearing and how you'll be getting a sweet tan this summer is on OnMilwaukee. The Great Milwaukee Summer guide is brought to you by Educators Credit Union and Harley-Davidson Museum.
After pedaling all over Wisconsin for the past week, the Tour of America's Dairyland (ToAD) crit bike race today wheels its way into one of Milwaukee's major neighborhoods: Bay View.
Starting with junior races at a little before 11 a.m. on Thursday and cycling throughout the day – find the whole schedule right here – the Centraal Bay View Classic will bring racing road warriors to Bay View's main road intersection, zipping around Kinnickinnic, Lincoln and more.
The classic serves as the fourth-to-last stop on the Tour of America's Dairyland, meaning things are getting serious at the top of the leaderboard – so you're not going to want to miss a single lap of this critical crit racing competition.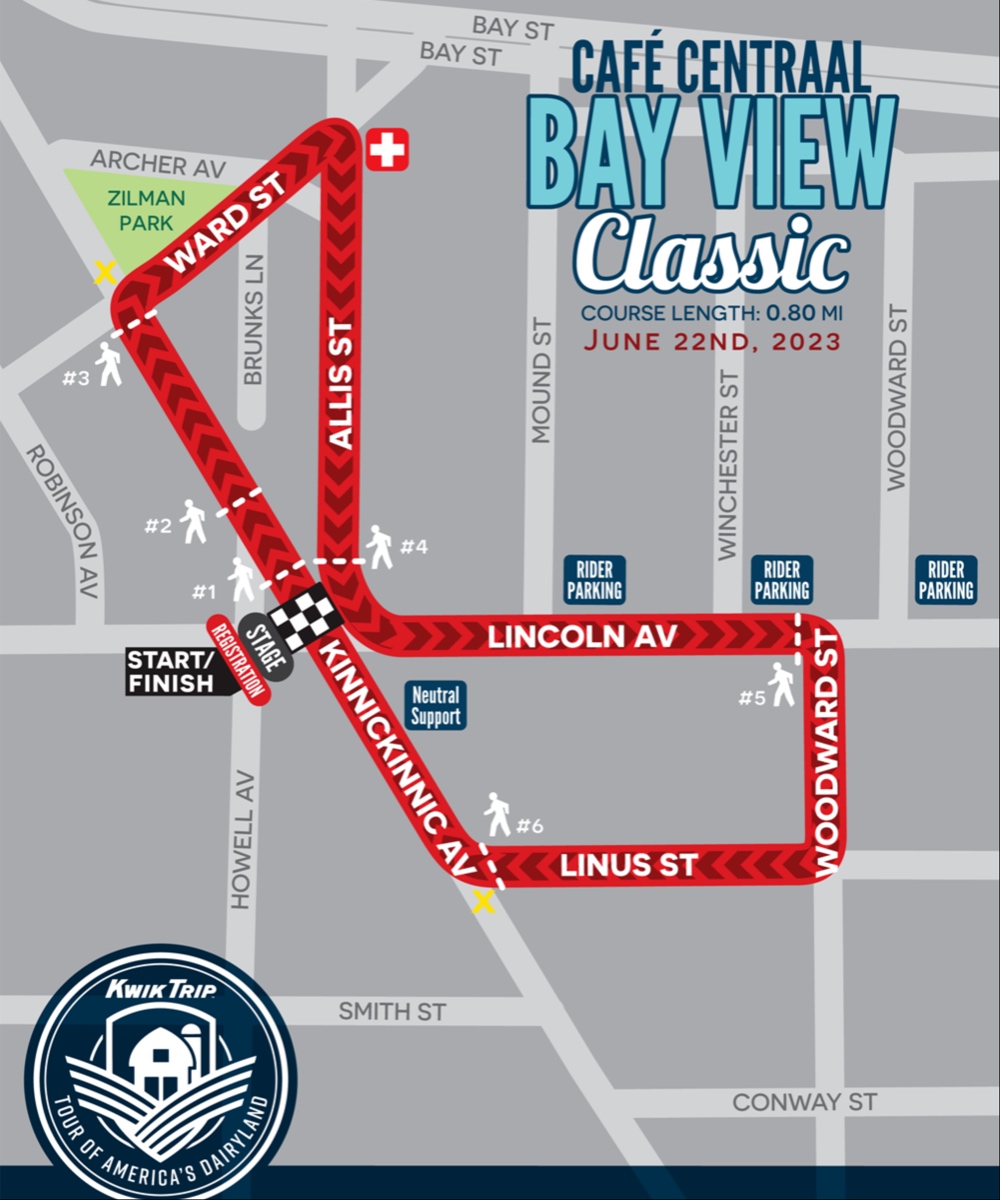 To help with that goal, we've gathered up six of the best spots to take in the action – and take in some tasty local eats and sips as well – on Thursday, whether it's a spot at the start, a place to lounge in the middle of the lap or fabulous view of the final stretch. (The surrounding race set-up will also have a pop-up bar at the main intersection as well to enjoy – but why not support some actual Bay View venues while supporting this Bay View race day?)
Here's to a terrific ToAD day in Bay View, whether you're cycling and spectating – and to learn more about the sport, click here for an intro guide to understanding crit racing.
Centraal Grand Cafe & Tappery
2306 S. Kinnickinnic Ave., (414) 755-0378
cafecentraal.com
[Read more]
I mean, the race is called the Centraal Bay View Classic – so of course Centraal is a central spot to watch the bike race. Inspired by the famous Dutch station, Centraal is always a good spot to take anyone and everyone with its tasty brews, satisfying comfort food dishes and welcoming atmosphere – but it'll especially be the spot to stop on Thursday as it's pretty much located right across the way from the start and finish line of the day's racing action.
Colectivo
2301 S. Kinnickinnic Ave., (414) 744-6117
colectivocoffee.com/cafes/bay-view
[Read more]
Colectivo's Bay View bakery and coffee shop always serves as a hub to the community, near and far – but that'll particularly be the case on Thursday as the locale sits right near the day's start and finish line, giving you a great spot for the big opening moments and thrilling closing runs. Savor the speedy crit action from the outdoor patio seating on Kinnickinnic – or, if the summer heat and crowds get to be too much, pop inside and upstairs to the second floor for potentially the best view of the day, viewing over the Kinnickinnic and Lincoln intersection and fully taking in the bustling bike-stravaganza from above.
The Highbury Pub
2322 S. Kinnickinnic Ave., (414) 294-4400
[Read more]
This neighborhood sports bar is more famous for being a tremendous hub for watching soccer (and Chicago Bears games, but we won't talk about that right now). But on Thursday, The Highbury will be a perfect spot to watch a different kind of sporting action, as you can view the pedalers race by as you can watch the final stretch of each lap just before the finish line from the bar's outdoor ledge area. Dip in for a beverage, dip out to watch the intense concluding run to the finish line and kick it at a Bay View sporting favorite. (And be sure to come back come August for the start of the Premier League!)
Voyager
422 E. Lincoln Ave., (414) 239-8254
voyagermke.com
[Read more]
Watch crit racing with class at this unique Bay View wine shop. Sip on fascinating and adventurously tasty vinos from across the globe while you watch racers from across the globe jet around the course right in front of you, as Voyager sits not only near the start/finish line but also at a critical third turn in the track as racers go from Allis Street onto Lincoln Avenue. With indoor and outdoor seating, voyage over to Voyager for a great view of the chaos with clarity.
Zillman Park
2168 S. Kinnickinnic Ave.
[Read more]
Who needs pesky buildings and actual venues when there's an outstanding park? Zillman Park – wedged between Kinnickinnic, Archer and Ward – finds itself situated right at the first big turn of the course on Thursday, so if you're looking to soak in the race as well as some sun, pack up a picnic basket and grab yourself some green in Zillman Park as the cyclists zip by.
The Tonic Tavern
2335 S. Kinnickinnic Ave., (414) 455-3205
tonictavern.com
[Read more]
The Tonic Tavern is a cozy Bay View tap typically dedicated to intimate live music shows, but on Thursday, it'll be dedicated to the sweet sounds of cycling and competition racing past. Located on Kinnickinnic in the middle of the big final run to the finish line, Tonic Tavern makes a great place to grab a drink and watch the race –particularly from its big outdoor patio space. And as an added bonus, the bar will also hand out complimentary rally bells and, from 4 to 7 p.m., take $1 off all drinks for happy hour.
As much as it is a gigantic cliché to say that one has always had a passion for film, Matt Mueller has always had a passion for film. Whether it was bringing in the latest movie reviews for his first grade show-and-tell or writing film reviews for the St. Norbert College Times as a high school student, Matt is way too obsessed with movies for his own good.
When he's not writing about the latest blockbuster or talking much too glowingly about "Piranha 3D," Matt can probably be found watching literally any sport (minus cricket) or working at - get this - a local movie theater. Or watching a movie. Yeah, he's probably watching a movie.