It took all the way until the penultimate episode, but I came up with a drinking game for this season of "Dancing with the Stars." Better late than never, right?!
The rules? Take a drink every time Derek Hough says, "I see you!" Take a drink everytime Tyra Banks makes a moment about her. Take a drink every time the judges, in the final decision, say, "Gosh, this is such a difficult decision." And take a drink every time there's a commercial for that "Big Sky" show that desperately wants to be "Twin Peaks" or "Big Little Lies" and would appear to be neither. Congratulations: You are now drunk at the 23-minute mark of the episode.
For those who didn't blackout from my game, you witnessed a very impressive semi-final episode, featuring two dances from each contestant: a redemption dance handed down by a judge and one final statement dance, in most cases an emotional contemporary or jazz routine that made one final reach for the heartstrings. Unfortunately for Johnny Weir and Skai Jackson, those final numbers – a jazz number and a Viennese waltz – couldn't quite tug hard enough to pull in the votes necessary as both were sent home just before the finale.
In Weir's case, I think expectations brought him down this season. The audience expects greatness from ice skaters on the show – they've more often won the whole thing than not – and when Weir was merely really good, there was a little bit of disappointment. He was never quite consistent enough either to join the ranks of Kaitlyn Bristowe or Nev Schulman in the "too good to send home" department, so Johnny just missed out on the podium. (Also: He missed out on a worthy goodbye, as he was basically just shooed offstage so the show could move on to the judges' final save. Bummer: He deserved a true final bow.)
As for Skai, she went out on easily her greatest dance: a lovely, loose, clearly personal and surprisingly bittersweet Viennese waltz dedicated to the struggles of being a working child actor and the loneliness that can arise from pursuing that dream while everyone else is living normal lives. It was a thoughtful grace note to end her up-and-down run on the show, ranging from entertaining highs to hair-pulling lows – quite literally in the case of one dance's dismount. That she survived this long considering how low some of those notes were (remember that one dance were she brainfarted the choreography for what felt like 20 minutes?) is a tribute to her perseverance.
With those two gone, we're left with four finalists: Nelly, Nev Schulman, Kaitlyn Bristowe and Justina Machado. Who will win the mirror ball trophy next week – and most importantly, who SHOULD win the shiny prize? Let's break down the final four, predict a winner and see how wrong I end up being.
Justina Machado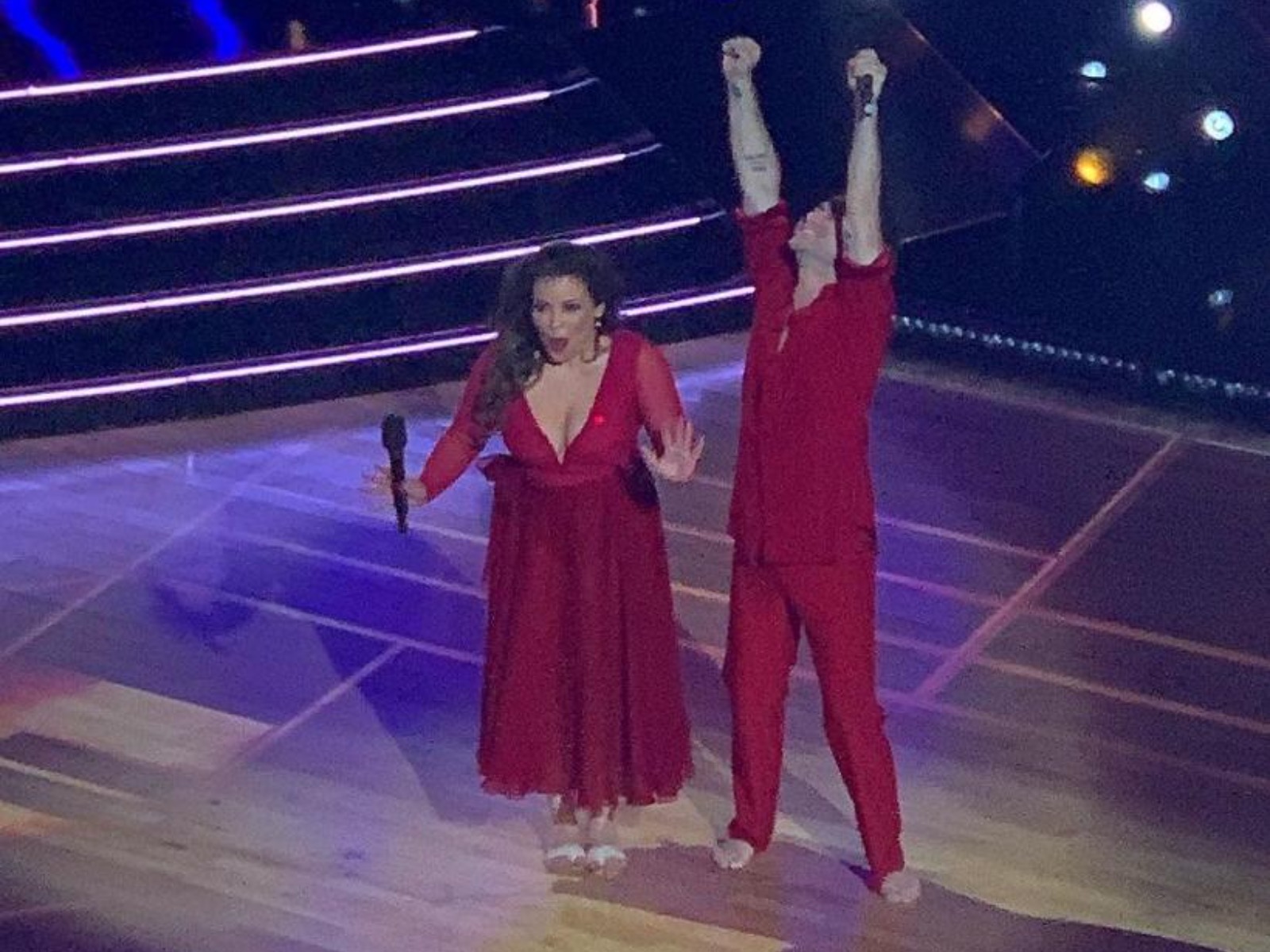 Dance: Tango and contemporary
Score: 28 out of 30 and 30 out of 30
Why she will win: The "One Day at a Time" star has been a joy throughout this season, a memorable firecracker of energy each time she steps on the floor regardless of the type of dance. Next to Nelly and Nev, she's been consistently one of the most purely enjoyable performers of the year – and people want to vote for the star they like watching dance. (Weird concept, I know.) Her technique may ebb and flow, but she always makes up for it with zip and passion – and considering one of the final dances is a freestyle number, that would seemingly play into her hands, just allowing for a final statement of pure, gleeful, unrestrained charisma and enthusiasm.
Why she won't win: Machado's such a pleasant performer to watch that you can sometimes forget that her technique can get a bit wonky – something that can hurt this late in the game. But the most concerning thing about Justina is that she's the only contestant remaining on the show who's been in the bottom two, as Monday night she was saved by the judges over Skai Jackson in their final judgment. A scare like that can bring out the voters the next week ... or it can be a bad sign that maybe she doesn't quite have the popular support to snag the trophy. Against tough competition on both the technical side (Nev) and the personality side (Nelly), I'm afraid it might be the latter.
Kaitlyn Bristowe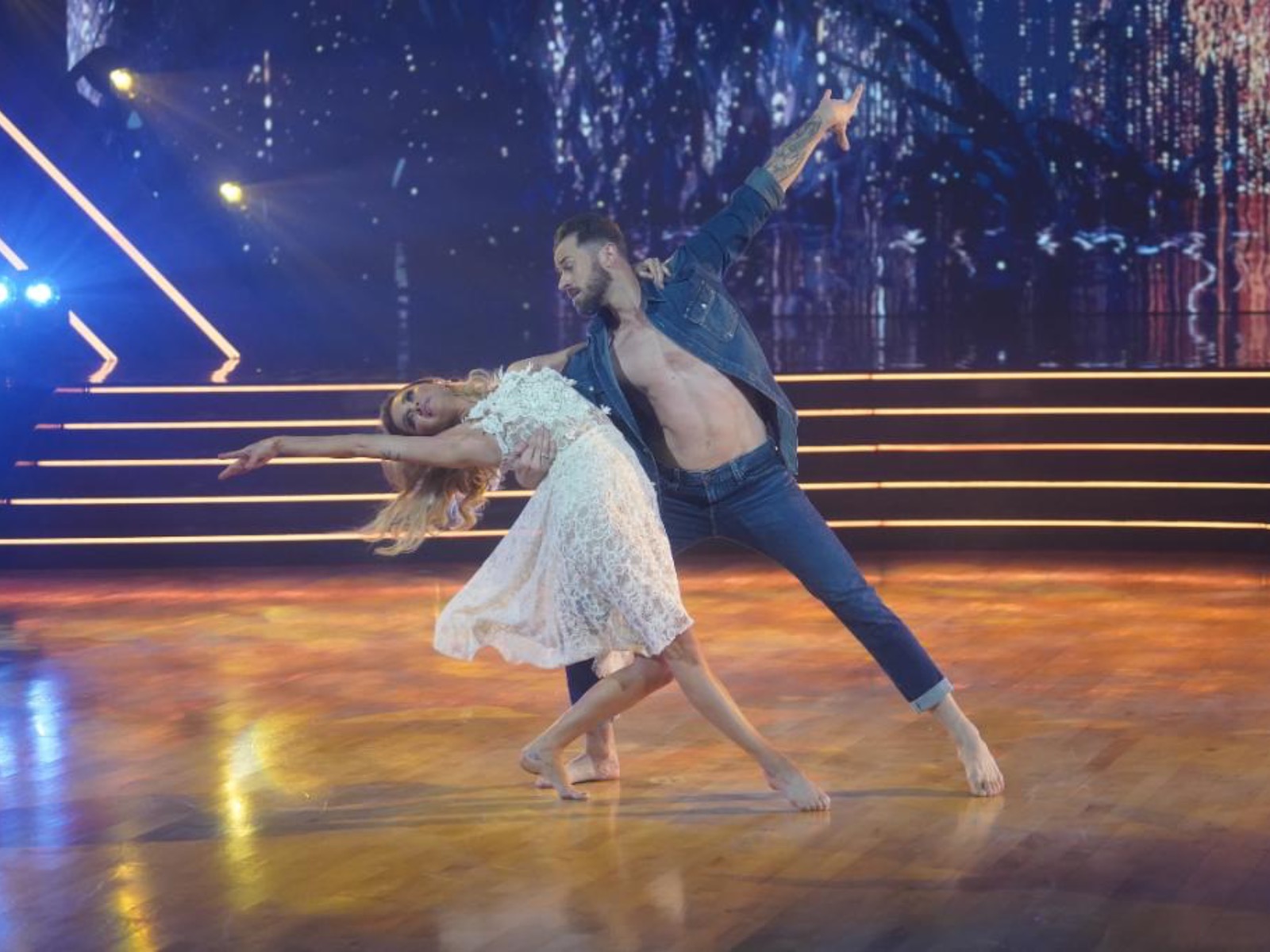 Dance: Paso doble and contemporary
Score: 30 out of 30 and 30 out of 30
Why she will win: She's a gorgeous dancer – as you'd expect from somebody who went to school for hoofing back in the day – and according to the judges' duo of perfect scores on Monday night, she's reaching her peak at just the right time. But most of all, if you made a Venn diagram of people who watch "The Bachelor" and people who watch "Dancing with the Stars," you'd pretty much just have one circle. I mean, it worked out for Hannah Brown – and it's worked out for Kaitlyn thus far, never landing in the bottom two this season.
Plus, allow me to put on my tin foil hat, because if I had to guess who ABC is rooting for, it's the person asssociated with one of the network's own TV shows. CONSPIRACY! SOYLENT GREEEN IS PEOPLE!
Why she won't win: Bristowe is undoubtedly a solid technical dancer, but there's always been something holding her performances back from really connecting with me. Carrie Ann criticized her for much of the season for not quite leaving it all out there during her dances (which, by the way, during the judge's pick redemption number, she said there was "some history between us"; was there legitimate beef here?!), but while the judge warmed to her over time, I still feel a little frosty. Even during her contemporary routine Monday night, an emotional tribute to a friend who died too soon, what should've been a tear-jerking winner was instead just really well done, still seemingly locked up. (She may have been focusing hard on not crying during the routine, which made her seem more bottled up emotionally than expected.)
In the end, she's a competitor I've respected all season, but never really gravitated toward – and sometimes barely even remembered. Add in that I'm not sure a freestyle routine plays to her technical strengths, and I think this season's final rose is going elsewhere.
Nelly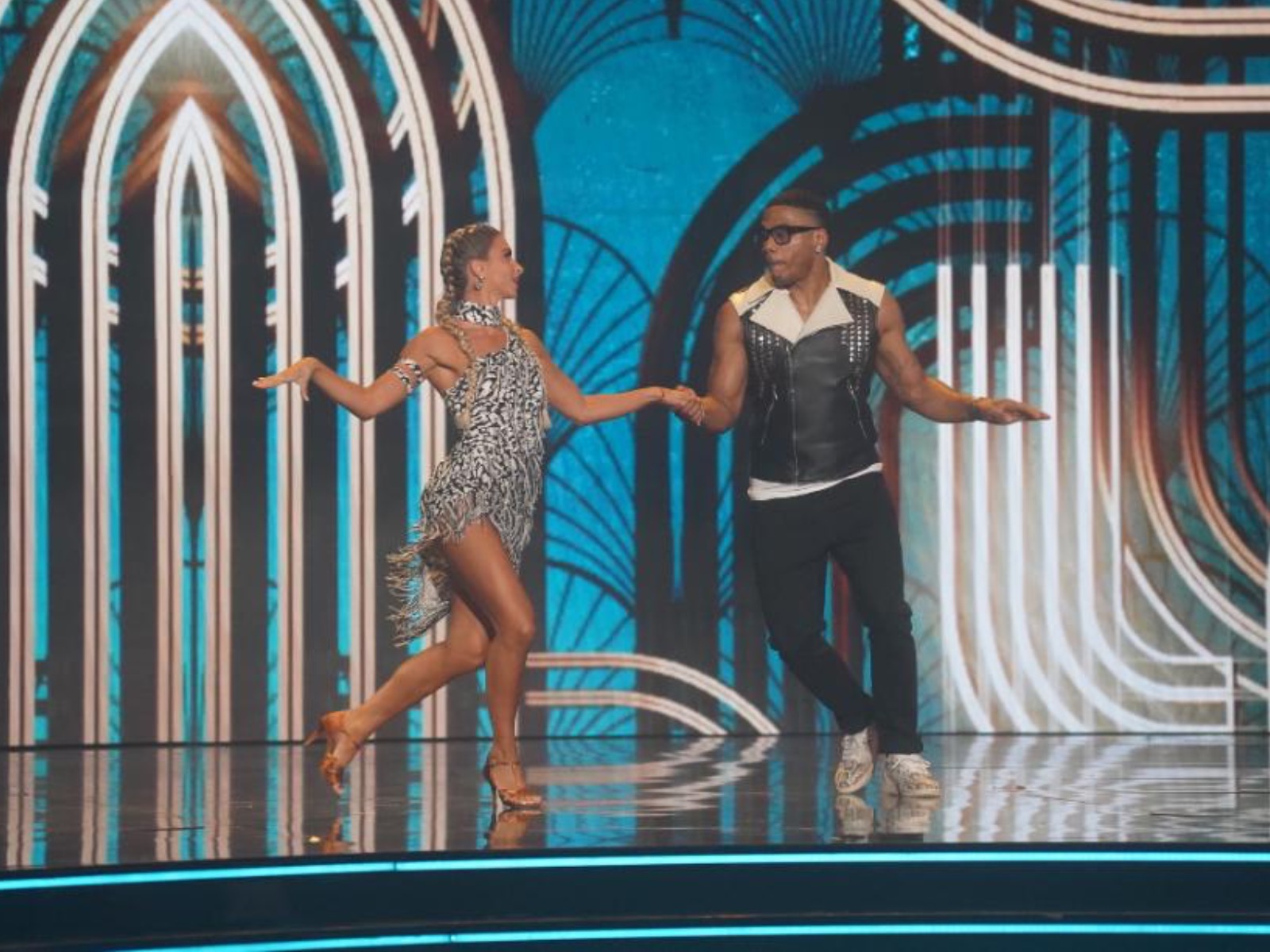 Dance: Paso doble and jive
Score: 26 out of 30 and 30 out of 30
Why he will win: I mean, he's made it this far! Nelly's objectively the worst dancer remaining on the show, but you wouldn't know it from his results each week. Despite scoring in the bottom half pretty much every week with the judges – including last night's semi-finals, notching the lowest combined total albeit just by one point – Nelly has never been in the bottom two or close to facing elimination. He clearly brings out the voters.
Part of that is the rapper's easily the most famous and notable name remaining on the show. He's the closest thing "Dancing with the Stars" has to an actual star this season and certainly amongst those left. I mean, how many finalists are also scheduled to perform on the AMAs next weekend? Just Nelly? That's what I thought.
But most of all, Nelly's been a delight to watch this season – not particularly as a technician, but as a purely joyful dancer who simply seems to feel the music and groove to it on the stage, conveying that spirit through the screen. And considering one of the dances in the finale is a freestyle that should just unleash that presence on stage, no cares in the world, his best attribute should get quite the moment in the sun.
Why he won't win: Let's be honest: Nelly shouldn't be here. If this was a true dance show, Johnny would claim this spot – a far more consistently refined performer. But even with his odd concentration face during Monday's redemption paso doble that looked like he was either smothering a smile or battling gas and a second dance that required more technique as opposed to others' looser and more emotional plays, he survived – and seemingly without a sweat thanks to the fan vote.
He's far from the first to ride on-stage charisma to the finale, but convincing the dance hardcores watching that you should win the mirror ball because of mere likability is a trickier task – just ask David Ross. In the battle between the best dancer and the most entertaining dancer, the best actually tends to win out. Democracy: It works sometimes!
Nev Schulman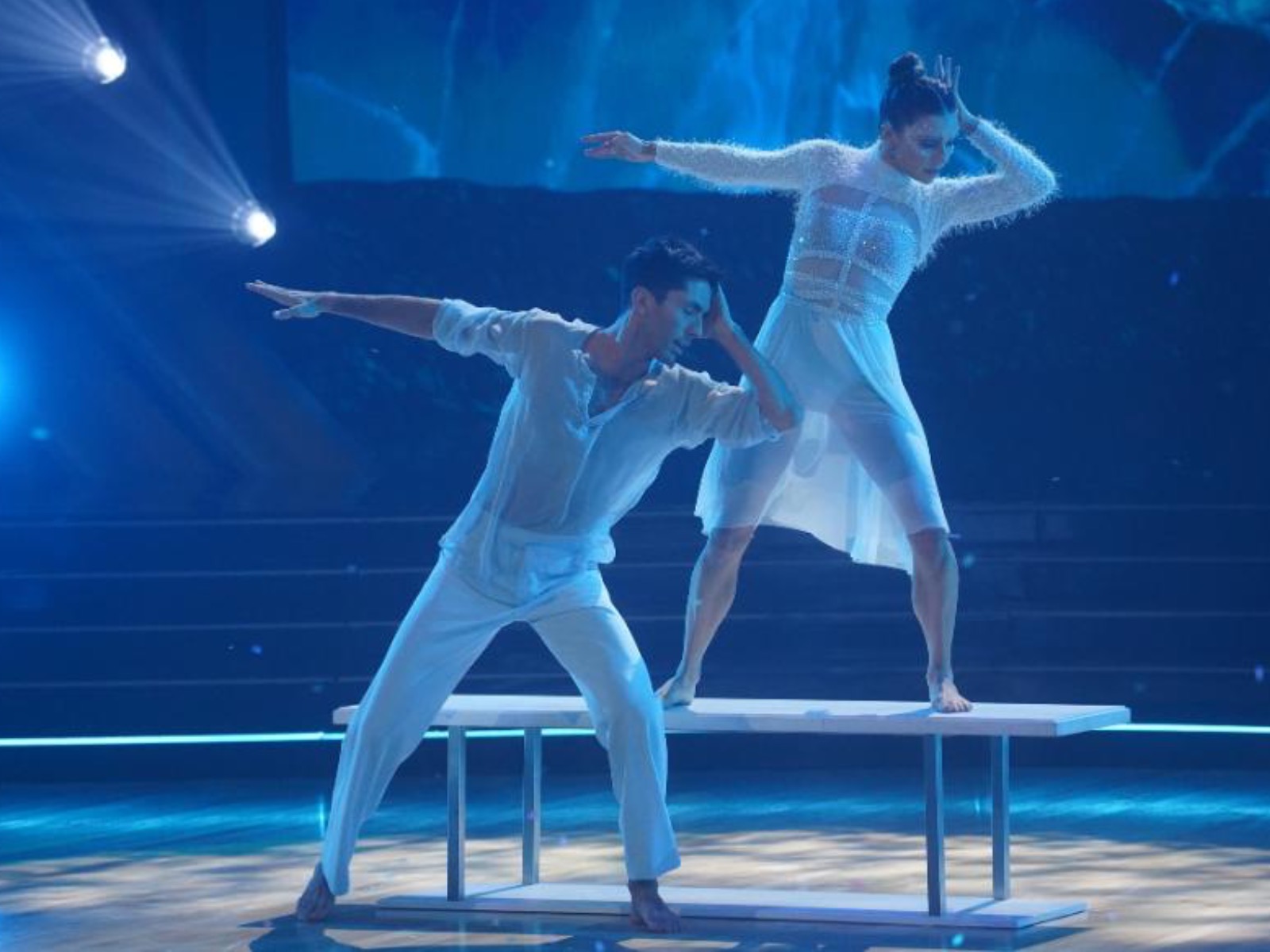 Dance: Foxtrot and contemporary
Score: 30 out of 30 and 30 out of 30
Why he will win: If this was a true and pure dancing competition, Nev Schulman would've won it already in week three. When he dances, for 90 seconds, you're not watching a dopey celebrity dance-off but instead just two really great dancers take the stage, Nev feeling comfortable enough to interpret and perform the music with ease and beauty. Normally, when I say that "Dancing with the Stars" made me cry, I'm joking about the show being painful to watch, but on Monday night, it was thanks to his gorgeously flowing and lovely bench-based contemporary number. If he can pull off anything remotely that good next week in the finale, he should have the trophy without a sweat.
Why he won't win: The "Catfish" creator should be the hands-down champ, but he's also ... the "Catfish" creator. He's not exactly a celeb that people know or had a close emotional connection to before the show. Hell, I'd be willing to bet most people watching the show still don't know what that show is – or what "catfishing" even means. Plus, the audience likes to see growth, and while Nev's been consistently great from pretty much the first episode, that also means he doesn't have that exciting dance narrative to root for and track. He might be too predictably great. And then he does have a dance background that people might hold against him.
Final predictions
4. Justina Machado
3. Kaitlyn Bristowe
2. Nelly
Winner. Nev Schulman
As much as it is a gigantic cliché to say that one has always had a passion for film, Matt Mueller has always had a passion for film. Whether it was bringing in the latest movie reviews for his first grade show-and-tell or writing film reviews for the St. Norbert College Times as a high school student, Matt is way too obsessed with movies for his own good.
When he's not writing about the latest blockbuster or talking much too glowingly about "Piranha 3D," Matt can probably be found watching literally any sport (minus cricket) or working at - get this - a local movie theater. Or watching a movie. Yeah, he's probably watching a movie.