How do you eat sushi?
Do you load it down with wasabi? Do you pick it up with chopsticks and dip it into soy sauce? Do you mix wasabi into your soy sauce?
As sushi gets more common and accessible throughout the country, it's become socially acceptable to do any number of things to sushi ... be they right, wrong or otherwise. So, we looked to an expert: Chef Tony Ho of RuYi. Chef Ho grew up in Japan and has spent his life preparing Asian cuisine, including sushi. He has also spent the past decade at the helm of RuYi, where he heads training at the sushi bar.
Needless to say, he is a wealth of knowledge regarding a more traditional approach to eating sushi.
"Sushi is expensive," says Ho. "The fish is so fresh and there is a lot of time we put into the preparation. So, you want to really take your time and enjoy what you're eating."
So, we asked him for some pointers on proper sushi eating, as well as some recommendations for what to try next time you're at RuYi.
Use your hands
The chopsticks at your table can be used for a variety of things. However, they're not for cut sushi rolls or nigiri. In fact, according to Ho, the best way to eat both maki and nigiri is with your hands.
Use soy sauce properly
Ho says that the nigiri at RuYi – as at many good sushi restaurants – is already thoroughly seasoned, so there's no need to add additional soy sauce or wasabi. But, if you feel inclined to add soy sauce, Ho says it's important to dip the nigiri properly.
"Hold it gently in your fingers and turn it upside down," he says, "And dip it gently into the soy sauce. You want to season the fish, not the rice. So dip it gently into the sauce."
If you dip the rice into the soy sauce, it absorbs far too much, adds Ho. It also weakens the rice, so it's more likely to fall apart.
On a related note, according to Ho, it's never ok to mix together your wasabi and soy sauce.
Eat sushi in one bite
Ho says there should be no reason to cut your sushi in half or eat it in multiple bites. "It's meant to be eaten in just one bite," he says. "That way you're getting the balance of the rice along with the fresh fish."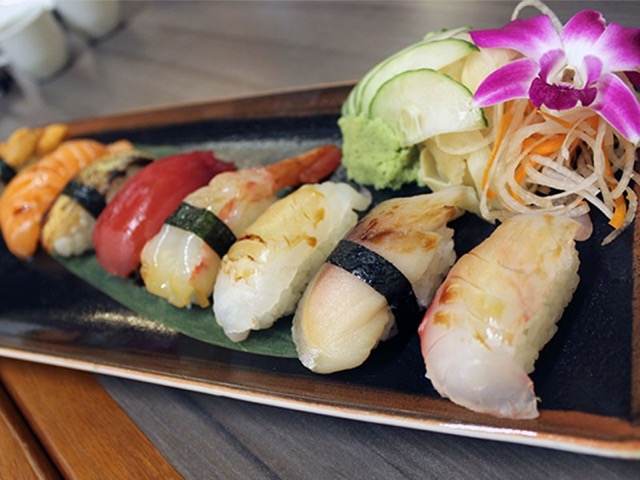 Save your wasabi for sashimi
Both sushi rolls and nigiri are made with a balanced flavor profile in mind. In fact, the sushi chef is likely to have already added wasabi on the underside of the fish, in an amount that compliments the flavor and richness of the fish.
Sashimi, on the other hand, can benefit from a bit of both wasabi and soy sauce. And when you eat sashimi, it's also the right time to pull out your chopsticks.
"Use your chopsticks," says Ho, "And put the piece of fish on your plate. Then dip the tip of your chopstick in a bit of wasabi and apply it to the fish. You can do the same thing with the soy sauce. Just a little bit."
Real wasabi makes a difference
Speaking of wasabi, most of what's served in sushi restaurants isn't true wasabi. It's a mixture of horseradish, mustard and food coloring. And that's because true wasabi is expensive and highly perishable.
But, at RuYi, along with a number of other better sushi restaurants in the city, you can find true wasabi that's grated in house and served alongside sashimi.
"Wasabi is not a strong taste," says Ho. "It's very sweet, and slightly herbal. It does not burn. And since we grate it in house, you will notice the texture as you are eating it."
Eating ginger
On the other hand, the pickled ginger that comes with your sushi isn't meant to be eaten on top of – or with – your sushi.
"Eat it between bites," says Ho. "It will cleanse your palate and aid in digestion."
Take it slow
"So many people are too rushed when they eat sushi," says Ho. "Sushi is about enjoyment. When you put it in your mouth, it's about enjoying the flavor and the texture. You should take each piece and really taste it."
Appreciate the rice
You can often tell how good a sushi restaurant is by the rice along. In Japan, chefs spend up to 10 years learning how to make rice.
At RuYi, Ho says they use top quality short grain sushi rice imported from Japan, and they age the vinegar used to prepare the rice for over three months, which balances out its acid content, making it suitable for sushi.
"We also don't use a big rice cooker. We steam it before mixing it with the vinegar," says Ho. "When you look at the rice, you can tell the difference. It's very smooth and shiny. You will never get a shine on lower grade rice. And the grains are distinct."
Another difference you'll notice at high quality sushi restaurants is that they don't bulk up their rolls or nigiri with rice to save money. "It's all about the balance," says Ho.
Pay attention to the order in which you eat the fish
There aren't necessarily hard and fast rules for eating sushi; however Ho recommends start with lighter, more delicately flavored fish and gradually working your way up to the richer, more oily items like eel. The approach, which is similar to tasting wine (whites followed by bigger reds) allows your palate to actually taste the nuances of each fish.
Ask questions
It always pays to ask for recommendations. You don't need to ask: "What's fresh?" (if you are eating at a reliable establishment, it should all be fresh). But, you can ask "What's in season?" or "What do you recommend?"
"The fish we have at any given time depends on the season," says Ho. "There are some fish we don't serve. We try to avoid fish that aren't sustainable. We don't serve things like true Toro (fatty tuna) because it's not fished in a sustainable way. They use nets and there's lots of bycatch."
And not everything will be on the menu. Ho recommends asking what's available that day, or – even better – allowing the chefs to prepare a special meal for you.
4 Recommendations from Chef Ho
"We get new things in every weekend," says Ho. "And when they are in season, we'll have things like life surf clams, razor clams, fresh Japanese uni and live scallops."
Ho says customers can feel confident in eating any of the fish at RuYi, due to their strict standards and state-of-the art storage, which keeps the fish ultra-fresh.
"All of our fish is delivered fresh to our fish room, which is kept at 30-35 degrees. There it's butchered and cut into portion sizes before being put into the fish file, which has 360-degree air flow, so the temperature is consistent throughout. It's very state of the art. But, we did it all so we could serve the freshest fish."
If you're looking for something different to try, here are some of Ho's recommendations.
1. Tempura shrimp
"Our tempura shrimp is the best in the city," says Ho. "So many restaurants buy mixes for their tempura, but we make it from scratch. And we use large, delicious high quality shrimp."
2. Live scallops
Live scallops are also imported from Japan.
"They're the best in the world. So creamy and buttery," says Ho. "We have them often on Friday, Saturday and Sunday."
3. Geoduck
Geoducks are large saltwater clams, with a fresh briny texture and a clean, sweet flavor. In Japan, they are called mirugai, or "giant clam." In China, they're considered to be aphrodisiacs.
"Geoduck is a good seller here among people who visit the restaurant from Asia and Europe," says Ho. "You'll see them all over in restaurants in Washington State, but they're relatively rare in American restaurants. Many people won't eat them because of how they look. But, the entire body is edible. It's fresh and clean and sweet."
At RuYi, you can get geoduck as sashimi. And you can choose from the siphon (the body, which hangs out of the shell) or the mantle (the meaty portion inside the shell). If you're lucky, you may also get some of the roe, which is sheltered in the meat under the shell on female geoducks.
"The body is crispy in texture," says Ho, "But the texture gets softer as you move up the body toward the shell. And the eggs are a delicacy. So delicious."
4. Sweet shrimp
Sweet shrimp (amaebi) are the only species of shrimp which are best enjoyed raw; in fact, cooking them robs them of their full sweetness. RuYi's are harvested from the Sea of Japan.
"There's one specific area in Japane where you can harvest them," says Ho. "The water is so clear and uncontaminated. And it really improves the flavor of the shrimp. They are super sweet and very delicate, and so many people come here just for the shrimp."
The sushi bar at RuYi is open Sunday, Wednesday and Thursday from 4 to 10 p.m. and Friday and Saturday from 4 p.m. to midnight.
Lori is an avid cook whose accrual of condiments and spices is rivaled only by her cookbook collection. Her passion for the culinary industry was birthed while balancing A&W root beer mugs as a teenage carhop, fed by insatiable curiosity and fueled by the people whose stories entwine with each and every dish. She's had the privilege of chronicling these tales via numerous media, including OnMilwaukee and in her book "Milwaukee Food." Her work has garnered journalism awards from entities including the Milwaukee Press Club.
When she's not eating, photographing food, writing or recording the FoodCrush podcast, you'll find Lori seeking out adventures with her husband Paul, traveling, cooking, reading, learning, snuggling with her cats and looking for ways to make a difference.