It was unofficial Bucks night – pardon me, unofficial NBA CHAMPION MILWAUKEE BUCKS night – at the Big Gig on Friday.
While courtside celebrity fan Chance the Rapper lit up the Amp across the grounds, the Miller Lite Oasis was the true home of yet another well-deserved victory lap. DJ Shawna, the Bucks' in-house DJ, served as the stage's opener, pumping the crowd up with the help of free Bucks t-shirts, #BucksInSix chants and special guests Vo Williams – the man behind the "History in the Making" rap from the player intros at Fiserv Forum – as well as Ben Tajnai, the team's big-lunged anthem singer and lucky charm. I would've never thought I'd see the Sinatra classic "Feelin' Good" and the National Anthem successfully pump up a young, EDM-craving, summer festival crowd, but I never thought I'd see the Bucks win the NBA Finals too, so truly 2021 has been full of surprises.
Another sight I never expected: the looming presence of NBA hall-of-famer Shaquille O'Neal lording over a rave in Milwaukee. But that too came to fruition Friday night as "DJ Diesel" took the Oasis stage – and unlike some other unfortunately memorable novelty celeb DJ attempts at the Big Gig, actually threw quite the enthrallingly entertaining party. No one would call Shaq the second coming of David Guetta or Steve Aoki, but he wasn't the second coming of DJ Paris Hilton either as he took a page from his on-the-court NBA career and effectively muscled, bombarded and overwhelmed his way to success on Friday night.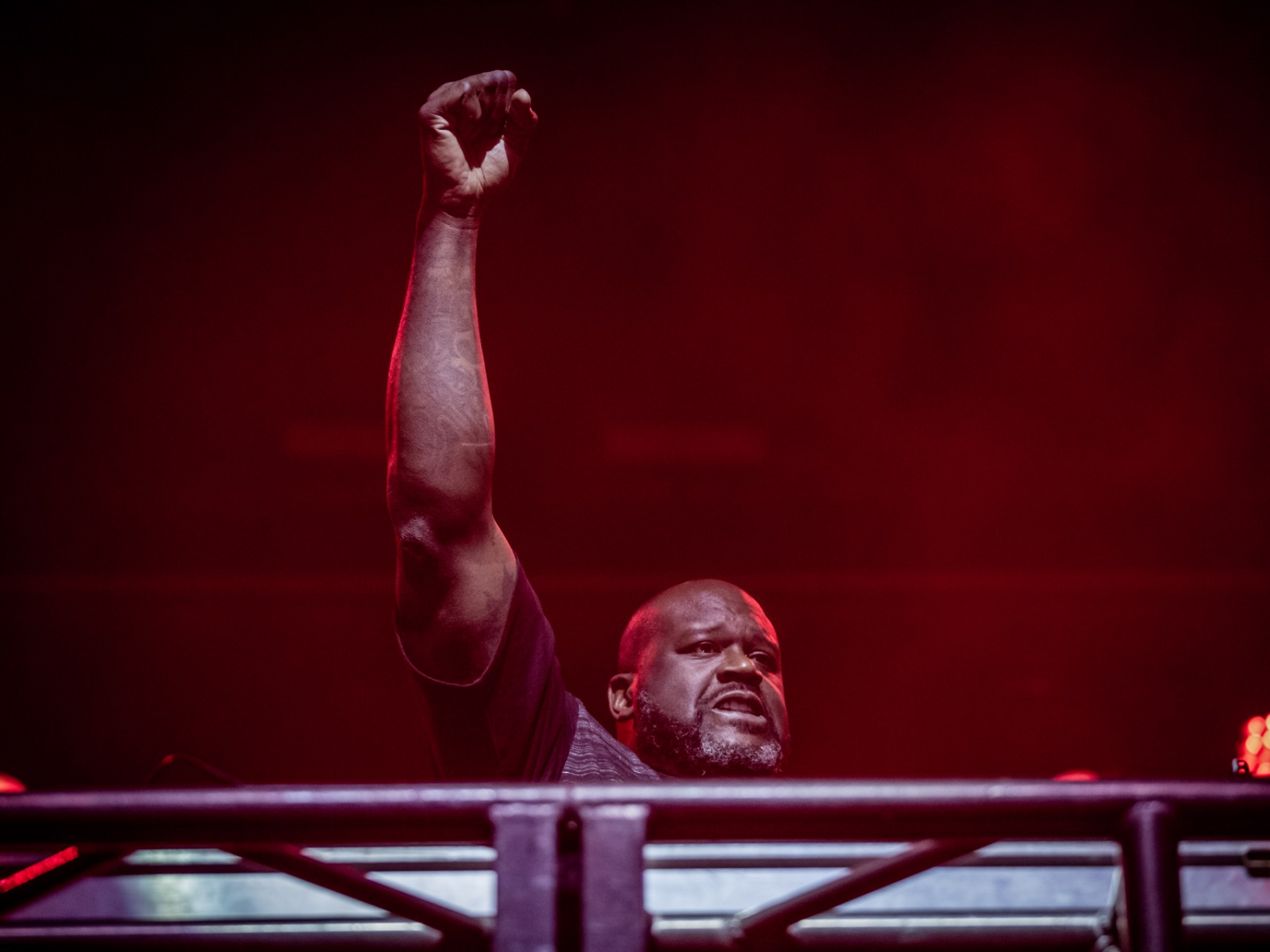 Taking the stage at 10 p.m. with a surprisingly large on-stage posse (that would only get larger as the night went along, plus guests from the crowd), Shaq pressed play on a 75-minute relentless onslaught of crunchy EDM beats and bass-thumping top 40 remixes. And I do mean "pressed play" as the NBA superstar didn't appear to do much behind his large deck beyond flick the occasional switch and slap the smoke jets button. At one point in the early going, one of his posse members even had to crank the volume up for him. If you wanted to see noteworthy DJ work from Shaq, you'd have been better off trying to find a highlight of him making a free throw.
Still, he faired respectably as the head coach of the party, getting the crowd motivated and moving with his booming setlist of distorted hits – Olivia Rodrigo, DMX, Kanye West and many more all made appearances – and satisfyingly ferocious bass drops. Every now and then, he made a misstep with some retro or rock interludes like "I Just Died In Your Arms Tonight," Red Hot Chili Peppers or t.A.T.u's "All The Things She Said." The only one that worked was "We Are The Champions" for obvious Bucks-related reasons, but otherwise these odd genre detours brought things to a head-scratching halt and didn't cohere with the clubby atmosphere whatsoever. Save for those moments, though, it was all popular bangers and buzzy beats all the time, blasting with all the bass, too contagiously catchy and propulsive to resist.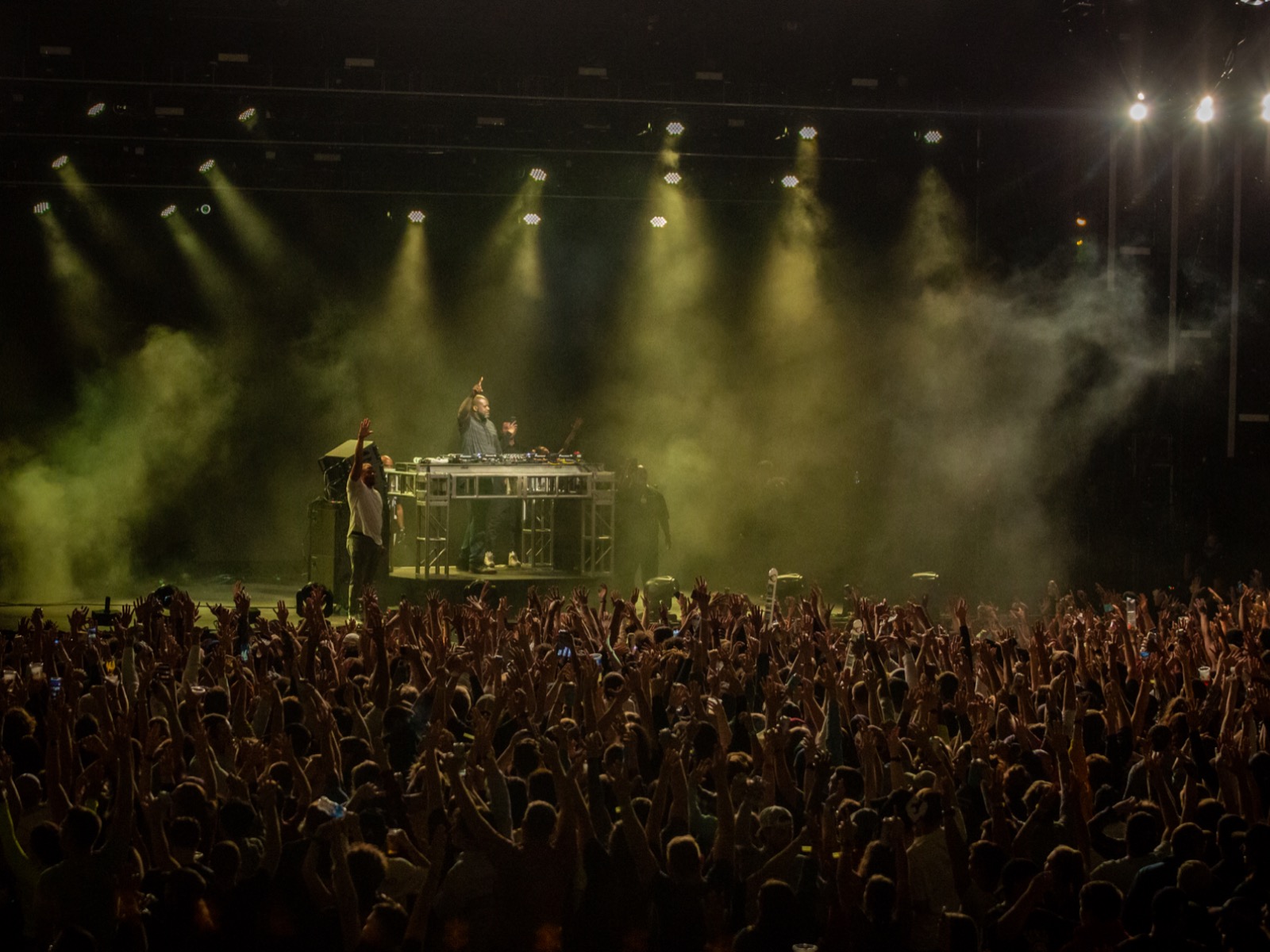 Plus, as one of the bigger personalities in modern sports, Shaq kept in touch and engaged with the crowd throughout the show. In front of his screen of giant Shaq heads with red lazer-shooting eyes and lightning-covered basketballs that looked like a live-action "Static Shock," Diesel did the standard-issue fist-pumping and finger-gunning (as well as some jumpshot poses that were amusingly corny in that very Shaq way) but also would smilingly point into the crowd at ravers that caught his attention and regularly shouted out Milwaukee – and particularly the Bucks – on the mic. He opened the show asking for "that Deer District energy," stole DJ Shawna's Giannis jersey to wave on stage and demanded "Giannis muscles" poses from the crowd. Near the end, he called even more people onto the stage to dance, get a handshake and – in one fan's case – stand next to him behind the table without a shirt on.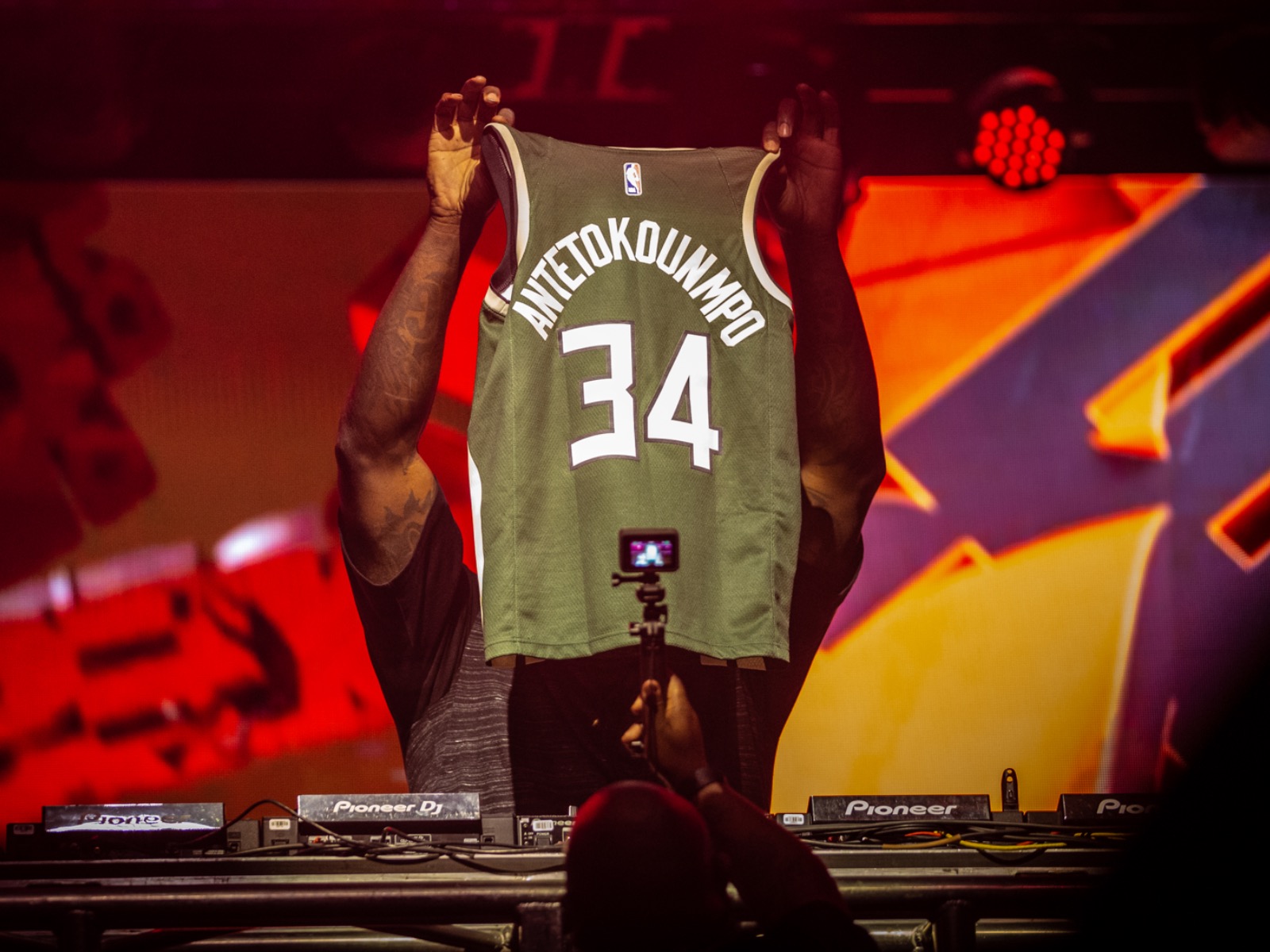 For a mega-star playing in a small market to a likely smaller-than-expected crowd, he had every reason to be aloof. Instead Shaq felt present, personable and occasionally playful, helping keep the good vibes going. Only complaint: I was hoping that he would take a page from Steve Aoki's book and, instead of cake, chuck Papa John's pizzas into the crowd. Missed brand synergy opportunity, in my opinion.
Otherwise, the night went about as well as hoped, delivering a fun and frenetic party that knew how to get people up, knew how to pander and crowd-please, and – maybe most important of all – knew when to get out. (An hour and 15 minutes may seem short, but even just a few minutes longer would've overstayed its welcome.) Of all of Shaq's dabblings into the world of entertainment – from "Shaq Fu" to "Kazaam" and "Steel" – Friday night's DJ show ranks easily amongst the most successful of the bunch. A low bar, for sure, but a bar cleared nevertheless.
As much as it is a gigantic cliché to say that one has always had a passion for film, Matt Mueller has always had a passion for film. Whether it was bringing in the latest movie reviews for his first grade show-and-tell or writing film reviews for the St. Norbert College Times as a high school student, Matt is way too obsessed with movies for his own good.
When he's not writing about the latest blockbuster or talking much too glowingly about "Piranha 3D," Matt can probably be found watching literally any sport (minus cricket) or working at - get this - a local movie theater. Or watching a movie. Yeah, he's probably watching a movie.