FISH CREEK – If you've been a regular OnMilwaukee.com reader, you know how much I love Door County. For exactly 20 years, I've made an annual summer pilgrimage to this beautiful peninsula – each and every time with one of my oldest friends, Eron.
But this year, a scheduling conflict prohibited this buddy trip, so I talked my wife into joining me on my adventure. We hadn't visited Door County together since we first started dating in 2002. It turns out that showing off old favorites, forging new memories and cultivating another Door County fan is a wonderful, relaxing way to experience this magical place.
Even as a entirely different kind of trip, Door County remains my "happy place." Scoring points with the wife makes it even happier.
Throughout the years, I've seen Door County in a fast-paced, adventure-filled sort of way, but this wasn't that kind of vacation. The prescription for a long weekend was relaxation and romance. It begin with checking into the quaint and comfortable Fish Creek Motel.
I've experienced all sorts of accommodations up here since 1994: I've spent plenty of summer nights camping at Peninsula State Park; I've checked out budget motels, family-run seasonal properties and even a few upscale inns. The Fish Creek Motel might be my favorite. With a perfect location – right across from the harbor – it's quiet and out-of-the-way, and the newly renovated cottages/suites are clean and cozy. Lots of wood and stone elements frame these intimate spaces, and having a kitchenette is especially convenient for storing cherries (more on that later).
Not all the rooms at the Fish Creek Motel are quite as nice as ours; it's a mix of old and new. But short of renting a house for yourself, this is the way to go. With one bedroom and a fold-out couch, you can easily bring along a kid or two. That it was just the two of us meant more room to spread out.
Hardly Working
Sure, I've worked up a sweat up here. In my travels with Eron, we've biked, jogged, kayaked and ziplined. But on this trip with my wife, I made sure our only outdoor exertion, if you can call it that, was comprised of cherry picking.
Thanks to the fertile soil of the Niagara Escarpment, cherries are everywhere up here, yet Velia and I didn't tried our hand at picking when we last visited together 12 years ago. A little time in the orchard seemed perfectly grown-up and especially delicious.
You don't have to look far to find a cherry orchard in Door County, but you do need to go at the right time. Because of the cool spring and summer, we found ourselves here during peak season, so we drove five minutes south of our mini-cottage to Orchard Country Winery & Market.
This place is really a one-stop shop. In addition to acres and acres of cherry trees, the family business operates a winery (with a free, six-glass tasting bar), permanent farmer market and more. We picked about five pounds of tart cherries for a mere $10 (we only halfway filled our pail, but it's the same price). Compared to strawberries, for example, Montmorency cherries make for a super-easy, low-key picking experience that's great for even young kids – then we returned to sample some wine and to see how it's made.
I'm not a gigantic fan of sweet fruit wines, but Orchard Country also makes wines with grapes, and we picked up a bottle of Ashlyn Sophia, a dry red, before touring the winery facilities and heading back to Fish Creek for some shopping.
That's another difference between going to Door County with your friend and with your wife: When it's just dudes, souvenir shopping takes a total of 10 minutes. With your wife, you'll slow down and realize that this refined haven has some great stuff, not just touristy kitsch. We browsed much more than I'm used to, and after a few hours of leisurely downtime, it was time for dinner.
Friday felt like a long day, so I liked the idea of staying close for our first full meal of the trip. Ever since my first visit to Mr. Helsinki last summer, I've been dreaming of their Bang Bang Chicken. It seemed like the perfect opportunity to show Velia one of my favorite restaurants in the area.
We wound up eating quite late, but it was worth it. I, again, ordered the super-spicy Thai-inspired dish, while my wife opted for a spinach and mushroom crepe. Settling in to this wonderful meal, I noticed Velia was beginning to understand why I love it up here.
And dessert began to cement it.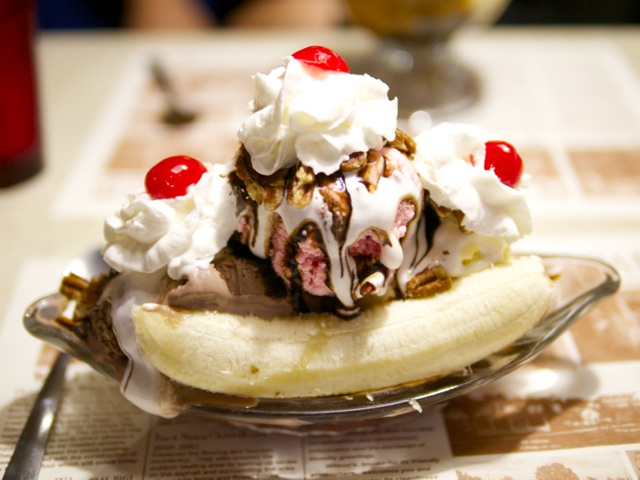 Satiated, but not too full, we drove up Highway 42 to Ephraim and stopped at the iconic Wilson's for ice cream. Even at 10 p.m., it was crowded, but we got a table: I ordered a classic banana split, and Velia ordered a turtle sundae. The sizes of the sweets left Velia – and the apparent newcomers at the table next to us – incredulous.
"I should not have eaten it all, but it was too amazing to stop," Velia said.
Wilson's history is omnipresent inside the old building. I love that I can sit and enjoy a simple dessert where my great grandparents could've, too. Generations have fallen in love with Door County just as I have. It's like a secret that somehow many have not yet discovered.
Wandering Without Purpose
Sleep, glorious sleep. How nice it was to close the shades and sleep until we were done: No kid yanking at our pillows, no alarm jolting us out of our dreams. But eventually, we had to rise, and we walked to Pelletier's for a peaceful outdoor breakfast, Fish Creek's bluffs framing the background.
Pelletier's is also not new to me, but it was to Velia. Now in full-on cherry mode, I opted for the cherry cream cheese French toast. The tartness played off the creaminess to perfection. We had plenty of time to savor and to sip coffee while people-watching. The thing about the people up here, we noticed, is that they are so happy. Everyone is smiling, all the time. What's not to smile about?

We walked off breakfast with a stroll down Main Street to dip our feet in the water at Fish Creek Beach. We kept walking east, stopping into the The Peninsula Bookman, The Oilerie and Nan & Jerry's. We took an impromptu hike by the the actual, literal Fish Creek, and eventually made it to the Top of the Hill Shops. Guys: This is group of stores that will bore you to death's door. Ladies: You'll likely buy some jewelry. My wife did.

Next, we drove north past Sister Bay. After giggling at the goats on the grass roof of Al Johnson's, eventually we made it to Seaquist Orchards, another permanent farmer market. Last time I was here was for an off-road Segway tour. But not this time. Just fudge, cherry jam and cherry pie. A worthwhile visit, to be sure.

On the way back, I surprised Velia with a lunch trip to Fred & Fuzzy's, which really needs to be seen to be understood. The beach bar is legendary. Nestled in a secluded cove, it boasts, quite simply, the best sunset anywhere you'll find. We came for lunch – perfectly good bar food. And, of course, cherry juice margaritas. Not a bad Saturday afternoon spot to unwind.

But Saturday night made for one of those all-time Door County memories. For dinner, we drove to Egg Harbor to visit Parador, a Spanish-style tapas restaurant in a historic old house. Seriously, this meal stood up to any small plate meal I've ever had. Imported olives, Canary Island pulled chicken sliders, manchego mac and cheese with Serrano ham, goat cheese and tomato sauce … We loved each small plate individually – and, as a meal, they delivered a perfect symphony of flavors in a romantic setting. Excellent service and fine attention to detail (at surprisingly affordable prices – our dinner with drinks came to $50), this turned into the best meal I've had on the peninsula. Ever. Highly, highly recommend.

Parador deserves a nod for its inventive cocktail list, as well. Ever had tempranillo mixed with cola? Neither had Velia, so she had to try the Calimocho. The combination grew on her, but, more importantly, it left an impression.

Stuffed with food, I had another one of those moments in which I recalled 1994 Andy and compared him to 2014 Andy. Historically, at this point in the trip, I'd be parking myself at the Bayside Tavern, listening to a jam band until bar time, but this wasn't that kind of weekend. Instead, Velia and I grabbed a glass of wine at chatted with locals at Summertime -- then called it a night. Sunday was set to be a "funday."
Libations and Live Music
While we deliberately chose to keep most of this trip unscheduled, we let our friends at the Door County Visitors Bureau do a little planning for us for our last full day.

It began back at Orchard Country, which shares a parking lot with Door County Trolley, for the Sunday morning Bloody Mary & Brunch Tour. Even though it clocked in at four hours long, it was a hoot.

Comprising three venues, each stop of the tour included a choice of either a Bloody Mary or a Mimosa. Our affable tour guide delivered trivia and jokes along the way and served as the group's wrangler to keep us on-schedule.

He first took us to Coyote Roadhouse on Kangaroo Lake, a bar I experienced only once many years ago. Next, we hit The Log Den for a brunch buffet, featuring our beverage of choice. Finally, we wrapped up at Alpine Resort, a hotel where time stood still somewhere in the middle of "Dirty Dancing."
The $51 excursion felt a little long, frankly, but it also made for a relaxed way to see the peninsula – and inspired a little, post-tour siesta back at the motel for us. It runs every Sunday, May through October. Depending on your fondness of day-drinking, it might be worth checking out.

Again, I found myself in deep reflection for the final event of our trip: a visit to "Camp David" for the Fishstock concert series. I'd been to this century-old dairy barn before, back in the mid '90s, when the then-hippie-commune threw a huge, end-of-summer party for anyone in the know enough to find it.

Today, Camp David is all grown-up, and current owner Dave Ellmann runs a Sunday evening concert series in the old barn. Where beer-soaked 20-somethings once roamed, Velia and I found ourselves among a largely graying audience to see Monroe Crossing, a world-class bluegrass band from Minnesota.

Fishstock earns its place as a "must-see" for any music lover when in Door County: $15 gets you admission as well as free soda and coffee; you can bring in your own food and drinks (no glass) and have a picnic in the barn or underneath the stars. (The passage of time was not lost on me at that moment. They say you can't go back; I'm not always sure I want to.)

The 7 p.m. concert ended around 9:30, and, after one more ice cream (cherry vanilla, of course) at Not Licked Yet, we packed it in for the night. Monday morning brought a final breakfast at The White Gull Inn.

This original Fish Creek hotel serves a stellar breakfast in a classic setting. Even on a Monday morning, we waited about 30 minutes for our table, and I opted for one of their specialties: cherry cream cheese French toast (yes, for the second morning in a row). While calling this meal "delicious" is a bit of an understatement, it wasn't markedly better than Pelletier's version. So, don't feel left out if you can't get a table here: At either stop, you'll get a meal that you will crave until next summer.

We shopped for souvenirs a bit more before making the three-hour drive home. We left fully relaxed, refreshed from this "date weekend" and not quite ready to be back in Milwaukee.

You really can't do everything in Door County in just three or four days. You couldn't even do it in a week. For every place I showed Velia – who now wants to move here – there's so much more we couldn't get to. But this wasn't a trip meant to run ourselves ragged.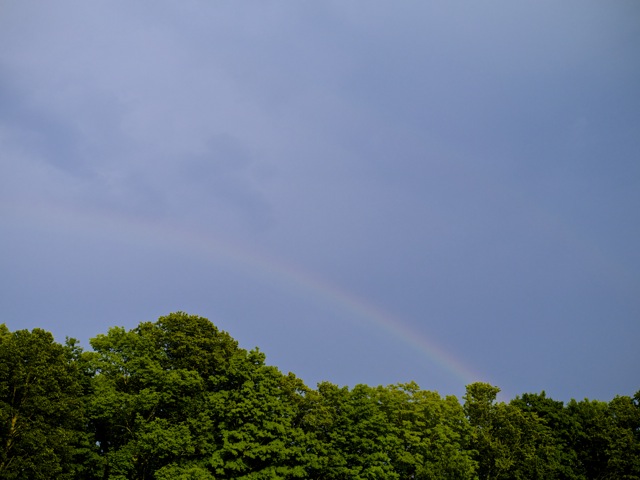 In a place with surprising beauty, a sophisticated vibe and a laid-back attitude to boot, Door County is as close to perfection as you'll find anywhere. It's a summer vacation young and old can enjoy, and 20 years in, it feels just as fresh and magical as it did in year one.

I'm a little bummed that the annual guys' trip didn't happen this summer, but I'm thankful that this romantic weekend did. Ideally, I'll make time for both kind of trips. Velia and I are already planning our next trip this fall, when we plan to bring our young daughter. Even if we can't really move to Door County, we owe it to ourselves to at least visit more often.
Andy is the president, publisher and founder of OnMilwaukee. He returned to Milwaukee in 1996 after living on the East Coast for nine years, where he wrote for The Dallas Morning News Washington Bureau and worked in the White House Office of Communications. He was also Associate Editor of The GW Hatchet, his college newspaper at The George Washington University.
Before launching OnMilwaukee.com in 1998 at age 23, he worked in public relations for two Milwaukee firms, most of the time daydreaming about starting his own publication.
Hobbies include running when he finds the time, fixing the rust on his '75 MGB, mowing the lawn at his cottage in the Northwoods, and making an annual pilgrimage to Phoenix for Brewers Spring Training.