During the last Ice Age, the glaciers bypassed southwestern Wisconsin, preserving the rocky, mountainous landscape that's very different from lefse-flat parts of the state, like Milwaukee, that didn't escape the massive ice sheets.
The unique character of the region – dubbed the "driftless region" by geologists because it doesn't feature the "drift" of gravel and boulders left behind by glaciers – features an abundance of ridges, hills, valleys and sandstone bluffs.
The varied terrain offers some of the greatest biking, canoeing, caving, skiing, hiking and trout fishing in the country. It also inspired a plethora of organic farms – the area has the highest number of organic farms per capita in the country – and attracted several thriving Amish communities.
The progressive spirit of the town – along with a reasonable cost of living – has drawn many artists, "hippies" and other creative-minded business people to the area in search of a simpler, nature-rich lifestyle since the '70s.
There are about 4,400 people living in Viroqua, the county seat of Vernon County, and it's located just over three hours west of Milwaukee. In recent years, myriad Milwaukeeans relocated to the town and last month OnMilwaukee.com went to find out why.
"After so many years in the city, I was starved for the sort of lush plant and animal life that you see here, and for the quiet life offered by this hilly country," says Jennifer Morales, a writer, teacher and activist who lived in Milwaukee for two decades before moving to Viroqua with her partner, Keren Orr, in April.
Morales fell in love with the area during a bike trip in the '90s. Although drawn to the driftless area, she moved to Milwaukee and had two sons. After they graduated high school, she decided to move to Viroqua where she and Orr bought a trailer about five miles outside of town.
So far, the country life agrees with Morales, who is currently writing "the great American lesbian divorce" novel. She also has a collection of nine short stories about race relations in Milwaukee coming out in the spring of 2015.
"The quiet is really important to me," says Morales. "I love the city and I love the diversity of people, but for my sanity and my writing I need a place where there's a lot less going on."
The desire for a quieter life, both literally and figuratively, is one of the main reasons why many former Milwaukeeans relocated to Viroqua.
"I don't even have a radio in my van. My whole day is quiet and I really like that," says Mike Koppa, who moved from Milwaukee to Viroqua in 2004. "The only noises I hear are the birds, the wind and the chimes."
In 2001, Koppa, and his wife Vicki, purchased land in the town of Liberty, about 10 miles outside of Viroqua. Over time, leaving the cabin became more and more difficult.
"The more we came out, the more we wished we could stay," says Koppa.
Koppa, whose family owned Koppa's Farwell Foods on the East Side, worked in the grocery store and later as a beer sales representative, teacher, artist and waiter. All the while, he pined for a different life and started to investigate employment possibilities in Viroqua.
Koppa applied for a graphic design position at Organic Valley – the largest employer in the area – but did not hear anything from the company for a few months. Finally, on the same day he quit his serving job, he received a call from Organic Valley and was offered the job.
Koppa worked at Organic Valley for seven years before buying a gravestone-engraving business called Viroqua Lettering. Over the course of seven months, he engraves 700 "final dates" on gravestones within a 60-mile radius of Viroqua.
Before Koppa committed to buying the business, he agreed to try the job with the original owner for three days. After two days, he knew it was right for him and today he refers to obtaining the business as "the ultimate prize."
"Some people prefer to be outside all day, and I'm one of them," he says. "I have a very simple job to do. It needs to be done well."
Vernon is the second poorest county in Wisconsin and finding work can be a challenge. Many people move with a business plan in place or with a willingness to piece together a variety of different jobs, at least temporarily.
"People don't just end up here. They consciously come here to be a part of something, but something that's not defined," says Eddy Nix, owner of Driftless Books and Music, located in the former Viroqua Leaf Tobacco Co.
Rachel Jepson Wolf, who grew up in Brookfield and attended the University of Wisconsin-Milwaukee, moved to Viroqua eight years ago with her husband, Pete, and their business, LuSa Organics.
"Many people come here with the awareness they need to bring their own income with them," says Wolf.
Today, they both work full time at LuSa, which offers a line of natural body and baby care products online and in many Wisconsin businesses including Beans & Barley.
Owning their own business has allowed the couple to homeschool their two children.
"For many reasons, this is the right place for us," says Wolf. "A friend once said Viroqua is the intersection of our values and our 'non-negotiables' and she was right."
Lynn Kronschnabel, who lived in Milwaukee for 18 years before moving to the Town of Kendall and then to Viroqua, created her own opportunities. She and her former husband, Mike Bieser, started Fizzeology, a fermented foods business that's still in existence today.
When the couple divorced, Kronschnabel reinvented her professional self and started Del Sol Chocolates, an "artisan bean to bar chocolate workshop," at the end of 2013.
Kronschnabel says Viroqua businesses are very supportive of one another and will occasionally take turns delivering each other's products to nearby cities.
"Viroqua is a wonderful place for food entrepreneurs to test products," she says. "The co-op is very supportive of new, local products and there are so many foodies in the area."
But not everyone moves to rural Viroqua with a cemented plan. Nine years ago, Erin Murdock, along with her husband, sister, two daughters and pets, packed up their Subaru and rolled into Viroqua without a place to live.
"We took a leap of faith," says Murdock.
The family stayed at a motel for a few weeks and eventually moved into a permanent place. The couple later bought a home. (Notably, they never received a key to the house nor have they needed one because they, like so many in Viroqua, never lock their doors.)
Murdock heard about Viroqua through friends at the Tamarack Waldorf School in Milwaukee and visited a few times with her family before deciding it was the right place for them.
"I was on a very different path before moving to Viroqua, but I can honestly say the Murdocks are happier here," says Murdock.

Murdock got a job at the Viroqua Food Cooperative – one of the town's biggest sources of pride – and later opened Tulips, a funky, eclectic gift and art shop on Main Street, with friend and fellow Viroqua resident, Erika Broser.

The women sold the business last spring – it is still thriving today – and Murdock now works as a stay-at-home mom.

"Viroqua is a very, very fertile place for some," says Murdock, who now has four children ranging in age from 3 to 16. "I'm buying diapers and menstrual pads."

Murdock feels that childhood is preserved in Viroqua and she particularly appreciates that her children are less affected by materialism.

"Our kids have no idea that we're 'poor.' It's easier and more accepted to be poor here, but it's harder to get out of it because there isn't as many career opportunities," she says. "However, we are rich in many ways other than money and we are grateful for everything we have here."

The Viroqua community is particularly supportive around birth and death. At any given time, there are numerous "meal wheels" in progress delivering food to families who lost or gained a loved one.

Micaela O'Herlihy moved to Viroqua in 2007 because she wanted to "homestead and make babies." Today, she has three children and owns Long Arm Farm, located in Westby, six miles north of Viroqua.

"The beauty of this place punches me in the face 20 times a day," says O'Herlihy.
O'Herlihy says rural, farm life has made her three children self-sufficient and strong.

"My kids are totally independent and pretty much just come to me when they want love, want to help or when they're hungry," she says. "My 4-year-old is developing a work ethic. My 6-year-old daughter has biceps and my 15-year-old has the skills to feed, house and keep himself and a family warm should he ever need to. And we eat like kings."

Access to alternative medical practices and the Viroqua school system are also big draws for people.

Kronschnabel, who moved to Viroqua when she was pregnant with her son, now 7, was able to have a water birth in a hospital, something unavailable in Milwaukee at the time.

She also gained access to an affordable Waldorf school, Pleasant Ridge, which was formed by a small group of parents in 1979.

"I wanted my child to live in a place where he could ride his bike on the streets," says Kronschnabel.

Desiring a safer environment is a big reason why so many Milwaukeeans – including the Murdocks – moved to Viroqua.

"Our car windows were smashed, our bikes were stolen and I didn't feel comfortable being home alone when my husband was at work," says Murdock. "Now, we leave our bicycles unlocked and nobody takes them. And if they did, we'd find out about it tomorrow."

The "everyone knows your name" aspect of the community is a reality of the lifestyle that serves as both a blessing and a curse.

"You get to know a lot of personal stories and you really get to know people," says Murdock. "However, especially being a business owner, I felt like I could never be off or be a tragic mess."

One Viroqua resident said she wanted to implement a flag system on the co-op's carts – displaying a green flag meant she was open for conversation and a red flag meant she was not feeling social.

Kronschnabel says the closeness of the community is not for everyone – she once had a friend visit who felt uncomfortable by it – but it is something she personally appreciates.

"There is a level of intimacy I had never known anywhere else," she says. "'I don't think I could have gotten through my divorce without this community."

According to O'Herlihy, being single in Viroqua isn't easy. "It's really hard to date out here," she says. "There are extremely slim pickings."

However, what she loses in romance she gains in other freedoms. For O'Herlihy, the spaciousness of the land inspires the expansion of her mind and actions.

"I can do whatever the hell I want here, whenever I want. I can think big," she says. "I can run around my place as far and long as I want without getting cited for trespassing. I can pee whenever and wherever I want. My kids can eat dirt."

Although there is access to a lot of healthy and organic food in Viroqua thanks to the co-op and the farmers market, multiple former Milwaukeeans said they missed ethnic restaurants – particularly Thai, Indian and Japanese.

There are only a handful of restaurants in town, including the popular Driftless Cafe, Spoon, Dave's Pizza, Tangled Hickory, Viking Cafe and the Rooted Spoon. The co-op also has carry-out food and a small dining area.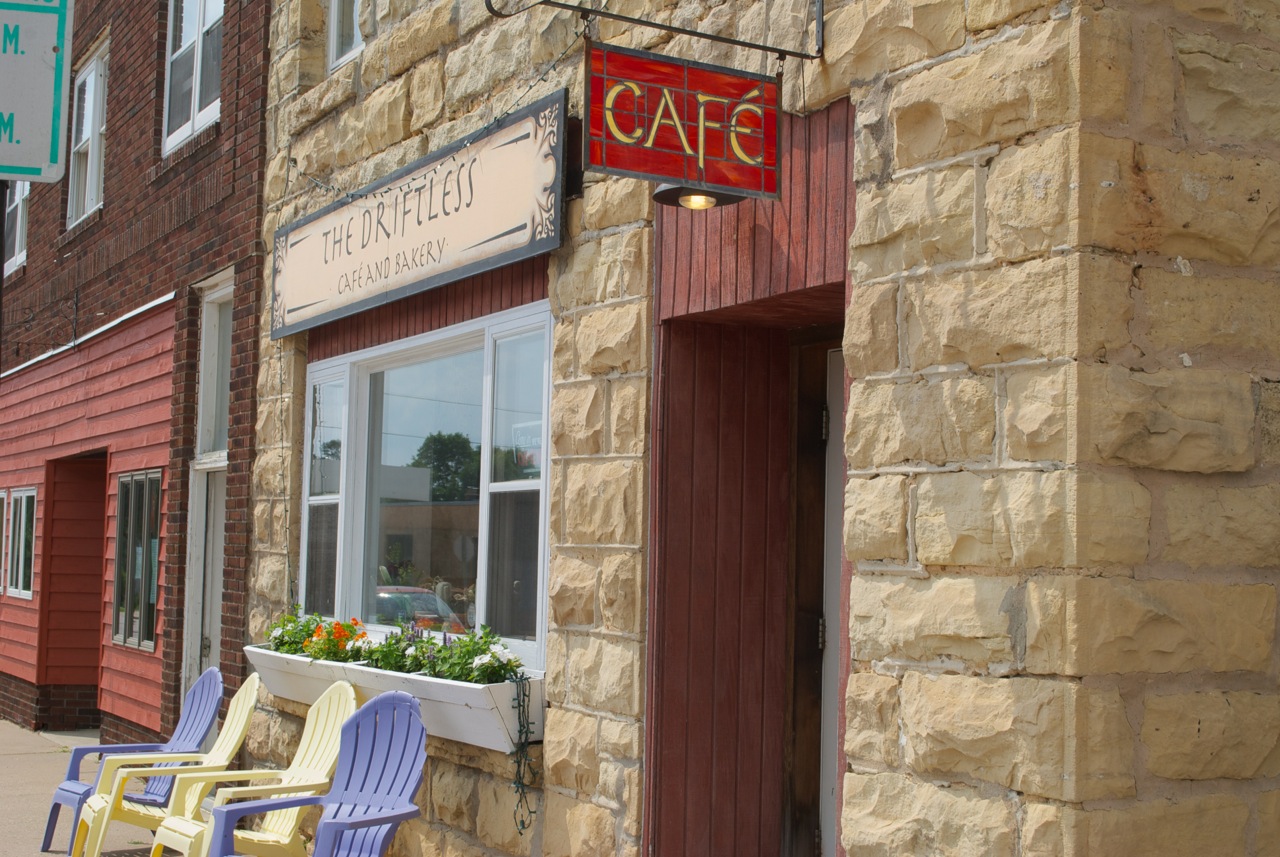 "Because of the co-op there are a lot of resources that are otherwise not available," says Morales. "But I really miss hot sauce."

Diversity is another aspect of Viroqua life missed by some. According to the 2010 census, 97.11 percent of Viroqua's residents are white.

"It's up to us to expose our children to diversity," says Kroschnabel. "You definitely have to work at it more here, but it takes an effort to get involved in other communities in Milwaukee, too."

Like anywhere, living in Viroqua is a blend of pros and cons. Presumably, many Milwaukeeans wouldn't want to live in Viroqua, but not one Viroqua resident said they wanted to return to Milwaukee.

"In addition to the beautiful natural setting, I really admire what people are trying to build here: a culture that is reclaiming old skills – everything from blacksmithing to herbalism – and a sustainable, hyperlocal food system," says Morales. "These are resources we need as we adapt to a climate changed world."

Wolf says Viroqua is the first rural community in which they've lived where they feel like they fit in.

"Viroqua is a community where we don't feel like outsiders. We aren't 'those people' here," says Wolf. "We blend."

Molly Snyder started writing and publishing her work at the age 10, when her community newspaper printed her poem, "The Unicorn." Since then, she's expanded beyond the subject of mythical creatures and written in many different mediums but, nearest and dearest to her heart, thousands of articles for OnMilwaukee.

Molly is a regular contributor to FOX6 News and numerous radio stations as well as the co-host of "Dandelions: A Podcast For Women." She's received five Milwaukee Press Club Awards, served as the Pfister Narrator and is the Wisconsin State Fair's Celebrity Cream Puff Eating Champion of 2019.