"Bar Month" at OnMilwaukee is back! For the entire month of March, we're serving up fun articles on bars, clubs and beverages – including guides, the latest trends, bar reviews, the results of our Best of Bars poll and more. Follow along with the #DrinkOnMke hashtag too. Grab a designated driver and dive in!
Off busy Moorland Road in Muskego, around a street that arcs through a business park next to a Walmart, workers are busy in a long, low white building.
Not only are they laying floors and painting walls, they're putting in a kitchen. And in the back, the installing a brewhouse in a big open space. Off in smaller area, a gleaming copper and stainless steel still awaits its first batch of spirits.
This is the future home of Eagle Park Brewing Company's new brewery, distillery and tasting room, which will include a full-service restaurant. (The taproom will remain open on Hamilton Street on the East Side and its brewery will continue to operate there, too.)
Not only is the space at S64 W15680 Commerce Center Pkwy. gigantic, it will be custom outfitted for Eagle Park, based on the brewing and restaurant experience of owners Jake Schinker and brothers Jackson, Cass and Max Borgardt.
"Everybody who works in the restaurant industry and bars talks about what they'd do if they had their own place," says head distiller Jordan Stielow, "and I'm really impressed. These guys have done it."
Stielow is here to show me around, and he's interested to see the progress, too, because at this point, he's not here every day. But that should change soon, as he hopes he'll be able to fire up the brand new 240-gallon hybrid still – manufactured by Canada's Specific Mechanical and installed in early January – by next week.
"We've got our federal DSP all set, our state DSP should be good to go by the end of the week," he says, "and then we can start distilling."
As we walk through the future tasting room, he shows me the huge bar and the keg room behind it. Off to the left is the kitchen, to the right and behind is a special events room with views into the brewhouse.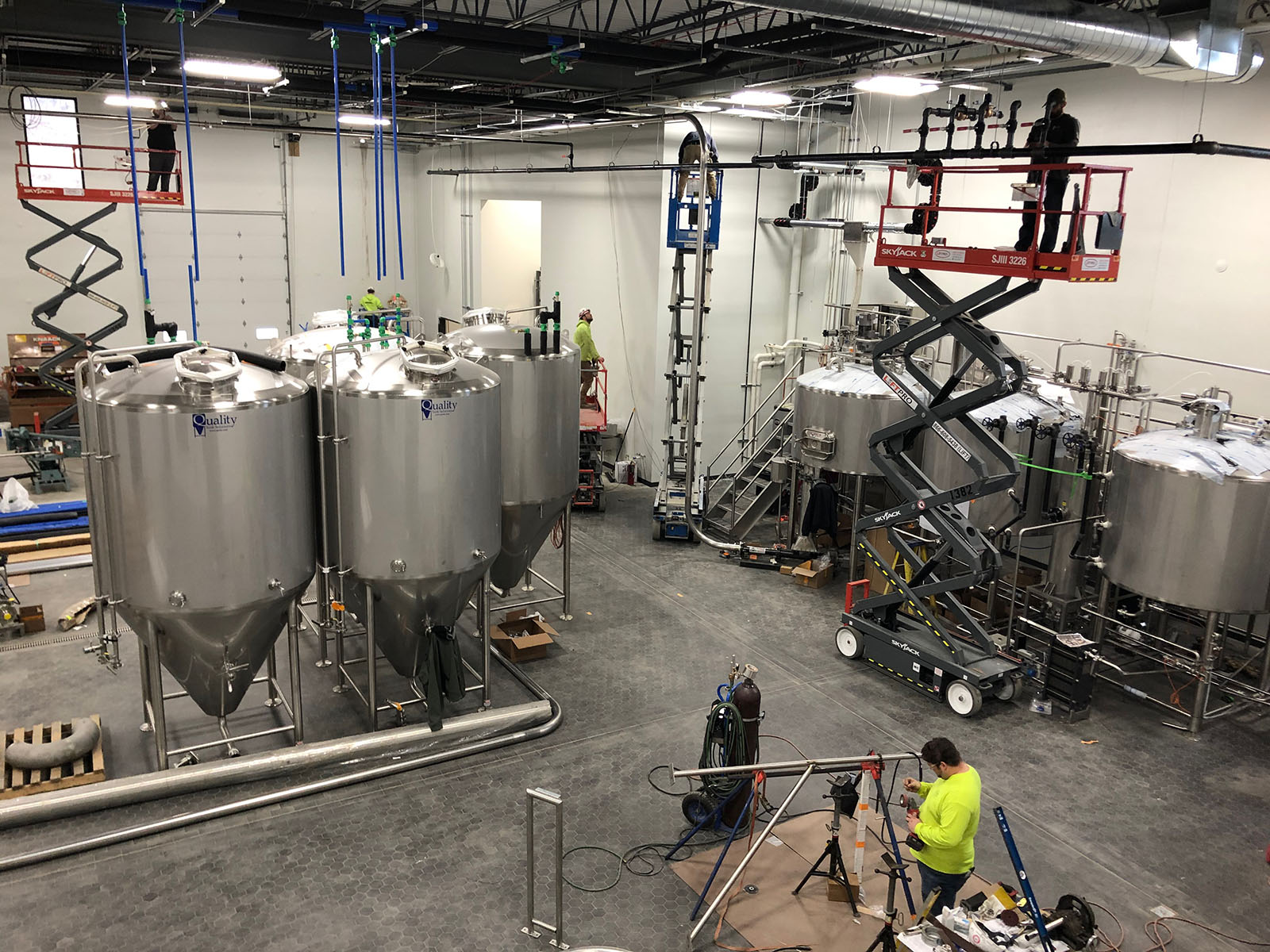 More seating upstairs overlooks the main seating area below. Another event room up there looks down into the brewhouse.
But what I'm really here to see is in the back.
We pass a future controlled-climate barrelhouse that's currently stacked with empty beer cans, on our left, and to our right, the mash tuns, fermenters, centrifuge and other brewing equipment is either already in place and being connected, or is on its way.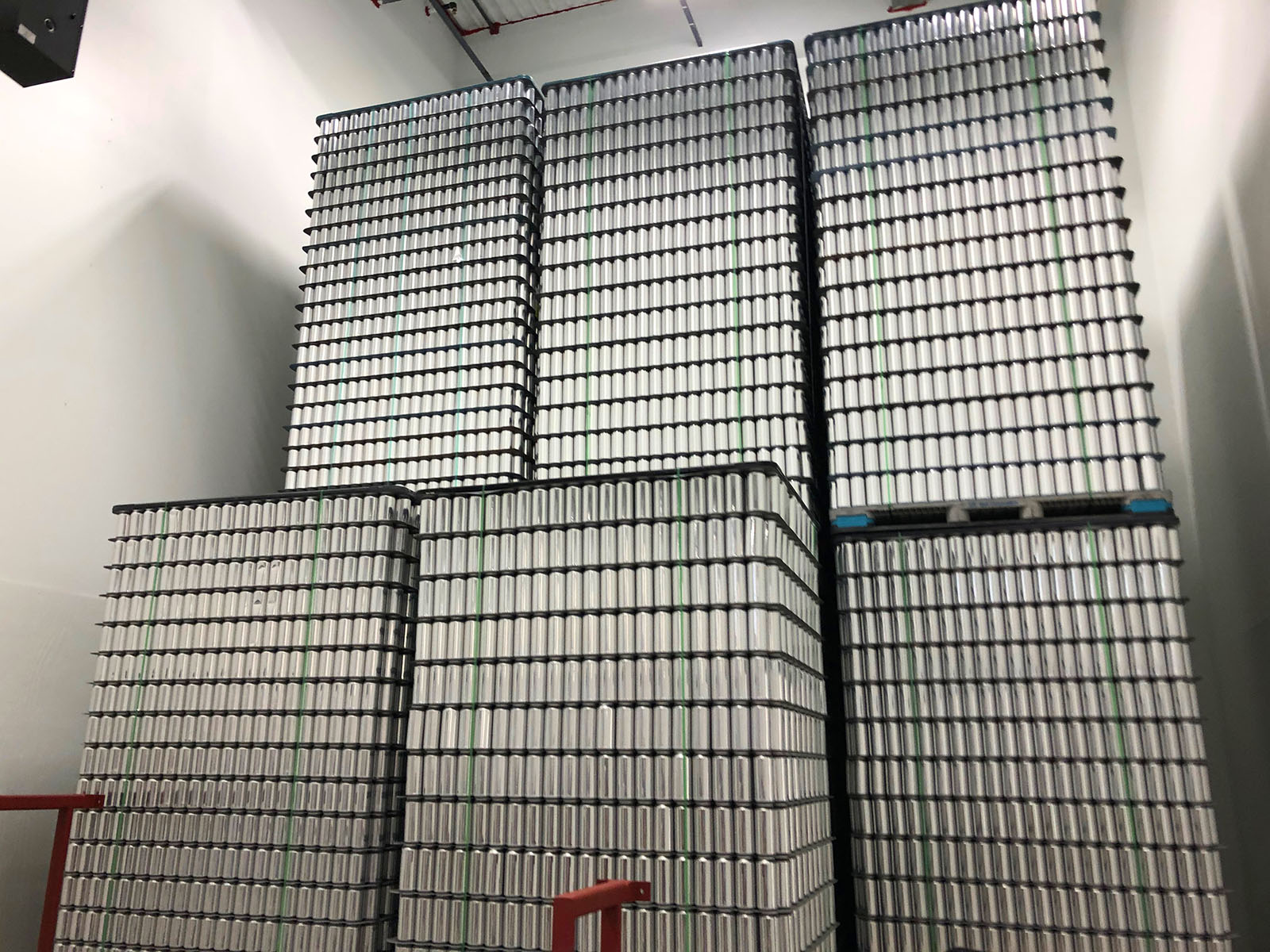 "The tanks are all from Quality (Tank Solutions, in Oconomowoc)," says Stielow. "There will be, I think, four tanks from the Hamilton location that'll be brought over here.
"The whole brewhouse is on the back wall: hot liquor tank, large, three-vessel brewhouse, and then this will be a battery of fermenters. This back space, just where you see this tile pad here, will be open for future growth, the addition of larger fermenters. We're going to have all the canning and everything set up in there for the brewery, too."
In another room, near the barrelhouse, Stielow says there will be a small lab for running bench trials.
Lest you think the brewhouse won't be the head distiller's domain, think again. Remember, you have to make beer before you can make whiskey, so a brewhouse a couple yards from the still is pretty handy.
"In kind of a very cool way, Jackson and I have come up with a way to do a brewer's style bourbon," Stielow says. "The process will be done on his three-vessel system, and it's going to be on an old European, traditional way of brewing. Then we'll have a stainless steel pipe that will just send it over to the fermenting vessel here."
Back in the stillhouse, the new still sits silently awaiting its future, a botanicals vapor basket in line between the pot still and the condenser.
While Stielow will use the still to make whiskey and gin, Eagle Park plans to source its grain alcohol for vodka, which will also be the basis of its gin.
"This still is not designed to make vodka," he says. "I'm after the best flavor I can possibly make. That's my job. So in order to have the most neutral flavor, I'm going to start with a commercially produced neutral grain spirit, just because they have a lot more rectification than I can get. They've got a 200-foot column. I don't have that."
Stielow says that distillate will likely come, via a broker, from one (or more) of a number of Wisconsin-based producers.
As for whiskey, Stielow will follow a tried and true startup craft distillery approach, sourcing quality whiskey from Midwest Grain Products in Indiana, while laying down its own whiskey to age.
"We are running a bar here, so we want to be able to have something to offer," says Stielow, noting that in Wisconsin a distillery tasting room can only sell what it makes. "Max and I have talked about having some fun and trying to get our hands on some really delicious stuff out there; just fun stuff to offer people."
First up will be a 3-year-old whiskey from MGP.
"They produce great whiskeys ... (but) then we're going to go tour around and source from different locations to create some blends that will be a little bit unique to Eagle Park. It's not just a sourced whiskey, but also to display the art of blending."
Stielow says that Eagle Park will not cut corners on aging by using staves in the barrels, or smaller barrels or sonic aging or any of the other techniques distillers can use in an attempt to cheat the clock.
They will age their whiskey for a minimum of four years, he vows, in 53-gallon, American white oak barrels from Louisville's Kelvin Cooperage.
"Right out of the gates, we will be laying down whiskey," he says, "and we're just going to be patient. We're going to do it right. We're not doing small-barrel aging. I'm just not a fan of that.
"There are a lot of different variables in aging that a lot of people don't account for. Especially when you're doing rapid aging, like oak adjuncts, adding staves, adding chips, adding powders. It does give you more flavor, but you're not accounting for the esterification, the oxidation, or the heat, or the expansion and contraction inside the barrel."
Eagle Park is planning to distill its own 100 percent rye, as well as a bourbon that's 70-20-10 corn-rye-malted barley.
"The nice thing about being a small facility is that we can lay down a bunch of different barrels that we want," Stielow says, "be experimental and have a bunch of fun with it. Down the road, we'll probably throw in some wheated whiskeys."
And single malts, which are all the rage in American craft distilling?
"We have to," he says with a smile, "we're a brewery. It would be a sin if we didn't. We're going to do something very traditional that they've got within the brewhouse, as well as probably something pretty fun with some different malts.
"We've definitely talked about it. In the brewing industry, collaborations are so popular. We've talked about doing collaborations with our distilling with other breweries, or with the two breweries collaborating, and then distilling it. It just adds so much more that we can do to make cool stuff. That's going to be a lot of fun."
Eagle Park is sourcing its malt from Proximity and Malteurop – both located in Milwaukee – and its rye will also come from Proximity. Rovey Seed in Indiana will supply the corn.
For its gin, Eagle Park will use the sourced distillate and then macerate the weightier botanicals like juniper berries for 24 hours before redistilling with the more delicate, floral botanicals in the vapor basket.
Stielow, who is originally from outside Minneapolis and worked for four years at Breckenridge Distillery in Colorado before running his own consulting business for a couple more years, says his time in the business has given him a broad range of experience.
As head distiller at Breckenridge, he did pretty much everything, including writing the gin recipe and creating vodkas.
"I certainly cut my teeth there," he says. "They're a monster bourbon producer now in the craft world. Having built all of that, it was a ton of fun. I never stopped learning. It was wild to see a place grow that fast, that much, in four years. I see a lot of the same qualities in Eagle Park."
After leaving, he helped launch a vodka brand in Aspen and then moved to Denver, where his consulting work led distilleries to seek his opinions on their products and advice on how to improve them. He also taught classes for the American Distilling Institute and designed and managed the build-out of a distillery.
So, what led him to Eagle Park?
"I really, really like what these guys are doing," Stielow says. "These guys are growing like wildfire. I'm originally from the Midwest, so it's a little closer to home. And, yeah, now it is my name on the product in a way."
Recently Eagle Park released prototypes of label designs for its spirits and the look is sleeker and more modern than the quirkier, artsier labels that adorn its beer cans. But, says Stielow, the image of the brews and distillates will be intertwined.
"For the traditional spirits, it's going to be just simple and easy: Eagle Park bourbon, Eagle Park rye, Eagle Park gin, rum, etc.," he says. "That'll be simple. The liqueurs, we've been having fun with. One is called Charlotte, after a Charlotte-style cake. Another is Wallbangers, after the drink, as well as a fun fact that I recently learned: in 1982, the Milwaukee Brewers were nicknamed- Harvey's Wallbangers.
"The music focus is still going to stay within the brand. The spirits and the brewing labels are unique to themselves, but it still all works under the same roof."
Speaking of a roof. And walls, and doors and taprooms and brewhouses ...
"We've kind of been staying out of the way because these (workers) are just going to town. They've got all hands on deck, and they are really cruising. It's been impressive to watch."
Eagle Park hopes to open in spring, but there's not an exact date quite yet.
"April might be a little aggressive (for an opening)," Stielow says. "We want to be brewing and distilling before that. We won't have all products available, but we want to have as much as we can.
"I'm feeling excited. Luckily, I'm familiar with it, and that helps a lot. The other thing is these guys were smart. They brought me here in October so that we could knock out a lot of the things beforehand, so that it's not a scramble right now."
Born in Brooklyn, N.Y., where he lived until he was 17, Bobby received his BA-Mass Communications from UWM in 1989 and has lived in Walker's Point, Bay View, Enderis Park, South Milwaukee and on the East Side.
He has published three non-fiction books in Italy – including one about an event in Milwaukee history, which was published in the U.S. in autumn 2010. Four more books, all about Milwaukee, have been published by The History Press.
With his most recent band, The Yell Leaders, Bobby released four LPs and had a songs featured in episodes of TV's "Party of Five" and "Dawson's Creek," and films in Japan, South America and the U.S. The Yell Leaders were named the best unsigned band in their region by VH-1 as part of its Rock Across America 1998 Tour. Most recently, the band contributed tracks to a UK vinyl/CD tribute to the Redskins and collaborated on a track with Italian novelist Enrico Remmert.
He's produced three installments of the "OMCD" series of local music compilations for OnMilwaukee.com and in 2007 produced a CD of Italian music and poetry.
In 2005, he was awarded the City of Asti's (Italy) Journalism Prize for his work focusing on that area. He has also won awards from the Milwaukee Press Club.
He can be heard weekly on 88Nine Radio Milwaukee talking about his "Urban Spelunking" series of stories.