I grew up watching too many episodes of "Columbo" to count. I've never missed an episode of "Sherlock," and I've read just about everything Agatha Christie has ever written. My cousin and I even have a long-distance book club that consists of sending each other books in the mail, all of which happen to be mysteries. You know, the kinds where the husband dies and the wife finds out about his secret life, but maybe the wife has secrets, too – that kind of thing.
My devotion do the mystery genre doesn't end in the world of fiction. When I'm not out and about in Brew City, a happy Friday night for me is being in bed at a reasonable hour and watching "Dateline." I can even spout of facts about famous murders throughout history at the drop of a hat. (If you ever need someone to debate who killed JonBenét Ramsey or talk to about The Kennedy Assassination, I'm your gal.)
So, it goes without saying that, in a somewhat naïve way, murder fascinates me. Well, maybe that's a harsh (and slightly terrifying) way of putting it. Perhaps a better way of saying it is that human psychology fascinates me. What compels people to commit violent acts? What makes them think that taking a life is the best way to solve a personal problem? If reading Hercule Poirot novels has taught me anything, it's that understanding human psychology is the key to solving any mystery.
But sometimes, when I pick up a mystery novel or re-watch an episode of "Monk" for the 15th time, I don't want to think about the psychology behind murder. Sometimes, as insensitive as this might sound, I just want to be entertained.
Well, someone at the Marcus Center gets me, because that's clearly what they had in mind when deciding "A Gentleman's Guide to Love & Murder" would be part of the Broadway series. Combine that with one of the city's finest restaurants, and you've got a night many would kill to experience.
Eat: Carnevor
Raise your hands if, like me, you were huge fans of the show "Dexter." While many episodes continue to haunt me (R.I.P. Rita), one of the main things that remains memorable are the clever opening credits.
The scene shows Dexter in his apartment, going about his morning routine, but with a sinister twist, flossing his teeth resembles a rope menacingly prepped for strangulation. Cutting into an egg yolk becomes violent and surprisingly gory. At the end, he locks his door and leaves his apartment with a quiet smile on his face, knowing he sees things just a little bit differently (and more viciously) than the rest of us do.
That's kind of how I feel whenever I walk into Carnevor. On the surface, I'm happy and calm as I walk into the restaurant; on the inside, I'm know I'm about to cut and slash and brutishly conquer my plate of meat.
From the moment you cross the threshold of this acclaimed restaurant, you know you're about to partake in something special. If "upscale caveman" isn't a current design trend, it needs to be, because walking into Carnevor is sure to inspire just about everyone in the HGTV lineup. Few dining locations in Milwaukee are as visually stunning, wordlessly communicating that you are about to enjoy a primal yet luxurious meal.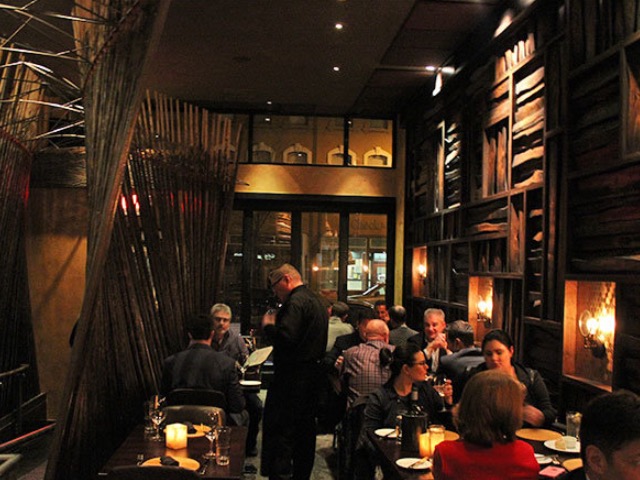 The award-winning steakhouse is certainly one of Milwaukee's most prized restaurants. Frequently topping several "Best of" year-end dining lists, this always superb eatery offers superb wet and dry-aged USDA prime beef. If you think that this distinction is common place, think again; that's a statement that can be applied to only 2% of all American beef. The exceptional quality doesn't stop there when you're at Carnevor, as its daily selections include one of the Holy Grails in the world of steak: Wagyu beef imported directly from Japan.
Maybe I'm alone in thinking this, but I've always thought a steak dinner is a beautiful and delicious contradiction. Steak is exclusive yet accessible. Luxurious yet simple. Refined yet somehow down-home. These conflicting characteristics are perfectly brought to life with every dining experience at Carnevor. This is a restaurant where a seemingly simple "meat and potatoes" meal is anything but simple. It's the kind of restaurant Wisconsinites can be proud to have in their own backyard.
My outer foodie was beyond satisfied at the barrel cut filet mignon I just demolished. But my inner Dexter got a complete thrill from the sensation of cutting, ripping and chewing the meat. An incredible meal with a subtle, sinister twist was the perfect first course to my playfully menacing Milwaukee evening – one so much fun, it should be against the law.
Luckily, my night of crime was about to continue just a half a mile down the street.
Play: "A Gentleman's Guide to Love & Murder"
My devotion to the mystery genre is something that I haven't previously shared with OnMilwaukee readers. But if there's one passion I've never been shy about revealing, it's my love of musical theatre. Give me the name of a musical, and chances are I can name at least a few songs from it. Being ignorant of a show's plot is largely unchartered territory for me.
Until Tuesday, when I came across "A Gentleman's Guide to Love & Murder."
Before that night's performance, I played detective by consulting my good friend Google. Imagine my delight and surprise when, digging up various clues, I found out that "A Gentleman's Guide to Love & Murder" was a show centered on a few of my favorite things, a musical for lovers of Broadway, mystery and comedy. And after seeing the performance for myself on Tuesday night, I have to tell you that missing this show would truly be a crime.
Monty Navarro is at the center of this Tony-winning story. While he has the advantage of being an heir to a significant family fortune, unfortunately, there are eight people ahead of him in line that will inherit said fortune before he does. But, since "murder" is in the title, Monty knows the best solution is to simply eliminate those relatives who stand in his way. Add in a devoted fiancée, a scheming mistress and possible jail time, and you have an ideal night at the theater for mystery fans like me.
Since no mystery is complete without a shocking twist, "Gentleman's Guide" is not short on thrills and surprises – with the best one coming in the form of the casting itself. The actor who plays the greedy yet likable Monty doesn't just have the challenge of portraying one character; he also takes on the roles of each of his eight family members due to inherit the exorbitant sum. It's a development that would surprise Sir Arthur Conan Doyle himself, and it's one of the many reasons why this musical is a delightful treat Milwaukee audiences will love.
For those of you who, like me, enjoy indulging in mystery and true crime, pairing a meal at Carnevor with "A Gentleman's Guide to Love & Murder" is a night in the Brew City to die for.
A proud Wisconsin native, Caitlin Elftman is always up for a night on the town in the Brew City. If you ever need someone to catch a play or a concert with, or a friend to check out the latest Milwaukee restaurant opening, she's your gal!
Caitlin is also a lover of international travel, makes a mean risotto and knows every Neil Diamond and Celine Dion song you could throw at her.