Without thinking of the opening song of "Fiddler on the Roof," what comes to mind when you hear the word "tradition?" No matter how you define it, we can all agree that tradition brings people together; it unites a population, whether intimate or vast, in a common practice or belief.
There is one tradition that takes precedence above all others to over two billion people across the globe. To Christians, the ritual of celebrating communion, of commemorating the moment when Jesus transformed ordinary bread and wine into His body and blood, is at the center of their lives. Today, this practice honors the ultimate symbol of God's love for us and commemorates the beautiful sacrifice Christ made to redeem our sins. Some Christian traditions take this practice more literally than others. While many denominations view their weekly communion as more symbolic of the Last Supper and what it represents, the Catholic faith sees every Communion as a true transfiguration.
Although this custom is celebrated every week in Christian Sunday services, how can we view communion and the beautiful tradition behind it outside church walls? One obvious answer is to enjoy a meal centered on bread and wine. While that may initially seem like an irreverent answer, enjoying a meal, where the bread and the wine are the focal point, can simultaneously be a delicious dinner while reminding us of both Christ's ultimate sacrifice and of the greater communion that exists across humanity.
This night out in Brew City, while more serious in theme than most, is a satisfying opportunity for reflection on our place in the world, our interactions with those around us and the traditions that help make life meaningful.
But first, dinner.
Eat: Onesto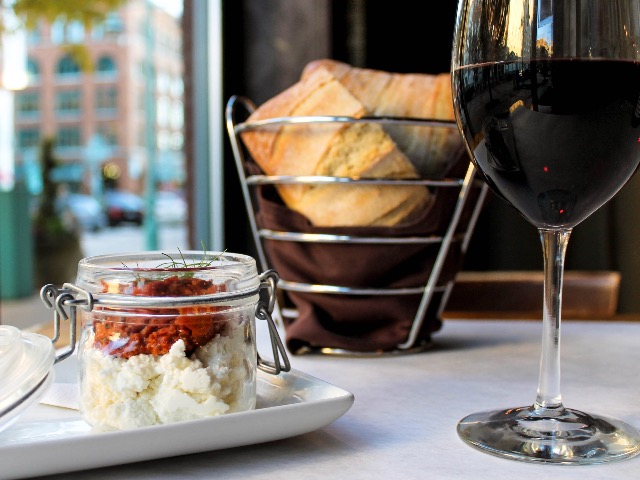 While I've dined at Onesto before, I don't go there nearly as often as I should. The last time I ate there, my husband and I started our meal off with a bowl of mushroom and meatball soup – and we haven't stopped talking about it since. At least once a month, when one of us is hangry and questioning what's for dinner, we'll say, "Remember that soup we had from Onesto?"
Moral of the story: Onesto creates dishes that really stay with you.
But this Third Ward favorite is so much more than an incredible bowl of soup. Onesto is one of those rare places that effortlessly combines warm hospitality, intimate ambiance and crave-indusing cuisine. Not only that, it's also one of the best places in Milwaukee to bring your experience with communion and its religious meaning to the secular world.
Warning: Do not read the following section on an empty stomach.
Bread and wine is experienced to its fullest with every visit to Onesto, as guests are greeted with a basket of freshly-warmed bread and butter (which I always devour much too quickly). But pairing this bread without one of their signature jars would be a sin. Their pea pesto, whipped mascarpone and lemon jar as well as their fig, toasted walnut and gorgonzola option are perfect for excessive dipping – and guaranteed to satisfy every taste bud. The mouth-watering offerings don't end there. I also highly recommend Onesto's burrata with tomato confit and pea pesto if you are new to the restaurant – but in all honesty, you really can't have a bad meal when you dine there.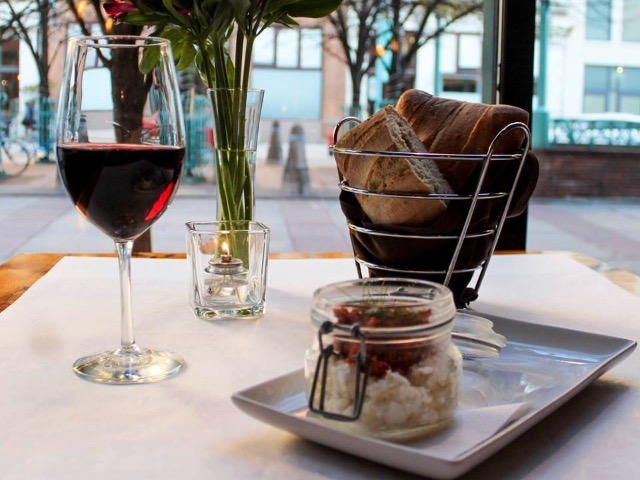 And since no order of bread is complete without an accompanying glass of wine, Onesto has you beyond covered. Bottles of wine and wine carafes are half-priced from 2-5 p.m. every Monday and Friday – a blessing both for your palate and your wallet.
From its welcoming environment to its evident homage to its Italian heritage, Onesto values quality time centered on good food and great company above all else. If that doesn't define a sense of communion, I don't know what does.
With a belly full of bread and wine, it was time to make the 0.1 mile journey to the theater to continue my unconventional theme night of "communion."
Play: "Doubt"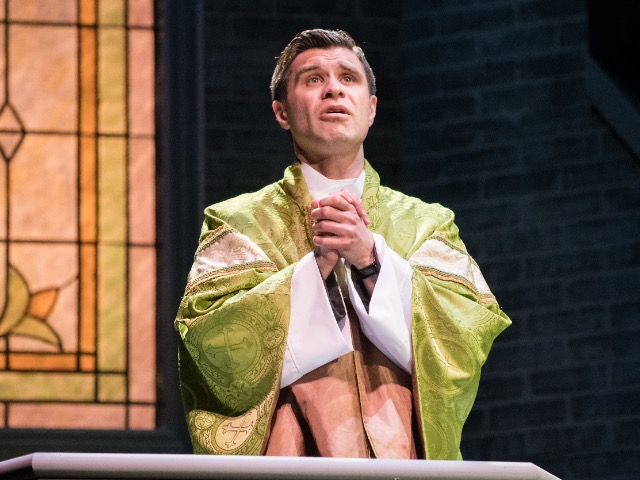 The Catholic faith, its beliefs and a painful, still ever-present scandal, are at the center of the moving and provocative play "Doubt," playing now through April 29 at the always outstanding Milwaukee Chamber Theater.
John Patrick Shanley's parable focuses on another definition of communion: the communion and the community of a group of nuns and their parish priest, Fr. Flynn, living and teaching at St. Nicholas parish and school in the Bronx in the 1960s. It's a disturbing yet realistic story of what can happen when a group of people, who are solid in their beliefs and opinions, begin to question everything due to the possible actions of one man.
While many in Milwaukee may not have previously seen the stage adaptation, audiences will likely be familiar with the acclaimed 2008 film version starring Meryl Streep and the late Phillip Seymour Hoffman. I first watched the story in a room full of practicing Catholics (myself included). This was a group of girls that gathered for monthly Monday movie nights, and that summer, our theme was Meryl Streep. Thus, "Mondays with Meryl" was born. (I know, we're pretty clever like that.)
While most movies were often interrupted by spirited conversation, "Doubt" was a film we watched in absolute silence.
The ambiguous ending is one of many highlights of this intense story; there is no clear answer as to whether or not Fr. Flynn, the parish priest, is guilty of the acts some accuse him of. In fact, only the playwright and the actors who have portrayed Fr. Flynn know the truth. I would love to poll the audience after I see this show to give me their verdict and reasoning, but I'd have to assume that the opinions would be nearly split right down the middle.
I'm speaking from personal experience: That silent "Mondays with Meryl" viewing party of "Doubt" was followed by a spirited debate amongst my friends; some were dead sure that Fr. Flynn was a generous priest, free of scandal, while others in the room were convinced of his guilt. It's hard to describe just how perfectly this story handles the delicate subject it tackles, and the ambiguous ending is the perfect way to present an unbiased story on extremely sensitive material. I just know that the Milwaukee Chamber Theatre will do an impeccable job of presenting this compelling story.
There are other customs we practice that, while seeming mundane on the surface, can remind us of the things that matter most. But other traditions we honor, when practiced reverently, can put us mere mortals in touch with a higher power. This night out in the Third Ward is a slightly unconventional way to honor this revered Christian ritual and the valued tradition of communion.
A proud Wisconsin native, Caitlin Elftman is always up for a night on the town in the Brew City. If you ever need someone to catch a play or a concert with, or a friend to check out the latest Milwaukee restaurant opening, she's your gal!
Caitlin is also a lover of international travel, makes a mean risotto and knows every Neil Diamond and Celine Dion song you could throw at her.