EAU CLAIRE – Most Milwaukeeans think of Eau Claire as a college town, a city with a name similar to a cream-filled donut or, in the past decade, the home of Justin Vernon from Bon Iver and his popular indie music festival, Eaux Claires.
All of this is accurate, but during a recent four-day stay – which was our first time in Eau Claire – we dove deep and experienced both the riveting renaissance and the pleasantly preserved aspects of a city that recently was compared to a mini-version of Austin and Portland.
"Fifteen years ago, Downtown Eau Claire had bars, banks and churches," says Josh Prock, lifelong resident and co-owner of The Mousetrap, a tavern, restaurant and live music venue. "Everything left Downtown when the malls opened, but now there's life here and it's the place to be again."
Located 245 miles northwest of Brew City, Eau Claire – nicknamed "Sawdust City" because of its logging history – is an easy and scenic four-hour drive away (I-94 W to US-53). It took us a little longer because we drove our 1980 Volkswagon bus, which is happiest when driving 60 mph or less.
Ideally, if going for the weekend, Milwaukeeans will want to leave on a Friday to ensure a solid visit to Eau Claire. As we discovered, there is a lot to do on both land and water.
The city has roughly 67,000 residents – which does not include the University of Wisconsin-Eau Claire student population – and is located at the confluence of the Eau Claire and Chippewa Rivers. Historically, it was a conservative town – the proverbial great place to grow up – but in recent years it has attracted myriad millennial-aged artists and crafts people, talented food and drink enthusiasts, musicians and business visionaries.
Zach Halmstad, a lifelong resident of Eau Claire who co-founded a software company called JAMF, is the driving force behind numerous new developments in the Downtown area. He is the owner of the Lismore Hotel and is currently spearheading the $51 million Pablo Center at the Confluence that will open in September.
"We practice 'coopetition.' We're not trying to compete with other business owners, we're just trying to get more people to Eau Claire. It's about collectively building up the market. This is my hometown and I want to see everyone here succeed," says Halmstad. "Every one of our projects starts with the question, 'Will this increase the quality of life for Eau Claire residents and visitors?'"
And although the city has undergone significant urban renewal, nature is still very much at the heart of the Eau Claire experience. The terrain is hilly with lots of trees, as well as waterways and trails that make hiking, biking and kayaking extremely accessible in the summer and autumn months.
Eau Claire also embraces local and public art of all kinds. Numerous murals have brushed onto the scene, including the colorful and massive "Cascade" by Molly Z., as well as a mural of the cover of Bon Iver's album, "22, A Million."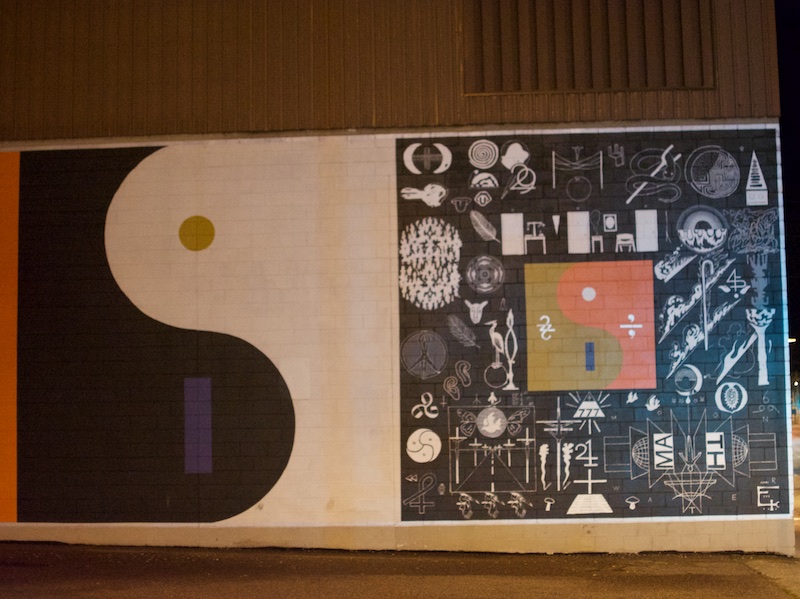 Downtown Eau Claire is also temporarily home to 53 quirky statues thoughtfully placed throughout the area, as part of the "Eau Claire Sculpture Tour." There's a tasteful abstract in front of the Lismore Hotel and a kangaroo with a baby roo in her pouch in front of the Children's Museum. There's also this elephant who we grew quite fond of.
Downtown Eau Claire is extremely walkable, especially in the warmer seasons, and speakers affixed to street lamps that flow with music make tooling around the town even more enjoyable.
"Eau Claire is scenic and has awesome bars and restaurants, but it's also extremely affordable," says Sara Prock, co-owner of the Mousetrap. "And the people here are really nice."
Milwaukeeans will definitely appreciate the affordability of Eau Claire – we found food and drink items to be a few dollars less than at home – as well as the endearing and inspiring genuineness of the people.
By the end of our four-day stay, we can honestly say we left having made a few friends.
Like Milwaukeeans, Eau Claire folks (Eau Claire-ians?) embrace summer with a passion that can only be experienced after a long winter. People are out and about – accessing the old stuff, the new stuff – and smiling about it. "Summer here comes in like a zaftig hippie chick, jazzed on chlorophyll and flinging fistfuls of butterflies to the sun," reads a quote painted on the wall at the Oxbow Hotel.
"Eau Claire may be a four-hour jaunt from Milwaukee but it's worth every mile for the bona fide indie experience here," says Mack John, public relations manager for Visit Eau Claire. "The music and arts culture is organic, the food and drink are art forms unto themselves, the scenery is out of this world and the community is inclusive, caring and independent all rolled into one."
They also play an impressive game of Kubb, but we'll get to that later.
Where to stay
There are two hotels – both recently renovated and operated by young residents / entrepreneurs – in Downtown Eau Claire. We stayed at the uber-hip Oxbow Hotel, and the artistic and slightly more upscale The Lismore is just a few blocks away.
When we pulled up to the Oxbow, it was pouring rain and I ran into the hotel to check in. We didn't know it at the time, but our first interaction with anyone in Eau Claire – the concierge at the Oxbow – foreshadowed the rest of our stay.
"Does the hotel have an umbrella I can borrow?" I asked the young woman at the front desk.
"Please," she said. "Borrow mine."
The Oxbow, sometimes referred to as "the Bon Iver hotel" (because Justin Vernon is one of the owners), is a thoughtful and artistic boutique hotel with a rustic and quirky bar and restaurant called The Lakely that has live jazz music and an outdoor patio with fire pits. The rooms featured – quite possibly – the most comfortable bed we've ever experienced in a hotel, a perfect cooling system (it was in the 90s during our stay so this was deeply appreciated), city-meets-nature decor including a hand-painted wall mural of an abstract relief map, local art on the walls and an extremely clean bathroom. (Our only complaint after our three-night stay was there's not a ledge in the shower. Where's a girl to set her shower beer? You need "Leinie Ledges," Eau Claire!)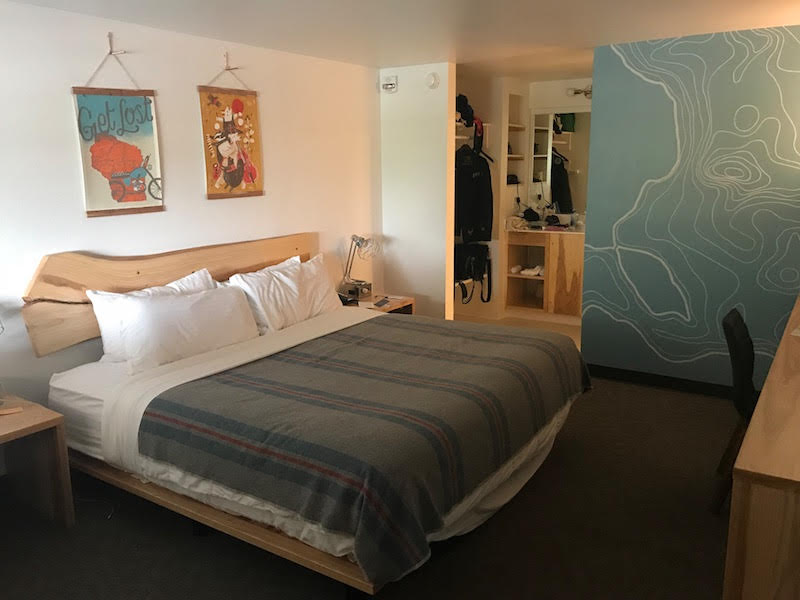 Our favorite aspect of the hotel was that each Oxbow room has a turntable and guests can check out three records at a time from the lending library in the lobby. Thus, we fell asleep every night to the crackly sounds of Townes Van Zandt, Tom Waits, R.E.M. and Eau Claire native, Phil Cook.
Other delightful details of the Oxbow included a coffee press delivered to the door every morning and locally sourced in-room snacks including Indulgence chocolates from Milwaukee.
Although we did not stay at The Lismore, we explored it a bit after dinner at the hotel's restaurant, The Informalist, and cocktails on the rooftop bar, Dive. (See "where we ate" and "where we drank" for more on these swanky sweet spots.)
The Lismore is a modern, industrial hotel with 112 guest rooms. The building was originally a Ramada Inn, which fell into disrepair and closed, leaving Downtown Eau Claire without a space for business travelers and tourists. It reopened in 2016 after a $20 million renovation.
"People don't want to stay on the highway corridor to explore new towns. It's not a good way to experience the city or do business. People want to be more physically connected to other people because we spend all of our time on this (holds up phone). And that's exactly what downtown areas are for – or should be for," says owner Zach Halmstad.
Our favorite part of The Lismore? The large pop-art mural honoring the drink coasters at storied, beloved bar, The Joynt. Banana, anyone?
Where to eat
Like Milwaukee, Eau Claire has the gamut of restaurant options ranging from casual cafe to classic supper club to chic and contemporary. Below are the places where we dined, vowing to check out Mona Lisa's during our next visit.
The Lakely
Located inside the Oxbow Hotel, The Lakely is a farm-to-table restaurant offering "modern midwest comfort food," hand-crafted drinks and live jazz music. We recommend the Koldtbord, a sharable meat and cheese platter that allows you to select from artisan meats, cheeses, veggies, crackers and condiments via a paper checklist menu. All of the ingredients are sourced from Wisconsin, primarily from the western side of the state and a map on the menu shares where every ingredient originated from. Did we mention the pickles? Get the pickles.
We were particularly impressed with – and entertained by – The Lakely's drink menu, which changes seasonally. Each of the cocktails were created by a different employee (who received credit on the menu) and cleverly named, including "Great Grampa," "Moped" and "Space Force." I ordered the "Jimmy Sells Cars Now" (true story we later found out) on the name alone. It was a vodka drink served in a champagne flute with Cocchi Rosa, cassis and creme de violette, created by Holly (in photo below) and 'twas delicious.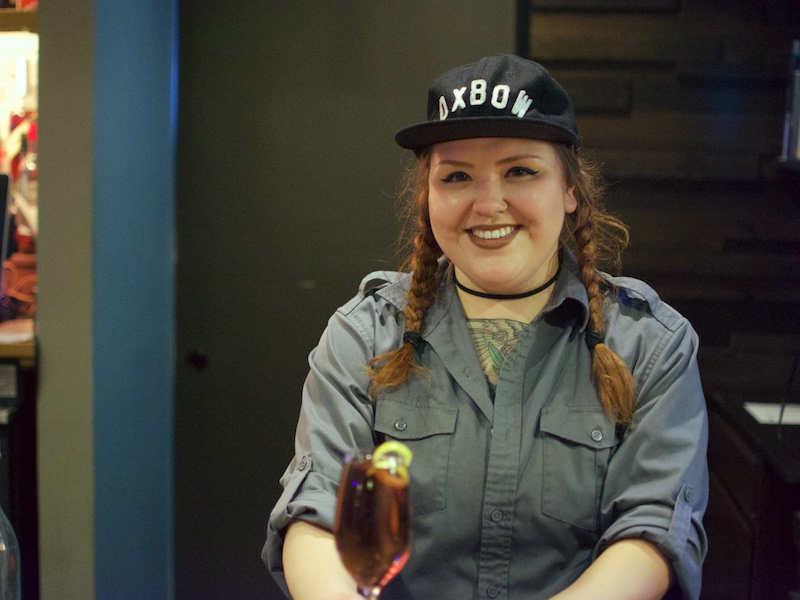 The Informalist
Simple, clean and contemporary, The Informalist – inside The Lismore Hotel – did not disappoint. We particularly dug the comfortable leather booths and chairs, the heavenly chive lemon butter that came with the pre-dinner bread and the penny-topped bar that reminded us of Pourman's in Downtown Milwaukee.
Also: the creamy, buttery polenta with our black currant chicken was some of the best we've ever had (and we're Italian!) and The Lismore burger, served perfectly medium rare, came with house-cut fries and delicious Gouda, smoked bacon, tomato chutney and garlic aioli.
Afterward, we had a cocktail at The Dive, the aptly-named rooftop lounge in the hotel that was once the location of the hotel pool. We enjoyed the David Byrne and Miles Davis music playing in the background, the view and the Rehorst gin and tonics which reminded us of our neighborhood and of our home. The world simply needs more rooftop bars.
The Nucleus
The Nucleus is a cute and trendy cafe with a serious, solid menu serving breakfast, lunch and dinner. Our salmon and veggie breakfast scrambler was one of the best meals we had in Eau Claire and it was so filling we had to skip lunch. Also, we enjoyed the side of bananas with our meal. It seemed appropriate after seeing the pop-culture design of a woman being fed a banana at both the Joynt and the Lismore Hotel the night before.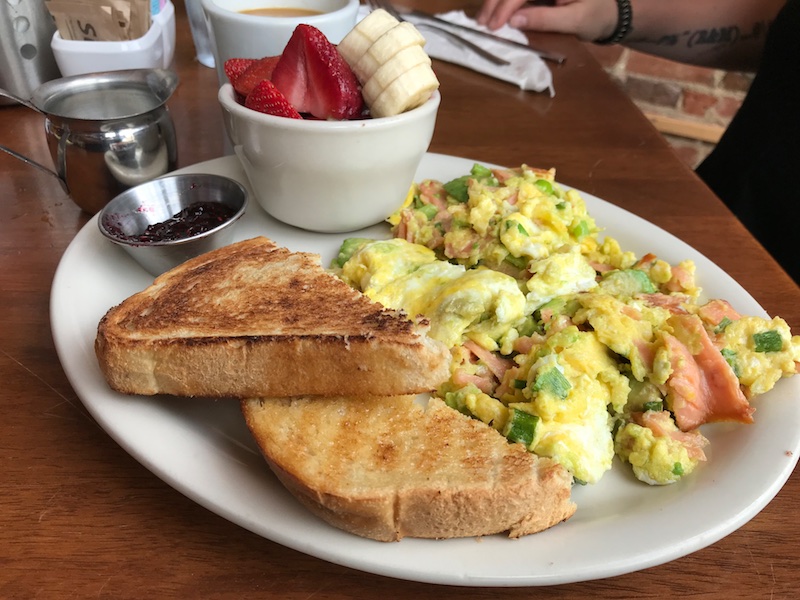 Ramone's
This vintage ice cream parlor is located across the street from the Oxbow. We stopped in for a scoop of "this sh*t just got serious" (once again, we picked something on the name alone) and shared it on our way to dinner. "Dessert first" is one of the loveliest aspects of adulting.
Houligan's
This classic nightclub reminded us a bit of Mader's Knight's Bar with its dark wood and stained glass windows and also reminded us, because of its name, of course, of Hooligan's in Milwaukee. It was "prime rib night" so, duh, we ordered the soft and flavorful prime rib. We dined with our new pals Josh and Sara, who shared more Eau Claire stories and history with us during the meal.
Acoustic Cafe
This place was recommended to us by our friend and colleague, Kurt, who attended college in Eau Claire. "You have to get the hoagies," he told us. And so we did, along with a stuffed pita sandwich (perfect amount of mayo!) and a bowl of meaty, satisfying chili. We appreciated the air conditioning (it was a 90-degree day) which allowed us to enjoy hot coffee and chili as well as the aesthetically-arranged foam egg carton insulation on the ceiling.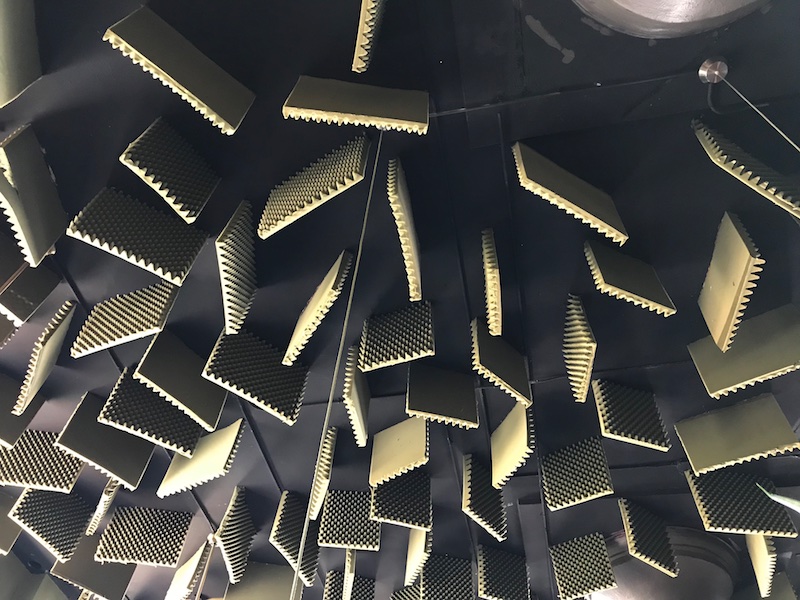 Shift Cyclery and Coffee Bar / Locavore Food Truck
Shift is a full-service bicycle repair shop and a cafe that serves coffee from Wisconsin, Minnesota and Illinois coffee roasters. We also grabbed comfort food breakfast sandwiches and veggies with potatoes from Locavore Mobile Kitchen / food truck, located on Shift's patio – similar to Milwaukee's Taco Moto at Boone & Crockett.
Food Truck Fridays
Eau Claire's food truck scene is starting to rumble, and one Friday per month, a fleet of food trucks roll into the Railroad Street parking lot. The event, like the Eau Claire Downtown Farmers Market, was extremely well attended. Plus, after buying food truck food – we recommend Life Support BBQ and Holy Donuts – park benches and a grassy hill overlooking the Eau Claire river is the perfect place to chow down and chill out.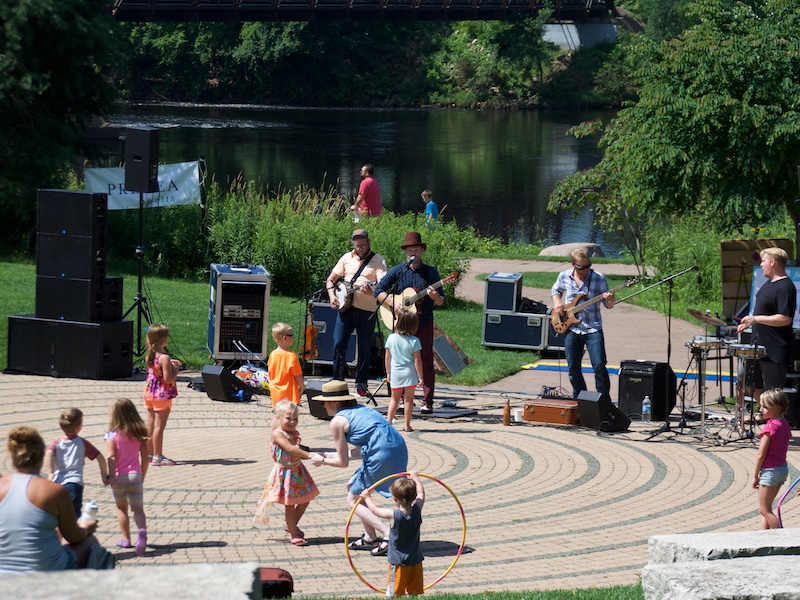 Where to drink
Like the restaurant scene, Eau Claire's bar scene is bustling with historic dives, music venues, comfortable taverns and classy lounges. Here are the bars we visited, along with The Lakely and the Dive in the "Places to Eat" section.
In short, we certainly weren't thirsty during our visit to Eau Claire.
Mousetrap
If we lived in Eau Claire, this would be one of our favorite spots. The Mousetrap, which has been open since 1947, serves drinks and food, including homemade pizza. The Mousetrap hosts free live music numerous nights a week, yes Justin Vernon has played here, and when we visited we caught Carrie Nation and the Speakeasy, a "high energy 'brass and grass'" band from Wichita, Kan. We also met a regular named Lucky who shared his repertoire of dirty Irish toasts and, after a few of his beloved banana rum drinks, admitted he didn't really care for the music of Bon Iver.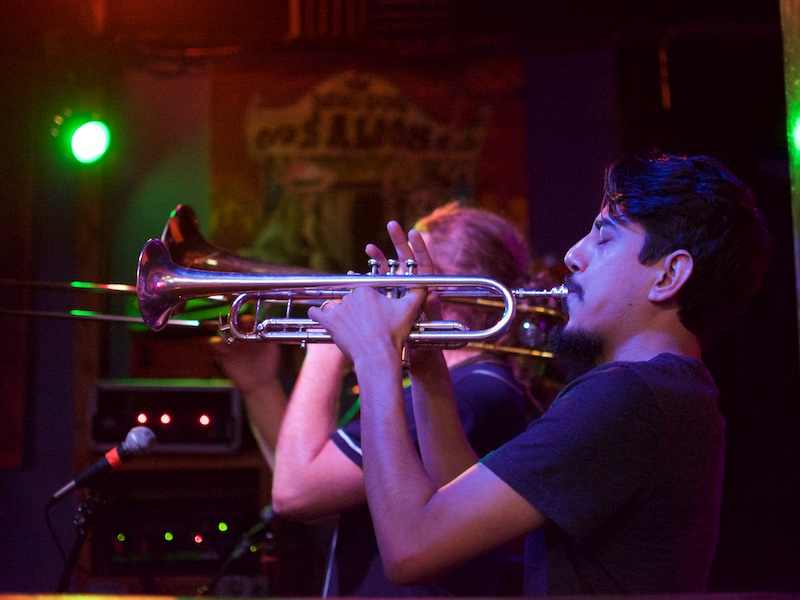 The Joynt
Probably the most famous Eau Claire bar, the Joynt is a long and skinny tavern with a "no light beer" neon sign (it's true; they don't serve it because the owner doesn't like when heavy-set Wisconsinites or biker dudes act like they are suddenly on a diet). The walls are lined with photos of musicians who performed there between 1974 and 1989, including superstars like Dizzy Gillespie, the Duke Ellington Orchestra, Pat Methany Group, Charlie Bird, Koko Taylor and beat poet Gary Snyder. Mamas and the Papas singer Mary Traverse's photo features a picture of Mr. Spock glued over her face so we asked owner Bill Nolte why. "That's because she was really mean and rude when she played here," says Nolte. "She said during the show 'I've played halls before but never a hallway' and 'I have a feeling if I stepped backwards I'd land in a toilet.'" Nolte also says he introduced Justin Vernon's parents at his bar and won't condemn nor confirm rumors that Vernon was conceived in the building.
The Brewing Projekt
This small brewery and patio, which will soon move to a much larger space across the street, offers craft beers like Wiscoast Ale, Gunpowder and the Zombie Unicorn, which we ordered because of the name and ordered again because of the refreshing taste. (Really gotta hand it to Eau Claire-ians and their knack for naming things.) Lazy Monk Brewing, another Eau Claire craft brewery, is also in the neighborhood.
EC / DC
Although a tribute to the band AC / DC, EC / DC stands for "Eau Claire Downtown Coffee." The coffee shop and coffee truck serve primarily Tiny Footprint Coffee from Minnesota. Eau Claire is home to two small roasters, Soul Brewed and The Coffee Grounds, and is definitely ripe for a larger roaster.
Clancy's
Across the street from Houligan's, we stopped in after prime rib for surprisingly strong cocktails in Mason jars. The bartender, Jadyn, "introduced" us to Clancy, a taxidermy parrot swinging above the bar who is the namesake of the tavern. "Clancy never liked people very much. He's a lot nicer now," she said. Also, I was apparently sitting in the exact seat once graced by John F. Kennedy's butt and the first of two "I Closed Wolski's" sticker sightings was made during our trip.
Scooters
It's (so far) the one and only LGBTQ bar in Eau Claire and we stopped in for a $1.50 tap of Miller Lite and to chat with the bartender, Austin. The bar, like numerous bars we sat at in Eau Claire, was long and curvy and a disco ball dangled over the dance floor while folks filtered in for a night of dancing and drinking. Austin asked us to plug Eau Claire Pride Week, happening in mid-August, so here ya go.
Grand Illusion
The Grand Illusion – or "The GI" as it's called by regulars – is a dark and dingy bar with matching chipped black-and-white tiles on the ceiling and floor, Gothy black chandeliers and portraits of famous people above the bar, including Ghandi. There is also a lot of random items on the back bar including a Barbie Doll, Halloween decorations and books with single-word titles like "Jokes," "Dogs" and "Assholes." Oh, and free popcorn!
Amber Inn
The Amber Inn is the oldest pub in Eau Claire and was originally a Walthers Beer Tied House from 1881 to 1910. Burgers and cheese curds are made by the bartender behind the bar – this reminded us of Mamie's and Club Garibaldi. The burgers, which were recommended to us by a few people, were large, juicy and came with a variety of different topping options. Also, check out the size of the shots here.
Where to get sportsy
During our visit, we kayaked the Eau Claire River, attended an aerial yoga class (also called "hammock yoga" that's become popularized by Cirque du Soleil) and participated in the National Kubb Competition held annually in Eau Claire's Soccer Park.
The National Kubb Competition attracts people from all over the world and has a competitive camaraderie that makes it as much of a social as sporting event. Prior to our visit, we had never played – nor even heard of – the lawn game Kubb, pronounced "Koob." That didn't stop us, however, from joining the Visit Eau Claire's team with our new pal Mack and playing – OK, losing – a few rounds of the game that's similar to bocce, bowling and horseshoes.
Basically Kubb entails a lot of tossing batons at wooden rectangles (kubbs) and trying to knock them over. After that's accomplished there's a king kubb in the middle that, once knocked down, determines the winner.
As part of Kubb culture, many of the teams choose pun names, and so our team, the Kubby Dooby Doos, fit right in. (Zoinks.) However, it turns out I don't have a previously-unrevealed gift for Kubbing, but my partner and photographer for this article, Royal, might have a future with the Swedish sport.
We also enjoyed the minute-by-minute radio coverage of the event on our now-favorite Eau Claire radio station, Converge 99.9.
Finally, check out the statue of Hank Aaron in Carson Park, located on a peninsula jutting into the Half Moon River. Aaron, who set the major league homerun record of 755 home runs and played for the Milwaukeee Braves and Brewers, is honored in a bronze sculpture in front of the Carson Park Stadium. Aaron started out playing for the Eau Claire Bears in 1952 and it's believed he hit his first home run of his career in Carson Park Stadium.
Where to find nature
If nature is your jam, you're in luck, because nature is in view almost everywhere in Eau Claire via trails or parks or also when just walking around Downtown. Hills and trees and sky for days.
We planned to check out Big Falls County Park but literally ran out of time. We did, however, enjoy a couple of hours at Rod & Gun Park that's located inside the city.

Where to shop
We heard the word "confluence" dozens of times during our visit to Eau Claire because the Downtown neighborhood is literally at the confluence of two rivers. However, over time, the word became to mean more to us. Metaphorically, it's a word that also describes what's happening on land in Eau Claire, particularly in business: people flowing together to create fresh, positive pools of change.
Revival Records
We have a large vinyl collection at home, so a trip to Revival Records was at the top of our retail list (and also one of the reasons why we loved the Oxbow Hotel so much). We spent an hour flipping through the large selection of new and used records. Somehow we tamped down our desire to buy stacks and left with only one record, "These Four Walls" by Scottish indie rock band We Were Promised Jetpacks.
The Local Store
Operated in conjunction with the Volume One free entertainment paper, the shop has oodles of fun items that represent Eau Claire and Wisconsin. We were happy to see Orchard Street Press' T-shirts and hoodies among the many other crafty, quality items.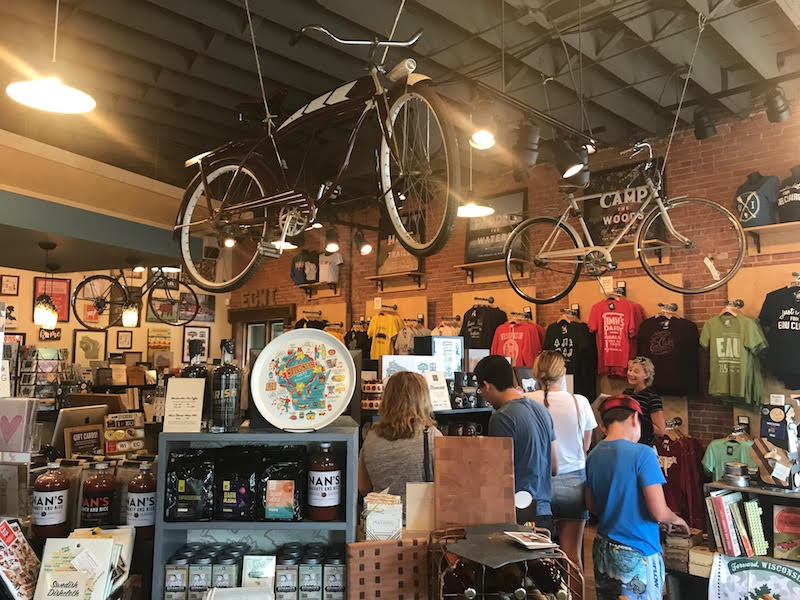 Tangled Up in Hue
This shop reminded us of The Waxwing on Milwaukee's East Side and offered a mix of mostly locally-made jewelry, art, home goods and more. I could have bought 20 things, but controlled the sudden onset of "the spendies" and settled on one cute necklace.
Raggedy Man
Matt Pabich's shop features Wisconsin-flavored art and home goods. He and his pup, Kaya, opened the store just a few months ago and joined the ever-growing number of local businesses in Downtown Eau Claire.
"There is so much excitement in Eau Claire and there has been for the past five or 10 years," says Pabich. "Justin (Vernon) has done a lot for the city, but it's changed so much thanks to so many other people, too. Those of us in our 30s or 40s who grew up here – or moved here - want to create change and make Eau Claire great for people who live here as well as a destination for others."

Molly Snyder started writing and publishing her work at the age 10, when her community newspaper printed her poem, "The Unicorn." Since then, she's expanded beyond the subject of mythical creatures and written in many different mediums but, nearest and dearest to her heart, thousands of articles for OnMilwaukee.

Molly is a regular contributor to FOX6 News and numerous radio stations as well as the co-host of "Dandelions: A Podcast For Women." She's received five Milwaukee Press Club Awards, served as the Pfister Narrator and is the Wisconsin State Fair's Celebrity Cream Puff Eating Champion of 2019.