There are no shortage of cover bands out there, but you'd be hard pressed to find one that leans into the genres of Southern rock and outlaw country quite like Racine's Empty Bottle Boys And One Shot Jane.
With a foundation in bluegrass and jam bands, this five-piece group not only boasts not only a huge library of songs they cover, they also create original music that sounds so legit that fans assume they belong to someone else.
In advance of their Nov. 26 show at George's Tavern in Racine, we caught up with guitarists/vocalists Adam Lantz and Colby Millea to figure out the motivation behind playing old – and new – music from a bygone era.
OnMilwaukee: Tell me a little bit about the history of the band.
Adam Lantz: Colby and I played in a bluegrass band for many years, and we would have a country night. We would sit around and me on a Dobro and an acoustic guitar and listen to old country on vinyl. And we just learned the songs. One day we looked at each other like, "Dude, we know all these songs we need to put a country band together." And that's pretty much how it happened, man. Years and years of just play until five in the morning, flipping record learning songs.
How did you put the lineup together?
Lantz: My girlfriend of almost 11 years now, Sarah (Sorensen), is a killer bass player and she played with Jim (McPhaul) and Tom in other band before. The drummer, he's semi-professional, back in the day he was in a big touring band and so he was on board right away. And then he called Tom (Nickel), the keyboard player. He plays piano, synth and fiddle but also is well versed at guitar, Hammond B3 and accordion. He was on board right away and boom, it just happened.
What kind of pivot was it to switch from bluegrass?
Colby Millea: I played in a bunch of other bands with all different genres of music from jam band stuff to blues, to Southern rock, to bluegrass. And then we started this and I'd never really played country before. It was very nostalgic for me and Adam and I just jumped right on it and had so much fun with it, and the band was born. For me, it wasn't anything I had aspired to do, but was really happy when it finally came together.
It's more than just country, though, right?
Lantz: We can turn from a country band to a Southern rock band in a split second. It depends on the crowd. I'd say outlaw country, Southern rock is a good depiction of the band. But we can easily do all the old Hank William stuff at a drop of a hat. You gotta read your audience.
What do people want to hear at George's in Racine?
Lantz: They want more of the Lynyrd Skynyrd, The Allman Brothers, or Marshall Tucker. Just got to know your audience, it varies from bar to bar.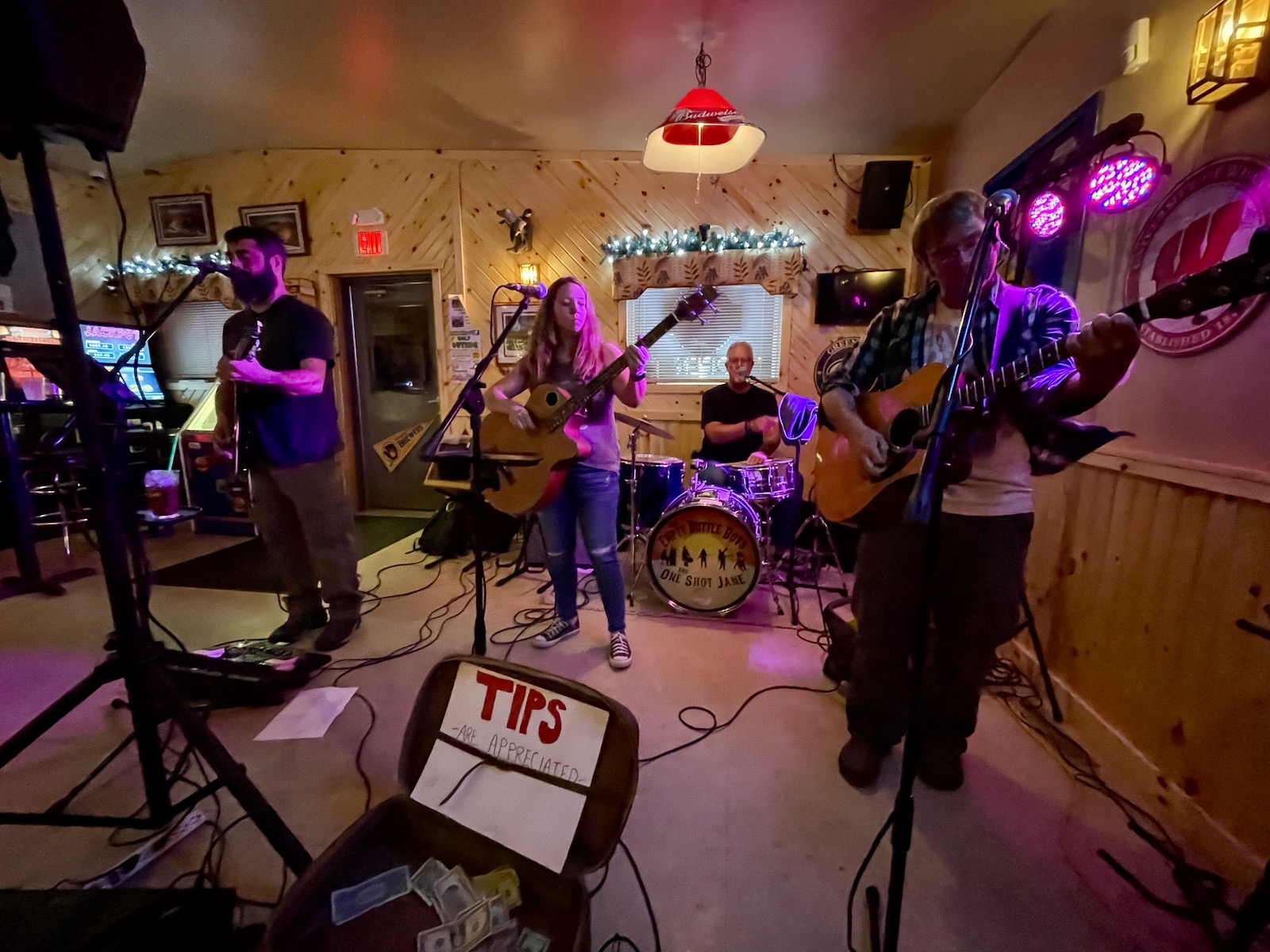 You have a huge library of music. How do you store all of that in your heads?
Lantz: When you look at them on paper it looks weird, but if you don't think about it you can sit there and play all night. I'd say 95% of this is uncharted. We do have a couple cheat sheets on new stuff, but that's some one in every 40 songs. There's some structure to the stuff that is really hard to do. So it's good to have it there, but we just know all this music.
What are your practices like?
Millea: We get together once a week religiously and go over the songs, over new ideas. Adam is a hell of a songwriter and has a library full of great songs. He's written songs that fit that genre and we'll work on those, too. Even through the pandemic, when everything was shut down, we still got together once a week going through our music and that might be part of the reason why it's so tight, mainly we run as a well-oiled machine.
Tell me a little bit about the original music that you guys are doing.
Lantz: It's funny, people are always like, "Was that song Jerry Jeff Walker?" And I usually just tell them yes. Because it's such a good compliment to me. We have our bluegrass band with all original music and we play a little bit of that still, but the originals blend so well. People don't even know.
People don't really write that kind of music anymore, but you guys do. Do you feel like you're connected to a different era?
Lantz: There's actually no thought process to it at all. It just comes out. Both me and Colby we grew up on farms, growing up both of our grandparents were huge in the country music. And I think it's just instilled in you over years and years.
I've heard people are reluctant to be in a band when two of the people are in a relationship. Is that true?
Millea: Oh, it's great. They're super professional, they love playing together. It's just it's a pleasure playing with these guys. Normally you join a band and you're like, "Oh, my girlfriend's going to be in band." And you're like, "Nah, dude I'm out. Sorry." But these guys work so well together, and she brings so much to the table with harmonies and ideas. Girlfriend or not, we've all kind of got that family vibe rocking.
How'd you guys pick the band name?
Millea: Adam is the biggest bourbon collector I know in the world.
Is it cool to play with such seasoned musicians?
Millea: They all cut their teeth in LA in the '60s and '70s playing with big bands. Then they got real jobs and corporate stuff and retired, and now they're revisiting their music roots. We're the lucky ones. It's really nice to have a band that can do so many harmonies.
Where are your next upcoming gigs?
Lantz: After George's, we've got one at Union Park Tavern down in Kenosha.
Would you the band like to expand beyond Racine and Kenosha?
Lantz: We would love to get into Milwaukee, but it's extremely hard to get five people together and get up there, set up sound and leave with 50 bucks.
No one likes to work for free.
Lantz: Well, I did that for 20 years. I mean, between us, the drummer and the keyboard player, they've been doing music for damn near 50 years, man.
But if you could make it work financially?
Lantz: We'd like to get into festivals with this band next summer. I think that's one of our goals for next year. We're trying to expand to Milwaukee's bigger venues. I would love to start riding the coattails of bigger country bands that are coming in, whether they're new country or older country. We love playing, We put on a hell of a show anywhere we play.
Andy is the president, publisher and founder of OnMilwaukee. He returned to Milwaukee in 1996 after living on the East Coast for nine years, where he wrote for The Dallas Morning News Washington Bureau and worked in the White House Office of Communications. He was also Associate Editor of The GW Hatchet, his college newspaper at The George Washington University.
Before launching OnMilwaukee.com in 1998 at age 23, he worked in public relations for two Milwaukee firms, most of the time daydreaming about starting his own publication.
Hobbies include running when he finds the time, fixing the rust on his '75 MGB, mowing the lawn at his cottage in the Northwoods, and making an annual pilgrimage to Phoenix for Brewers Spring Training.