Welcome to "Wedding Week" on OnMilwaukee! Whether your wedding is right around the corner, or down the road, The Corners has just what you need to make your day extra special!
If you're ringing in 2018 with the hopes of a certain question being popped, it's time to start thinking about engagement rings. And, just like clothing and shoe trends, jewelry offer its own fun and unique takes on traditional ring styles.
Looking for something new and unexpected? We called on our friends at Kesslers Diamonds – our fave engagement ring partners – for their feelings on all the hottest 2018 engagement ring trends. Which one would you love to be gifted this year?
Rose gold
Talk about "popping" the question! The past few seasons have seen rose gold make a strong name for itself among classic silver and gold. And there's good reason for that: Rose gold is not only a beautiful hue, but also the perfect color to truly set off your diamond. Pop!
Ornate halo
Every bride-to-be wants her ring to be a true reflection of her style. Now, thanks to ornate diamond halos in a variety of colors and shapes, there's a new way to design a ring that is uniquely her. Halo rings are chic in both monochromatic and mixed-metal or color options.
East-West
This trend is literally flipping every notion you have about diamond placement on its side. In an East-West ring, the diamond is placed horizontally on the band – unlike a classic setting with a vertical stone – allowing for even greater personalization. Any cut of diamond will work; the only limit is your imagination!
Vintage inspired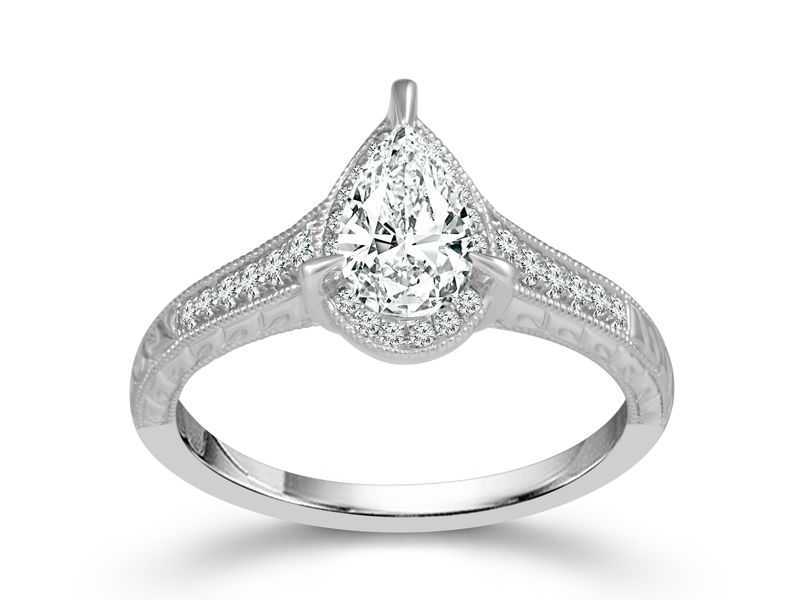 Old Hollywood glamour has been making a comeback in the fashion world the past few years – especially Art Deco styles. So it's no surprise that rings that pay homage to a bygone era are one of the biggest trends for 2018. Vintage inspiration run the gamut from bold and glamorous to delicately ornate – how you rock this timeless style is entirely up to you.
Split band
This modern style is at once delicate and bold, thanks to its unexpected split band. Split band rings evoke a polished vibe, with a variety of diamond shapes and band style options. This peek-a-boo style is sure to be a favorite of many fashionable 2018 brides to be.
Stack & nestle
With personalization a guiding trend of all the 2018 engagement ring styles, layering rings for the "stack and nestle" effect is perhaps the best translation of making your ring 100 percent your own. Whether you mix and match metals or stick to one singular hue, stacking rings is chic and unique. A bonus? Brides to be can change up their look daily by repositioning the rings.