For years now, restaurants across the city have been making strides in shifting away from single-use plastic and adopting the use of recyclable, reusable and compostable products for both packaging and on-premise use.
But, for the past year and a half, our city (along with the rest of the nation) has also seen a vast increase in both carry-out and delivery, creating added expenses for restaurants and an increase in overall waste from carry-out containers of all types.
Even as we move forward, statistics show that the demand for carry-out and delivery has increased and is likely to continue to be a part of the dining world in a bigger way for years to come.
According to the National Restaurant Association's 2021 State of the Restaurant Industry Report, 70% of restaurants reported that off-premise sales (carry-out and delivery) made up a larger portion of their total sales than prior to the pandemic [important to note: carry-out is also less profitable than dine-in]. Among consumers, 53% of adults report that purchasing food for take-out or delivery is essential to their lifestyles, with 68% saying they are more likely to order take-out from a restaurant now compared to before the pandemic.
But what does that mean from an environmental standpoint? Can restaurants afford to reduce waste even as they push through and attempt to recover from the economic impacts of the pandemic? How can consumers help? And what can distributors and government personnel do to support efforts to reduce waste produced by carry-out?
To glean insight, I talked with numerous restaurants across town – including Goodkind, Jewels Caribbean, Kin by Rice N Roll, the Lowlands Group, Tavolino and Twisted Plants – about the good, the bad and the ugly of increased carry-out and the impact on the environment.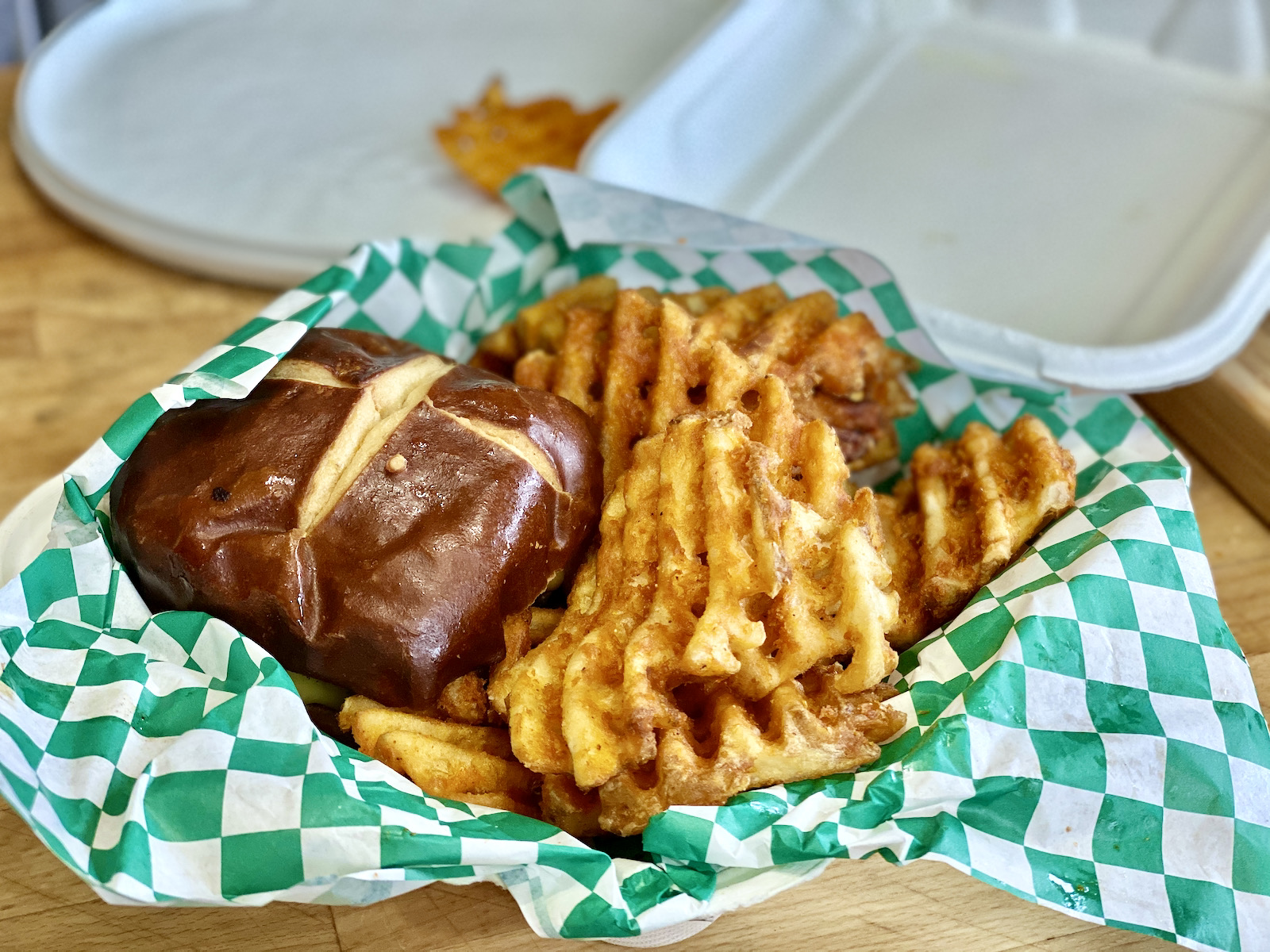 Decisions, decisions
A great deal goes into the decision-making process about what type of carry-out containers a restaurant uses. Cost is a big factor, but so is the effectiveness of the containers in containing and maintaining the quality of the dishes served. For many restaurants, their impact on the environment also plays into the puzzle.
For Twisted Plants, a plant-based food truck which opened a brick and mortar restaurant last May in Cudahy, their choices are tied directly to the principles on which they founded their business.
"The majority of our carry out containers are compostable," says co-owner Brandon Hawthorne. "We choose compostable because we're aiming to be as environmentally friendly as possible."
For Tavolino, another restaurant which opened during the pandemic, it was about introducing their food to guests in a quality manner.
"We use containers that are going to ensure the integrity of our food for guests," says Peter Dietrich of Tavolino, "We want those guests that are supporting us through our carry-out and curbside service to have the same experience our dine-in guests when it comes to our food.
"Our containers are also microwave and dishwasher safe so our guests have the option to reuse them," he adds. "This is something that we communicate to our guests and they seem to appreciate the fact that we're incorporating a product that is not single-use in our day to day operations."
But being able to meet all of those requirements is often a bigger challenge than it should be.
Tammy Lert of Rice N Roll and Kin by Rice N Roll says when the pandemic hit and they decided to close their dining room, they reevaluated their take-out containers to ensure that the food would transport well.
"We need containers with secure lids that can hold saucy dishes like curry," she says. "And we need containers for sushi that allows us to clearly see what's inside so our packers don't mix up orders."
They settled on recyclable aluminum containers with clear plastic lids for sushi and microwaveable plastic containers for saucy dishes.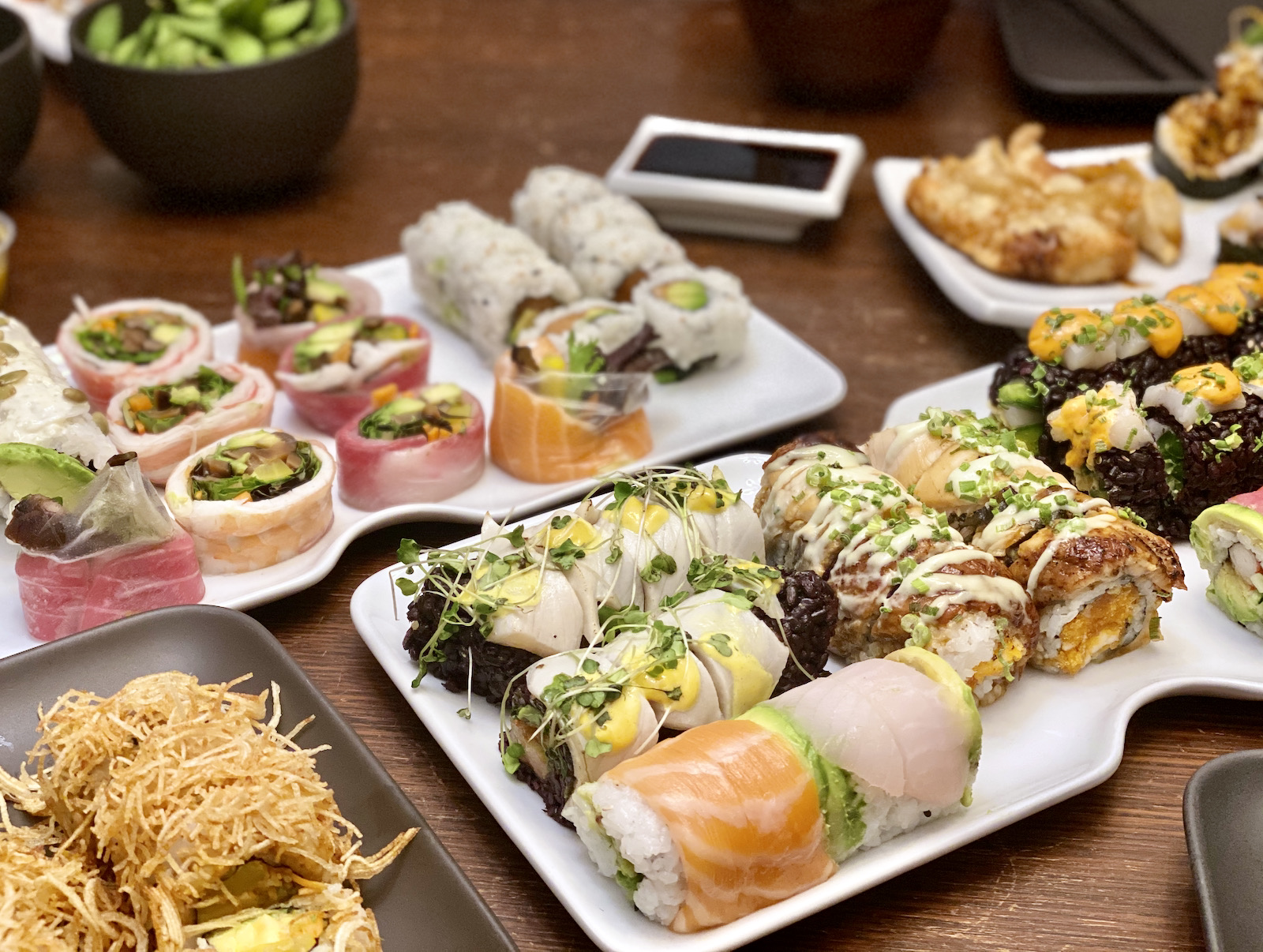 "We care about food safety and the environment," says Lert. "At the same time, the availability of what we can get that works for our food is also really important. We do not use styrofoam containers because it is not right for us. It's very cheap, but it's not very safe. But it can be difficult to find what we need for our food that's also good for the environment."
Lert isn't the only one who can't find everything she'd like to use.
"We've actually adapted some of our food offerings to accommodate the packaging that's available, as well as what travels well," says Katie Rose of Goodkind, "And there isn't an eco-friendly container for everything. We still use quart-size deli containers and a few other little plastic containers because we can't find good substitutes for them."
Both Lert and Lennora Jules of Jewels Caribbean cited cost as a big factor in their decision-making, noting that they don't want to raise prices to cover the cost of packaging, since they are already struggling to compete for customer dollars.
"As small business owners, we're looking at the experience we're giving to guests, how we are managing costs and who our customers are," she says. "Before the pandemic, we made the switch from styrofoam to recyclable takeout containers because we wanted to be more earth friendly. Paper products didn't work at all for us because most of our food is very saucy, so we opted for recyclable plastic."
Jules says customers appreciated the change and they stuck with the decision. But when it came time to open their dining room back up, it was more difficult to find what they wanted.
"We decided to stick with disposable options for safety reasons. But we wanted something that looked nice and that still gave people a good experience. We had a really hard time finding plates, forks and knives that worked, that we liked and that we could also afford. So our decision to use disposable plastic items was driven heavily by cost."
How much does carry-out cost?
Carry-out is definitely an added expense for restaurants. To give you a basic sense of what carry-out containers cost, I talked with Jason O'Neil, an outside sales representative for Milwaukee-based Fein Brothers, who gave me current pricing for a few commonly used containers.
He also noted that, while eco-friendly options were once significantly more expensive than items like styrofoam, the pandemic has actually made them more competitively priced.
"There's been a shortage in the resins needed to make plastic containers," he says, "So, it has actually leveled the playing field in terms of pricing for eco-friendly containers."
To give you a sense of how that looks, here's pricing for three different carry-out boxes.
Styrofoam clamshell boxes: $0.10 to $0.15 each
Plastic containers with a black base and snap-on clear lid: $0.40 to $0.50 each (reusable; not recyclable)
Eco-friendly options: $0.25 to $0.40 each (options include fully recyclable mineral filled polypropylene; compostable products and Bagasse products made from bi-products of the sugar industry)
Another local supplier, Auburn Supply Co., which specializes in eco-friendly options for restaurants, currently sells 9"x 9" compostable, chlorine-free, sugar cane based clamshells for about $0.23 per piece.
Auburn Supply is also making strides to make environmentally friendly products even more affordable overall. In fact, to meet the demands of an industry that's been economically impacted by the pandemic while supporting restaurants efforts to go greener, they've developed their own line of products, the EAT DRINK CLEAN ECO brand, which boasts prices on eco-friendly options that are competitive – not only with other earth friendly options – but with mainstream plastic products.
Better pricing definitely helps. But it still requires a commitment to dedicate extra funds to packaging that ultimately takes away from a restaurant's bottom line.
"We've been fortunate enough to have been given the information that allows us to purchase the products that align with our ethos at Goodkind," says Rose, who has been following pricing on earth-friendly products since the restaurant opened in 2014. "But we still have to make decisions based on costs; we can't afford to put ourselves in a catastrophic position."
She says the products they use are more expensive than traditional styrofoam and plastic, but often not as costly as people might perceive.
"There has absolutely been growth in this category, so there are more products to choose from and thus the cost has reflected the competition and has gone down," she says. "But it still is an investment."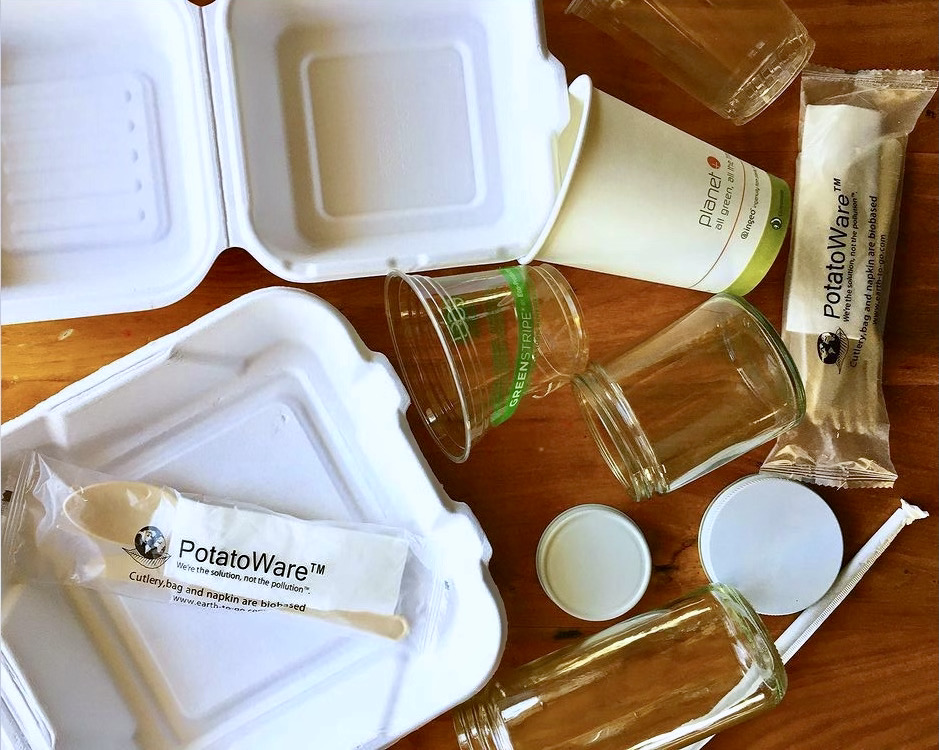 Packaging & restaurant profits
When you consider that a typical to-go order includes multiple pieces of packaging (including smaller containers for sauces or sides, cups for drinks and often napkins and disposable utensils) you can see how the costs add up quickly.
That means in an increasingly carry-out world, restaurants have two choices.They can pass along those costs to consumers or absorb the costs and make less money overall on their food.
Most restaurants I spoke with say that they've chosen to absorb the costs, meaning they have taken a hit on profits throughout the pandemic.
The Lowlands Group, which operates eight local restaurants, saw their carry-out sales increase from 3% to 15% after they reopened for dine-in service. The increase was large enough that it made sourcing enough appropriate containers difficult.
The group had made strides to be more eco-friendly prior to the pandemic, including reducing their use of straws, exploring composting and looking closely at their packaging solutions.
"As we've tried to get back to normalcy in recent months, we've been able to return to our commitment to use biodegradable, compostable and recyclable items," says Ileana Rivera, COO for Lowlands Group. "But during the height of the pandemic, there were distribution issues. Items were often back-ordered. So, we switched out products a lot, trying to find not only what was recyclable, but also what worked best for our food."
"To get items that were close to what we wanted, we often had to pay more, with prices ranging from 15 cents to 90 cents. Asking our distributors for help was a mixed bag. They often didn't know what to tell us. Part of it was that they were struggling too."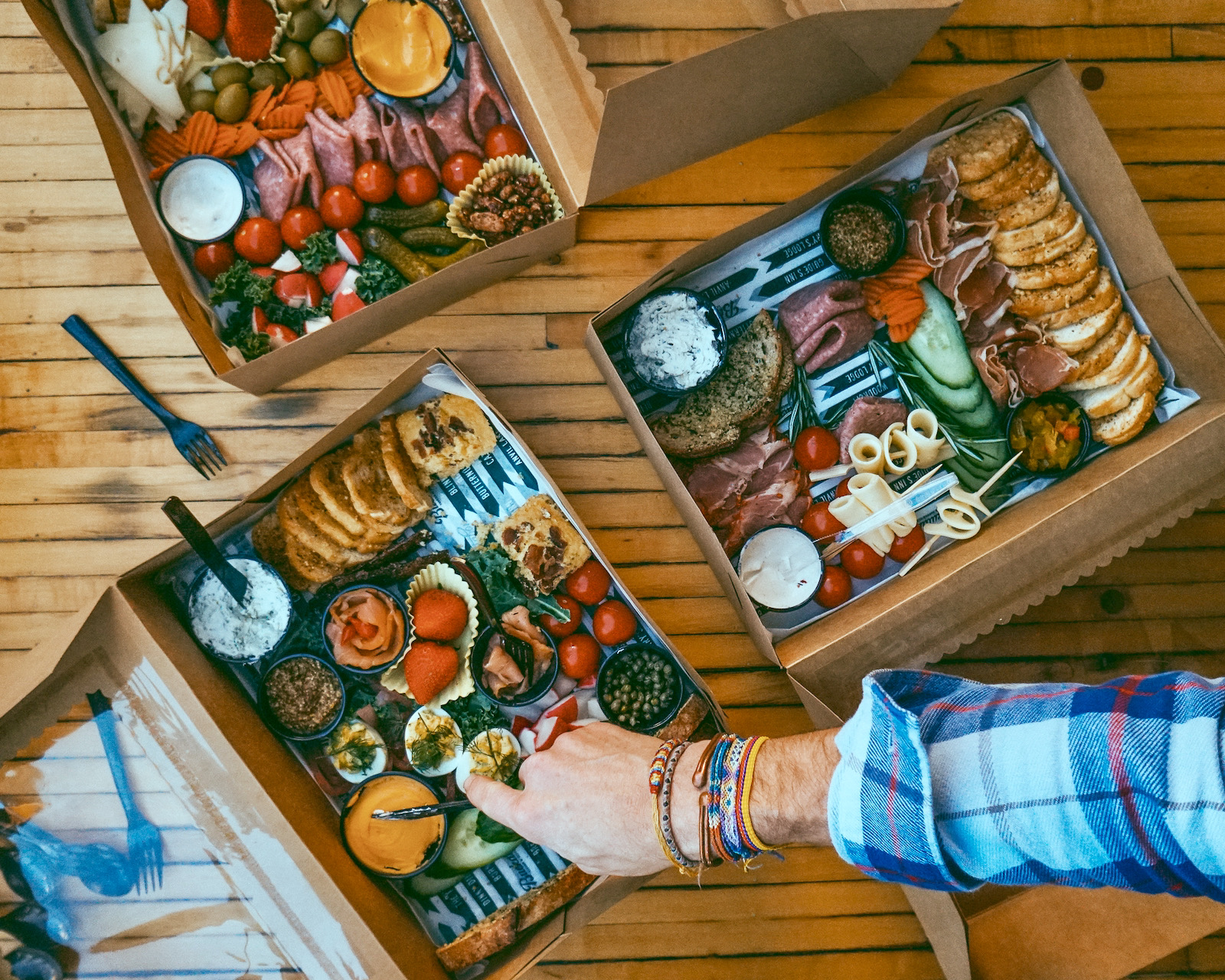 Dietrich adds that increased demand made products expensive and often difficult to procure.
"At the start of the pandemic, restaurants were buying carry-out containers like people bought toilet paper," says Dietrich. "The shelves were bare. And it took a while for distributors to get caught up. So it took a while for us to get the product that we really wanted."
Jules agrees, noting that both sourcing and managing costs has been challenging.
"We want to do our part for the planet," she says. "And we feel our customers are conscious of that effort." But she says they've continued to absorb the costs for carry-out packaging, since they don't believe customers would be willing to pay more.
"If customers were willing to take on the cost, we'd definitely consider moving to more sustainable options," she says. "But combined with our additional costs, including PPE [gloves, masks, etc.], has put us in a position where our costs are too high to pass on to customers, many of whom are going through the same financial struggles that we are and who are looking for affordable food options."
Lert says that they've maintained the pre-pandemic pricing at both Rice N Roll and Kin by Rice N Roll for all of their food items, despite the added costs.
"All of our costs have increased," she says. "But we didn't increase our prices because we didn't want to lose business."
The same is true for Goodkind. "We want to do everything we can to be sustainable," says co-owner Katie Rose. "But in doing that, we've chosen to absorb the cost for our packaging because we don't want to alienate our audience."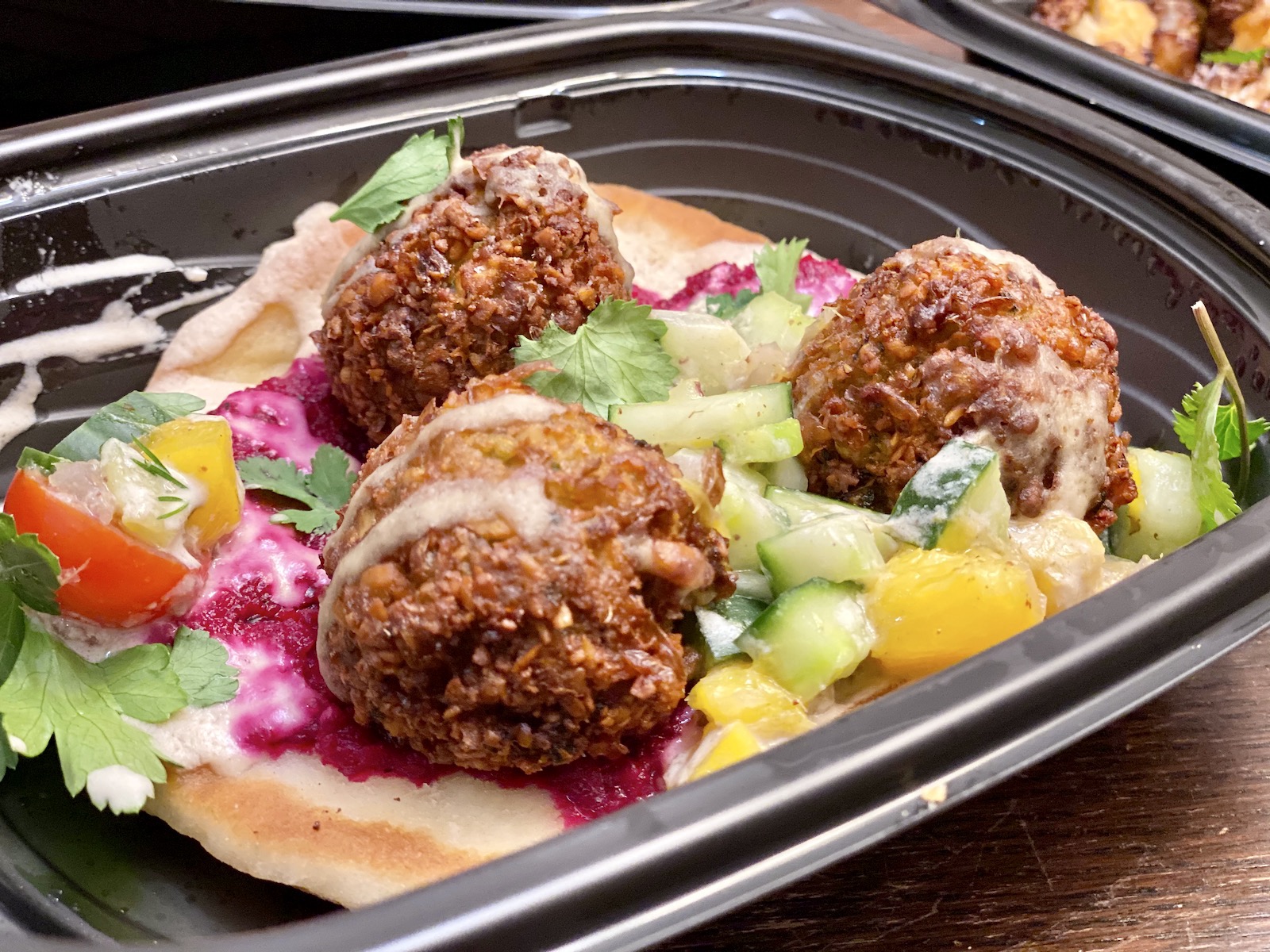 A restaurant wishlist
The responsibility for reducing waste is not the responsibility of restaurants alone. It takes support from consumers, suppliers and government officials at the city, county, state and federal levels to truly make change happen.
When asked what they'd love to see in terms of accessibility to more eco-friendly products and a reduction in carry-out waste in the future, restaurants were happy to weigh in.
"We'd love to see more variety in containers that fit the variety of foods that Asian restaurants carry," says Lert. She cites an obvious example: sourcing eco-friendly straws for bubble tea has been an impossible task.
"We used to buy bulk straws; but now for customers' safety we have to buy plastic straws in plastic wrappers. That's more expensive and it's more waste. We'd really love for there to be items we need at a cost that's low enough that it makes sense for our business."
Hawthorne echoes the hope for affordability and accessibility, but also hopes to see increased community engagement, including partnerships with entities like Greenway, a local effort which educates consumers and rewards them for engaging in activities that support a healthy environment (think: biking, composting, eating plant-based foods).
"It's a good way to get the community on board with using more eco-friendly products," he says.
Jules, who agrees that affordability is key, says she understands that it's not within the City of Milwaukee's purview to regulate pricing. But she does think that many restaurants would benefit from city-wide incentives.
"It's pie in the sky, but it would be great to provide incentives for restaurants to use earth friendly products," she says. "I think you'll see higher adoption rates in more affluent areas, where people can afford to pay a bit more for eco-friendly products. But for so many restaurants, it's about cost. And if I were able to offset those costs, it would really help."
Rose also says she'd love to see the city step up to support efforts and make it easier for both consumers and restaurants.
"I'd love to see actual infrastructure built into the Milwaukee DPW that fosters, promotes and actually implements the actions of recycling, reusing and composting," says Rose of Goodkind. "I'd love to see viable solutions on a city-wide scale that make it as easy to compost as it is to throw things away."
Rivera agrees. "Let's start being conscientious again," she says. "We'd love to see a citywide initiative that made it easier for restaurants and that offered education. We'd also love to see the larger distributors move toward more sustainable products and give everyone a wider range of choices. Everyone is entitled to that. And it would really help to have more affordable options so that they're accessible to everyone."
Rose says education and availability are definitely key.
"I'd love educational and outreach programming on behalf of the distribution companies and purveyors that provide the eco-friendly packaging to Milwaukee businesses," she says. "Are they showing everyone what exactly is out there and available to them? If people aren't aware that these products are available, or are under the impression that they are too expensive to use, then of course they're not going to seek them out. Awareness and availability is impotant."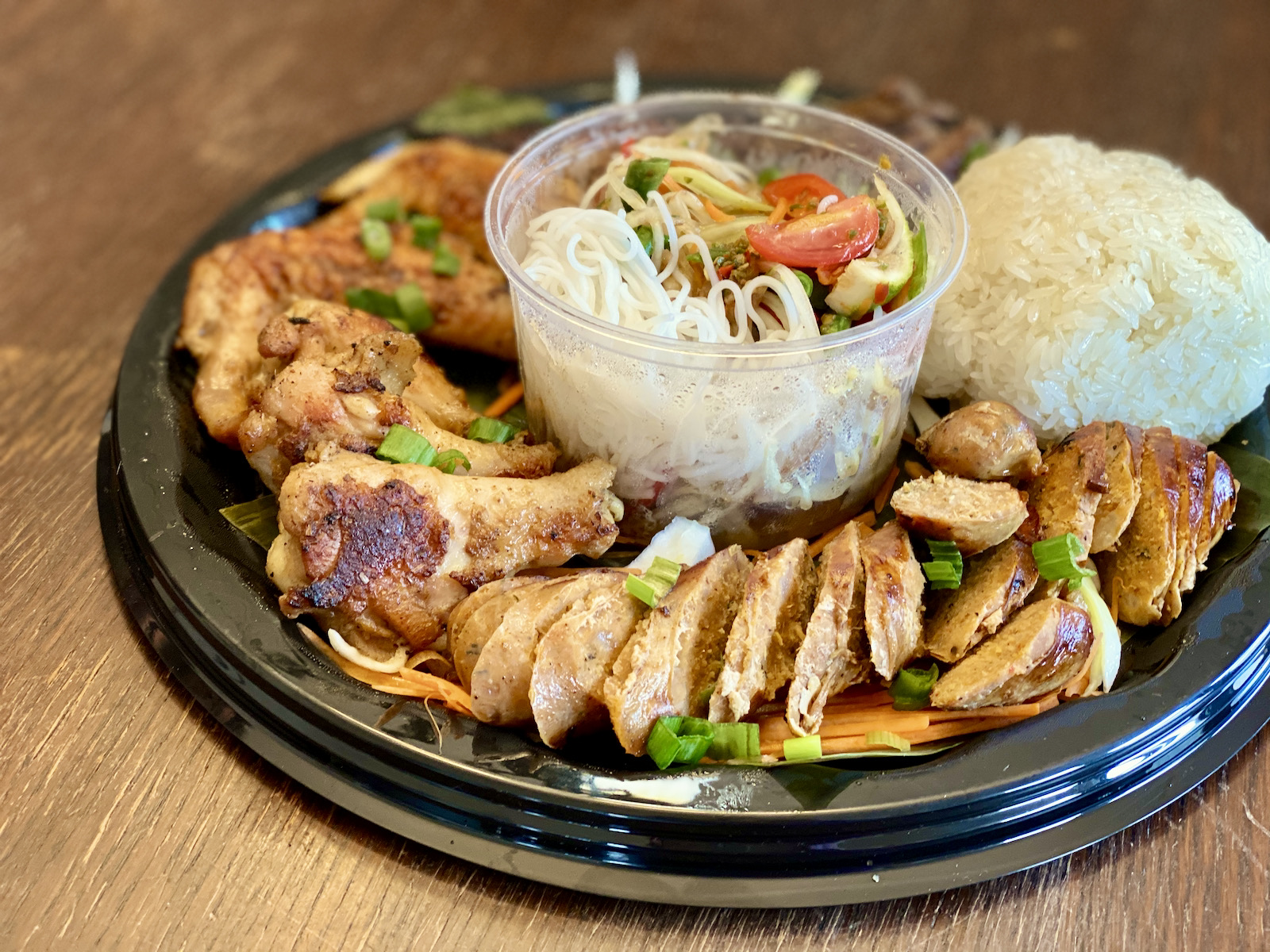 What consumers can do
Supporting restaurants and reserving judgment when it comes to packaging is a kindness that every consumer can choose to enact. But there are also ways to help reduce the overall waste from day-to-day carry-out.
Use your own flatware and napkins. Many restaurants have stopped automatically including flatware, chopsticks and napkins with orders, making them available only by request. Some offer the option to decline those items as part of the online ordering process (be sure to keep your eyes out for the option so you don't miss it). When in doubt, put a note on your online order (or indicated when you call) that you do not want these items. Every little thing counts.
Reuse items instead of throwing them away. Paying attention to what can be recycled and then recycling it is important. But you can also "recycle" them by re-using them for storage (of food or even other items) which goes a long way to keep unnecessary plastic and glass items out of the landfills. Many plastic products are dishwasher safe, so they can be easily cleaned and put to good use. Spots like Goodkind offer cocktails in reusable glass jars that can also be returned to the restaurant where they are sanitized and used again.
Share your thoughts on packaging with restaurants you patronize, and be sure to tell them if you'd be willing to pay more for eco-friendly items. Restaurants listen to respectful feedback – especially from regular customers – using it to fuel their decision making processes.
At Twisted Plants, customers played a large role in how the business developed, says Hawthorne. "When we first got started, customers voiced their opinions on container usage and we took that into heavy consideration," he says.
Jules agrees. "Consumers can definitely influence what restaurants do. We are in the business of hospitality, so we really do listen."
Dietrich notes that consumers have become more knowledgeable about the restaurant industry, largely due to the amount of information about costs, business models and challenges which has been shared during the pandemic. It puts them in a unique position to help restaurants rebuild in a way that's good for everyone.
"I do believe the consumer is going to have a lot of input in this as well," he says. "That being said, consumers want their favorite operations to think beyond the bottom line when they can."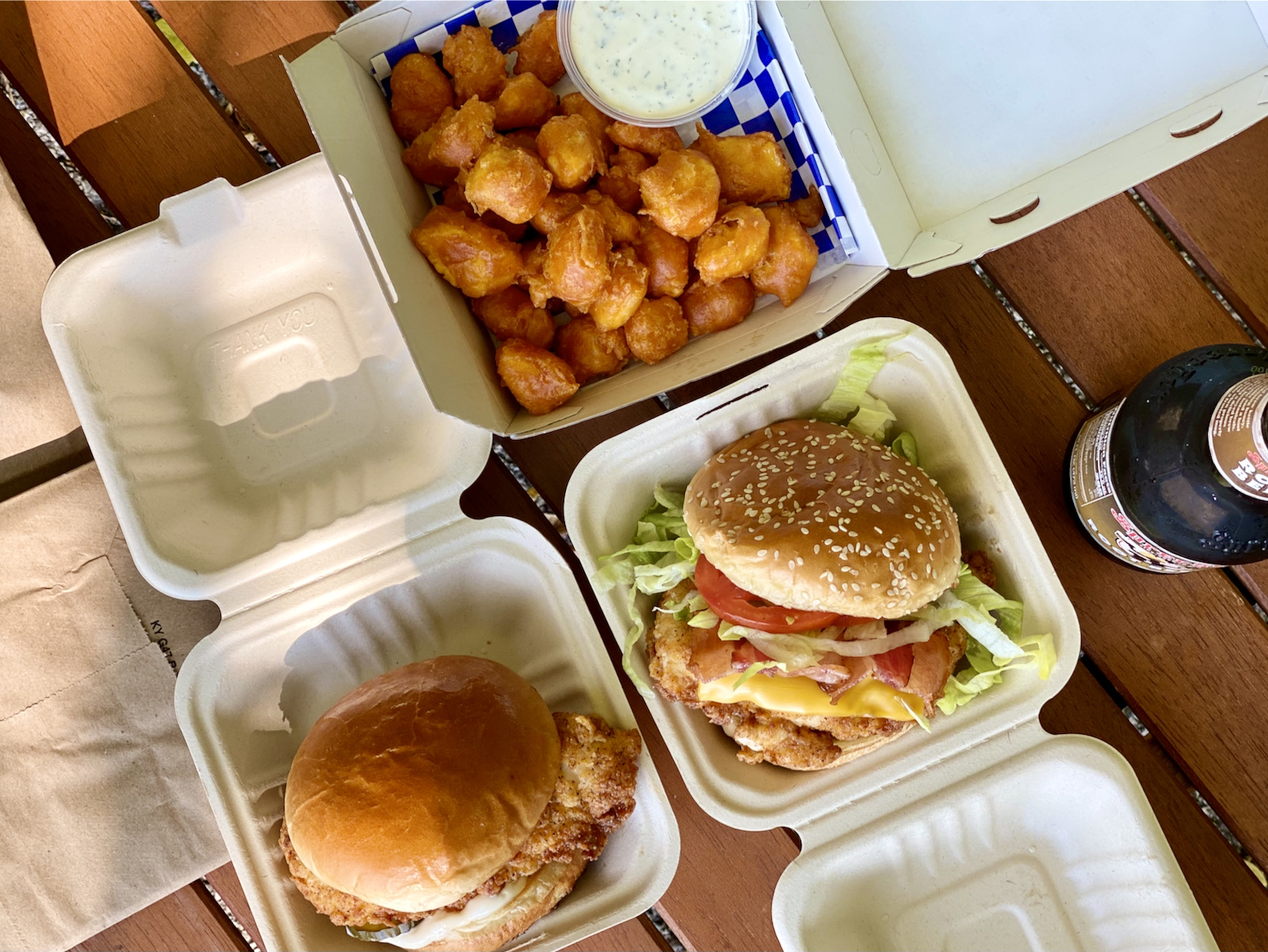 We are in this together.
Restaurants have to make tough decisions every day about how to mitigate their role in working toward eco-friendly solutions and a reduction in waste.
But the responsibility for a better world lies on all of our shoulders. And a big piece of the puzzle lies in our ability to understand the complexity of the situation and acknowledge our individual responsibility for enabling and supporting change.
Let's refrain from judgement and activism that shames others for not doing enough. Let's acknowledge the messiness of creating a greener world, help one another where we can and lift one another up as we each do what we can to contribute.
Lori is an avid cook whose accrual of condiments and spices is rivaled only by her cookbook collection. Her passion for the culinary industry was birthed while balancing A&W root beer mugs as a teenage carhop, fed by insatiable curiosity and fueled by the people whose stories entwine with each and every dish. She's had the privilege of chronicling these tales via numerous media, including OnMilwaukee and in her book "Milwaukee Food." Her work has garnered journalism awards from entities including the Milwaukee Press Club.
When she's not eating, photographing food, writing or recording the FoodCrush podcast, you'll find Lori seeking out adventures with her husband Paul, traveling, cooking, reading, learning, snuggling with her cats and looking for ways to make a difference.