This article originally ran in October 2017.
Milwaukee is a city that's in love with motorcycles, even though our summer riding season is a bit shorter than in other places. But bikers here are a hearty bunch, gearing up to extend their riding into fall and beyond.
"Just like any winter sport, you dress for that sport, and you can go as long as you can stand it," says Jodi Politowski, motor clothes manager at House of Harley-Davidson. "So as long as there's not salt on the ground to wreck the chrome on your bike, which will happen, just dress for it and you're good to go."
The key, she says, is layering, because at 50 miles per hour, riders will experience a 20 degree temperature drop. Whether you're wearing heated gear, or just a hoodie, Politowksi says it all starts with the right gloves.
"Happy hands, happy ride," she says. "Your hands are closest to the elements. That's your clutch and your brake hand. You have to keep them warm."
After that, Politowski says to focus on your neck, because that spot between your helmet and your jacket is what sends a chill down your back. She doesn't recommend a baklava – it will stretch your helmet – rather, she suggests a neck gator or a scarf.
If you're really hardcore, companies like Harley make heated seats, as well as heated suits that plug into your bike's battery (or, alternatively, use a rechargeable battery with a USB port).
Tim Schneider, owner of The Shop, a vintage motorcycle repair shop in South Milwaukee, has spent a lot of time riding in cold weather.
"If you got a modern enough motorcycle, heated gear is really good," says Schneider. "Heated vest, grips, heated chaps or pants really can extend (the riding season) way past the first snowfall, easily."
His favorite cold-weather gear? Warm gloves, and of course, his helmet. But Schneider reminds riders that there's no shame in putting away your bike when it gets really cold, because you can start building anticipation for spring. Just store your motorcycle properly, he says.
"If not, I'm gonna make a small fortune cleaning out their carburetors from the ethanol gas."
Bottom line: you can look good on your motorcycle when the temperature drops, and if you buy the right gear for the weather, including clothes with Kevlar lining and body armor, you can increase your protection and your comfort at the same time.
"Function and safety first," advises Politowski. "Then look good."
We tested out a bunch of gear that accomplishes both. Some of these products were provided by the manufacturers for review.
Jackets: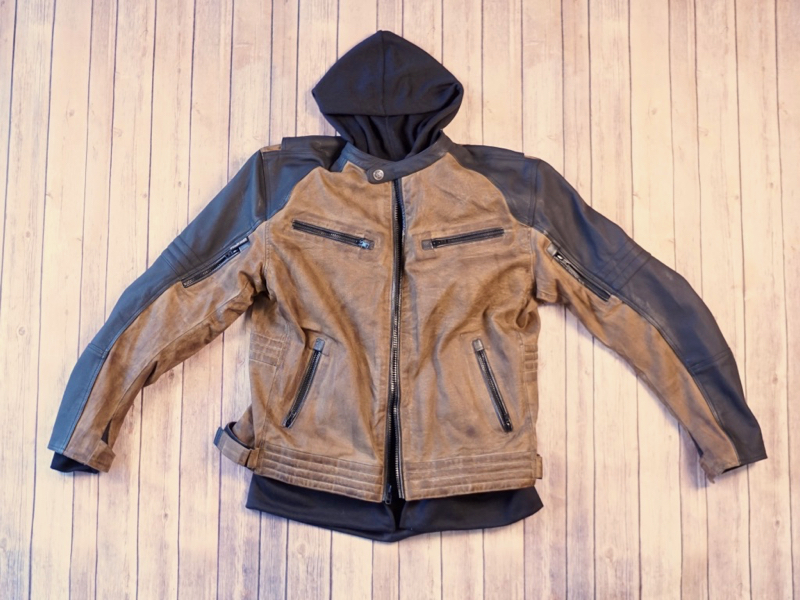 Not sure if you want a leather or a textile jacket? Then try a hybrid. This warm but not incredibly bulky jacket has a waxed canvas frame, but leather on the shoulders and the back of the sleeves. It has removable Vault CE armor on the shoulders, elbows and spine, and most interestingly, come with a removable hoodie liner that will keep your neck warm. I like that it's a little longer than some riding jackets, and it comes with belt loops, too. The mandarin collar and subtle stitching give it a retro look, and if you need it, there's an inner-pocket for concealed carry. Really.
This jacket is warm … except when you don't want it to be. It has six different vents, so when you unzip it fully, you'll feel comfortable at 70 degrees. But when it's all zipped up, this 600 denier polyester coat will keep you cozy as the temperature drops. It's waterproof and stuffed with CE-certified removable armor on the elbows, shoulders and back. I find it to be pretty bulky – you'll look a little weird off the bike, and the jacket is a little short … but for about $100, it's a heck of a bargain.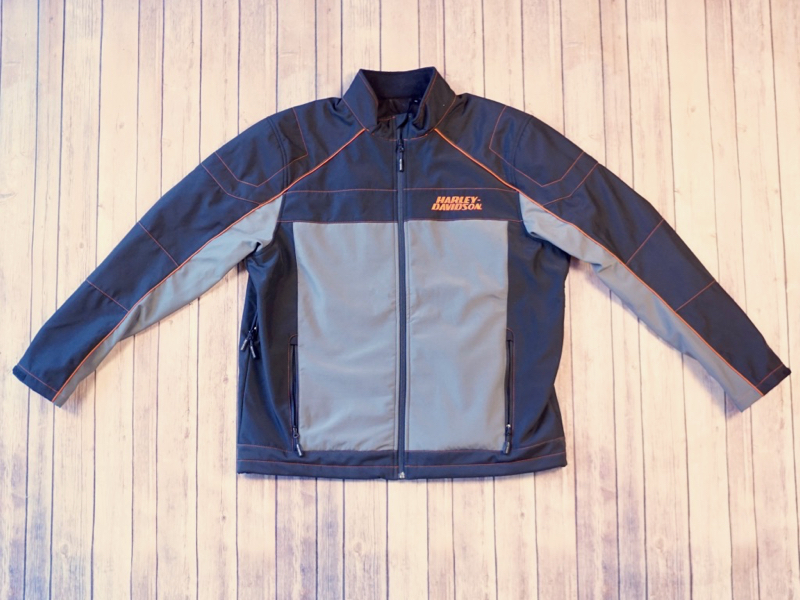 The future of cold-weather riding gear has to be this heated Harley jacket. As a mid-layer zip up, you can wear it under a riding jacket or on its own, and it doesn't look like anything beyond a cool fashion piece. That is, until you plug it in. It features a 7 volt USB rechargeable battery that zips inside the left pocket … and it gets very warm and lasts and lasts and lasts. Its three-zone heating system sends plenty of heat to your chest and back, and with a fleece backing, it's stealthy in its coziness. It's unarmored, so it's very thin and discreet. But don't let its good looks fool you: This is a seriously high-tech addition to your fall riding arsenal.
Overshirts:
The California Riding Shirt looks like a premium denim jacket, but the 12-ounce canvas is lined with interlock knit Kevlar in the shoulder, elbows, forearms and upper back. It won't keep you that warm on its own, although it provides good windbreak on chilly days. The trick with this rustic jacket is to layer it over a hoodie or under a jacket or vest. It's expensive, but made in America, this is a quality piece that you can wear on or off the bike for years to come.
Hoodies: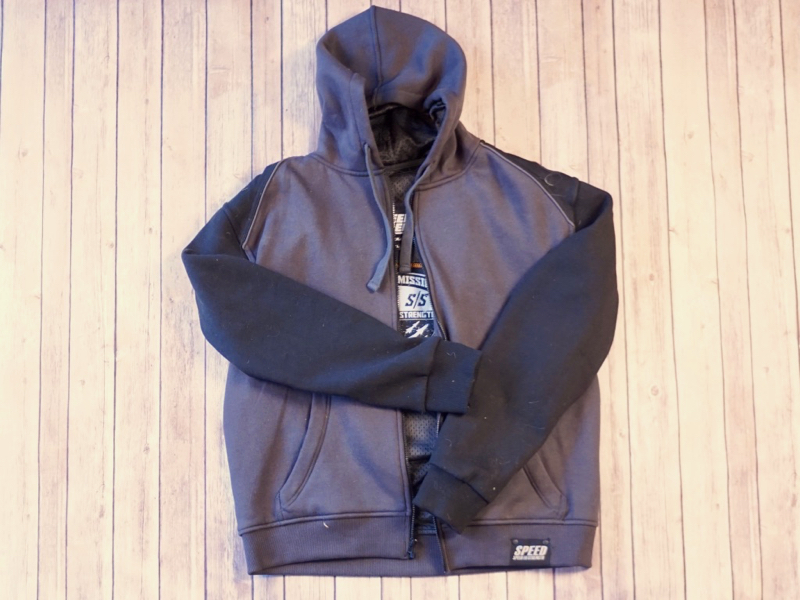 I like this hoodie, because even though it comes with Vault CE armor in the shoulder, elbow and spine, it doesn't look big and bulky off the bike. The logo on the arm is blacked out, so it's subtle, but consider that if you don't like to wear your branding on your sleeve. Another benefit from this premium, two-tone sweatshirt: it has belt loops for pant attachment, which is important in cold weather, as you don't want it riding up. The little touches are nice, too, like a YKK front zipper and hand warmer pockets that zip closed.
This piece is on the bulky side, but keep in mind that the 320 gsm Kevlar lined hoodie comes with five-point removable CE armor. It's thick and warm (though oddly, the zipper is on the opposite side of most men's clothing), so you can definitely wear this hoodie on its own.
Gloves: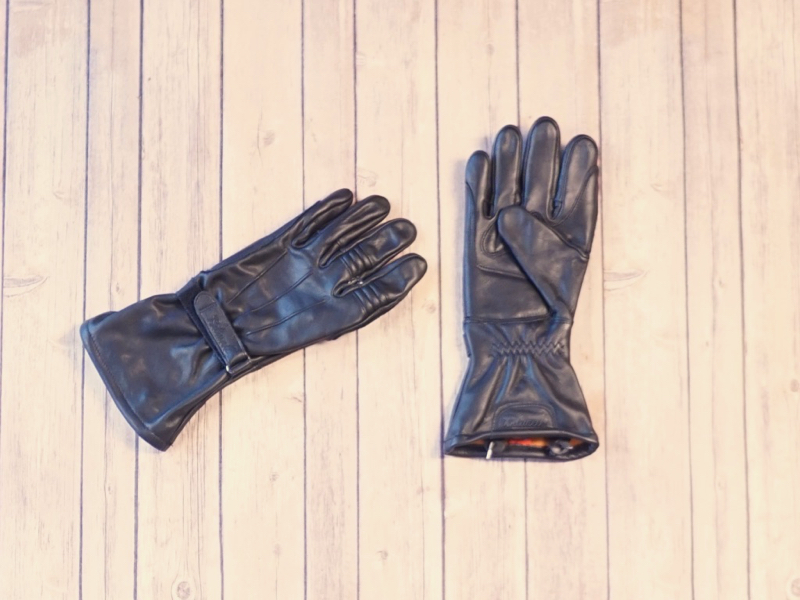 Biltwell makes amazing gear (I love my Gringo full-face helmet), and their gauntlet gloves are no exception. The thick leather will start out a little stiff, but will break in with use. I like the stitched accordion baffles on the the index and middle fingers (which are the digits you should be using for braking and shifting), as well as the extra palm padding. Palms are the most important place for abrasion resistance, since a rider's inclination is to put his/her palms down in a slide. The 9-ounce fleece tricot liner wicks moisture and will keep you plenty warm during the briskest of fall rides.
This is definitely a budget alternative to fancier gloves, but these cheapies are seriously warm and soft. Who knows how long they'll last, but with lots of padding, they feel broken in right out of the box. Unisex and true to size.
Pants:
These might be the nicest jeans you'll ever own, and the Kevlar lining makes them the safest ones, too. Made from iconic Cone Mills selvedge denim (get 'em before Cone Mills shuts down at the end of the year), these jeans wear like the most premium denim you can find. Raw, dark blue and woven on vintage shuttle looms, these button-fly jeans start out very snug. But hop on your bike and they will break in within a week, molding to your body shape and fitting you like only high-end denim can. It's pretty amazing that pants so resistant to abrasion, heat and punctures can look so good. Note that all their jeans have a very long 36-inch inseam, so unless you are very tall, you'll be rolling up these jeans to complete that vintage look.
Available in black or gray, the Soul Shakers are serious motorcycle pants. The 11-ounce canvas isn't that heavy, but with Kevlar reinforcements in the knee and the butt, they are very strong. The straight-fit pants aren't as skinny as the Tobacco Motorwear jeans, and also come with removable CE knee armor that fits best when your knees are bent.
Andy is the founder and co-owner of OnMilwaukee.com. He returned to Milwaukee in 1996 after living on the East Coast for nine years, where he wrote for The Dallas Morning News Washington Bureau and worked in the White House Office of Communications. He was also Associate Editor of The GW Hatchet, his college newspaper at The George Washington University.
Before launching OnMilwaukee.com in 1998 at age 23, he worked in public relations for two Milwaukee firms, most of the time daydreaming about starting his own publication.
Hobbies include running when he finds the time, fixing the rust on his '75 MGB, mowing the lawn at his cottage in the Northwoods, and making an annual pilgrimage to Phoenix for Brewers Spring Training.