Disclaimer: When it comes to being a fashion blogger in Wisconsin, there is one thing that is ALWAYS an obstacle: the weather! Sometimes it's just too darn cold to shoot outside, but you need to find somewhere fun and creative.
So when you ask, "Why in a laundromat?" I'll say, "Why not!"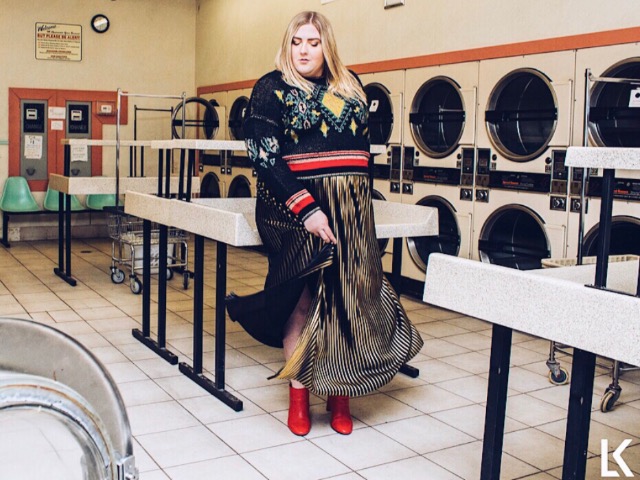 Now about this epic outfit! This gold skirt is actually a vintage find that I have had in my closet for years. Not a bad find for $5, but I couldn't find the perfect outfit for it. So there it sat in my closet, waiting to be worn.
Then the morning of my shoot, I came across it hanging there and I was determined to rock a bad ass outfit with it. Wanting to dress it down, I unexpectedly paired it with this cozy cropped sweater and bright red booties to add some dimension to the look. Sometimes the most random combinations create the most stylish outfits.
Remember: Fashion is about having fun and taking risks. So find that item in your closet that you are waiting to rock at the perfect event, shoes or moment and find a way to wear it now!
Skirt: vintage
Sweater: Scotch & Soda
Booties: Shoes of Prey
Pamela Kieck is a Milwaukee based fashionista and is the founder of the fashion, beauty and lifestyle website itspamelakieck.com Pamela has always found herself with an intense interest in style,body positivity, and empowering women to live their best life all while looking fabulous!

Pamela has recently been named an Influencer by Vogue magazine, and is a Social Media Influencer for Cosmopolitan magazine. She enjoys a recurring gig on Milwaukee's Fox 6 Real Milwaukee as a Style/ Beauty expert.

Pamela is bold, outspoken and doesn't take herself too seriously. She is a dog mom to 2 puppies, Cooper and Winston. She can't live without mascara, oversized sunglasses and a lavender latte from Stone Creek Coffee.

Instagram: @pamelakieck
Twitter: @itspamelakieck
Pinterest: @pamelakieck
Facebook: Pamela kieck
Website: itspamelakieck.com