Take a sip of this story, brought to you by SoulBoxer – quality, ready-to-drink cocktails that promise less time making, more time drinking. Put a little soul in your life, Milwaukee.
Adore that old school restaurant? That quirky bar? "Get your ass in here" is a new series highlighting original and extraordinary local businesses that are thriving, but to ensure continued success, need our butts and our bucks there on a regular basis.
So far this series has identified some of our favorite restaurants that we hope stay in business for a long time, but there are a few retail shops we hope stick around forever, too. Like Fischberger's.
It's been 11 years since Sarah and River Ditzenberger opened Fischberger's on Holton Street in Riverwest. Sarah describes the store as a "gift shop masquerading as an old time variety store" that offers gifts for all ages, fabric, yarn, sewing notions and heirloom plants in the spring.
But let's back up to the "gifts for all ages" part. Sarah's taste in merchandise is, like the name of the shop, a mash-up of sorts. "Fischberger's" is a combination of the couple's current last name, Ditzenberger, and Sarah's maiden name, Fischer, and the stock is a colorful conglomerate of items you won't see anywhere else. Enamel kitchen ware, Japanese "squishees," retro candy, zines, funky socks, wooden toys, greeting cards, ornaments, handmade and imported jewelry, stickers and beloved vintage playthings like Colorforms and Spirographs.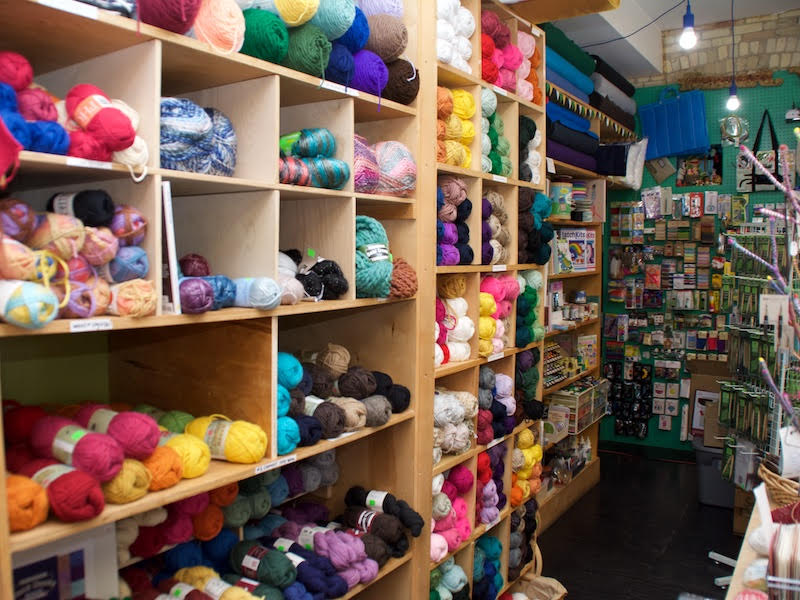 A trip to Fischberger's inspires smiles (seriously, it's a treasure trove of the cute, the weird and the wonderful) as well as strong yearnings to spend. (I wanted everything.) Ironically, though, even as a retail shop owner Sarah believes strongly for herself, her family and fellow humans that people really don't need a lot of stuff to be happy. She is also proud of the fact her shop is a spot where people go, primarily, to purchase for someone else.
"I think we're growing as a society and realize we don't need a lot of crap in or lives, but we still want to bring a gift to a friend and celebrate them with something," she says. "Customers here are almost always buying for someone else and maybe, lastly, a treat for themselves."
Although Fischberger's is a stand-alone shop without other retail on the block to help bring foot traffic, Sarah says business has been a slow-and-steady climb over the past decade plus.
"We pay the bills and then we build some more," she says.
Fischberger's has experienced its share of struggles – including a few robberies and a decrease in sales during the recession – but Sarah is committed to the neighborhood and the business.
"Even though we have the Internet now, there will always be a place for a last-minute gift shop. We're always going to need to grab a birthday card or a Saturday morning birthday gift," she says. "I definitely always see myself doing Fischberger's in some capacity."

Molly Snyder started writing and publishing her work at the age 10, when her community newspaper printed her poem, "The Unicorn." Since then, she's expanded beyond the subject of mythical creatures and written in many different mediums but, nearest and dearest to her heart, thousands of articles for OnMilwaukee.

Molly is a regular contributor to FOX6 News and numerous radio stations as well as the co-host of "Dandelions: A Podcast For Women." She's received five Milwaukee Press Club Awards, served as the Pfister Narrator and is the Wisconsin State Fair's Celebrity Cream Puff Eating Champion of 2019.