Take a sip of this story, brought to you by SoulBoxer – quality, ready-to-drink cocktails that promise less time making, more time drinking. Put a little soul in your life, Milwaukee.
Friday night, Nick Berg – the winner of the MKE Toast Competition – won another OnMilwaukee-sponsored event: the world's first fish fry eating contest.
FM 102/1 also sponsored the event, which was held at O'Lydia's, along with SoulBoxer Cocktail Co. It was also a fundraiser for DonateLife Wisconsin.
Six Milwaukee "celebrities" – including myself and FM 102/1's Jon Adler – competed in the event (warning: gross photos ahead).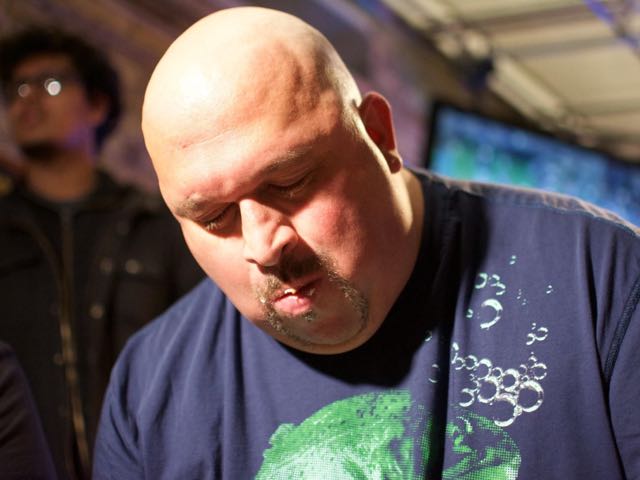 Although I was sorry to lose, Berg impressed me. In under three minutes, he finished an entire fish fry meal – three pieces of cod, coleslaw, potato pancake, apple sauce and two slices of bread – as well as a "tall" SoulBoxer Old Fashioned.
I had to get inside the head of this gluttonous genius, and so I asked him a few questions.
OnMilwaukee: Was this your first competitive eating contest, and if so, what compelled you to do it?
Nick Berg: This was, in fact, my first taste – pun intended – of competitive eating. I'm down for anything, and it was all for a good cause, so I couldn't say no. It also didn't hurt that it was a measure of speed rather than quantity, which could have been a whole other kettle of fish.
Do you like fish fries and old fashioneds in general?
They're a food group in my world.
Did you prepare for the eating contest in any way?
No. This was my typical Friday night meal, only faster.
What was your strategy?
I showed up and did the job, nothing more to it.
How did you feel after/the rest of the night?
I was ready for another round, in fact.
What did you like about participating in this event?
Meeting everyone! What a great group of people to share an evening with – such fun. And all in the name of charity.
Molly Snyder grew up on Milwaukee's East Side and today, she lives in the Walker's Point neighborhood with her partner and two sons.
As a full time senior writer, editorial manager and self-described experience junkie, Molly has written thousands of articles about Milwaukee (and a few about New Orleans, Detroit, Indianapolis, Boston and various vacation spots in Wisconsin) that range in subject from where to get the best cup of coffee to an in-depth profile on the survivors of the iconic Norman apartment building that burned down in the '90s.
She also once got a colonic just to report on it, but that's enough on that.
Always told she had a "radio voice," Molly found herself as a regular contributor on FM102, 97WMYX and 1130WISN with her childhood radio favorite, Gene Mueller.
Molly's poetry, essays and articles appeared in many publications including USA Today, The Writer, The Sun Magazine and more. She has a collection of poetry, "Topless," and is slowly writing a memoir.
In 2009, Molly won a Milwaukee Press Club Award. She served as the Narrator / writer-in-residence at the Pfister Hotel from 2013-2014. She is also a story slam-winning storyteller who has performed with The Moth, Ex Fabula and Risk!
When she's not writing, interviewing or mom-ing, Molly teaches tarot card classes, gardens, sits in bars drinking Miller products and dreams of being in a punk band again.