Take a sip of this story, brought to you by SoulBoxer – quality, ready-to-drink cocktails that promise less time making, more time drinking. Put a little soul in your life, Milwaukee.
Friday night, Nick Berg – the winner of the MKE Toast Competition – won another OnMilwaukee-sponsored event: the world's first fish fry eating contest.
FM 102/1 also sponsored the event, which was held at O'Lydia's, along with SoulBoxer Cocktail Co. It was also a fundraiser for DonateLife Wisconsin.
Six Milwaukee "celebrities" – including myself and FM 102/1's Jon Adler – competed in the event (warning: gross photos ahead).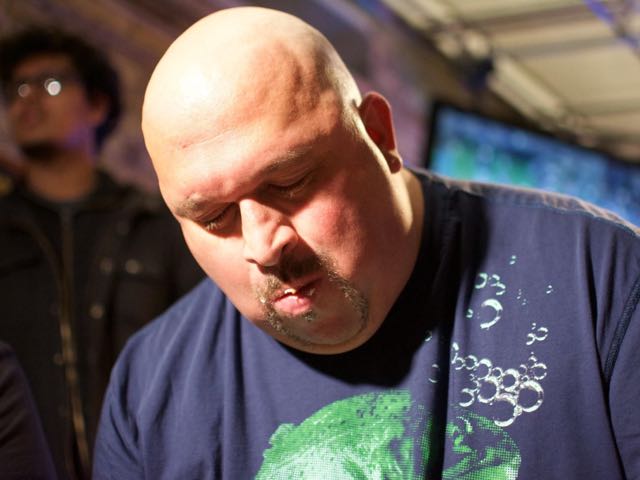 Although I was sorry to lose, Berg impressed me. In under three minutes, he finished an entire fish fry meal – three pieces of cod, coleslaw, potato pancake, apple sauce and two slices of bread – as well as a "tall" SoulBoxer Old Fashioned.
I had to get inside the head of this gluttonous genius, and so I asked him a few questions.
OnMilwaukee: Was this your first competitive eating contest, and if so, what compelled you to do it?
Nick Berg: This was, in fact, my first taste – pun intended – of competitive eating. I'm down for anything, and it was all for a good cause, so I couldn't say no. It also didn't hurt that it was a measure of speed rather than quantity, which could have been a whole other kettle of fish.
Do you like fish fries and old fashioneds in general?
They're a food group in my world.
Did you prepare for the eating contest in any way?
No. This was my typical Friday night meal, only faster.
What was your strategy?
I showed up and did the job, nothing more to it.
How did you feel after/the rest of the night?
I was ready for another round, in fact.
What did you like about participating in this event?
Meeting everyone! What a great group of people to share an evening with – such fun. And all in the name of charity.

Molly Snyder started writing and publishing her work at the age 10, when her community newspaper printed her poem, "The Unicorn." Since then, she's expanded beyond the subject of mythical creatures and written in many different mediums but, nearest and dearest to her heart, thousands of articles for OnMilwaukee.

Molly is a regular contributor to FOX6 News and numerous radio stations as well as the co-host of "Dandelions: A Podcast For Women." She's received five Milwaukee Press Club Awards, served as the Pfister Narrator and is the Wisconsin State Fair's Celebrity Cream Puff Eating Champion of 2019.